The problem with hotel loyalty programs is it can be difficult to accumulate enough points to book a hotel stay, and many times the points expire and are never used. Rocketmiles offers a game changing solution that could really boost your airline program balances.
Rocketmiles offers the ability to earn airline miles on hotel stays. Depending on the cost of the room you can earn up to 10k airline miles a night, creditable to 32 airline loyalty programs. Instead of earning hotel points you will earn airline miles. It's really that easy.
Rocketmiles offers points and miles in the following 32 programs:
The most popular programs you are likely affiliated with are American Airlines, Southwest, and United. If you are not signed-up for any of the affiliated loyalty programs, google the program and sign-up, it only takes a few minutes. Afterwards, enter your rewards number into your Rocketmiles account to get started. Then book a reservation and start earning points. If you'd like to change what program the miles are credited to all you need to do is change your default account before your stay.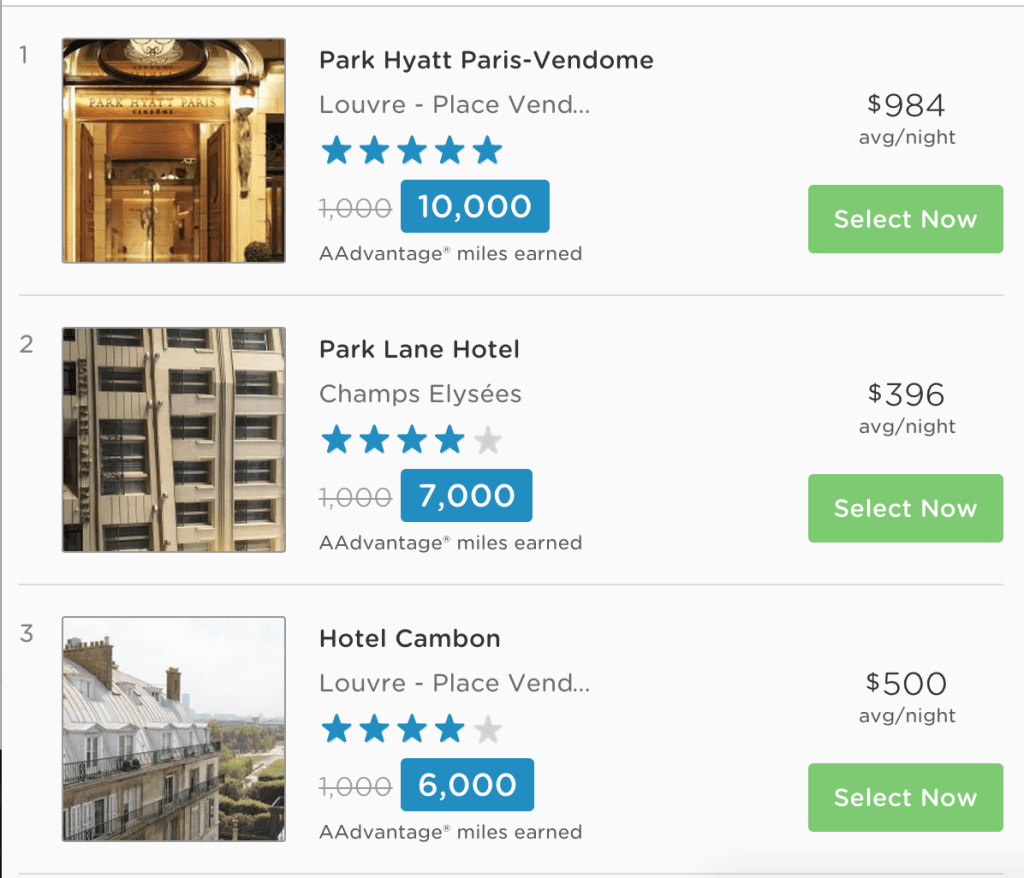 I did a quick search in Paris, France. The Park Hyatt Paris Vendome is one of the best hotels in the world and offers the maximum 10k a night, which is impressive but comes at a cost of $984 a night. The Park Lane Hotel in Paris is a much more reasonable $396 a night and you still earn 7k miles per night. For the two examples in this article I selected AAdvantage miles as the default, but you can change your default account in the account settings.
The great thing about Rocketmiles is they have agreements in cities all over the world from Paris and New York City to Fargo, ND. The AmericInn in Fargo, ND has a weak rewards program so getting 1k airline miles a night is definitely better than getting a free stay in an area you rarely visit. My personal preference is to use Rocketmiles in cities without Starwood properties as that is my preferred hotel chain.
Thrifty Tip #1: Use Rocketmiles in cities without hotel chains. The program works best for non-branded hotels in rural areas or even Las Vegas.
Thrifty Tip #2: Southwest Miles earned through Rocketmiles count towards the 110k annual mileage requirement for the Southwest Companion Pass! The companion pass is the best deal in the points game if you travel with a significant other!
Thrifty Tip #3: If you are an American Express cardholder make sure to check your Amex Offers. There is a spend $200, get $50 back for Rocketmiles. The offer good until the end of October!
Rocketmiles offers a referral program where you can earn 2k bonus points on your first stay and I'll also earn 2k bonus points. If you'd like to support Thrifty Traveler please sign-up for Rocketmiles through the link below and we'll both get bonus miles! I hope you enjoy the program as much as I do!
Have you used Rocketmiles to earn airline miles on hotel stays? Let us know in the comments below!