Between the casino floors and high-end restaurants on the Strip, Las Vegas isn't typically a cheap destination. But after years of visiting, I've become borderline obsessed with finding ways to make the trips cheaper, whether that means finding ways to save money on hotels, flights, or activities once we are in town.
And here's an amazing way to score $100 each in free dining on your next trip to Sin City. With an assist from Nick Reyes at Frequent Miler, my wife, two friends and I were able to score $400 total in free dining credits at a handful of restaurants at Caesar's properties.
It's a perk of status matching between different hotel chains, a simple process that only requires about 20 to 30 minutes of work. Here's how to score the free Caesar's Diamond welcome dinner.
Step 1: Match Your Hotel Status to Wyndham Diamond
The $100 per person dining credit is made possible by Caesar's Rewards Diamond status. And while Caesar's Diamond status normally involves earning 15,000 tier credits from things like gambling and spending money at Caesar's properties, you can easily earn it by doing a status match from many hotel programs to Wyndham Rewards.
Wyndham Rewards has been offering a status match since the fall of 2018. And they will match your hotel status with many other programs to their top-tier Diamond status. This is significant because, through Wyndham's partnership with Caesar's, you can later match your Wyndham Rewards Diamond status to Caesars Diamond status. I will explain this in more detail in the next step.
The best part about this is that you don't need to have top-tier status in another program to match to Wyndham's top-tier Diamond status. In fact, Wyndham Rewards will match a number of lesser-tier hotel statuses to their Diamond status.
This list includes Hilton Gold, Marriott Gold, and IHG Platinum Elite, to name a few. All of these statuses can be earned just for holding certain credit cards.
See the full list of hotel status that will match to Wyndham Diamond below:
If you hold the Platinum Card® from American Express or the Hilton Honors American Express Surpass® Card, you'll have Hilton Gold status just for holding the card and will be eligible to match to Wyndham Rewards Diamond. The Platinum Card® from American Express will also give you Marriott Bonvoy Gold Status.
All information about the Hilton Honors American Express Surpass Card has been collected independently by Thrifty Traveler and has not been reviewed by the issuer.
Additionally, the IHG® Rewards Club Premier Credit Card will get you IHG's Platinum Elite status. Any of these will work to match to Wyndham's Diamond Status. Learn more about them below.
Once you have status in any of the programs listed above, just create a Wyndham Rewards loyalty account if you don't already have one. You can do that here. 
And once you have your hotel status and a Wyndham Rewards account, you can apply for a status match. You'll need to be logged into your Wyndham account. And once you are, here's what to do:
Choose the Hotel program from the drop-down menu that you wish to match to Wyndham Diamond status.
Enter the status level you have with that program (Hilton Gold, IHG Platinum Elite, etc.)
Attach a screenshot with proof of the status you are matching from. I just logged into my Hilton account and took a screenshot of my profile showing my status level.
There is a comments section but you can leave that blank.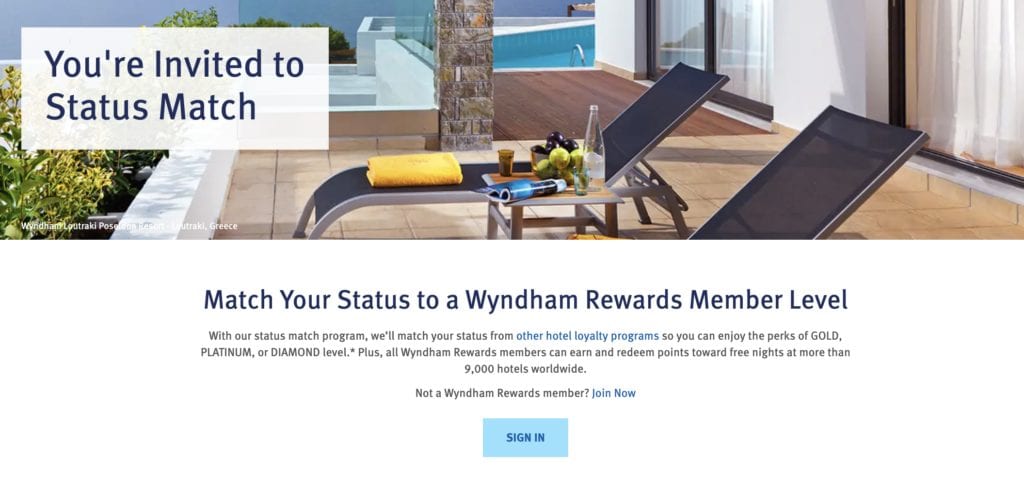 After completing the process, I received an email from Wyndham Rewards three business days later with the subject line, "Your profile has been updated." I now had Wyndham Rewards Diamond status. Step one complete.
Step 2: Match Your Wyndham Diamond to Caesar's Diamond Status
The next step in the process is to match your newly minted Wyndham Diamond status to Caesar's Total Rewards Diamond status. If you have status in either program, you can match it to status in the other.

If you don't yet have a Caesar's Rewards account, you will need to set that up first. This just takes a few minutes and can be done by following this link.
Once your Caesar's Rewards account is set up, it's time to match your Wyndham Diamond status to Caesar's Diamond. Simply follow the status match link. You will want to make sure you click on the "I'm a Wyndham Rewards member MATCH MY STATUS" button as you will be matching from your Wyndham Diamond status.

Once you enter in your information, you will get a notification stating that your Caesar's Rewards tier status will be updated within seven business days. My experience is that it took a full five business days, so make sure to do this with time to spare before your trip.
Step 3: Visit A Caesar's Rewards Desk in Any Caesar's Property
Once you arrive in Vegas, you will need to visit a Caesar's Rewards desk in any Caesar's hotel, like Caesar's Palace, The Linq, The Flamingo, Paris, Etc. These desks are scattered throughout all casino floors.
You simply need to tell the desk agent that you need your Caesar's Diamond card and to ensure that your $100 Diamond celebration dinner is loaded to your account.
The agent we dealt with at Caesar's Palace was extremely friendly and accommodating. He handed me my Caesar's Diamond card and verified that my $100 Diamond celebration dinner credit was loaded on the account. After my wife and the couple we were traveling with did the same, we were all on our way with $400 to spend at a handful of restaurants within Caesar's hotels.
In all, this stop took less than 10 minutes.
Where Can You Use the Diamond Celebration Dinner Credit?
There are a number of restaurants where your new $100 credits will work. All you need to do is present your Caesar's Rewards Diamond card to your server and tell them you would like to use your Diamond welcome celebration dinner credit.
However, if you intend to redeem at the restaurants at either Paris or Bally's, you'll need to get a voucher from the Caesars Rewards desk beforehand. 
There is no limit to the number of credits you can use toward's your meal. We used two for dinner on our first night and the other two for dinner on the second night.
The list of participating restaurants is as follows:
Caesar's Palace
Bacchanal Buffet
Beijing Noodle No. 9
Gordon Ramsay Hells Kitchen
Forum Food Court
Mesa Grill
Montecristo Cigar & Bar (not valid for retail purchases)
Mr. Chow
Nobu Restaurant and Lounge
Old Homestead Steakhouse
Pronto by Giada
Rao's
Restaurant Guy Savoy
Starbucks
Vanderpump Cocktail Garden
Harrah's
Flavors, The Buffet
Fulton Street Food Hall
Oyster Bar at Harrah's
Ruth's Chris Steakhouse
Starbucks
Toby Keith's, I Love This Bar & Grill
The Linq
Guy Fieri's Vegas Kitchen & Bar
Gordon Ramsay Fish & Chips
Paris (Need a voucher from the Caesar's Rewards desk)
Gordon Ramsay Steak
JJ's Boulangerie
La Crêperie
Le Café ile St. Louis
Le Village Buffet
Martorano's
Planet Hollywood
Gordon Ramsay Burger
Pin-Up Pizza
Spice Market Buffet
Ringers
Starbucks
Bally's (Need a voucher from the Caesar's Rewards desk)
BLT Steak
Burger Brasserie
LavAzza
Nosh
Sterling Brunch
Rio
All Amerian Bar & Grille
Carnival World Buffet
Guy Fieri's El Burro Burracho
Hash House A Go Go
Sports Deli
Starbucks
VooDoo Steak
Flamingo
Center Cut Steakhouse
Paradise Garden Buffet
The Cromwell
Our Experience
We decided to use our Diamond celebration certificates at Bobby Flay's Mesa Grill in Caesar's Palace. It was an incredible meal, and if you like southwestern style food, Mesa Grill is a treat. We had their signature New Mexican spice-rubbed pork tenderloin and it was absolutely delicious.
Between the four of us, our bill came out to $245. The server came back to see if we wanted to use three of our $100 certificates or just two. If we would have used three, we would have forfeited $55 as the certificates are "use it or lose it." Even if you don't use the full $100, you can only use it once.
We elected to use just two of the certificates and split the $45 bill (and the tip on the full amount) between the four of us.
On the second night, we used the remainder of the credits at Guy Fieri's Vegas Kitchen & Bar as it was one of the only restaurants open after the show we attended. It was a decent meal, though certainly not up to par with Mega Grill. But it was free.
At the end of the day, about 20 minutes of work total scored us two free dinners for four in Las Vegas. I was certainly pleased.
Additional Benefits of Ceasar's Diamond Status
On top of the free $100 welcome dinner, Caesar's Diamond status provides a bunch of other great benefits that are worth noting.
Waived Resort Fees at Caesars Hotels: This alone can save you hundreds on a Las Vegas stay as resort fees can be otherwise unavoidable.
Two Free Show Tickets Each Month: You will receive two free tickets to a select list of Vegas shows each month. Single Flyer keeps a list of available shows which is worth checking out.
Discounted room rates: Recieve discounted room rates at Caesar's hotels.
A "free" 4-night stay at Atlantis in the Bahamas: This isn't really free as you will have to pay the resort fee and there is a requirement that you gamble to get this deal.
Bottom Line
If you have upcoming Vegas travel, this status match is worth your time for some delicious free food. The Diamond Celebration dinner is easy to earn and only takes status in one of a number of hotel chains and about 20 to 30 minutes of work total which I would say is well worth it.