American Airlines offers an under-the-radar way to save some serious miles on select domestic flights. They're called Reduced Mileage Awards, an ever-changing list of airports scattered across the country that qualify for up to 7,500 miles off a ticket when using miles.
It can bring the cost of your domestic flight down to just 17,500 miles round-trip – or 13,000 for flights under 500 miles. Considering those flights normally cost 25,000 miles and 15,000 miles respectively, it's a great deal. It takes a few extra steps, but it's painless. And more to the point, saving 7,500 miles on a round-trip flight makes it worth it.
Get the Right Cards to Get in the Game
First things first: You'll need one of American Airlines' several co-branded credit cards. That's the only way to capitalize on these deals. And that's not a bad thing, as these are great cards to have. AAdvantage miles are worth collecting no matter what airline you're loyal to.
Your best bet is the Citi® / AAdvantage® Platinum Select® World Elite Mastercard®, one of the best American Airlines cards out there. Applying for this card when a big welcome bonus returns is a strong option, as a 50,000-mile bonus after spending $2,500 in the first three months of card membership can open up some serious travel – including discounted domestic travel, of course. This feature alone is worth the $99 annual fee, which is waived in the first year.
The CitiBusiness / AAdvantage Platinum Select World Mastercard also qualifies for Reduced Mileage Awards. As does the Citi AAdvantage Executive World Elite Mastercard, AA's top-tier card that comes with a $450 annual fee and lounge privileges.
And last but not least, there's the Barclaycard AAdvantage Aviator Red World Elite Mastercard, which currently offers a 60,000-mile bonus after making a single purchase within three months. This card, too, will qualify you for Reduced Mileage Awards. The Silver and business versions of these cards can also book Reduced Mileage Awards.
These Barclaycards come with an extra bonus: You can get a 10% rebate on award tickets, topping out at 10,000 in rebated miles each year. Combined with the Reduced Mileage Award rate, it brings a 25,000-mile round-trip flight down to 15,750 miles.
The Citi AAdvantage cards once had this same rebate benefit, but unfortunately, that was discontinued earlier this year.
How Reduced Mileage Awards Work
Once you've got the right credit card, it's time to cash in and book some Reduced Mileage Awards. However, it's not as simple as going online and booking any flight. American Airlines releases and updates a massive list of airports that qualify for these discounts. And we mean massive, spanning hundreds of airports that often change every two months. Consult AA's landing page for Reduced Mileage Awards for the full list and you'll see.
In general, you won't find the nation's largest airports on the list of destinations, though there are always a few exceptions. The sweet spot for Reduced Mileage Awards are smaller, regional airports.
And that's great because they can often be more expensive to get to. But that means it pays to be located at an American hub, with more flights to these locales.
These qualifying airports change every month, so it's always worth going back to check on which destinations make the cut. You'll generally find that more airports are available the farther you go out in the four-month schedule. So it's smart to plan ahead.
With that in mind, here are some rules and principles to keep in mind:
Flights must be non-stop and domestic – no international travel qualifies

One-way flights qualify for half the discount: Up to 3,750 miles off for longer flights, 1,000 miles off short hops

Either your departing or arriving airport can be on the list; both are not necessary

If your home airport is on the list, any flight departing that airport qualifies for the discount

You must take the flight during the month your destination is on the list

Saver-level award space must be available to be eligible for the discount

You can use these discounts on business and first class tickets, though the savings aren't larger for premium fares

If you want to book tickets for multiple people with the discount, you'll need to add those passengers as authorized users to your credit card
The first thing to do is check to see whether your home airport made the cut of eligible destinations. If it's on the list, you're in luck – it's like a golden ticket for discounted travel. However, some American agents aren't well-versed in Reduced Mileage Awards and may insist your destination has to be on the list to qualify. If that happens to you, hang up and try again.
Once you've made your travel plans, it's time to get it booked.
How to Book Reduced Mileage Awards
Once you've determined your flight, it's time to find award availability. Head to AA.com and type in your route, making sure to check the "Redeem Miles" box.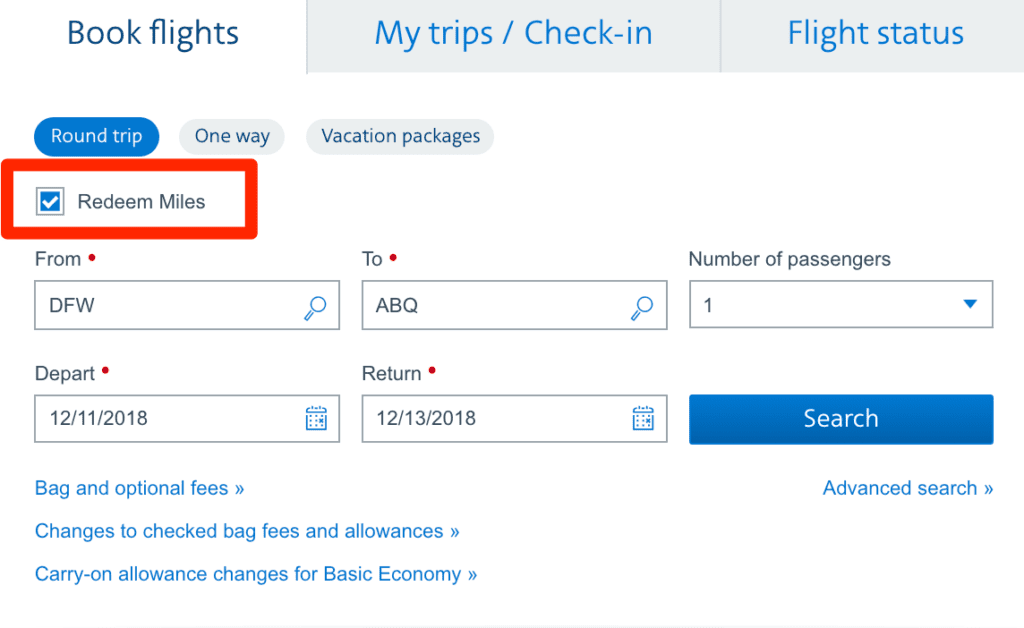 You're looking for American's saver fares, the lowest-level award fares usually available at 12,500 miles each way (and 7,500 miles for short flights). Luckily, AA makes it easy to determine if saver-level fares are available. Simply click the "Economy MileSAAver" tab. Fares in bright green are fair game for Reduced Mileage Awards. Any greyed out boxes and you're out of luck – try another date.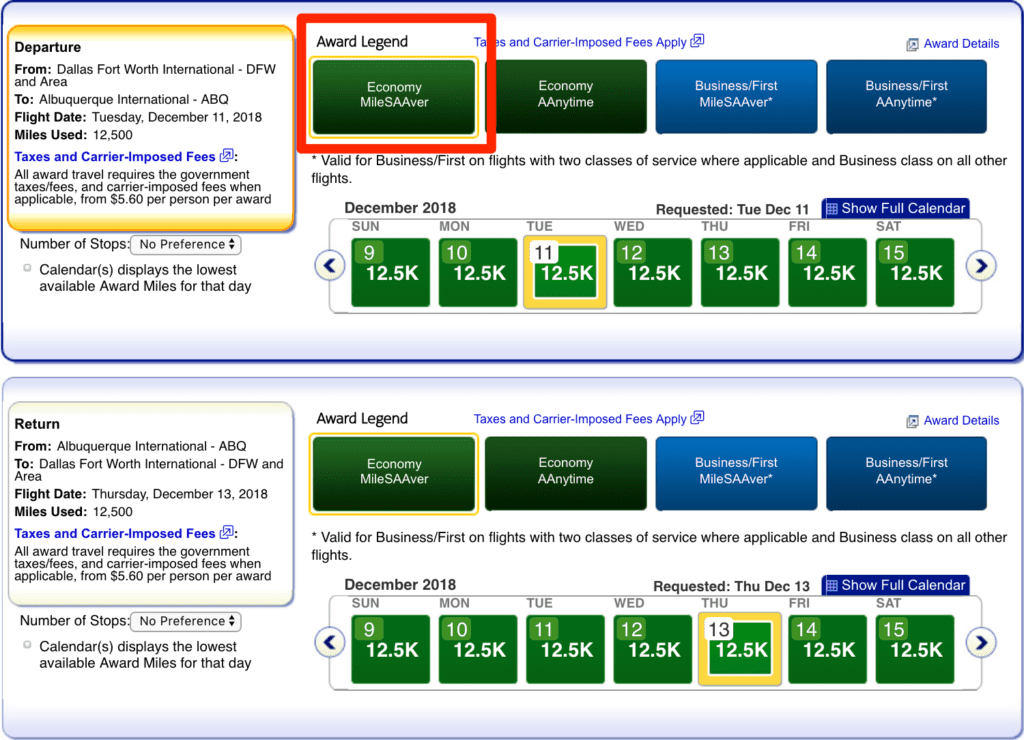 Once you've found a fare that works, copy down the date and flight number for each segment. You'll need this to make the booking. You can't get the Reduced Mileage Awards discount booking online, so you'll have to call American at 800-882-8880.
In order to get the discount, you'll need to feed an agent an award code. American breaks these down at its Reduced Mileage Awards homepage, with differing codes based on which credit card you have, how long your flight is and what cabin you want to fly in.
Thrifty Tip: Need to check how long your flight is? Head to GCmap.com, plug in your airport codes and click "Distance."
These award codes change frequently, so make sure you reference it before calling in for your reservation. Once you've called in, simply tell the agent you want to book a Reduced Mileage Award. Feed them your flight information and the corresponding award code, and you should be set.
American usually charges a $30 fee when booking on the phone, but this charge should be waived because these fares aren't bookable online. One fee that won't be waived is the $75 surcharge if you're booking within 21 days of departure (unless if you've got Gold or higher status with American). So again, it pays to plan ahead.
Bottom Line
It takes a bit of legwork, but the savings you can get with Reduced Mileage Awards far outweigh the time you'll put into it. Check the list of airports and learn the drill to save American AAdvantage miles.
Lead photo credit of American Airlines