Looking for cheap flights to New Orleans? You've come to the right place.
New Orleans is one of the hottest destinations in the U.S., and for good reason. But that can make finding cheap flights a challenge – especially if you're planning your return to The Big Easy for Mardi Gras 2022. That's where we come in.
Whether you're planning ahead to a French Quarter trip or desperate to find more affordable flights during Mardi Gras, this guide includes everything you need to know about finding – and booking – that cheap flight to New Orleans.
All About New Orleans Airport (MSY)
Heading to New Orleans? Then you'll need to get familiar with the Louis Armstrong New Orleans airport (MSY).
The airport is located in Kenner, Louisiana, a 20-minute drive from downtown New Orleans. And unlike many other major cities, New Orleans isn't a hub for any particular airline. You'll see a similar amount of flights in and out of New Orleans on American Airlines, Delta, United, and Southwest. And there's a healthy presence of budget carriers like Allegiant, Spirit, and Frontier.
And that's good news for you, fellow thrifty traveler: It means no one airline has major control of flights, and you're likely to see price drops and fare wars pop up between airlines that fly here.
Domestic airlines that fly into New Orleans:
Southwest
United
JetBlue
Delta
Alaska
Frontier
American
Spirit
Allegiant
Sun Country
International airlines that fly in and out of New Orleans:
Air Canada (Canada)
Air Transat (Canada)
Copa (Panama)
Condor (Germany)
British Airways (The U.K.)
There's just one terminal, with 35 gates and three concourses.
Concourse A's gates are focused on international arrivals. Concourse B is home to Allegiant, American, Frontier, and Southwest. Concourse C's 15 gates are assigned to Alaska, Delta, JetBlue, Spirit, and United.
The Cheapest Flights We've Found to MSY
So, what's a good flight deal to New Orleans?
Typically, we'd consider anything under $200 roundtrip a cheap flight deal to New Orleans. But lately, we've been seeing domestic flight prices drop even lower for travel to this festive city through 2021 and into 2022.
Just how cheap? We've seen fares as low as $100 roundtrip (and some under $50 roundtrip) on major U.S. carriers through peak summer! No, you don't have to fly the budget airlines to get flight prices this low – though some of the flights on Spirit, Frontier, and Sun Country can be crazy cheap, too!

Want instant alerts for cheap flights like this one? Get Thrifty Traveler Premium flight deal alerts for just $5.99/month! 
Here are a few examples of just how low we've seen prices go to New Orleans in the past year (yes, these are all roundtrip!):
From Chicago-O'Hare (ORD): $49
From Miami (MIA): $50
From Charlotte (CLT): $86
From Atlanta (ATL): $96
From Dallas-Fort Worth (DFW): $96
From Philadelphia (PHL): $50
Yes, we're just as excited about these cheap flights as you are!
Airports with the Cheapest Flights to New Orleans
But not all cities get the same flight deal love to New Orleans. While we often see cheap flights from almost all U.S. cities, there are a few cities that get the cheapest flights to NOLA.
If you're based in or near these departure airports, you're in luck! Chicago, Miami, Dallas, Atlanta, Houston, Denver, and New York City are the best cities to fly from for a cheap fare to New Orleans.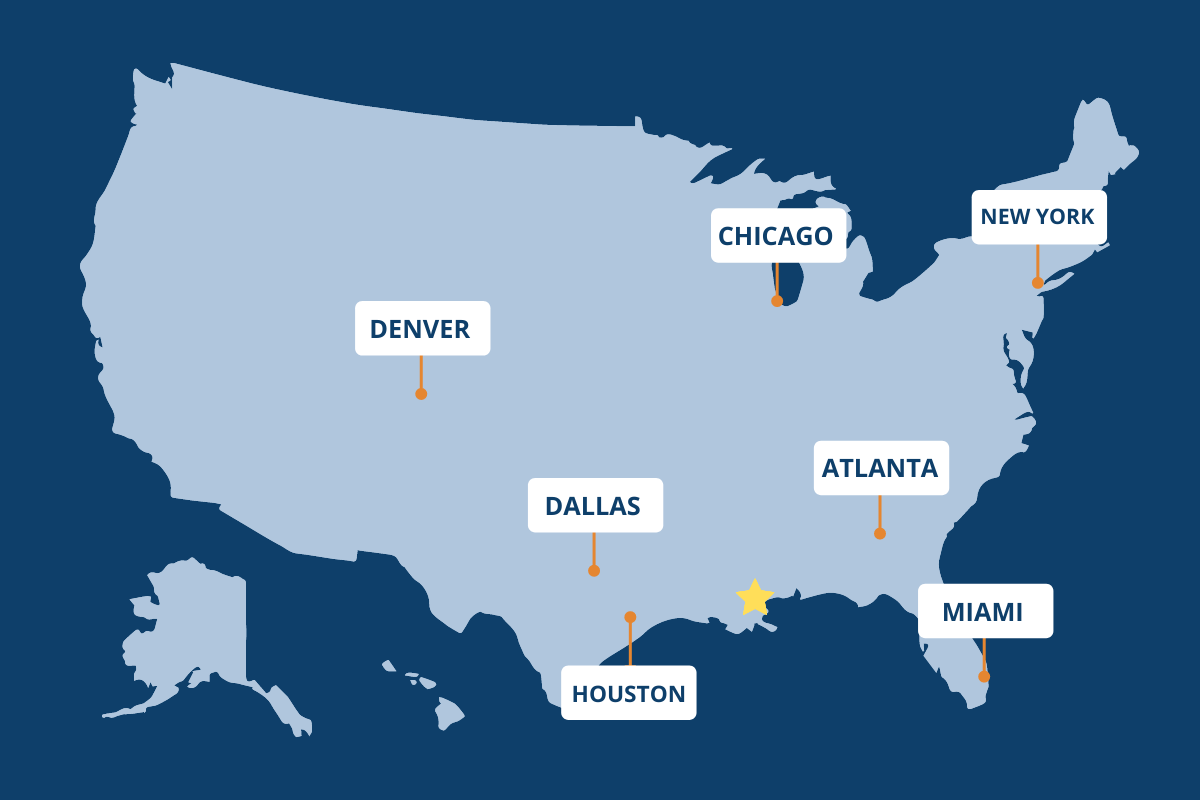 Why? Airlines that fly between these cities and New Orleans offer nonstop availability year-round to New Orleans. Plus, there are flights on several airlines from these airports to New Orleans, which makes for even more price competition!

Not from one of these major airports? Don't panic! While they may get the cheapest and most frequent deals, there are still plenty of cheap flights to go around. From Akron to Wausau, we've found flights under $200 roundtrip from more than 100 airports across the country, big or small. We send deals like this one to Thrifty Traveler Premium members.

Want to know when we find cheap flights from your home airport? Join Thrifty Traveler Premium for instant alerts!
Our Top Tips for Finding Cheap Flights to New Orleans
Start with a Cheap Fare First
Whether they're heading for New Orleans or New York City, travelers often make one single, massive mistake that costs them hundreds. They follow this script: Set the dates, pick a spot, then book a flight.
Instead, you should flip that in reverse. Start by searching for flights, and let the price guide you to the cheapest dates possible. That flexibility can save you bigtime.

Here's an example of how much it can pay off. Let's say you're planning a trip to New Orleans next fall and decide to leave October 8, and come back October 13. The cheapest flights may cost you $300 or more.
But if you leave just one day earlier, you can book the exact same flights for only $180 – a savings of $120. Add that up for a family of four, and you saved $480 on airfare to extend your vacation.
That's just one small example that showcases how important it is to be flexible when digging for cheap flights to New Orleans.
Use Google Flights (Not Online Travel Agencies)
There are plenty of search engines out there to find a cheap flight. Maybe you've got a favorite tool like Skyscanner, Hopper, Priceline, or Expedia. But one beats them all: Google Flights.
Google Flights is incredibly powerful, with tons of features that will help you hone in on the best price. It's got a bevy of filters you can use to narrow down to the flights you really want –  and avoid the ones you don't. It will help you find a great deal flying out of your home airport, then book direct with the airline.
Need to fly to New Orleans on specific dates? Set Google Flights price alerts to get a notification when flight prices go down!
Just start your flight search by visiting google.com/flights and follow our guide: How to Use Google Flights to Find Cheap Flights Like a Pro
Booking directly with the airline is more important now than ever. With travel restrictions changing constantly, flights getting rescheduled or canceled, and changes in travel plans due to COVID-19, booking directly with the airline is the best way to make sure you can easily change or cancel your flights, if necessary.
Consider Flying from Another Airport to Score a Bigger Deal
Sometimes, scoring a cheap flight out of smaller regional airports – or airports with few routes to New Orleans – can be a challenge. One option? Fly out of a larger nearby hub to save big.
Thrifty Tip: Google Flights allows you to search from up to six departure cities at once, making it much easier to find the best (and cheapest) city to depart from.
Let's say you're from a town near Colorado Springs (COS). But flights are over $300 to New Orleans from COS airport.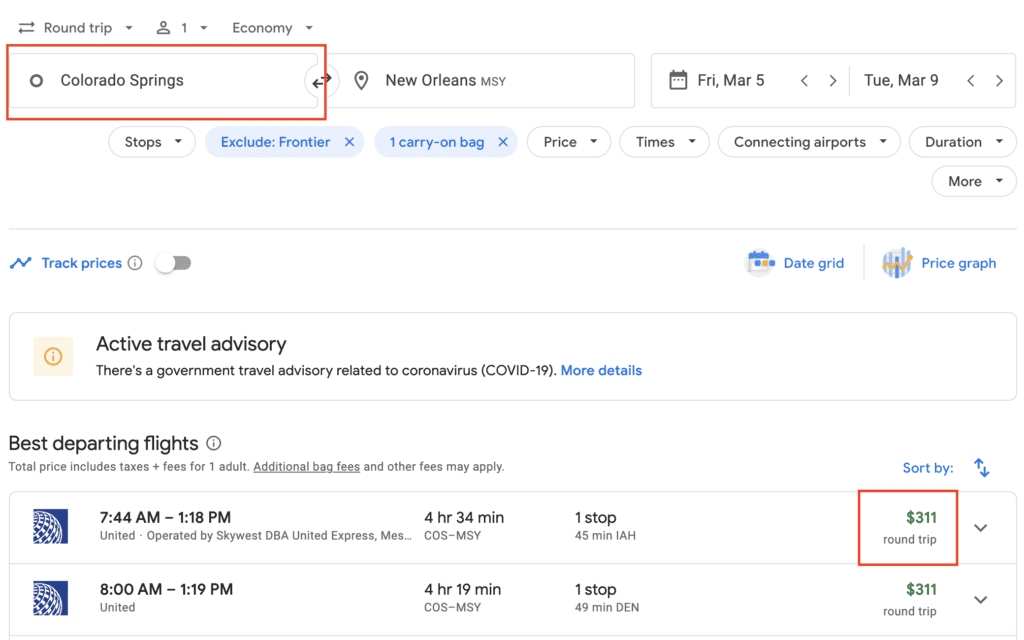 Instead, you could fly out of Denver airport (DEN) on the same dates for half the price.
In this one example, using positioning flights saved you 50%! While it may not be worth driving – or even taking a short flight – to a larger hub airport, it can often slash the price of your flight.
Book Flights at the Right Time
Sorry to be the bearer of bad news, but there's no magical time to book cheap flights to New Orleans – or to anywhere, for that matter.
That thing you've heard about booking on Tuesdays is a myth. The best time to book a flight is when you find a cheap deal. And the fact of the matter is that cheap flights can pop up at any hour, seven days a week. Yes, you can find cheap flights on Tuesdays. But you might get a better deal on a Wednesday. Or Thursday. Or any other day of the week.
What you've heard about Tuesdays is a convenient but outdated myth that ignores the fact that airfare pricing is constantly changing. Airlines tweak their pricing by the hour to try to win over more customers and undercut their competitors.
Take it from us: Our team of flight deal analysts spends all day, every day searching for the cheapest fares to send to Thrifty Traveler Premium members.
The best fares and sales don't happen on one day of week. In fact, we find crazy cheap flights, mistake fares, and unadvertised award sales every day of the year.
Fly at the Right Time, Too
Cheap flights are not about when you buy your ticket. It's more about when you actually get on the plane. 
That means flying on off-peak days: Tuesdays, Wednesdays and Saturdays are often much cheaper. Shifting your departure and return dates by just a day or two can save you hundreds of dollars. 
Avoiding peak travel seasons is key, too. Airfare during the middle of summer is typically much more expensive – and the same goes for major holidays. Traveling during shoulder seasons, from mid-April through early June and late August through early October is the key to saving more.
Of course, Mardi Gras is the epitome of peak travel season. Airlines know tons of travelers want to get down to New Orleans for the big bash. So while flights may get more expensive, we've got some tips below to keep your costs down. Keep reading…
Don't Bother Clearing Your Cookies
Of the many myths that surround travel and airfare, one stands out. We hear it again and again and again, from beginners to even so-called travel experts:
"You should clear the cookies on your internet browser when searching for flights because the website will track what you're looking for and jack up the price."
Let us say it unequivocally: Clearing your cookies does nothing. Absolutely nothing. 
Airlines aren't tracking what you search. There's no need to use an incognito browser. But then what's the answer behind the constantly changing flight prices, then? Why did that ticket you were looking at suddenly jump in price?
The reality is that airfare pricing is fickle, and it's always changing. Airlines are constantly altering their prices as tickets sell and demand changes, or as airlines try to fill up seats on a flight.
Let Us Find the Best Deals for You
Stop spending hours hunting for the best deals to New Orleans – or worrying you paid too much. Our team of flight deal experts finds incredible fares that will save you hundreds of dollars on every flight, flying top-rated airlines from your home airport.
All you have to do is join Thrifty Traveler Premium to start getting the best cheap flights from your home airport straight to your inbox. From there, just book a great deal directly with the airline for massive savings of $200 or more on domestic flights (including fares to New Orleans!) – and $500 or more on international fares.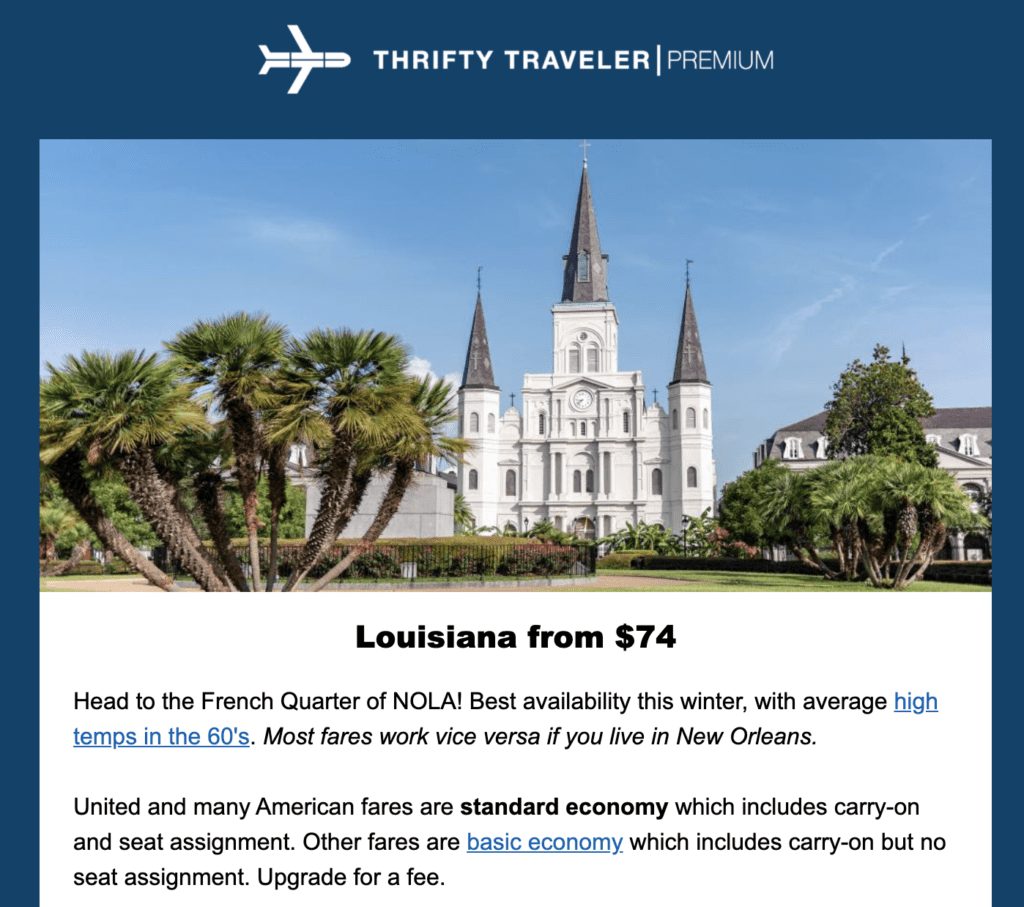 This recent flight deal to New Orleans saved travelers big time, with 50% off usual fares for travel through winter. With more than $20 in savings on that flight deal alone, it will quickly offset Thrifty Traveler Premium's $45 annual fee.
Finding Cheap Flights to New Orleans for Mardi Gras
Now we've covered our top tips for finding the cheapest flights into New Orleans. But what about Mardi Gras?
This is, naturally, the most expensive time of the year to fly into New Orleans. But with a little luck and these tips, you can snag a cheaper flight than you'd expect.
Start searching early. If you know you're planning to go to Mardi Gras in 2022, start looking soon! You can search for – and book – flights up to 11 months in advance. That means flights for Mardi Gras 2022 should go on sale sometime in April 2021.
Fly in and out on off-peak days. We talked about this tip earlier, but it also holds true for Mardi Gras: flying in and out on weekdays, and NOT on a Friday or Sunday during Mardi Gras, you'll save a boatload. Or should we say float-load?
Fly in on the start or tail-end of Mardi Gras. Timing is everything with Mardi Gras. And with activities stretching for several days, you can come in on the start or end of Mardi Gras and still catch plenty of the festivities!
Check Southwest.com. Remember: Southwest Airlines flights won't show up on any flight search engines, including Google Flights. Definitely check Southwest's flight prices separately to see if they're offering better prices.
Check one-way flight prices. Typically, we don't recommend searching for flights in one-ways. And oftentimes, domestic one-way flights are exactly half of the roundtrip flight you were looking at. However, Mardi Gras is a different beast. There will be many options for flying in and out of MSY during this time, so two one-ways may work better – and end up being cheaper.
Thrifty Tip: Get BOGO flights with the Southwest Companion Pass and cut the costs of your trip in half!
Other Money-Saving Tips Flying into New Orleans
The savings don't have to stop on your flight. Here are some other quick ways to save on your next flight into MSY.
Get Free Baggage Flying with Delta
Paying for bags is a drag. At $30 per checked bag each way, those costs can add up fast.
If you plan to fly Delta to New Orleans (or anywhere for that matter), it can pay to have a Delta SkyMiles® Gold American Express Card in your wallet. This card gets you free baggage (plus a free bag for up to eight companions booked on your ticket) on every Delta flight. And you don't even need to pay for your flight with your Delta card to get a free bag – just make sure it's linked to your SkyMiles account.
Read more: Delta Baggage Fees (And 7 Ways to Avoid Them) in 2021
The savings can add up fast. You'll come out ahead on the card's $99 annual fee after just two round-trip flights a year (see rates & fees). The card has an introductory annual fee of $0, then $99 each year after that. This card also gets you other perks like priority boarding, earning 2x SkyMiles per dollar spent with Delta or at restaurants and U.S. supermarkets, and more.
Save on Food & Drinks with Lounge Access
Eating and drinking at the airport isn't cheap, either. But you can eat and drink for free in airport lounges, escaping the hustle and bustle of the airport terminal before your flight, too.
For your flight back from New Orleans, you've got a few options. There are three lounges are available at MSY: The Delta SkyClub, United Lounge, and Club MSY.
The Club MSY is located adjacent to the entrance to Concourse A. The Delta SkyClub is located adjacent to the entrance to Concourse C. The United Lounge is located on Concourse C at Gate C5. While you'll need status or a lounge membership to get into the United Lounge, one credit card will get you into two others.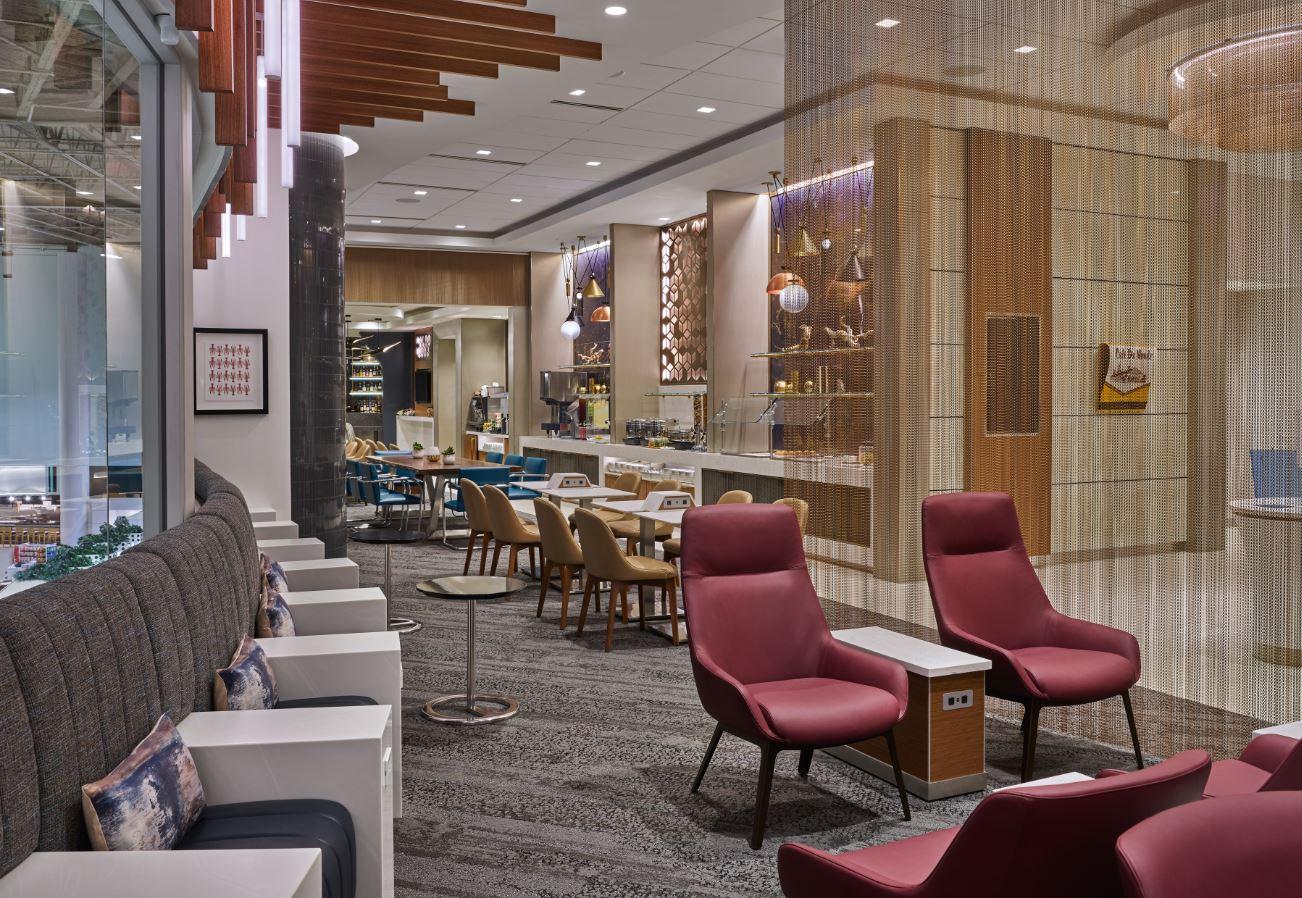 No card is better for getting into lounges than the Platinum Card® from American Express. And while its $695 annual fee isn't cheap by any means (see rates & fees), it will get you into the Delta Sky Club and the Club MSY – along with more than 1,000 other lounges worldwide. At the Club MSY, you can bring up to two guests for free!
Book Your Flights for Free (Or Nearly Free) Instead!
What's better than a cheap flight to New Orleans? Just one thing: A free flight. 
If you're ready to take things to the next level, there's no better way to travel more for less than by using points and miles to book your flights. Not sure where to start? Read our guide to getting started with credit cards, points, and miles to get up to speed.
There's no easier way to take a cheap flight and make it free than using points from credit cards like the Chase Sapphire Preferred Card. All you need to do is find a good flight deal, search for it through the Chase travel portal, book it with your points, and boom – you're flying completely free. And you'll even earn miles on that flight you take, too!
Bottom Line
This guide should help you understand what's really a cheap flight to New Orleans so you can find the next great deal … for Mardi Gras 2022 or your next visit to this incomparable city.