One of the many benefits of holding the Business Platinum® Card from American Express is that you get $200 in credits annually to use online at Dell, split up into two $100 installments. But as the coronavirus pandemic shook up travel, that got even sweeter.
Starting May 1, Business Platinum Cardholders got another $200 in additional statement credits for U.S. purchases with Dell through the end of the year. That broke out into another $100 for purchases from May 1 through June 30 (for $200 total), and an extra $100 for purchases from July 1 through Dec. 31 (for another $200 total). That's up to $400 in spending at Dell.
While half of those credits have already lapsed, Business Platinum cardholders still have another $200 credits to use up through Dec. 31. And while the thought of using $200 towards a new Dell computer might not sound exciting, you might be surprised at the vast array of products you can buy on Dell.com.
Read up on how to use the Business Amex Platinum Dell credit, and our choices for some of the best ways to make the most of the $200.
Read more: The Master Guide to New Credit Card Benefits During Coronavirus
How to Get the Credit (And Stack Offers!)
To earn the Dell.com $100 credit twice each year (and $200 twice in 2020), you must hold the Business Platinum Card from American Express. The Personal version Platinum Card from American Express does not offer a credit to use at Dell.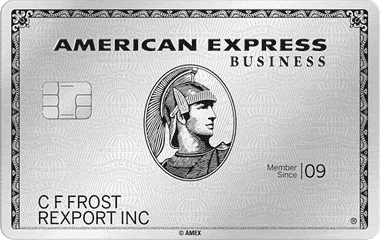 Click Here to learn more about the Business Platinum Card from American Express. 
Once you hold the card, you simply need to log into your American Express account and activate the credit. To do this, head to the benefits tab.

From here, just click to enroll in the benefit. Once enrolled, you can head to Dell.com to spend your $200 credit. If you make your purchase before enrolling, you won't receive the statement credit. 
And always make sure to first click through Rakuten (formerly Ebates) on your way to the Dell website. While you can currently earn 2% cashback on your purchase, we've seen these rates go as high as 20% cashback. And because Rakuten now allows you to earn Membership Rewards instead of cashback, you could earn a minimum of 2x additional American Express Membership Rewards points instead.
But wait: There's more! American Express often has Amex Offers that can be added to your Business Platinum Card and stacked with the Dell credit to save even more.
Currently, there are offers to earn an additional 4x Membership Rewards points per dollar spent at Dell, and one to get 10% back on up to $1,500.
Simply add these offers to your Business Platinum card before making your purchase at Dell.
Read: How to Add American Express Amex Offers to Your Account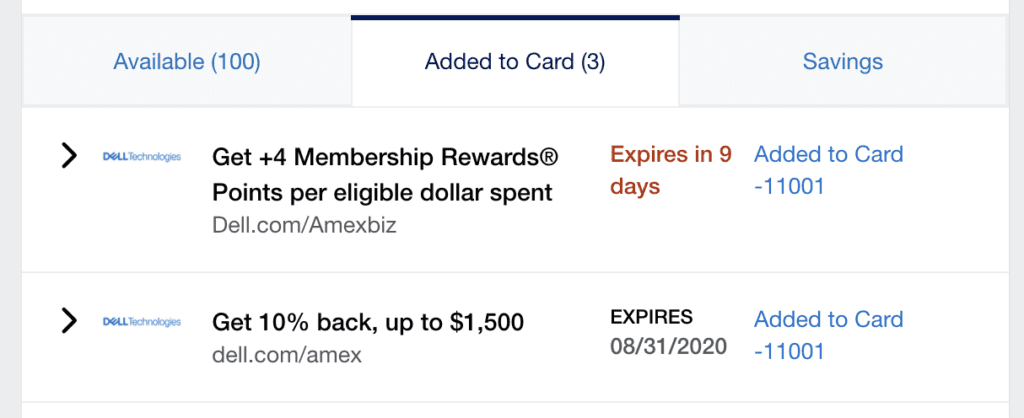 Once you have taken these steps, you're ready to use your $200 Business Amex Platinum Dell credit. Here are some of our favorite items you can buy – including many under $200.
Google Nest Smart Home Products
Over the past few years, one of my favorite ways to spend the Amex Platinum Dell credit is by buying Google Nest home automation products. Dell sells the entire suite of Nest products. So whether you are looking for a Nest Smart Thermostat, doorbell, cameras, or a Google Assistant, Dell has you covered. If Google sells it, you can purchase it at Dell.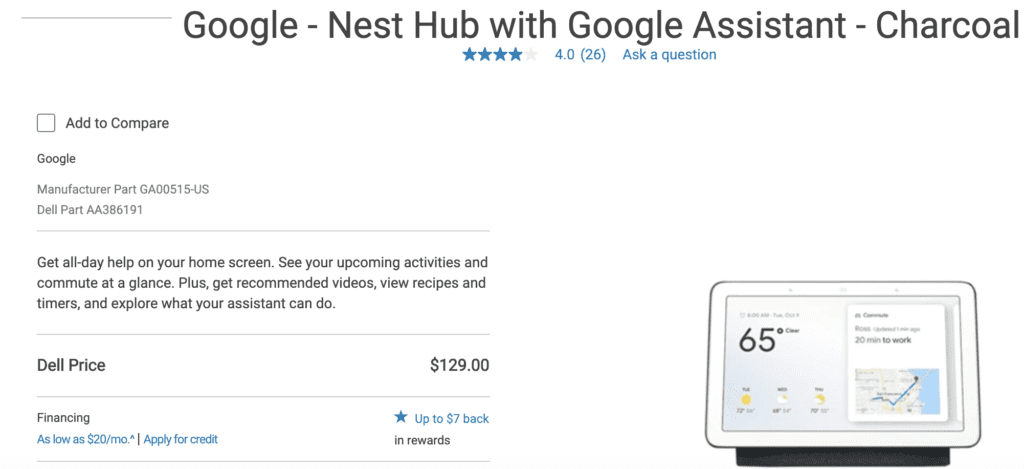 Bose Noise Canceling Headphones
Similar to the Google Nest products, Dell sells a variety of Bose headphones and other home audio products that will qualify for your Amex Platinum Dell credit. And while some will cost more than the $200 credit covers, you can substantially cut your cost if you are in the market for a new set of headphones.
You can pick up a pair of Bose QuietComfort 35 wireless headphones for $279 – just $79 after your $200 Amex Platinum Dell credit.

Already have a pair of headphones? Pick up the Bose Solo 5 TV Soundbar for only $179.

Dell 24″ Monitor
You're spending more time at home this year – we all are. And if you have been working from home, using your Amex Platinum Dell credit on a new external monitor could make your days more efficient.
This 24″ Dell Monitor is only $189 …  completely covered by the credit through the end of the year.
LexMark Duplex Laser Printer
Another great way to use the Dell Amex credit is by picking up a Lexmark color duplex laser printer which clocks in right at $199. The printer also comes equipped with a scanner and copy machine.

Amazon Echo Plus Smart Speaker
"Hey, Alexa: What's a good way to spend my $200 Amex Platinum Dell credit?"
Amazon's Echo plus smart speakers are available at Dell.com and can be picked up for $99 each. You can also pick up the Dot speakers, and even the Echo Show models.
Ryze Tello Boost Combo Drone
Looking for a drone to take some footage of your travels once you can get back out into the world? Use your Amex Dell credit to pick up the Ryze Tello Boost Combo drone for just $149.
Vizio 40″ LED Smart TV
A 40″ smart TV for $199.99? You're likely spending more time in front of the TV these days, and if that's the case, the Vizio 40″ Full HD LED Smart TV is a great use of your credit.
Rosetta Stone Unlimited Languages Lifetime Subscription
Looking to learn a new language you can use on your future travels? Use your $200 Amex Platinum Dell credit to buy a lifetime subscription to Rosetta Stone's language learning software.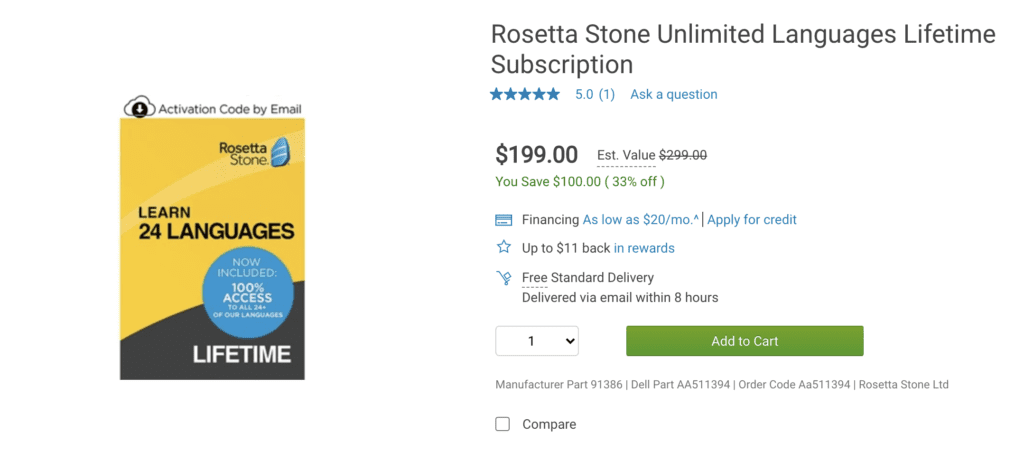 Bottom Line
Dell.com provides a plethora of options for using your $200 credit on the Business Platinum from American Express Card. And even though the card has a $595 annual fee, this benefit can provide a ton of value and help offset that cost.
Through the end of 2020, you'll get $200 (up from $100) from July through December. Make sure to use it up, as any leftover amount will be forfeited.