With cards like the *chase ink preferred* and *biz platinum* offering hundreds of thousands of points to new card members, there's a good chance many small business owners are wondering if now is the time to apply.
But in order to earn that big bonus, you've got to spend a certain amount of money within the first few months: Typically between $3,000 and $15,000 over a three-month period, depending on the card – and sometimes even more. No matter the requirement, it's no small feat.
For some businesses, spending that amount will be no problem at all. For others, it might take a little creativity. But just because your small business doesn't typically spend a lot on credit cards doesn't mean you should overlook these eye-popping welcome offers.
Just remember: Credit cards are serious business. Spending more money than you normally would on a credit card can lead to debt and high-interest payments, wiping out any benefits the points and miles might provide while harming your credit score and putting your business at risk. Responsibility is key.
Fortunately, there are plenty of ways to meet your minimum spend requirement on a new business card without going on an irresponsible three-month shopping spree. These are some of our favorite ways to meet those spending requirements without spending any more than you normally do.
Unsure if you qualify for a business card? You might be surprised to find out just what banks consider a small business.
What You Need to Know
The welcome offers you see are the largest sum of points you can earn quickly by signing up for a new credit card. We've assembled a list of the absolute best card offers that are currently available for businesses – and over the last few months, we've seen some of the biggest and best welcome offers ever.
But regardless of the points bonus or the spending required to earn it, you don't want to come up short.
So it's important to have a plan for meeting that minimum spend requirement in the set time frame, and doing so responsibly – i.e., without spending money you don't have. If you can't pay off every dollar you put on your new card, don't open a credit card. 
Here are a few of the steps we take to meet that minimum spend.
Know the sign-up bonus details: How much do you need to spend, and by what date? Each card's requirements will be different. Set a reminder in your calendar for the weeks leading up to the deadline, so you can be sure you won't miss your goal. And keep in mind the clock starts from the date you're approved – not when your new card arrives.
Know how much you normally spend in a month: To know if you can comfortably reach this goal without overspending, you need to know how much your business typically spends in a month. If you have a monthly expense spreadsheet or have any other means of tracking your monthly finances, see how much of your typical monthly expenses can feasibly be put on this new card.
Track your progress: Keep close tabs on your progress toward earning your sign-up bonus goal to make sure you're on track and will meet the minimum spend requirement. We recommend using an Excel spreadsheet or QuickBooks to keep track of your spending – or one of our favorite card-tracking programs, TravelFreely.
Now that you know the basics to set yourself up for success, let's get into some ways you can meet that minimum spending requirement on your new business card without buying anything more than usual.
See our tips for meeting the minimum spending requirement on a new personal travel credit card! 
Pay Routine Business Expenses
No matter what type of business you run, you likely have some overhead expenses that need to be paid on a regular basis. Paying for things like inventory, utilities, and insurance is non-negotiable for most small businesses.
Putting those routine business expenses on a new credit card can be a great way to meet your minimum spending requirement and rack up a bunch of points in the process. While not all business expenses can be paid with a credit card, many of them can – even if that isn't the way you've typically done things in the past.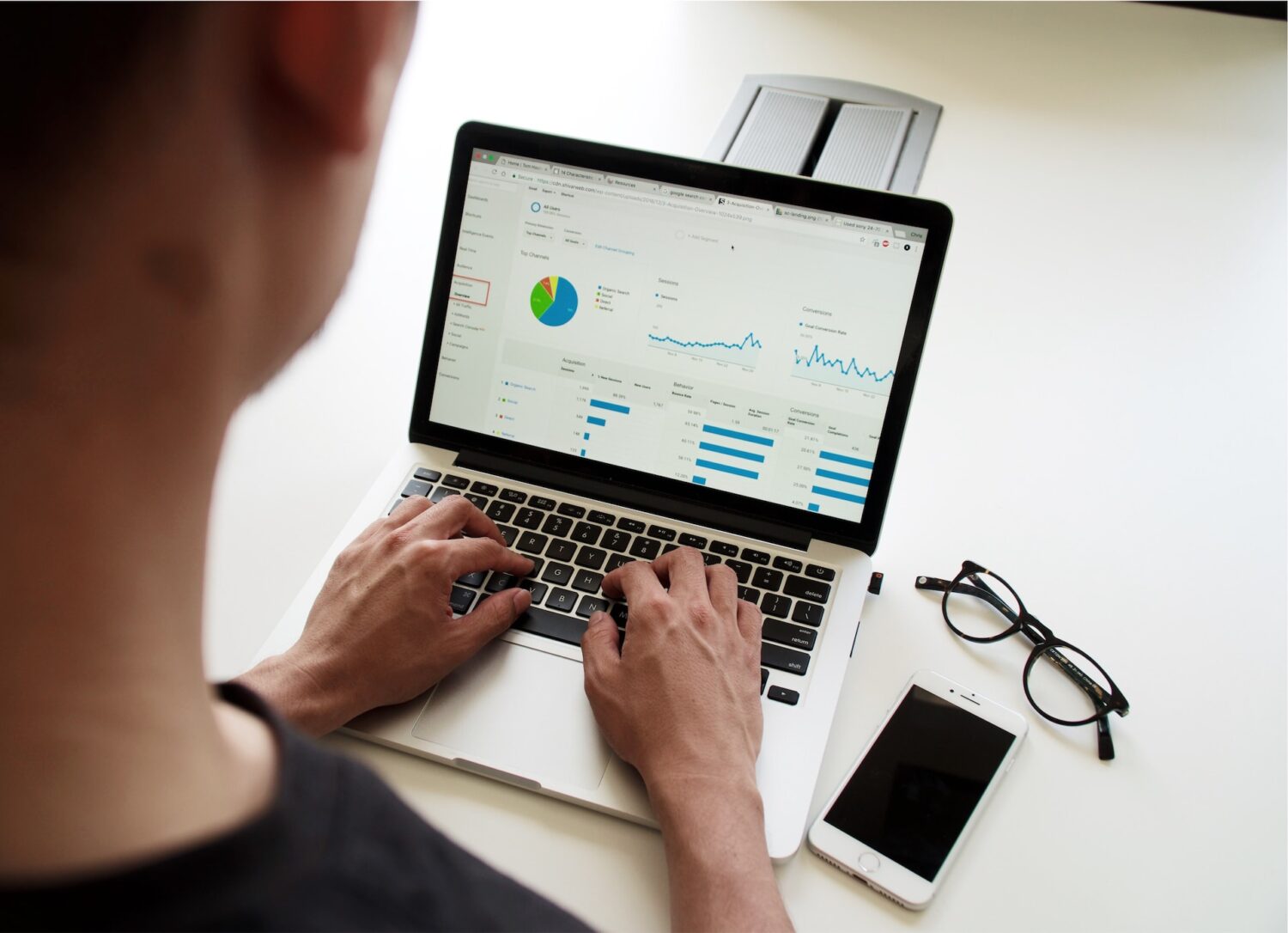 Most insurance and utility companies will gladly accept credit card payments and allow you to set up recurring or one-time payments online. Better yet, some of the top business credit cards reward you with bonus points for making these types of purchases.
If your business doesn't typically spend enough to meet the minimum requirement for one of these cards, consider prepaying your suppliers for inventory that you know you'll need down the road. While it's generally not a good business practice to have extra inventory on hand, buying in bulk will sometimes result in a discount and that can make up for it. You're simply shifting some of your future spending to the present – and earning a big welcome bonus in the process.
Another routine business expense that can easily be put on a credit card is your monthly cell phone bill. If you're currently making this monthly payment with a personal card or directly from your checking account, consider switching your cellphone payment over to your new business card in order to rack up some additional spending. Just be sure your new card includes things like cellphone insurance or even better, a monthly wireless credit!
Use Melio for Non-Routine Business Expenses
If you rent space for your office or store-front this is likely one of your company's biggest monthly expenses. Chances are your landlord has asked that you pay by check or ACH in order to avoid any additional card processing fees on their end. In that case, this might seem like one of those expenses that just can't be paid with a credit card – but that's not the end of the story.
Similarly, your business might have hired a contractor or vendor to complete some work and they too are unable to accept a credit card for payment.
In these cases, businesses can use a service like Melio to pay all sorts of non-routine business expenses like paying vendors, suppliers, contractors, and even rent exactly how they want – including with a credit card. If you're familiar with Plastiq, which allows individuals to pay rent and other expenses with a credit card, Melio is a similar service but is specifically designed for business payments.
In addition to using Melio for meeting a minimum spending requirement, it can also be used to free up business cash flow and postpone payments up until your card's next billing cycle.
When you use Melio for paying your business expenses with a credit card, you'll be charged a 2.9% transaction fee. Vendors, contractors, or whoever else you might be paying will receive a check or bank transfer, without needing to sign up for the service or completing any additional steps on their end. It's a really straightforward business-to-business payment process that allows you to use a credit card for expenses that wouldn't otherwise allow them.
The 2.9% transaction fee for card payments would negate reward earning for ongoing business spending, but when it comes to meeting the minimum spending requirement for a new card welcome offer, it can make a lot of sense.
Use Online Check Writer for Payroll
Just like Melio, Online Check Writer is a flexible payment solution that allows you to make business-to-business payments using a credit card. This platform gives businesses the option to pay non-traditional business expenses with a credit card. The key difference, though, is that it includes the ability to charge your company's payroll to your credit card, allowing another avenue for your business to meet a high minimum spending requirement.

With Online Check Writer, you can make one-time or recurring payroll payments with your credit card for a 2.95% transaction fee. Your employees will have the option of receiving a paper check or a direct deposit in their bank account. It's even possible to integrate Online Check Writer with your company's typical payroll processing software like ADP, QuickBooks, or Gusto.
The 2.95% processing fee won't make this a good option for routine payroll processing but it can be a good way to meet the minimum spending requirement on a new card or to ensure your employees get paid when your business is having an issue with cashflow.
Pay Business Taxes
Taxes are an unfortunate necessity for any business owner. Odds are, your business pays quarterly income taxes – and if you have employees, you'll also be on the hook for payroll taxes. Most businesses pay taxes by ACH or mail a check directly to the IRS – but did you know you can also pay your taxes with a credit card? There is a small fee to do, so again, this may not be the best option for earning normal points. But it can be a great way to hit your minimum spend on that new card.
In fact, this is something that both Chase and American Express are encouraging cardholders to do. Chase has a webpage dedicated to helping you decide when and how to pay your taxes with a credit card. One of the bullet points under the "pros" section specifically lists meeting a minimum spending requirement as a reason to pay your taxes with a credit card.
Amex doesn't have a dedicated page with the pros and cons of paying your taxes with a credit card, but they are encouraging it in their email marketing. Check out a recent "By the Numbers" email that I received from American Express, recapping my spending and points earned from the previous month. They specifically listed the different IRS payment processors and encouraged putting IRS payments on the card as a way to earn rewards.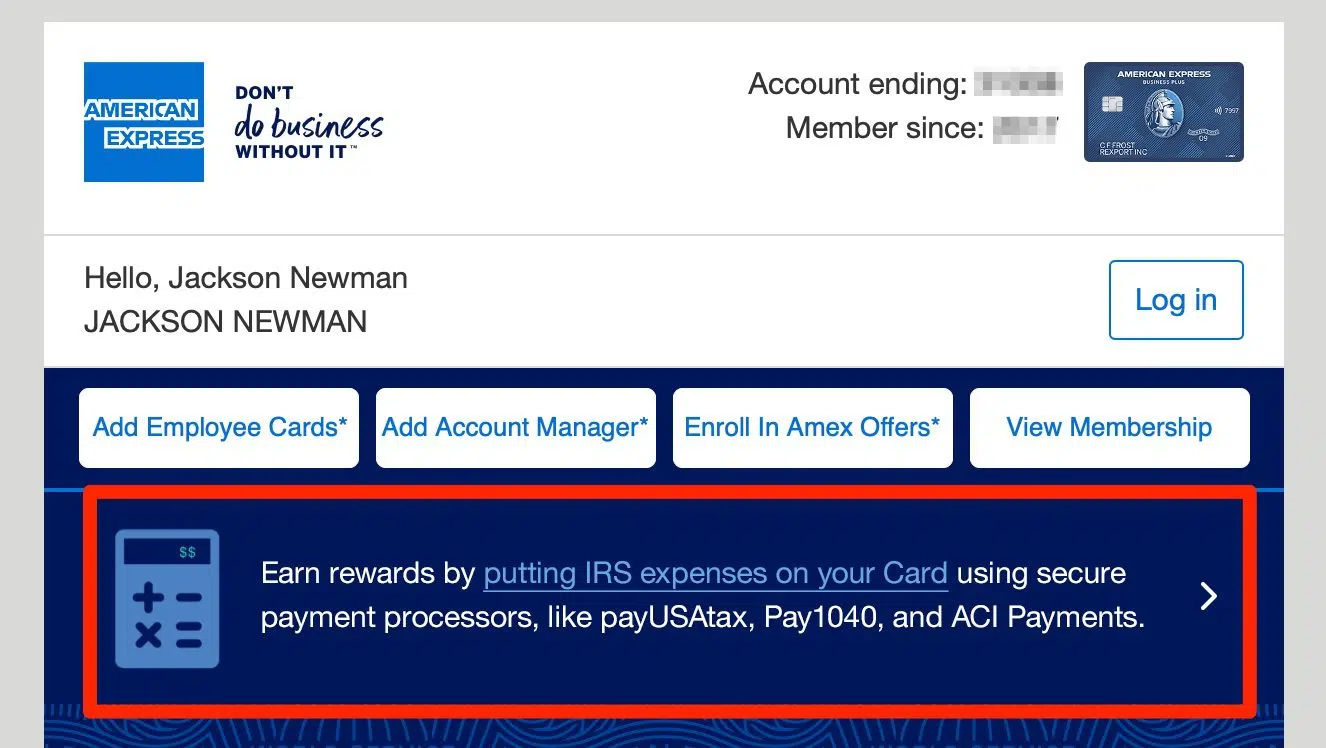 All of the below options are IRS-approved payment processors for paying your taxes with a card. PayUSAtax charges the lowest fee at 1.85%, so there really isn't a reason to use the others. At this rate, paying your business taxes with a card that earns 2x points on non-bonus spending like *blue biz plus* would be profitable even if you aren't trying to earn a new welcome offer.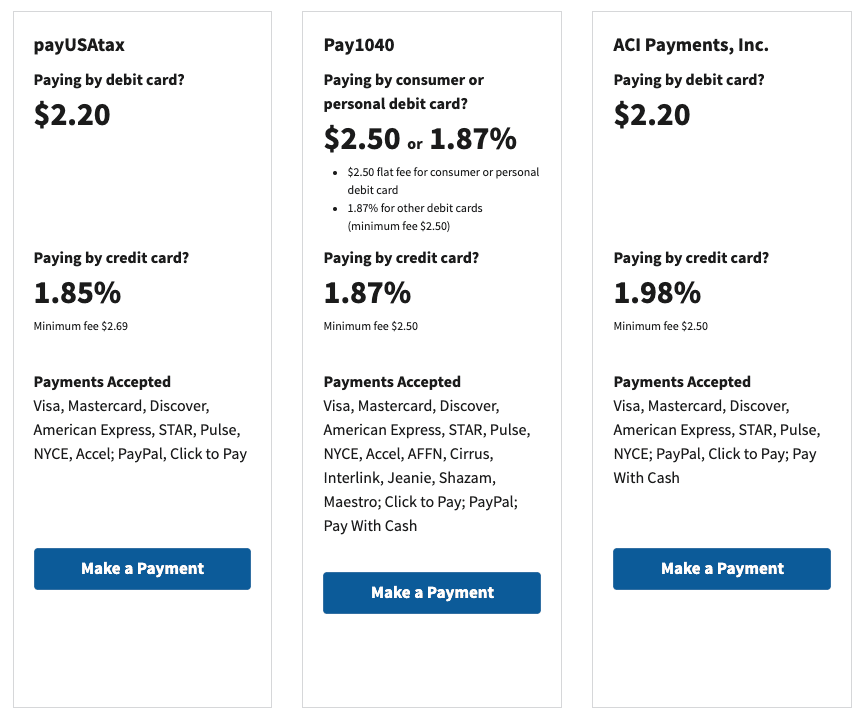 Keep in mind that you're only allowed to make two payments per processor for each tax period. This really shouldn't be an issue for many people but if you initially made a payment and then realized that it was too low, you'd only be allowed to make one more payment with that processor for that specific tax period. You could always use one of the other processors, but that would also incur a higher fee.
Read more: Full review of the American Express Blue Business Plus Card
Add Employee Cards
Adding employee cards to your new account can be another great way to ensure you're putting every penny that your company spends towards your new card welcome offer.
If your business typically has employees pay for things like gas, client meals, or other travel expenses with their own cards and later reimburse them through an expense report, it might be time to have them start putting those purchases on a company card instead.
Not only will you be earning rewards for these business expenses, but you'll also be putting all of those purchases toward your goal of meeting the minimum spending requirement on your new card.
Some banks will even incentivize businesses to add employee cards with an additional points bonus. Just be warned that depending on which new card you have, there may be a fee for adding employee cards so make sure that doing so isn't costing your business extra money in the process.
Bottom Line
Opening a new credit card can be a wise business move for a lot of reasons – and it's even better when you're able to earn a big pool of points for signing up.
With some of the banks' current welcome offers, we can't fault you for getting excited and wanting to jump right into applying. But first, it's crucial that your business has a plan to meet that minimum spending requirement responsibly. With these simple methods, you can meet your goal without spending more than you normally would.