Whether you're planning for summer travel or looking further into the future, it's never a bad time to build up a stash of points and miles to put toward your next vacation. And there's one travel rewards credit card that fits the bill better than the rest.
It's the Chase Sapphire Preferred® Card. With a reasonable annual fee of just $95 a year, this card has been a fan-favorite for years and the absolute best card for anyone looking to get started earning points and miles. If you don't already have this card in your wallet, there's never a better time to pick it up.
Chase is out with 60,000-point bonus on the Preferred Card after spending $4,000 within the first three months of card membership.
Chase Ultimate Rewards points are some of the most flexible and valuable points you can earn for travel, and earning 60,000 of them in one fell swoop is tough to beat. But that's still not all this card has to offer.
Read on to find out why we think the Chase Sapphire Preferred Card is worth adding to your wallet right now.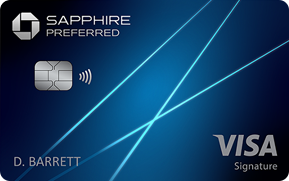 Learn more about the Chase Sapphire Preferred Card. 
Welcome Offer Bonus of 60,000 Points
You'll earn 60,000 Chase Ultimate Rewards points after spending $4,000 in the first three months.
Those 60,000 points are worth at least $750 toward travel when redeemed through the Chase travel portal – and potentially much, much more if you send points to the airlines and hotel chains that are Chase transfer partners. Considering the card has an annual fee of just $95, you can easily come out way ahead.
Just keep in mind: Credit cards are serious business. Even a 60,000-point bonus isn't worth it if you can't afford to pay off every dime in spending it takes to earn those points.
It's a Cheap Travel Card with Solid Perks
Here's what it all comes down to: While you can find bigger bonuses and more premium perks on other cards, you typically have to pay $400, $500, or more in annual fees to unlock anything close to the value of this 60,000-point sum on the Chase Sapphire Preferred after spending just $4,000 in the first three months of card membership.
You'll pay just $95 each year you hold the card – that fee isn't waived for the first year. But considering how much value you can get out of those 60,000 points, that's a small price to pay.
And it's not just about the big bonus. This card carries other benefits that make it worth holding for the long term, including:
3x points per dollar spent on dining, including eligible delivery services
3x points per dollar spent on online grocery purchases (excluding Target, Walmart, and wholesale clubs)
3x points per dollar spent on select streaming services
2x points per dollar spent on travel purchases
Earn up to $50 in statement credits each account anniversary year for hotel stays purchased through the Chase Ultimate Rewards Travel Portal
Earn 5x total points on travel purchased through the Chase Travel Portal, excluding hotel purchases that qualify for the $50 Anniversary Hotel Credit.
Primary car rental insurance when booking your rental with the Chase Sapphire Preferred and waiving the rental agency's collision damage waiver (CDW)
Trip cancellation and delay insurance if your trip is cut short or canceled due to a covered event
Lost or delayed luggage reimbursement when you use your card to pay for the flight
The coverage for rental cars, trip cancellation, and baggage delay alone make easily this card worth keeping for the long haul. That's why it's become many travelers' go-to credit card when it's time to book a trip.
An Easy Way to Book Travel
Among the many reasons why Chase points are a must-have for any aspiring traveler, the ease with which you can book free travel is near the top of the list.
And it starts with the Chase Ultimate Rewards travel portal. All you need to do is log into your Chase account, navigate to use your Ultimate Rewards points, and start searching for your next flight, hotel, rental car, cruise, or more.
Read our guide to using the Chase travel portal!
Every Chase point from the Preferred Card is worth 1.25 cents, which means the 60,000-point bonus is worth $750 toward travel. Trying to book a $500 flight? That'll be 40,000 Chase points.
Thrifty Tip: Want to take your Chase points even further? Use them to book the cheap domestic and international flights we find through Thrifty Traveler Premium, with savings of $500 or even more on some fares!
It doesn't get much easier than this. There's no need to worry about airline mileage programs, award availability, blackout dates, or all the other factors that can make using miles more complicated. If you can buy a flight, you can book it with your Chase points.
And unlike when you use airline miles, you can actually earn miles on these flights. Another great advantage? Your flight will be completely free – no additional taxes and fees.
The Flexibility to Go Further
Want to go further and get even more value out of your points? Chase has an option for that with the Preferred Card, too.
Chase allows you to transfer your points directly to 11 different airlines and three hotel chains. And you get the exact same value transferring your points as if you had the far-more expensive Chase Sapphire Reserve Card: Every point gets you 1 airline mile (or 1 hotel point).
If you want to get some outsized value from your points – especially by flying international first or business class – this is the route for you.
| Program | Type | Transfer Ratio | Transfer Time |
| --- | --- | --- | --- |
| Aer Lingus | Airline | 1:1 | Instant |
| Air Canada Aeroplan | Airline | 1:1 | Instant |
| Air France/KLM | Airline | 1:1 | Instant |
| British Airways | Airline | 1:1 | Instant |
| Emirates | Airline | 1:1 | Instant |
| Iberia Plus | Airline | 1:1 | Instant |
| JetBlue | Airline | 1:1 | Instant |
| Singapore Air | Airline | 1:1 | 12-24 hours |
| Southwest Airlines | Airline | 1:1 | Instant |
| United Airlines | Airline | 1:1 | Instant |
| Virgin Atlantic | Airline | 1:1 | Instant |
| World of Hyatt | Hotel | 1:1 | Instant |
| IHG | Hotel | 1:1 | 1 day |
| Marriott Rewards | Hotel | 1:1 | 2 days |
Look at it this way: A one-way business class seat on Iberia from the U.S. to Madrid (MAD) will typically cost at least $1,900 – and sometimes double that. Booking directly through the Chase portal at that price, you'd need at least 152,000 Chase points. Iberia business class is pretty nice, but that's a lot of points.
But by transferring those points to an Iberia Plus account instead, you can book that same flight for as low as 34,000 miles and under $120 in taxes. By every measure, it's a much better deal.

Read more on how to book Iberia business class – and all the best ways to get to Europe in lie-flat seats!
This flexibility to book directly through Chase or transfer points to airlines and hotel partners is what makes Chase points so valuable. It opens up an unparalleled world of different ways to maximize your points based on your own travel goals.
And that means you can dip your toe into the world of transfer partners and start learning how to take your points even further … or just book flights through the Chase travel portal. Either way, you're coming out ahead.
You Can Use Points on Non-Travel Expenses, Too
Not sure if you want to use the points for travel? Chase has you covered on that front too.
As travel hit a snag in 2020, Chase rolled out a brand new way to use your points called Pay Yourself Back. It works like this: Put your grocery store or gas station purchases on your Chase Sapphire Preferred Card and then use your Chase points to wipe the costs from your credit card statement.
While not quite the same bang for your buck as when it first launched, every point is worth 1 cent each when you pay yourself back. That means you can cover a $50 grocery bill for 5,000 Chase points from your Chase Sapphire Preferred Card.
This is just another great way to continue getting value from your Chase points, even if you're not traveling. The categories eligible for this "pay yourself back" feature do change from time to time, so if you're not currently spending much at grocery stores or gas stations, it might be worth checking back after the current categories expire on June 30, 2023.
Can You Get the Chase Sapphire Preferred Card?
Sold on the Preferred Card? There are a few things to keep in mind to apply.
First and foremost, credit cards are no small matter – especially in this current economic climate. You should never open any credit card if you can't make payments in full each and every month. Any cent of debt you dig yourself into makes the points you can earn less valuable.
Second, you'll need a pretty good credit score to get approved for the Chase Sapphire Preferred Card. It varies from person to person, but a credit score of 700 or above is a good starting point. That said, we've seen approvals for this card from 670 – and denials for credit scores above 730.
Read more about how your credit score really works.
Finally, there are three critical Chase restrictions to keep in mind:
The Chase 5/24 Rule: If you've applied for five or more credit cards (from any bank, not just Chase) in the last 24 months, you won't get approved for this card.
You can only hold one Chase Sapphire card at a time, so if you've got a Chase Sapphire Reserve you'll need to get rid of it – or downgrade it.
You can't stack welcome offers by opening both the Chase Sapphire Preferred and Chase Sapphire Reserve. Chase requires you to wait a whopping 48 months after receiving one Sapphire card bonus to be eligible for the other.
Bottom Line
For years the Chase Sapphire Preferred Card has been one of the best travel credit cards on the market and that's still true to this day – especially for anyone just getting started with earning points and miles.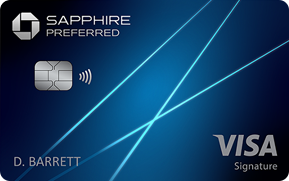 Learn more about the Chase Sapphire Preferred Card.