Over the past few years, CLEAR has changed the airport security landscape in a big way. Odds are, you've seen the CLEAR kiosks and employees staffing dedicated lanes at security checkpoints during your travels.
CLEAR promises shorter lines and a quicker trip through airport security at a growing number of U.S. airports and even some professional sports stadiums, too. It's different from TSA PreCheck in many way ways – especially in where you can actually use it.
But how does CLEAR really work? Which airports actually offer CLEAR service? What does it cost, and is it really worth it?
We'll lay it all out, including how to get a steep discount with the right frequent flyer memberships or credit cards.
What is CLEAR?
CLEAR is a privately run trusted-traveler program that uses both fingerprint and iris identification technology to confirm a traveler's identity. After enrolling on their website, travelers can go to any airport or sports stadium offering the service to complete the registration process. That takes just five minutes or so.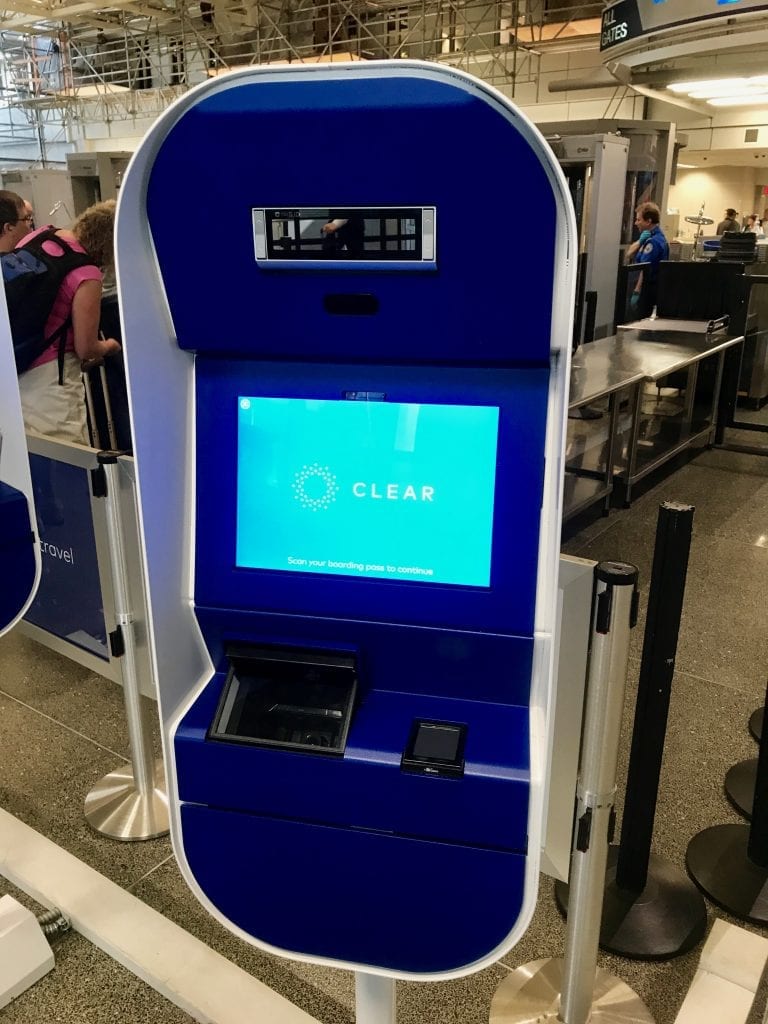 Once you have been cleared at the CLEAR personal kiosk, ambassadors escort you to the front of airport security lines to have your boarding pass checked by a TSA agent. No need to show your ID – that's the whole point of CLEAR.
And that brings us to an important point about CLEAR: It's much different from TSA PreCheck. And while it may seem like overkill, having both CLEAR and PreCheck could make sense.
If you've got PreCheck, your CLEAR membership brings you to the front of the PreCheck line, where there's no need to worry about removing a jacket, shoes, liquids, or electronics. If you don't have PreCheck, you simply cut to the head of standard TSA line.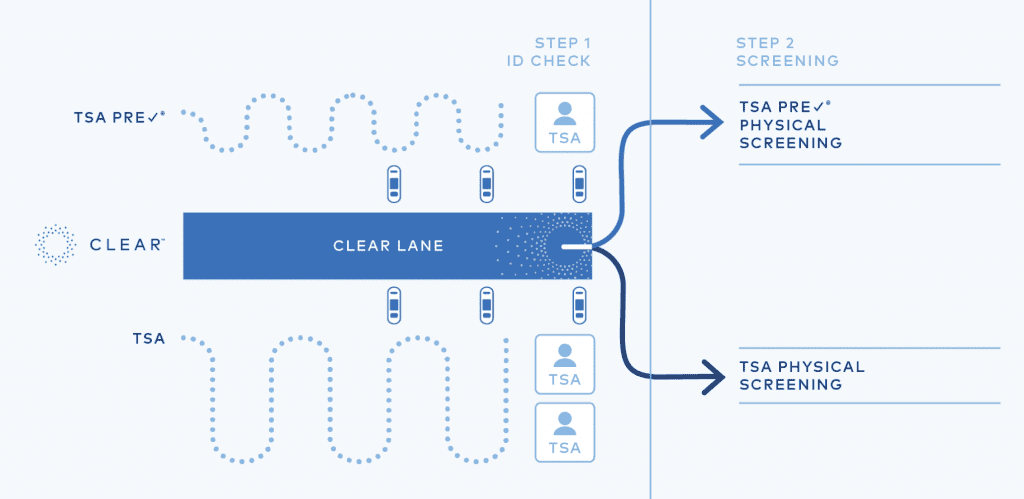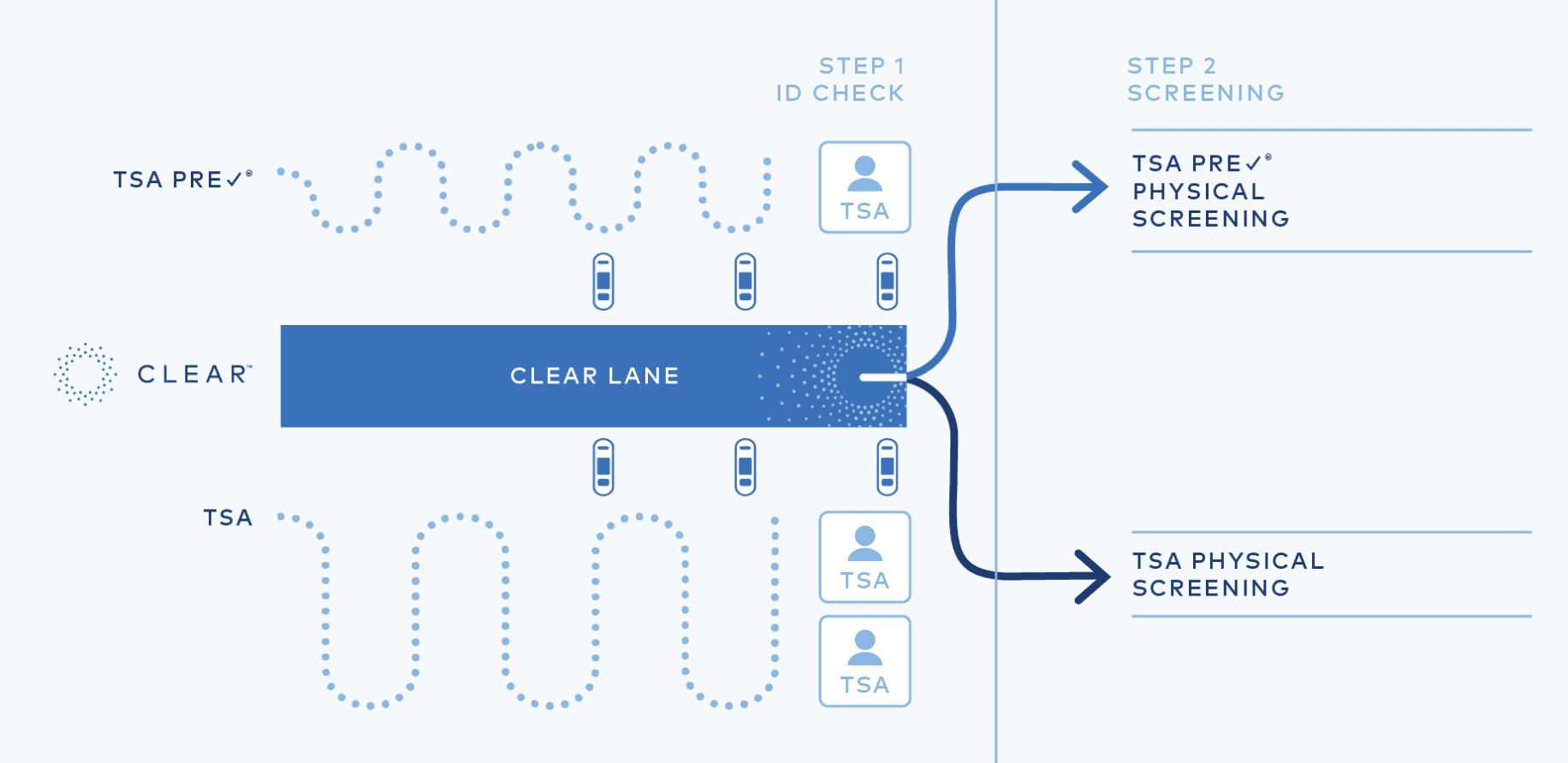 So while CLEAR promotes itself as the ultimate time-saver to skip long lines at the airport, it's not a replacement for TSA PreCheck. Having both CLEAR and TSA PreCheck is a potentially powerful tandem. That said if you don't travel often, having CLEAR won't be worth it. TSA PreCheck is simply a more cost-effective option, and oftentimes just as fast as CLEAR – depending on the airport you are traveling through.
What Airports Offer CLEAR Service?
CLEAR has been rapidly expanding its footprint and there are now many U.S. airports offering the service, though it still trails TSA PreCheck considerably. Here's the list of all CLEAR airport locations.
| Airport | Terminal(s) |
| --- | --- |
| Atlanta (ATL) | North & South Domestic Terminals |
| Austin (AUS) | Checkpoints 1 & 2 |
| Baltimore (BWI) | Checkpoints A,B,C, D & E |
| Birmingham (BHM) | Main Terminal |
| Boise (BOI) | Main Terminal |
| Boston (BOS) | Terminal A |
| Chicago-Midway (MDW) | Main Terminal |
| Chicago-O'Hare (ORD) | Terminal 1 & 2 |
| Cincinnati (CVG) | Main Terminal |
| Cleveland (CLE) | Center & South Checkpoints |
| Columbus (CMH) | Main Terminal |
| Dallas-Fort Worth (DFW) | Terminal E |
| Dallas-Love Field (DAL) | Terminal 1 |
| Denver (DEN) | North & South Entrances |
| Detroit (DTW) | North & McNamara Terminals |
| Fort Lauderdale (FLL) | Terminals 1 & 2 |
| Greenville-Spartanburg (GSP) | Main Terminal |
| Houston-Intercontinental (IAH) | Terminals A, B, C and E |
| Houston-Hobby (HOU) | Main Terminal |
| Kansas City (MCI) | Main Terminal |
| Las Vegas (LAS) | Terminals 1 & 3 |
| Long Beach (LGB) | Main Terminal |
| Los Angeles (LAX) | Terminals 1 - 7 |
| Miami (MIA) | Checkpoints E & H |
| Milwaukee (MKE) | Main Terminal |
| Minneapolis−Saint Paul (MSP) | Terminal 1 |
| Nashville (BNA) | Central Checkpoint |
| New Orleans (MSY) | Concourse D |
| New York City-John F. Kennedy (JFK) | Terminals 2 & 4 |
| New York-LaGuardia (LGA) | Terminals C & D |
| Newark (EWR) | Terminal C |
| Oakland (OAK) | Terminal 2 |
| Oklahoma City (OKC) | Main Terminal |
| Ontario (ONT) | Terminal 2 & 4 |
| Orlando (MCO) | East & West Security |
| Palm Beach (PBI) | Terminal A/B & C |
| Palm Springs (PSP) | Main Terminal |
| Phoenix (PHX) | Terminals 3 & 4 |
| Raleigh-Durham (RDU) | Terminals 1 & 2 |
| Sacramento (SMF) | Terminal A & B |
| Salt Lake City (SLC) | Terminals 1 & 2 |
| San Antonio (SAT) | Terminals A & B |
| San Diego (SAN) | Terminal 2 |
| San Francisco (SFO) | Terminals 1-3, International Terminals A & G |
| San Jose (SJC) | Terminal A & B |
| San Juan (SJU(+) | Terminals A, B & C |
| Seattle-Tacoma (SEA) | Checkpoints 1-5 |
| St. Louis (STL) | Terminal 2 |
| Tulsa (TUL) | Main Terminal |
| Washington, D.C.-Dulles (IAD) | Main Terminal & East Security Checkpoint |
| Washington, D.C.-Reagan (DCA) | Terminals A, B & C |
| Westchester County (HPN) | Main Terminal |
In addition to the CLEAR airport locations above, there are even a number of sports stadiums and event venues across the country that offer CLEAR as a way to fast track your entry. Here's the full list:
| Sports Venue | City | Where to Access |
| --- | --- | --- |
| SunTrust Park | Atlanta, GA | Chop House, First Base & Third Base Gates |
| Oriole Park at Camden Yards | Baltimore, MD | Gate C |
| Progressive Field | Cleveland, OH | E. 9th Street Patio Gate |
| Globe Life Park in Arlington | Arlington, TX | First Base Gate |
| Coors Field | Denver, CO | Gates C & D |
| Comerica Park | Detroit, MI | Gate A |
| STAPLES Center | Los Angeles, CA | Figueroa Street Entrance |
| Banc of California Stadium | Los Angeles, CA | Northwest Plaza & Northeast Gate |
| AmericanAirlines Arena | Miami, FL | Gates 1 & 2 |
| Target Field | Minneapolis, MN | Gate 34 |
| Yankee Stadium | New York, NY | Babe Ruth Plaza, Suite Entrance, & Gate 6 |
| Citi Field | New York, NY | Jackie Robinson Rotunda & Seaver Gate |
| Madison Square Garden | New York, NY | 7th Ave South Entrance |
| Oakland-Alameda County Coliseum | Oakland, CA | Gate C & D |
| Oracle Park | San Francisco, CA | Willie Mays Gate & King Street Gates |
| Avaya Stadium | San Jose, CA | Main Gate |
| T-Mobile Park | Seattle, WA | Home Plate & Left Field Entrances |
| CenturyLink Field | Seattle, WA | North Plaza & Southwest Entrance |
What Does CLEAR Cost?
Annual membership in the CLEAR program is $179, which is a steep price to pay.
While a handful of different credit cards offer free memberships in Global Entry or TSA PreCheck, it's a bit harder to get CLEAR for free. But there are substantial savings.
Don't want to pay to renew CLEAR while you're not traveling? CLEAR offers a free, three-month extension to your account due to coronavirus
For starters, all Delta SkyMiles or United MileagePlus members can enroll in CLEAR for just $119. So even if you're not flying Delta or United, you can quickly sign up for a SkyMiles or MileagePlus account to capitalize on this lower cost.
If you've got status with either airline or hold one of the co-branded credit cards, that price drops to $109. And the lowest pricing of all is reserved for top-tier status holders, who can select an annual membership as a free perk.


There's really no reason to pay the $179 price. Just for signing up for a free Delta or United frequent flyer account, you can drop that price by at least $60. And there are many options to secure a free trial, be it for just one month or three.

But it can potentially get much cheaper. The *Amex Green Card* was recently updated with a host of new benefits including an annual $189 annual credit towards the cost of CLEAR membership.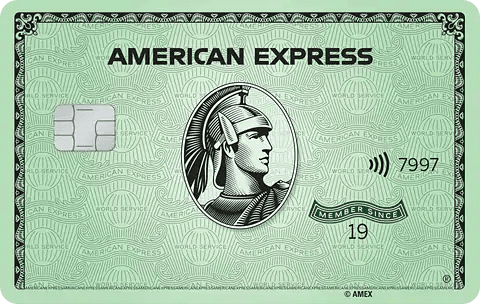 Learn more about the *Amex Green Card*
The CLEAR Family Plan
This is one of the least-known yet most lucrative perks of CLEAR: Letting your spouse or family members piggyback on your account is much cheaper.
When you enroll in a CLEAR membership you can add up to three adults to your Family Plan for only $60 per adult. After you add them, all they need to do is head to a participating location and finish their enrollment. It will only take a few minutes and they can start using it right away. They can use CLEAR anytime, whether or not they're traveling with you.
For kids or any family members under the age of 18, you can bring them along with you for free. They don't need to be added to your Family Plan.
Our Experience With CLEAR Airport Security
Our team has been using CLEAR since 2017, when it was a fairly new program. It's been available at our home airport of Minneapolis-St. Paul (MSP) for years, and we use it regularly when we travel.
After more than three years, we can confidently say CLEAR is not always a slam dunk. And it may not be for everyone. Here are some takeaways about using CLEAR:
Sometimes, CLEAR can be a lifesaver and save you from long wait times. But the way that CLEAR signs up new members and processes existing members can lead to backups, making it slower than just using your PreCheck membership and skipping CLEAR entirely.
If you're not traveling at least somewhat frequently or getting a substantial discount on CLEAR, it's likely not worth it due to that uncertainty
That said, the value of CLEAR may jump for traveling during coronavirus. A touchless security process by using your iris scans to verify your identity and the potential of spending less time in lines sounds appealing right now.
Bottom Line
CLEAR certainly has its place, and it can be an absolute lifesaver – but it's not for everyone. Whether CLEAR makes sense for you will hinge on how often you travel, and whether it's available from the airports you frequently travel through.
Lead photo courtesy of CLEAR