When flights, lodging, and food expenses pile up on a trip, it's nice to know that at least a few hours of your day are going to be healthy and free. That's the beauty of a hiking trip.
Hiking is a top traveling pastime for a reason: It lets you soak in views, get some exercise, and explore wherever you may end up. Best of all: It might be the thriftiest travel activity out there. Aside from a few parks with entry fees, all you need is a pair of shoes.
And when you're hiking, you're avoiding dining out ($$$) with a packed lunch, you're not driving or commuting ($$$), you're not lining up to enter museums or attractions ($$$), or doing any of the other travel activities that all come with a price tag. Plus, if you're anything like me, when you get back from a long hike, you're wiped! No late night session at the bars ($$$) for me.
Oh, and the best part? Hiking can take you to some of the most beautiful places on the planet.

When I travel, one of my goals is to get to the highest point at that destination and take in the view. Hiking is almost always the best way to do that.
Here's how I go about planning a hiking trip, along with a few of my favorite hiking destinations.
Hiking Trip Planning 101
Let's get started on planning a hiking trip, because it's actually extremely easy to do.
Pick a Destination
The beauty of planning a hiking trip is that pretty much anywhere can be a hiking destination.
I've done memorable, scenic hikes in state parks five minutes from my Minneapolis home, and I've tackled cliffside treks high in the Flathead Mountains of Montana.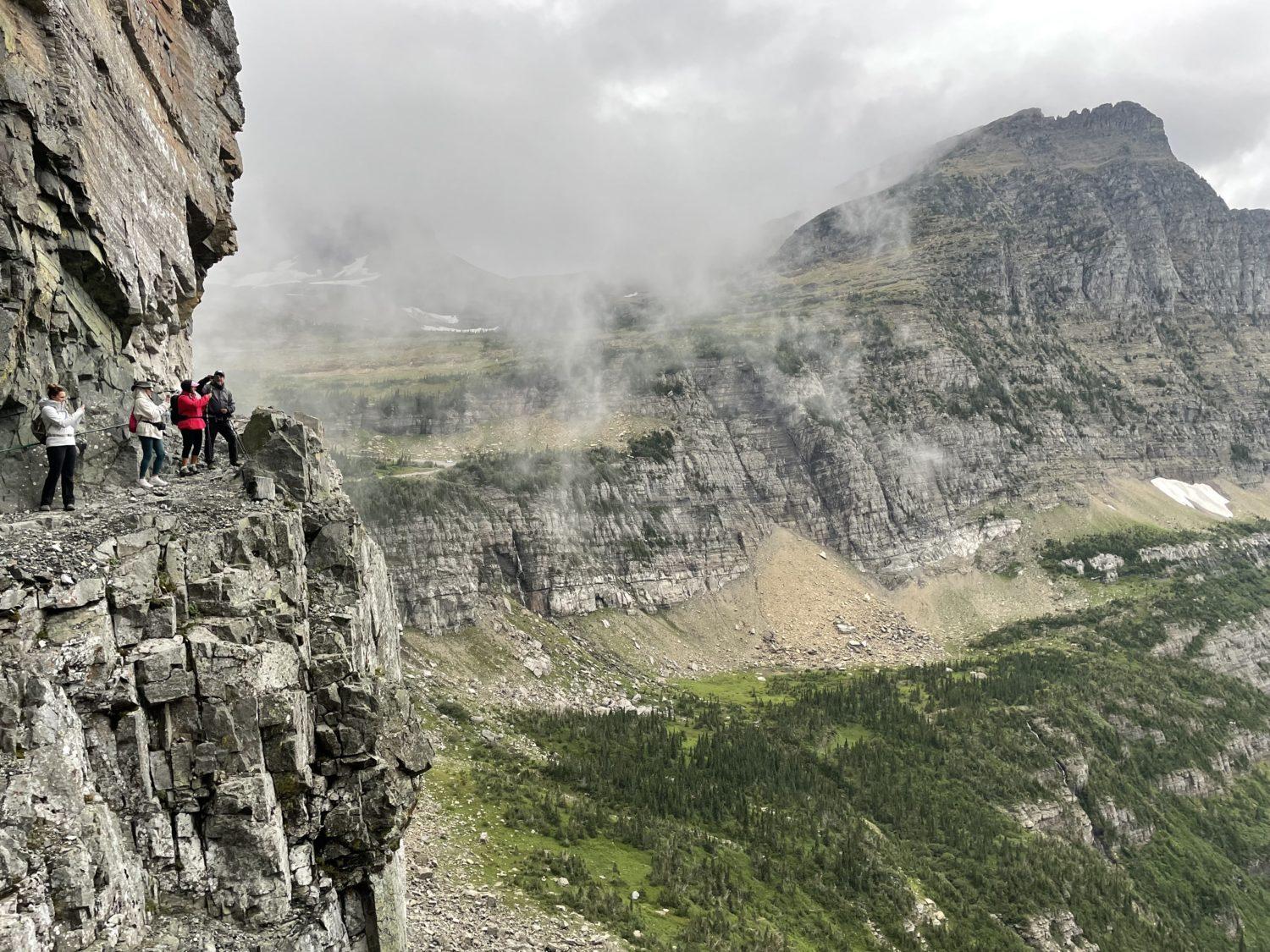 You don't have to start at 8,000 feet above sea level to get started on your hike, and you don't have to climb 1,000 vertical feet in order to enjoy a good trail. Don't think you have to visit Alaska or the Swiss Alps to pull off a good hiking trip.
That said, most people are looking for stunning views or a strenuous challenge in their hiking adventures … and that leads most hikers right to the mountains.
Even if you aim for a classic hiking destination like Glacier National Park in Montana, the park features everything from 1-mile nature boardwalks to three-day backpacking treks. You'll find a ton of variety in most hiking destinations.
Use AllTrails
Perhaps the best new way to get the lay of the land is using the app and website AllTrails.
AllTrails is an incredibly powerful travel tool that takes user data from hikers all over the world and creates an interactive map of hiking, walking, and bicycling trails that anyone can access. And yes, it's free.
With AllTrails, you can search the trails in your neighborhood's city park, explore Machu Picchu, and literally everything in between. The data is added by individuals who log their hikes into the system, giving users a look at the length, difficulty, rules, and on-the-ground, by-the-minute observations.
Here is a search of Grand Teton National Park in Wyoming and all of its trails – over 100 of them, in fact. But at the top of the page, you can filter for trails you're interested in. It's like Google Flights for finding a free hike!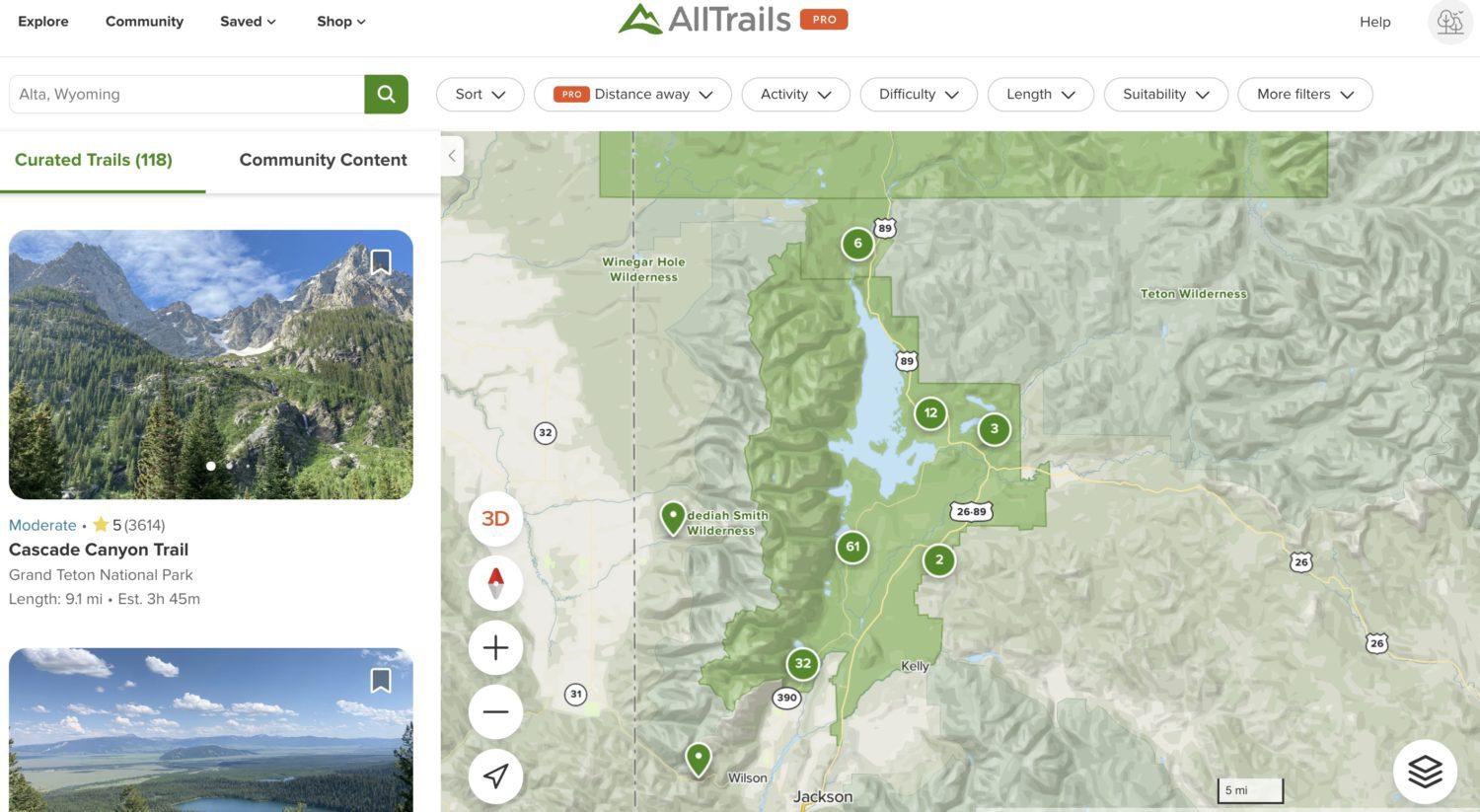 So let's say I'm looking for a moderately difficult hike, but anything more than 6 miles is off limits. There are filters for that!

Using those filters, I can see 14 different trails. If I wanted to narrow it down further, there are also filters for "Most Popular," activities like "Trail Running," and even if the trail allows dogs, has views of a waterfall or lake, or if it's heavily trafficked or not.
The filters on AllTrails are what really make it great. So let's add a few. I want a quieter trail close to a lake, so I threw those filters in and saw three options. From those, I chose the 3 1/2-mile Lookout Rock Trail.

It's all about the details on AllTrails! On the top left, you can click on the photo and see 120 user-submitted photos showing you what it's actually like on the trail. You get a short description of the trail under that, including approximately how long the trail takes to hike. Plus, you get the length, the elevation gain, and trail type. To the right, you get a full map of the trail above an elevation profile, which lets you know when you can expect some steeps and when you can expect the trail to flatten out.
If you scroll down on the page, you'll find a weather forecast, including UV Index and expected daylight, plus some reviews of the trail. This trail was rated a 4.1 out of 5 thanks to 68 reviews. Underneath the reviews are where you'll get even better intel, as hikers who just finished their trek will put their live observations into the system.

How buggy is the trail? Is it muddy after the rain? Are there any bear sightings lately? Are the wildflowers in bloom? Has the park service closed the trail for some reason? These are all insights you can gain from the comments section. And as far as internet comment sections are concerned, AllTrails is extremely civilized!
I cannot recommend AllTrails enough if you are looking to plan a hiking trip. If you think you'll use it often, I'd also recommend getting AllTrails Pro. I have it, and at $30 a year (or $100 for a lifetime), you get to save PDFs of the trails on your device (or print them out if you're worried about battery life, etc.) and you can log your hikes live on the app.

Get Your Passes and Permits
So, hiking itself is a free activity most of the time … but you may still need to pay to gain access to places like National Parks and other private areas. It's best to get ahead and book in advance.
For instance, a seven-day pass to enter the National Parks will run you somewhere around $35 depending on the park. But the National Parks annual pass is just $80. We have a full guide to getting a maximizing your National Parks Pass in 2022. You can also get into the parks free on several days each and every year.

But beware of super popular parks that require vehicle reservation or ticketing systems. Hiking is as popular as ever, and people want into some of the most famous parks. So the parks are controlling crowds to make it a better experience for everyone.
Best Destinations for a Cheap Hiking Trip
Yes, it's cheap to go hiking. But whether you're going somewhere near or heading to another continent, it can be cheap to get there, too.
Some of our favorite hiking destinations in the world are also fertile ground for finding cheap flights. In the past two months alone, we've found some fantastic flight deals to world-renowned hiking destinations – plus some off-the-beaten path spots that deserve your attention, too.
All of these deals were sent to our Thrifty Traveler Premium members who got the chance to book them while they were cheap. Who knows, we might have Premium members in the mountains right now conquering trails they reached because of one of these flight deals.
Domestic Hiking Destinations
Close to home, we have an embarrassment of riches when it comes to classic trails. And when you can book a flight like this, you can conquer some of the best trail systems in the world in a quick weekend.

Get cheap domestic and international fare alerts straight to your inbox with Thrifty Traveler Premium!
It would insult Colorado to try and limit its world-class hiking to just one region, so I won't. But you'd do pretty good for yourself with a trip to Rocky Mountain National Park, Pikes Peak, Aspen, Summit County, Telluride, or Pagosa Springs during your visit.
And with flights that cheap into Denver (DEN), it's an affordable, quick trip that doesn't require a week off work to pull off, either.
Alaska, on the other hand … well, that probably deserves a week off work. Our wildest state is home to the wildest mountains we have. And believe it or not, Alaska stands out as one of the best destinations with a steady stream of cheap flights right now – including recent sub-$300 fares to Juneau (JNU) or these even cheaper fares straight into Anchorage (ANC).

Like all hiking destinations, you don't have to be a backpacker with thousands of dollars worth of equipment on to conquer a trail. But it's important to know that you don't mess around in Alaska. Choose an easier, more accessible trail closer to the city if you want to hike Alaska and you aren't experienced. Luckily, Anchorage has so many good options close by.
Here's one destination you might not have thought of: New Mexico. The Land of Enchantment isn't all cactuses and desert. In fact, northern New Mexico is quite the opposite, with the mountains of Santa Fe stretching north through the mountain town of Taos, featuring supreme hiking terrain and some incredible views, too.
Flight deals like these for less than $200 roundtrip grease the skids a little bit, too. We've found a few great Albuquerque (ABQ) deals lately, which puts you just about two hours away from the mountains and some of my favorite hiking in the country.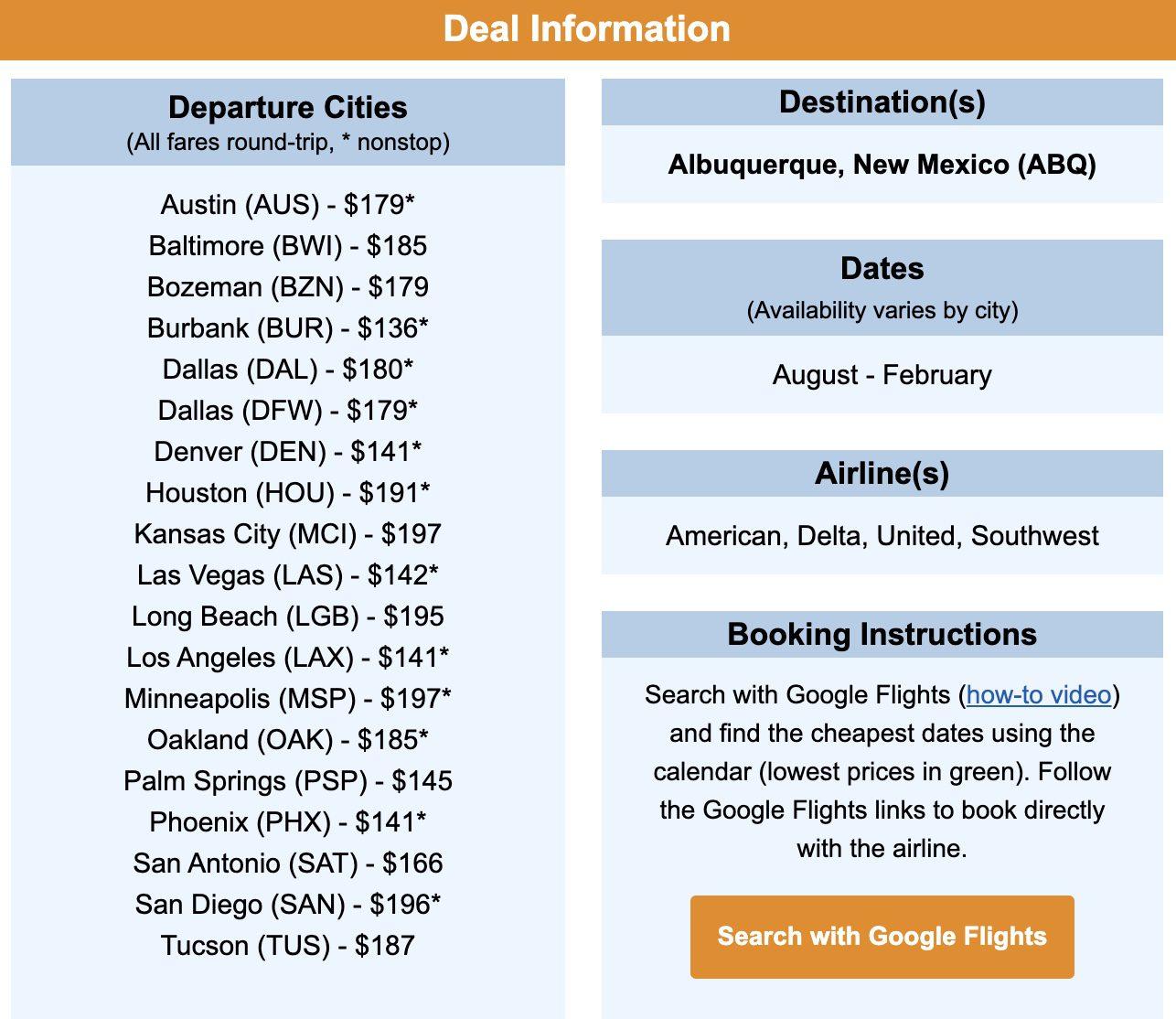 Again, desert doesn't mean there aren't mountains, and Arizona proves it. They call it the Valley for a reason, and that's because almost everywhere you look in Arizona, there are mountains and trails.

Plus, you can head north to Sedona, which is a beautiful mix of alpine and desert and boasts thousands and thousands of miles of trails.
From Yosemite up through Lake Tahoe, the Sierra Nevada Mountains should already be on your list of places to go hiking. If they're not, maybe a sweet little flight deal like this might change your mind.

The Lake Tahoe area has tons of incredible hiking in some of the prettiest mountains we've got in this country. But a cheap flight to Reno (RNO) doesn't stop you in Tahoe, either. Head south a little ways and you can enjoy the mountain town of Mammoth and even Yosemite National Park.
I don't blame you if you thought Hawaii was mostly good for a beach chair, an oversized set of shades, and a fruity drink. You should absolutely carve out a few hours for that in Hawaii, but bring your hiking shoes, too. Hawaii is home to some of my favorite hiking anywhere. The vegetation and volcanic rock make for some sublime views as you hike around places like Hawaii Volcanoes National Park on the Big Island. There's so much hiking to be done in Hawaii, all under perfect weather, of course.
Plus, you'll want to earn that beach chair time, right?
Despite being an archipelago in the middle of the Pacific Ocean, it's actually been as cheap as ever to fly to and from Hawaii. Look at this fare we found just this week from tiny Eugene, Oregon (EUG) to and from the Big Island (KOA).

Also, try out a beach hike in Hawaii and make it a two-fer. If you have to hike to a beach, there won't be crowds when you get there. Hiking to a private beach? I might just have to book this myself…
International Hiking Destinations
In the United States, we're spoiled with the amount of incredible hiking we have. But let's think big for a minute, because there's so much good hiking a world away that deserves your attention.
We already mentioned Machu Picchu, which is just a short domestic hop from Lima (LIM), Peru. The hike up Machu Picchu is a staple on bucket lists, but the region has tons of other hiking trails as well.

You could easily spend a week exploring the Santuario Histórico in Peru, and you should! Plus, flight prices down to Lima have been low lately. And at just around $100 to continue on to Cusco starting at just $56 roundtrip, it's an easy extra leg to add to your journey.
Nothing says hiking in South America like Patagonia, though. This southern Chilean region is home to some of the most unbelievable alpine lakes and mountains in the world. Patagonia National Park is home to some incredible hiking, both easy and extremely hard.
Plus, we've found some really competitive fares down to Chile lately, with similarly-cheap connections to take you the whole way down to Patagonia.

Back up here in the Northern Hemisphere, Norway and its scenic seaside fjords also make for a perfect hiking backdrop. The trails system in Norway is extremely well connected and maintained, which means you can see more mountains and sea that almost anywhere else.
Oh, and it might be the cheapest time to ever visit Norway right now thanks to the arrival of new airline Norse Atlantic and these extremely competitive Air France and Delta fares.

Thrifty Traveler Premium members went nuts of these fares all the way to Norway, just like they did when we were sending them Switzerland deals like this one.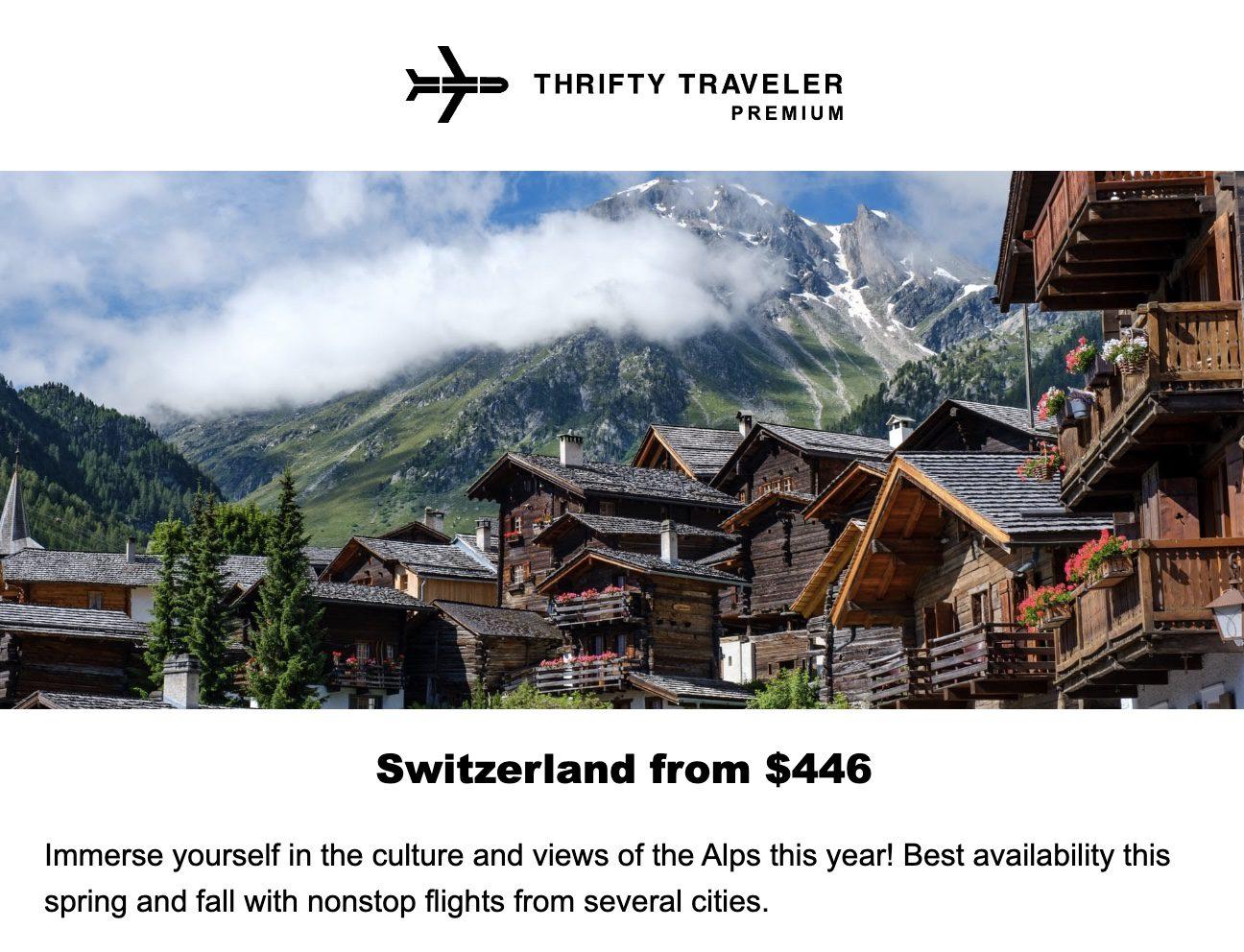 The Swiss Alps are mountains as they should be. Despite being some of the gnarliest, most rugged rocks on the planet, Switzerland's infrastructure slices and dices its way up, through, underneath, and around the Alps, giving hikers the most alpine access of anywhere in the world.
It's hard to explain how easy it is go hiking someplace spectacular in Switzerland. There are too many great locations to count, but I'm particularly fond of the Jungfraü region. Home to Mürren and Lauterbrunnen, the valley just oozes charm.
My most recent hiking adventure was to Iceland, which also has an impossible amount of insane scenery. Waterfalls, mountains, and volcanoes dot the landscape, making for some beautiful hiking areas. You'll love the trails around the Snaefellsness Peninsula, but my particular favorite Icelandic trail is above the Skogafoss Waterfall  in southern Iceland.
Oh, and I forgot to mention: It's as cheap as ever to fly nonstop to Iceland right now. These fares were all for peak summer, including the mid-July days of the midnight sun. That means you could start your hike at 10 p.m. and finish it at sunset.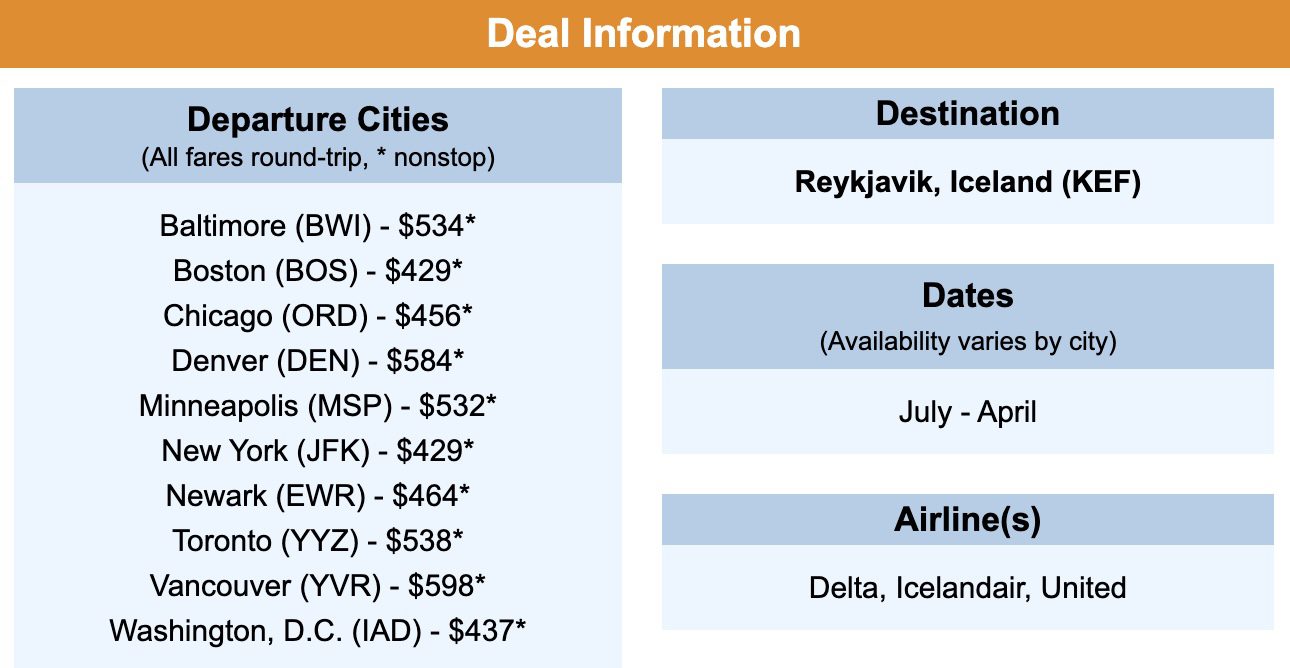 Let's finish our globetrotting hiking adventure with something a little closer to home … but just as spectacular as anything in the world. I'm talking about Banff.
These cheap flights to Calgary (YYC) that we sent our subscribers would be the perfect jumping off point for a Banff and Lake Louise journey in Alberta, Canada.

Plus, once you're there, you have access to the Canadian Rockies, which are as beautiful a mountain range as I've ever seen. I'll start you with three words: Banff. National. Park.
The trails in Banff wind you in and around rivers, and streams, taking you high up into the mountains and into the presence of lakes that are impossibly colored. And don't miss out on Lake Louise, either. The hiking around that pristine lake is the perfect use of a morning. Then rent a kayak or paddle board and take in the scenery from the water afterward!
Bottom Line
Hiking trips are healthy, cheap, and incredibly rewarding ways to travel.
Using tools like AllTrails and booking incredibly cheap flights to some of the world's best hiking destinations is the best way to get one of these excursions on the books for this year or next.
See you on the trail!