No matter where you're flying or why, air travel can be chaotic … and that's where airport lounges come in. Skip the busy terminal and the mediocre $25 airport sandwiches before your flight and get a quiet place to sit with free food and drinks inside the lounge.
Long considered a space only for first-class flyers or frequent travelers with top airline status, it's gotten much, much easier to get airport lounge access. Just by holding the right credit card, you can get into Delta Sky Clubs, Amex Centurion Lounges, Capital One Lounges, Priority Pass lounges, and more. In fact, there are so many great airport lounge options – and different ways to get in – these days, it can be overwhelming trying to keep track of exactly which lounges you can access.
And that's where the free LoungeBuddy mobile app comes in handy. Just by downloading the app, and entering in a few details about which credit cards you currently have in your wallet, the app will use your phone's location to display the lounge options you can visit, saving you time and a few headaches while you're on the go.
Read on for everything you need to know about LoungeBuddy and how to use it on your next trip through the airport.
Related reading: The Best Way to Get Into Airport Lounges & Improve Your Travels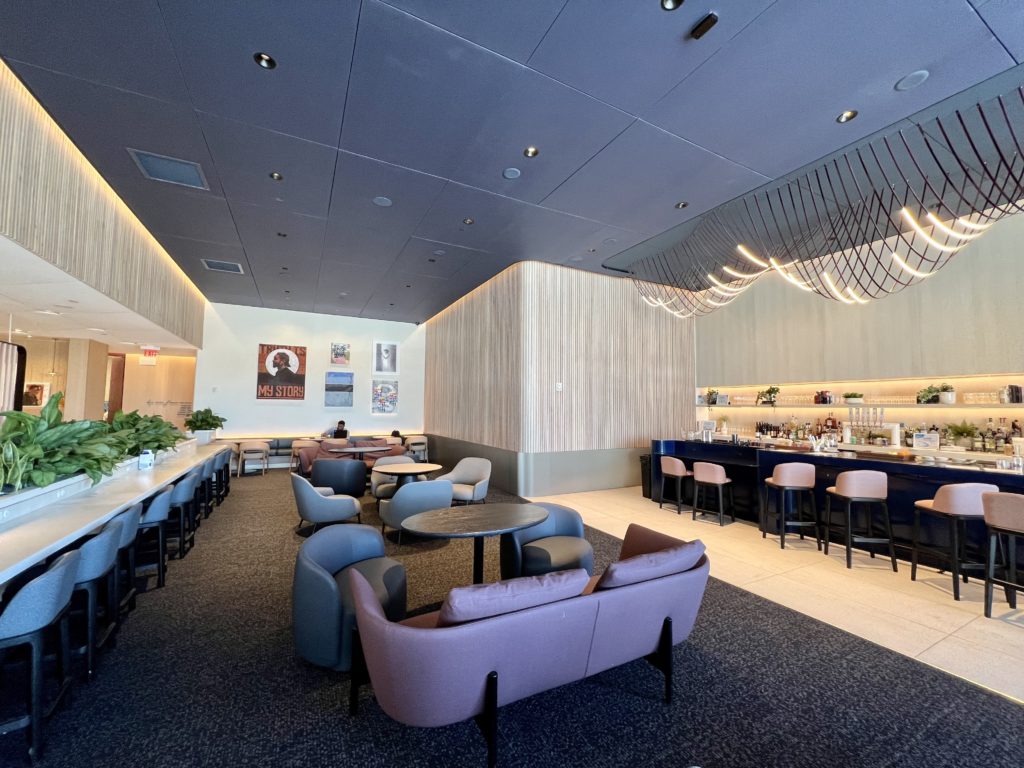 What is LoungeBuddy?
LoungeBuddy is a mobile app available exclusively for iPhone users that can help you sort out which airport lounges you have access to based on the credit cards in your wallet, your airline elite status, and the airport in which you are in. Sorry if you've got an Android phone, travelers.
The company says that LoungeBuddy was created as your answer to finding a place to relax, be productive, freshen up, or just get away from it all.
In addition to helping you sort out your lounge access based on your status or credit cards, LoungeBuddy also allows you to book single-use lounge access on demand starting at just $25 per visit. That said, you'll need to be an American Express credit cardholder to purchase single-use lounge access, thanks to a 2019 acquisition of LoungeBuddy by American Express.
As long as you have an American Express card, you'll be able to book certain airport lounges on demand. Access can be reserved up to two months in advance for a specific date, or on a last-minute basis as space allows. That said, not all airport lounges will be eligible for single-use access through LoungeBuddy. Make sure to check out the locations on their website before your next trip – assuming you don't have existing lounge access from your credit card(s).
How to Use LoungeBuddy
First and foremost, you'll need to download the free LoungeBuddy app from the Apple app store. Sorry Android users, as of publication, there isn't a LoungeBuddy app available on Google Play.
Once you've created an account, head to the account tab in the bottom right-hand corner and click on your access methods.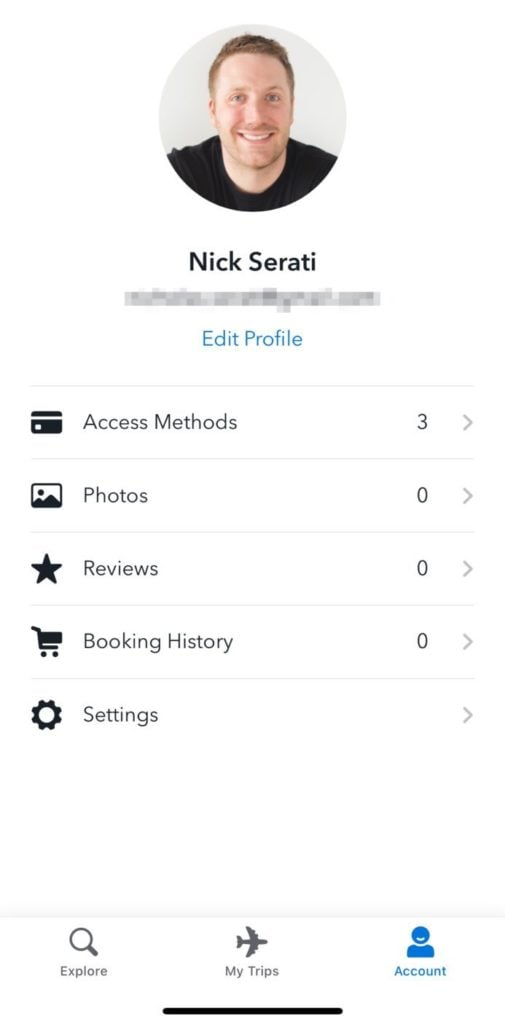 Assuming you have a card that offers airport lounge access as a perk, you can hit the + button in the upper right-hand corner to add those cards, and also any airline elite status you have. Don't worry, you aren't entering any sensitive data – just simply selecting which cards you currently have open.
Since I hold Delta Platinum Medallion status as well as both the Capital One Venture X Rewards Credit Card and The Platinum Card® from American Express, I entered all three.

Once you have your access methods entered, you'll be ready to see exactly which lounges you have access to. Using my home airport of Minneapolis-St. Paul (MSP), I can quickly see the lounges I can get in for free with a blue checkmark. Lounges I can't access are noted with a red X.
Generally speaking, airline-specific lounges will display that your access is unknown. Even though I can get into the Delta Sky Club with my Amex Platinum Card, it does require me to be flying with Delta to enter. Quickly clicking on those lounges will explain in more detail how you can gain access.

Not only will the app display which lounges you can access, but it also displays them by Terminal and even provides where they are located. LoungeBuddy users can also leave reviews of lounges, so if you're torn between a few options, the reviews can certainly help you decide.
Buying Lounge Access Through LoungeBuddy
If you don't have a credit card that offers lounge access, you can also buy single-use lounge access through the LoungeBuddy app.
As mentioned, you'll need an American Express credit card to purchase lounge access through LoungeBuddy. But don't worry, you won't need a specific Amex card – any Amex card should suffice. But as you'll see, one Amex card might be better than others…
How Much Does LoungeBuddy Cost?
If you do opt to purchase lounge access directly through LoungeBuddy, expect to pay anywhere from $25 to $50 per visit. Importantly, not all lounges will be available for single-use access.
Take for example Minneapolis-St. Paul Airport (MSP) where you can only buy single-use access to the Escape Lounge MSP – The Centurion Studio Partner for $40. Even though there are more lounges at MSP, this is the only one available for single-use access through LoungeBuddy. Make sure to check out the full list of lounges you can buy access to through LoungeBuddy.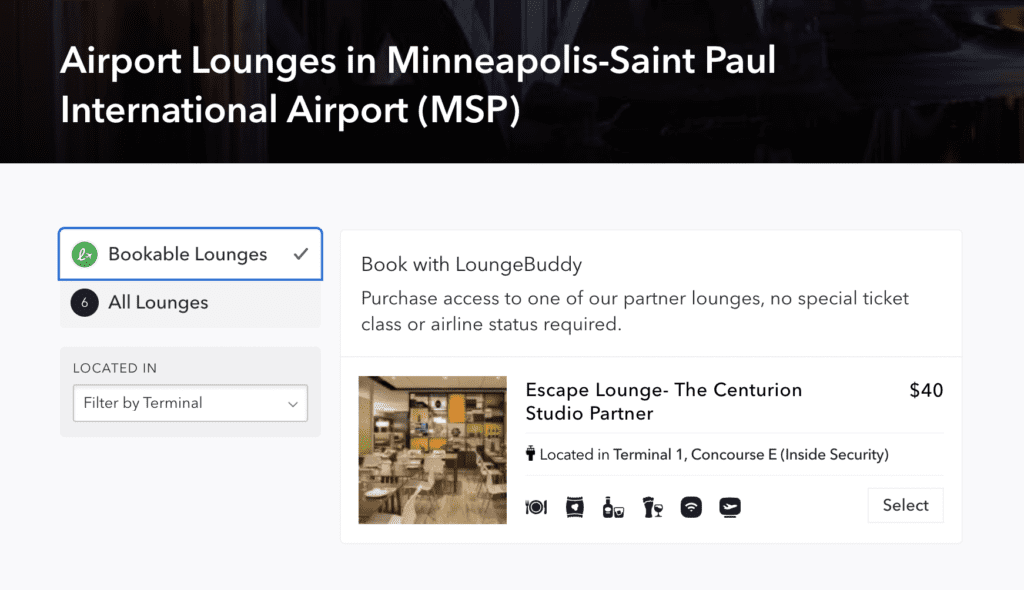 Additionally, if you hold the *Amex Green Card*, you'll get up to a $100 credit each year to spend on airport lounge access through LoungeBuddy. Considering LoungeBuddy lounge access starts at just $25 per visit, this credit alone could pay for as many as four trips through airport lounges.
Read More: A Full Review of the American Express Green Card

Learn more about the *Amex Green Card*
Bottom Line
LoungeBuddy is a great, free tool that allows you to sort out which lounge access you have based on your airline elite status and the credit cards in your wallet – no matter which airport you are in.
If you don't have a card that offers airport lounge access, you'll even be able to single-use access directly through LoungeBuddy so long as you have an American Express credit card.