After holding out for years, JetBlue finally introduced its own basic economy fares back in 2019, with more restrictions around changing, cancellations, and seat selection.
As you might expect, the airline that's made a name for itself by giving passengers more legroom, gate-to-gate WiFi, and live streaming TV at every seat does things a bit differently with basic economy. For starters, it's not called JetBlue Basic Economy: The airline calls these fares "Blue Basic."
But it's not all good news. Recent changes have made these fares worse than what you'll find flying basic economy on almost every other major U.S. carrier.
Here's what you need to know if you're flying JetBlue basic economy.

What You Get with JetBlue Basic Economy
JetBlue basic economy fares were in the works for more than a year. Executives at the airline promised that their fares would be more generous than their competitors when they launched in late 2019.
Taking a look at what you get with a Blue Basic fare, that's largely true. Or at least it was … until JetBlue recently announced it would soon no longer allow basic economy flyers to bring a carry-on bag.
Baggage: Get a personal item and a carry-on bag free (until July 20, 2021); pay $35 each way for a checked bag
Seat Selection: Pay for advance seat selection, free within 24 hours of departure
Boarding: Boards last
Earning TrueBlue Points: Yes, but only 2x per $1 spent (compared to 6x points per $1 on other fares)
Ticket Changes and Cancellation: Starting April 1, pay $100 to change or cancel a domestic JetBlue basic economy – or $200 for international flights. Free cancellation within 24 hours of booking
As you can see, JetBlue practically begs travelers not to buy a basic economy fare. Like other carriers, they force you to opt-in to basic economy, hoping that the restrictions convince you to pay up for a more-inclusive fare.
And one restriction stands out as particularly punishing: JetBlue will soon no longer allow travelers with a basic economy ticket to bring a carry-on bag on board. Fly JetBlue basic economy before July 20, 2021, and you can still bring a bag. Starting July 20, it's no longer allowed. If you try, JetBlue says they'll charge you a $65 penalty to gate check the bag.
That puts JetBlue in some bad company with United basic economy, the only other major U.S. carrier that bans basic economy flyers from bringing a carry on. JetBlue makes one exception: If you pay up for an expensive extra legroom seat (called Even More Space), you can bring a carry-on bag.
You also only earn 2x TrueBlue points per $1 – a drastic cut from the norm of 6x points per $1 spent on fares.
On the bright side, the seat selection policy for JetBlue basic economy is among the best in the industry. You can pay an additional fee to pick a seat in advance. Prices vary by route and date, but you can typically pick a seat for as low as $5 each way for a middle seat – or $7 for a window seat at the back of the plane.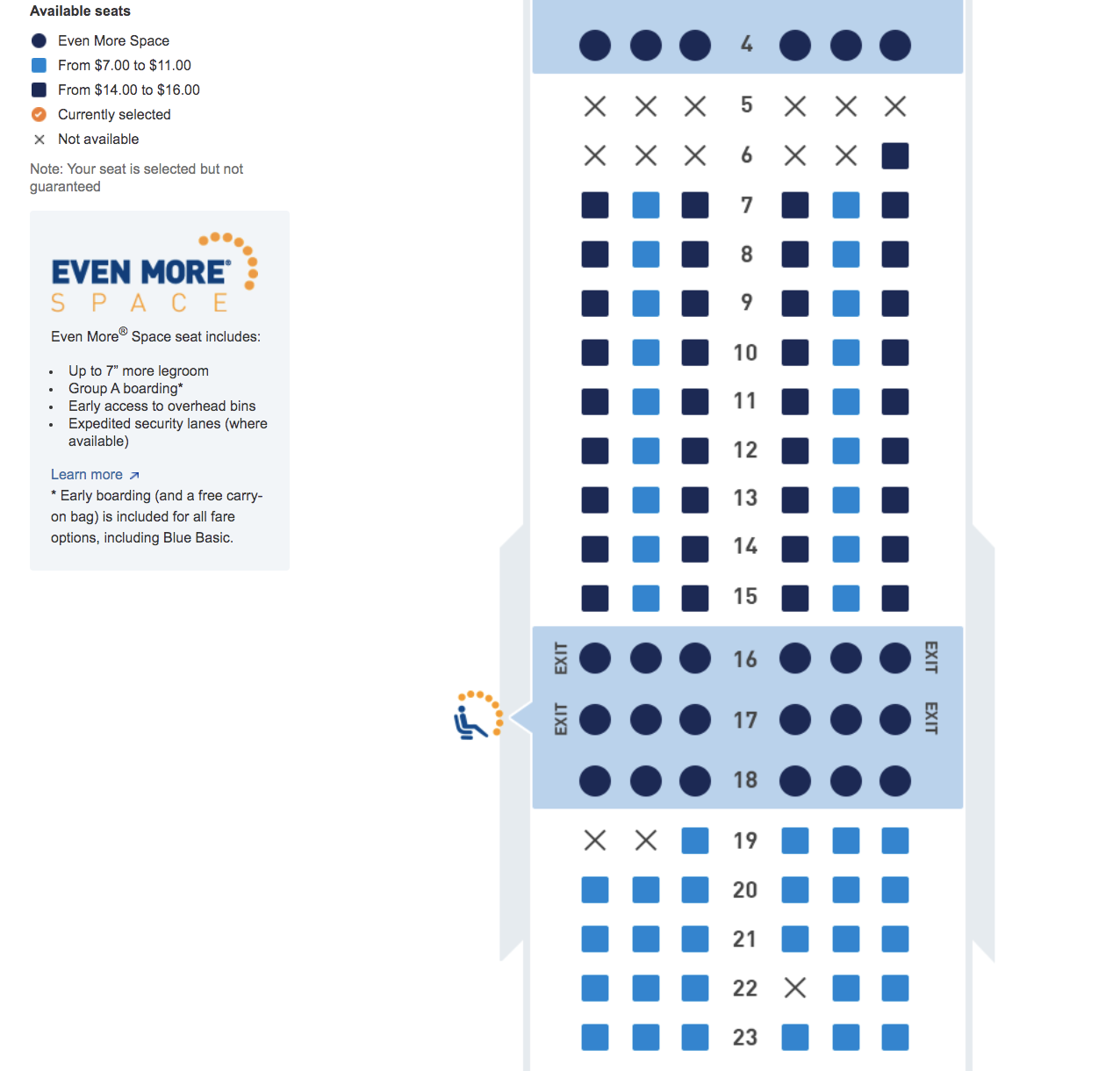 Otherwise, you can pick the best of what's left within 24 hours of departure for free. That's nearly identical to Delta, which offers two ways for basic economy flyers to pick a seat.
How to Beat JetBlue Basic Economy
Earn JetBlue Mosaic Status
Mosaic is JetBlue's top (and only) level of status. And while earning airline status isn't right for everyone, it's clearly the best way to beat JetBlue basic economy.
With Mosaic status, you'll get two free checked bags and a free carry-on bag on any fare, including Blue Basic. You'll also get free early boarding, free change and cancellation, and at least 3 extra TrueBlue points per dollar when buying the fare. Those solve nearly all the major pain points of JetBlue Basic Economy.
Earning airline status requires a lot of flying, and JetBlue is no different in that regard – except in 2021. Along with a handful of other airlines and hotel chains, JetBlue has made it much easier to earn Mosaic status this year. In fact, they've halved the requirements.

Through flying, spending on a JetBlue credit card, or a combination of the two, JetBlue Mosaic status is the easiest airline status to earn. Of course, if you're flying enough to earn JetBlue status, you probably shouldn't be buying basic economy fares to begin with.
Speaking of JetBlue credit cards…
Pay Early for a Checked Bag (Or Get it Free with a JetBlue Card)
With free carry-on bags going out the window, it might be time to check a bag with JetBlue.
JetBlue charges $35 per bag no matter where you're headed. But you can save $5 a bag by pre-paying online (or via the JetBlue app) at least 24 hours before departure.
Read up on JetBlue baggage fees (and how to avoid them!)
But you can also get those two bags for free.
JetBlue has two co-branded credit cards: The JetBlue Plus Card and the JetBlue Business Card. Both are operated by Barclays, and both will get you a free bag on every JetBlue flight. 
Not only that, but you can get a free first checked bag for up to three other passengers booked on your reservation. But there's a catch: You have to pay for your flights with your JetBlue card in order to get the free bags.
That's more restrictive than many other co-branded airline credit cards, which get you a free bag just for holding the card. And it also won't get you early boarding.
Still, it's a nice benefit that can help you beat JetBlue basic economy and save on luggage.

JetBlue credit cards come with some other worthwhile perks that can pay off if you fly JetBlue frequently, like earning 6x points on all JetBlue purchases and the ability to pool JetBlue points. Both cards carry a $99 annual fee.
Is it Worth Flying Blue Basic?
JetBlue basic economy is truly a mixed bag.
For more than a year, they were one of the best basic economy fares out there. But they'll soon ban carry-on bags onboard unless you hold JetBlue Mosaic status. And that makes them among the worst.
The ability to pick a seat for free within 24 hours of departure – or pay up to pick a seat earlier – is generous. That policy places JetBlue in line with Delta, which won our battle of basic economy among the three biggest U.S. airlines by a mile.
As of April 1, the airline will allow you to change a Blue Basic fare for $100 (or $200 for an international flight). That's also more generous than most airlines, which don't allow change or cancellation on basic economy fares, period.

Read our review of flying JetBlue on the inaugural flight from Minneapolis-St. Paul (MSP) to Boston (BOS)!
But just about everything else about JetBlue basic economy is a major bummer.
Unlike other airlines, you don't get priority boarding by holding a co-branded JetBlue credit card. Unlike United basic economy, a co-branded credit card won't let you bring a carry-on bag, either. That makes it much harder to beat JetBlue basic economy. The only real way to beat a Blue Basic fare is by holding top JetBlue status.
But above all, it's important to realize that just like basic economy fares across the airlines, JetBlue basic economy fares are not a good deal.
These aren't discounted ticket prices. Instead, Blue Basic fare prices have largely taken the place of more-inclusive main cabin fares. You're paying the same and getting less. 
JetBlue typically charges at least $70 to $80 roundtrip to "upgrade" from basic economy to a more-inclusive standard economy ticket. As basic economy gets more painful, those prices are likely to go up as airlines put the squeeze on consumers. So are those savings worth it?
It depends. You have to do the math. Can you get away with traveling with just a backpack? Fine leaving your seat assignment fate to chance until check-in begins when you can pick the best of what's left? Then JetBlue basic economy may make sense.
But if you're going to check a bag on every flight and pay for seat assignments, odds are you'll come out ahead paying more for a standard economy fare.
Bottom Line
Back when JetBlue introduced Blue Basic fares in 2019, it was clear: Basic economy isn't going anywhere.  That's undeniable.
Unfortunately, JetBlue is leading the charge on another possible trend: Basic economy could get even worse. JetBlue basic economy fares will soon no longer let you bring a carry-on bag onboard. It's all part of the airlines' pressure to get you to pay up to avoid basic economy altogether.