Travel was roaring before the pandemic turned the travel world upside down, causing travel numbers to plummet, bringing mask mandates onboard, and restricting international travel.
With vaccines making their way into arms, there's finally a light at the end of the tunnel. After many months, there's hope that travel will bounce back by the end of 2021.
But just what travelers will find when they return to the skies is a moving picture. It's safe to say that even as travel picks up, it will still look and feel much different from your last big trip. And some of those differences may stick around for years – if not forever.
These are some of the big (and small) changes we expect to shape travel this year and next.
The Bounceback in Travel Will Take Years
We may all be itching to travel again, but a return to "normal" in travel will take years. And that's because of just how far travel has fallen.
Before the pandemic, close to 2 million people or more moved through U.S. airports each and every day. After bottoming out in the spring of 2020, travel still remains down by about 50%. And yes, that even counts a Christmas-time travel surge.
There's a long way to go before "normal." Airlines, industry groups, and airports alike don't expect travel numbers to return to 2019 levels for years. Minneapolis-St. Paul (MSP) airport, for example, projects that it won't see pre-COVID travel numbers until at least 2024. And that's in line with where the rest of the travel world's thinking is at.
Even with the vaccine and some undeniable pent-up travel demand, not everyone will rush back to fly overnight. We'll all make those decisions individually over time, leading to a slow-but-steady rebound in travel. And the corporate travelers that airlines have built their businesses around will take years, as companies slowly fall out of love with Zoom and put employees back on planes.
International Travel Will Take Even Longer to Return
As we all eventually return to the skies, we'll stay closer to home. And so while travel may return slowly, international travel will take even longer.
Part of that is by necessity: Countries around the globe have implemented testing requirements, mandatory quarantines, and even outright travel bans. Just how fast those policies may fall away – or get replaced with other requirements like proof of vaccination – is up in the air.
Read our country-by-country guide to international travel restrictions.
Both domestic and foreign airlines have cut all but their most essential international flights: think flights from major U.S. hubs to London-Heathrow (LHR), Amsterdam (AMS), or Tokyo-Haneda (HND). That will likely remain true until travel numbers return to 2019 levels – and some international flights between smaller cities may never return.
Will ultra-long-haul flights to tourist destinations like Newark (EWR) to Cape Town (CPT) ever return? As it gets continually delayed, will Delta's plan to fly to Cape Town (CPT) ever materialize? Will airlines continue flying not to just London-Heathrow (LHR), but London-Gatwick (LGW), Manchester (MAN), Edinburgh (EDI), and Glasgow (GLA) too? Airlines even began reaching into Eastern Europe with nonstop flights to Budapest (BUD), Krakow (KRK), and others. Are those days gone?
All this means more flights with connections for the foreseeable future when you're ready to travel abroad again. Where they used to fly nonstop, airlines will rely on partner airlines to get travelers to their final destination – for example, flying American Airlines to London-Heathrow (LHR) and onward to Venice (VCE) with British Airways.
Fewer Flights to Choose From
Unfortunately, it's not just international flights where you'll have fewer options to pick from.
With travel demand low, U.S. airlines have slashed how much they're flying and retired hundreds of airplanes sooner than expected. That leaves flyers with fewer choices the next time they get on a plane.
Here's a quick example: In normal times, American Airlines operates seven flights a day from Minneapolis-St. Paul (MSP) to Chicago-O'Hare (ORD), and another seven back.
But these days, it operates just one flight a day many days of the week – and three daily flights at most. 
That's an extreme yet telling example. Until travel numbers return to pre-COVID levels, there's no reason for airlines to fly as often as they did a year ago. And that means you may not be able to be as picky about the times you fly.
Mask Mandates Will Stick Around
Even without assistance from the federal government, every major U.S. carrier has mandated face masks on their flights. In many cases, that policy expands to check-in desks, baggage queues, airport lounges, boarding gates, and more.
Wearing a face mask has become synonymous with safety in air travel. Airlines have made mask mandates an integral part of their efforts to convince travelers it's safe to fly again. Delta alone has banned more than 700 passengers and counting for violating mask rules.
And we don't see that changing any time soon. Incoming President Joe Biden and his administration could do what airline labor unions have begged for and make masks on airplanes a federal requirement.
Regardless, we expect masks to remain mandatory on planes long after vaccines have made their way into hundreds of millions of American arms. They're likely to remain a fixture even after they disappear from restaurants, shops, and stores.
Testing & Immunity Passports
COVID-19 testing is here to stay, travelers. And in all likelihood, the requirements for international travel could get more onerous.
Already, countless countries (and even some states) across the globe have made a negative COVID-19 test a requirement to visit without entering lengthy quarantines. Hawaii, for example, requires a COVID-19 test taken no more than 72 hours from departure – and not from just any testing site.
And just as with masks, there's no sure sign that will change anytime soon even as vaccines bring back a return to normal life.
But will it go even further? Airline industry groups and even some individual countries and airlines are pushing for so-called "immunity passports," requiring proof of vaccination to travel.
The International Air Transport Association (IATA), the world's largest airline trade group, is working on a digital health pass app with British Airways that will store travelers' test results – and eventually, vaccine records called the IATA Travel Pass.
Australian airline Qantas, meanwhile, plans to make vaccination a must to get onboard – a sentiment echoed by airline executives in both New Zealand and South Korea.
Whether that becomes a universal requirement is an open question, especially for travel within the United States. And the mechanics of how travelers can easily prove their vaccination status is also up in the air, along with massive data privacy questions.
But it's probably safe to assume that at least some countries and airlines will require some proof of vaccination.
Cheap Flights Are Here to Stay … At Least for Now
Don't worry: Cheap airfare isn't going anywhere.
As the COVID-19 pandemic pummeled airlines, travelers have worried that flight prices would skyrocket once travel stabilized. We think those fears are unfounded.
For starters, we've found some of the cheapest flight prices we've ever seen during the pandemic. And not just for travel in the next few weeks, but all the way through 2021.
Check out the best flight deals we've found for travel in 2021!
Flight pricing is about supply and demand. As demand for travel cratered last March, airlines slashed the supply of flights. And because travel demand will recover slowly, airlines should be able to slowly ramp up the supply of flights in a way that won't result in high airfare.
More importantly, airlines have used low fares to counteract low travel demand from the very start of the pandemic. There's no better way to convince someone to buy a ticket than offer them a hot deal.
That's why we've seen $250 roundtrip flights to Europe for summer 2021, and flights under $200 roundtrip to Hawaii, Mexico, and the Caribbean. We've seen fares as low as $69 roundtrip all the way down to Chile – flights that should cost $800 or more!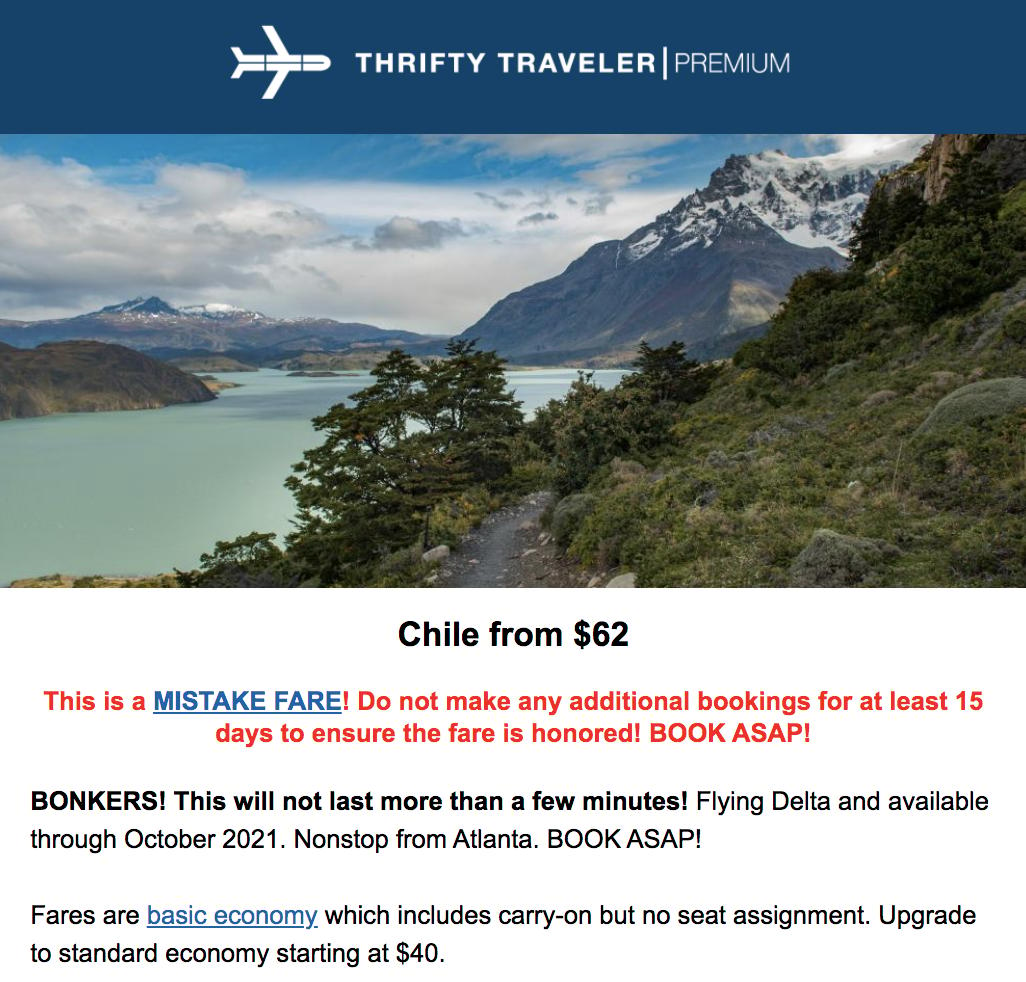 Airlines have used low prices as the most powerful tool to generate any sale they can. And they won't be giving up on that tool anytime soon as they try to rebound in 2021 and beyond.
Want the heads up on these amazing fares? Sign up for Thrifty Traveler Premium, our international and domestic flight deal service, for just $5.99 a month.
Travelers Will Go Big and Won't Go Home
The pandemic has changed our lives. It will change the way we travel, too.
After more than a year of canceled trips and shattered plans, it's clear travelers are itching to go bigger than ever before. Interest in locations like the Maldives is higher than ever. Why put off that bucket list trip any longer? Travelers will put a year's worth of savings toward their next trip to truly splurge.
And we'll go away for longer, too. Staying stuck at home has made us all keenly aware of how much we need time away from work. What's more, the new freedom to work from anywhere will allow travelers to extend their vacations, finishing up a day at work on the beach or a local cafe rather than at the office.