Stocking stuffers are one thing, but finding the right marquee gift for a traveler can be a challenge. We've got you covered.
We've compiled a list of some our favorite big gifts for travelers in 2019, ranging from luggage to electronics and a few creative suggestions. If you're looking to really wow the traveler in your life (or need some wish list ideas of your own), check out our compilation of these travel must-haves.
Need more ideas for gifts, big and small? Check out our master gift guide of 2019!
1. Away Suitcase and Tote
The Thrifty Traveler team members are major fans of Away bags. I have the carry-on luggage and love the built-in battery to keep your phone charged. Their luggage also boasts an unbreakable polycarbonate shell, a TSA-approved combination lock, and a hidden laundry bag. It gets better: Away allows you to test the piece for up to 100 days with a money-back guarantee, and the bags have a lifetime warranty.
Pick your size: Carry-On, the Bigger Carry-On, the Expandable Bigger Carry-On, and more. Select from several classic and sleek limited edition colors. Then, add a personal item to complete the set. We're big fans of their tote bags and backpacks. Slip them onto the trolley handle and you'll be gliding through the airport in style!
Thrifty Tip: Looking for a similar weekender tote bag without the high price tag? Check out this $35 tote on Amazon that makes for the perfect personal item.
Buy Luggage on Away from $225 
Buy Tote bags and Backpacks on Away from $195
2. Looptworks Upcycled Bags
Looking for a unique gift with the best story? Looptworks' upcycled bags and gifts are exactly that. They've worked with Southwest, Alaska, and now Delta to upcycle retired uniforms and retired leather seats to create gorgeous travel accessories.
They make everything from toiletry bags and passport holders to upcycled leather purses and duffel bags! This laptop crossbody bag below ($199) is made from retired Southwest leather seat covers, and conserves roughly 2820 gallons of water, 1.41 pounds of excess waste, and reduces carbon emissions impact by 82%. These unique gifts both reduce waste and gives you a great story to tell about your leather duffel or passport holder.
Check out the Delta Upcycle collection, the Southwest In-Flight collection, or the Alaska Airlines Carry-On collection to find a unique piece.
Buy on Looptworks (pricing varies by item) 
3. JBL Wireless Waterproof Portable Speaker 
If you're looking for the perfect portable speaker that will last road trips, camping adventures, hikes, and backpacking excursions, this is it. This bad boy holds its charge for more than 20 hours of playtime and is completely waterproof. With nearly 3,000 5-star reviews, this is the best investment you can make in a portable speaker.
Buy on Amazon for $95.99
4. GoPro HERO8
If you're an adventure junkie and want to capture your travels in video – or your loved one fits that description – it's time to invest. GoPro just came out with their latest version, the GoPro HERO8. It's waterproof, has a touch screen, 4K ultra HD videos, stabilization, time-lapse, and so much more. This will take your travel videos to the next level!
Thrifty Tip: If you're looking for a slightly cheaper option, go with the Hero 7 version bundle for $100 less.
Buy it on Amazon from $398.95
5. Kindle Paperwhite
Even book lovers have to admit it's not always practical to schlep around books in your suitcase. The Kindle is the perfect solution. And the Paperwhite is the best, as the adjustable backlight allows you to read in any conditions. This version is waterproof and comes with at least 8GB of storage. It's a travel must-have for Mrs. TT!
Buy it on Amazon for $84.99
6. Apple MacBook Air
If you need to be connected while you travel, you need something sleek that will fit into your backpack without taking up space. Once you go MacBook Air, you never go back! And Amazon has slashed prices on the MacBook Air, so now's the time to buy!
Buy it on Amazon for $699 ($300 off!)
7. Apple AirPods Pro
AirPods have finally met their match with the AirPods Pro.
These brand new, noise-canceling AirPods make tuning out during travels a breeze. Of course, you can always pick up a pair of regular AirPods for about half the price, but the Pro version has the noise-canceling technology. A few TT team members just got these, and swear by them! already!
Thrifty Tip: Want to use your Bluetooth headphones for in-flight entertainment? Get Twelve South's AirFly Bluetooth Transmitter and link up to two Bluetooth headphones.
Buy them on Amazon from $234.98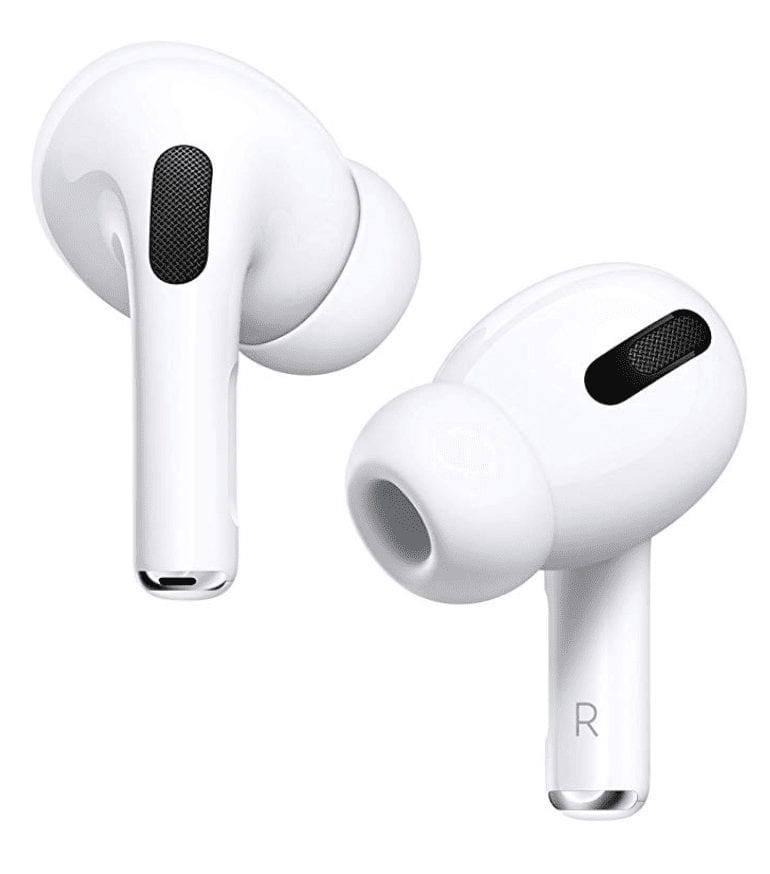 8. Bose QC35 Wireless Noise-Cancelling Headphones
Prefer an over-ear headphone to block out the noise? Nobody does it better than Bose. These are perfect to shut out the world – and drown out engine noise – during a long-haul flight. At roughly $350, they're not cheap. But what a gift this would be for the favorite traveler in your life. Or, opt for the wired version for only $130.
Buy it on Amazon for $349.00
9. Fujifilm Instax Mini 90 Instant Film Camera
Love remembering your travels with physical photos? It's so satisfying to print photos instantly from this trendy little camera. This is the perfect way to capture the moment and save it forever.
Buy on Amazon for $99.99
10. Wide Angle Smartphone Lens Attachment
If you're ready to take your smartphone photos to the next level, allow us to introduce you to wide lens attachments. This Xenvo wide lens is perfect for getting the best travel photo, each time. We also swear by the SANDMARC wide lens if you're willing to pay a bit more: with the phone case, it locks into place and makes for some stunning shots.
Buy on Amazon for $39.99
11. Google Pixel
If you're looking to up your smartphone photo game AND want Google Fi phone service around the world, you NEED to check out the Google Pixel phone. When the Thrifty Traveler team travels together, we all fight over who gets to take photos with the Pixel. The photo quality is seriously out of this world!
Get the Google Pixel 3a (below), or ball out on the latest Google Pixel 4 for about double the price.
Thrifty Tip: Our team uses Google Fi to stay connected when traveling – we think it's the best phone plan for international travelers.
Buy on Amazon from $378 or just $249 via Google Fi after activating your service within 30 days
12. Allbirds Walking Shoes
Since Allbirds arrived on the scene, they've been all the rage among travelers. Their shoes are so comfortable for long days of walking and exploring, and stand the test of time. You've likely seen their wool tennis shoes (great for travel in all climates). But they've recently come out with these lighter versions made of eucalyptus tree fiber that are breathable and cooling (and not to mention environmentally friendly!)
The shoelaces are made of recycled material, the insoles are moisture-wicking wool, and the soles are bouncy and made from sugarcane. Oh, and they're so stylish! Here's the men's "Tree Toppers," but check out all their different sneakers, flats, and loafers.
Buy on Allbirds for $115 (prices vary by style) 
13. A Trip, Duh!
What's more big-ticket than a ticket to go somewhere?
Instead of a physical gift, why not treat the traveler in your life to a mini-cation, weekend getaway, or tropical escape this winter? I booked two cheap tickets to Boston for the weekend for my brother last Christmas, and it was a hit!
Make the reveal extra special with these seriously adorable scratch-off personalized destination boarding passes to tuck under the tree, so they have something to open.
Seriously, how cute is this?! Give the gift of travel and memories!
Buy on Etsy from $11.75
14. The Gift of Cheap Flights
A true travel-lover needs one thing more than anything else: cheap flights. Read up on our Thrifty Traveler Premium service, and you'll see that it gets you the best international flight deals we find directly to your inbox. We're biased, but we think there's no better way to help someone travel for cheap.
You can give someone – including yourself, lucky you! – a year of this service for just $40 (normally $45). The one-year membership will be activated on Jan. 1, 2020. This is not a subscription, so it won't renew but will run through Dec. 31, 2020. And when you buy, your friend or family member won't be notified until their service activates in the New Year!
Read more and buy it for $40 for your loved one, then print off this image to stuff in their stocking!