Japan Airlines (JAL) offers easily one of the best business class experiences in the world. You'll love your own private seat that turns into a bed and delicious meals on the long flight across the Pacific, and you can book it with just 60,000 miles from either American Airlines or Alaska Airlines, among other options.
But when it comes to booking premium cabins, getting the miles is less than half the battle – finding award availability to book a premium cabin with miles can be a tall task. Especially during peak travel times like Cherry Blossom season or the upcoming 2020 Summer Olympics in Tokyo.
Here's your chance. Thanks to JAL's decision to send more flights into Tokyo-Haneda (HND) rather than Tokyo-Narita (NRT) starting spring 2020, there's some great award availability to fly Japan Airlines business class from the U.S. to Tokyo from late March 2020 all the way through October. And that includes flights for the Summer Olympics!
Read our review of Japan Airlines business class from Chicago-O'Hare (ORD) to Tokyo-Narita (NRT).
This goldmine of availability opens up right after these new flights into Haneda begin March 29. Most days through the fall you can find at least one business class seat available, though there are also many with two or more seats.
Nearly every flight will route through Los Angeles (LAX) – but the beauty of American Airlines miles is that you can often book the connecting flight you need to get to Los Angeles without paying additional miles.
So while you can book the nonstop flight from Los Angeles to Tokyo for 60,000 miles, you can also book a one-stop itinerary from Seattle (SEA), Denver (DEN), New York City (JFK), or almost anywhere in the country while still paying just 60,000 miles.
Thrifty Tip #1: Use American's older award search engine to find the flights you want.
Thrifty Tip #2: Trying to get on one of these flights from outside of Los Angeles? Start by searching for nonstops from Los Angeles to Tokyo to find a day that works, then use that day to search for flights from your home airport.
You could fly over to Tokyo for the tail-end of the cherry blossom bloom in late March!
June is an amazing time to explore Tokyo, and you can get there with ease. There are business class seats open nearly every day from late June through mid-July – and most with at least two seats available. And come late July, there's some scattered availability, too. Here's a look at availability for two travelers.
This could help you get to Tokyo for the Olympics in style, as the Summer Games begin July 24 and run through Aug. 9. Here's a look at your options for one passenger.
If the chaos (and high hotel rates) of the Summer Olympics isn't calling you, don't worry. It goes on largely like this all the way through October with scattered availability.
And if you want to fly home in business class, too, you're in luck – there's sterling availability for the return trip from Japan. 
All About Japan Airlines Business Class
Oh, Japan Airlines, how do I love thee?
Whether you're paying cash or using miles, you want an outstanding business class experience when you fork over a lot to fly to Asia. Between the likes of Singapore Airlines, EVA Air, Delta One suites and more, there are a ton of amazing options.
Yet Japan Airlines still manages to shine – arguably above them all.
The seats are spacious yet insanely private, especially if you get one of the seats along the windows, where you may see no one except the flight attendants bringing the next great drink or bite to eat.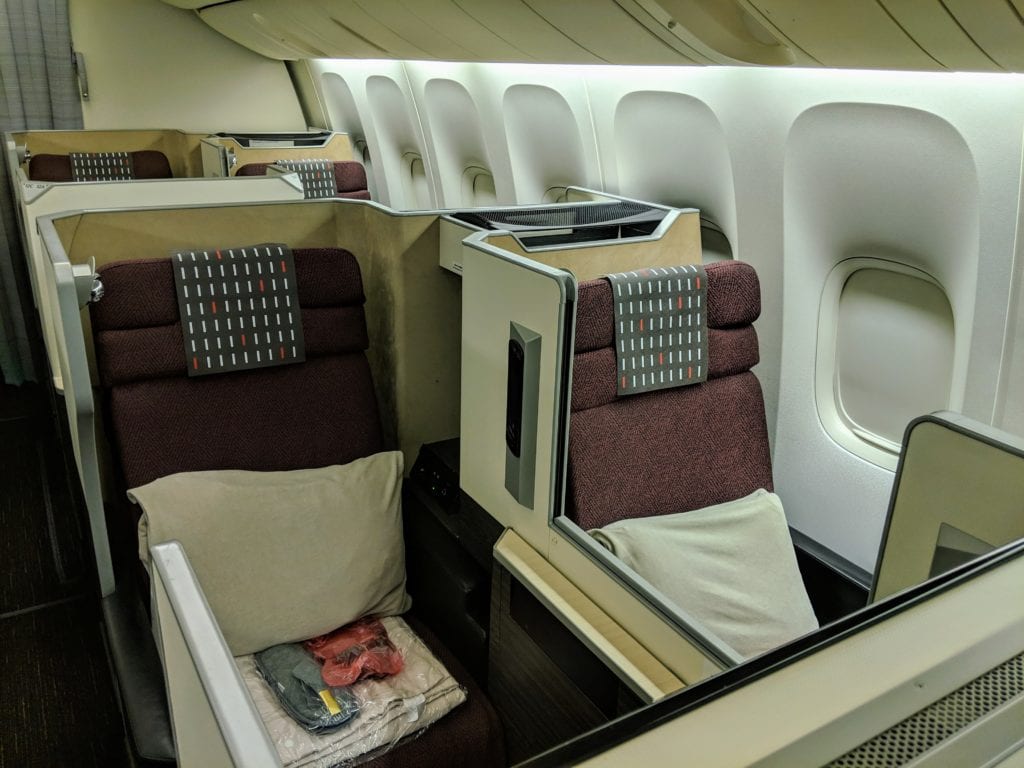 And the food… To this day, the meal I had in Japan Airlines business class remains one of the best things I've ever eaten – in the air or on the ground. Add in the top-notch service, and it was a near-perfect flight.
The seat, the food, the service … when it all works, it comes together to form one of the best ways to get to Asia using miles. Read our full review of Japan Airlines business class.
How to Book
Luckily, there are a handful of ways to book these flights thanks to Japan Airlines' spot in the Oneworld Alliance.
You could use 60,000 Alaska Airlines miles. You could also utilize other partner airlines like British Airways, Qantas, Cathay Pacific, and more.
But our favorite way to book this flight is by using American AAdvantage miles. No matter which U.S. gateway you're flying from, it costs just 60,000 AAdvantage miles for the one-way flight to Tokyo-Narita (NRT) or Tokyo-Haneda (HND).
And booking these flights is a cinch, as American recently added Japan Airlines flights to its online booking engine. Just start your search with American's older web search function to get started!
The AAdvantage Aviator Red World Elite Mastercard currently has an outstanding bonus. You can earn 50,000 AAdvantage miles by making a single purchase – no matter how much – and paying the card's $99 annual fee. That means you could buy a pack of gum, pay the fee, and have nearly enough miles to fly to Tokyo in business class.
But you could also open the Citi AAdvantage Platinum Select World Elite Mastercard. With an enhanced welcome bonus, you'd earn 50,000 AAdvantage miles after spending $2,500 in the first three months. The card's $99 annual fee is waived in the first year.
Bottom Line
Whether the Summer Olympics are on your bucket list or not, this is a great chance to get to Tokyo. And to do it in one of the world's best business class seats?
Don't wait to book!