A special promotion from Air France/KLM's Flying Blue mileage program has made it possible to book flights from select U.S. cities to Europe from just 11,000 miles each way – or 22,000 miles round trip – from November through March 2020. Better yet, you can book business class for as low as 32,000 miles one way!
This promotion goes above and beyond Flying Blue's Promo Rewards, the monthly list of flights with discounted award rates. And this new, limited-time promotion offers some of the cheapest rates you'll find to fly to Europe – in economy or business class. Don't sweat it if you don't have the Flying Blue miles – these are some of the easiest miles to get thanks to transfers from credit card companies like Chase, Citi, American Express, and Capital One.
But you have to hurry, as this promotion expires at the end of Sunday, Oct. 20. 
So what can you book for dirt cheap? Scope out Air France's list of "Special Edition" Promo Rewards flights, and you'll find a handful of options between the U.S. and Europe:
Los Angeles (LAX): 14,000 miles each way in economy, 28,000 miles each way in premium economy
Seattle (SEA): 29,000 miles each way in economy, 36,000 miles each way in business class
New York City (JFK): 11,000 miles each way in economy
Toronto (YYZ): 11,000 miles each way in economy, 25,000 miles each way in premium economy, 32,000 miles each way in business class
Mexico City (MEX): 29,000 miles each way in premium economy, 36,000 miles each way in business class
Keep in mind this promotion isn't just for nonstop flights to Amsterdam (AMS) or Paris-Charles de Gaulle (CDG), the respective hubs of KLM and Air France. You can generally connect onward almost anywhere in Europe and still pay the same rate. 
For example, you could fly one way from Seattle (SEA) to Vienna (VIE) via Paris in Air France's fancy new business class seats and still use just 36,000 miles.

Or fly round-trip from New York City (JFK) to Barcelona (BCN) … or Rome (FCO) … or Budapest (BUD). No matter where you go, it's just 22,000 miles in economy!
The one downside about using Flying Blue is that every ticket gets hit with some sizeable fees – about $220 to $250 on a round-trip economy ticket, and nearly double that for business class. That can be tough to stomach, especially when it's so cheap to fly to major cities throughout Europe.
But if you're heading somewhere off the beaten path in Europe, you could come out way ahead with this promotion. And the taxes you'll pay on a business class ticket are a fraction of the typical cash price you'd pay to fly in style with Air France or KLM.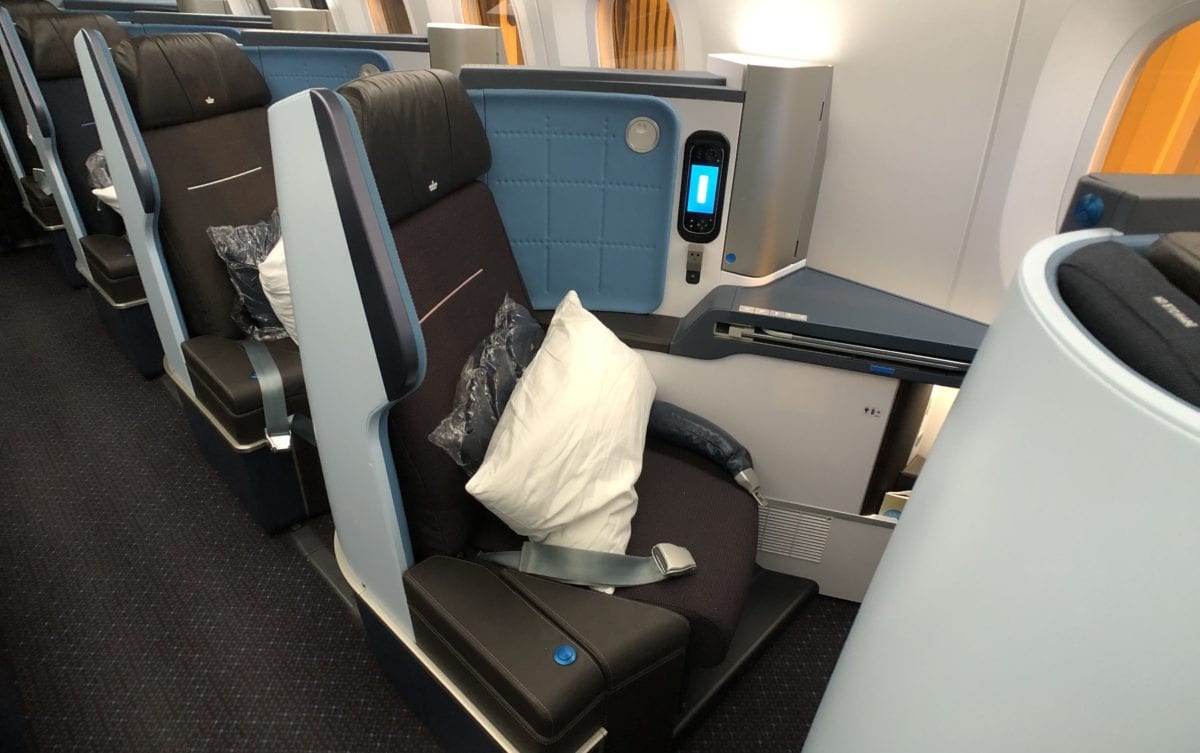 If you don't have the miles in your FlyingBlue account, don't worry. FlyingBlue miles are among the easiest in the world to accumulate.
That's because the frequent flyer program is transfer partners with every major points currency: Chase Ultimate Rewards, American Express Membership Rewards, Citi ThankYou, Capital One, and Marriott Bonvoy points can all transfer directly to FlyingBlue.
Bottom Line
From the front of the plane to the back, you likely won't find a cheaper way to get to Europe using miles. While the hefty cash fees may sting, they could easily be worth paying to get to Europe for a fraction of the normal price.
Lead photo courtesy of Chris Lundberg via Flickr