Using Virgin Atlantic miles is one of the best ways to book Delta flights. And at just 60,000 miles each way, booking Delta One Suites to Tokyo using Virgin Atlantic is one of the best ways to fly to Japan, period. But Delta has gotten stingy with award space on these flights, making it hard to use this amazing workaround to score a lie-flat bed to Japan.
Until now. We discovered a massive amount of award space to book Delta One Suites to Tokyo-Haneda (HND) via Virgin Atlantic, with availability for four (or more!) from Delta's U.S. hubs starting in April all the way through early September. Best of all, there's still some availability to book a Delta One Suite to Tokyo for 60,000 miles in time for the Summer Olympics, which start July 23, 2021 and end Aug. 8.
Want more award alerts like this one? Try Thrifty Traveler Premium for just $5.99 a month to get them, along with dirt-cheap domestic and international cash fares.
You'll find wide-open Delta One availability four to five days a week from all of Delta's U.S. hubs: Atlanta (ATL), Detroit (DTW), Minneapolis-St. Paul (MSP), Seattle (SEA), and Los Angeles (LAX). And there's similarly spectacular availability on the return flights if you want to book Delta One Suites round-trip for just 120,000 miles. Keep reading for a better look at all the availability.
Japan is aiming to restart travel in spring 2021 ahead of the Summer Games. Still, international travel remains uncertain and it's unclear if all of these Delta nonstop flights to Japan will return to the skies anytime soon. If your plans to head to Japan don't pan out, Virgin Atlantic charges a very reasonable $50 redeposit fee per passenger to cancel and get your miles back. And we've heard from readers that the airline is even waiving those fees due to coronavirus.
Flying in your own Delta One Suite is truly one of the best ways to fly to Japan.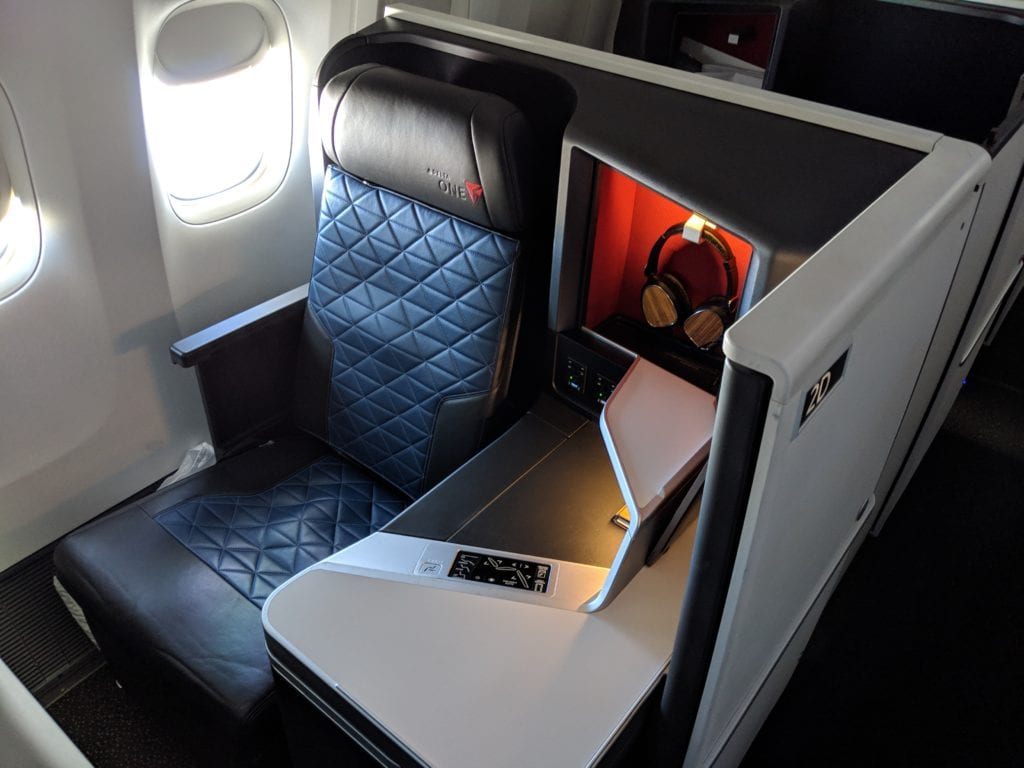 Read our full review flying Delta One Suites from Tokyo-Haneda (HND) to Minneapolis-St. Paul (MSP)
While Delta often wants 120,000 SkyMiles or more each way for these expensive flights, you can book the exact same flight through Virgin Atlantic for just 60,000 miles each way. It's one of the best deals in the world of miles and points. And you can make it happen by transferring credit card points from Chase Ultimate Rewards, American Express Membership Rewards, or Citi ThankYou Points to your Virgin Atlantic account.
Thrifty Tip #1: Don't live in one of the cities with great Delta One availability? Use a positioning flight to get there. Otherwise, you can generally fly from any airport with Delta service to connect with one of these flights on the same itinerary for 82,500 miles. Just start by searching from your home airport on Virgin Atlantic's website.
Thrifty Tip #2: Virgin Atlantic's site can be a bit wonky when searching for some of these flights to Tokyo-Haneda (HND). If it tries to force you to pick Tokyo-Narita (NRT), just click "Full Airport List," then "Rest of World," select "Japan" and manually choose "Tokyo-Haneda" to pull up the right flights.
A Closer Look at Delta One Suites to Tokyo Availability
Simply put, this is a massive amount of award availability. You shouldn't need to hunt hard to find enough seats for the whole family to fly to Japan in style next spring or summer.
Take a look at flights from Minneapolis-St. Paul (MSP) to Tokyo in the spring, for instance. There's award space for four or more passengers most days from mid-April through mid-May for just 60,000 miles apiece. And the same holds true in June, July, August, and early September.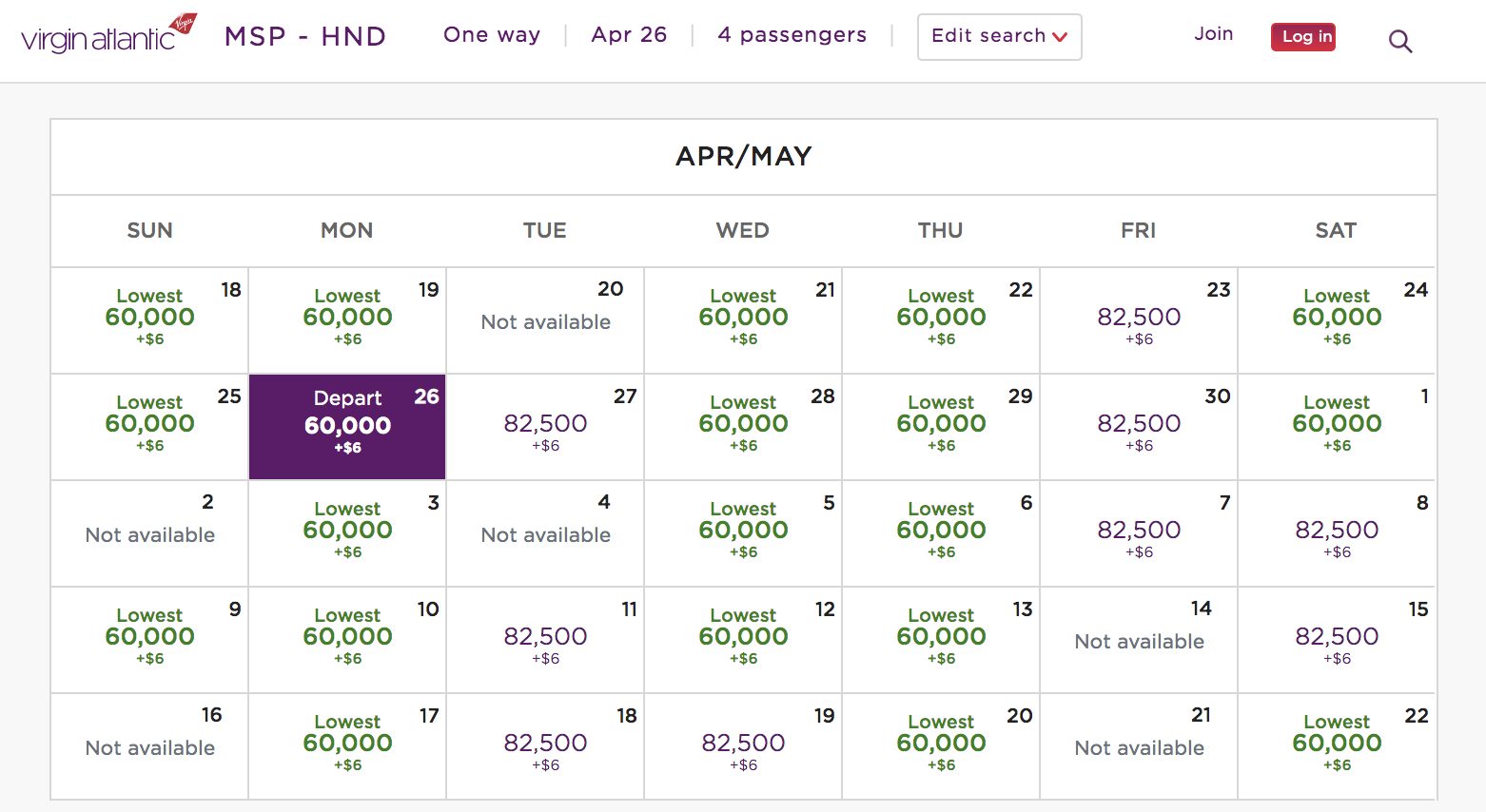 Thrifty Traveler Premium members got first dibs on availability for the Olympics, and it disappeared fast. But you could still make it work from Seattle (SEA) or Minneapolis-St. Paul (MSP).
As a reminder, Delta typically charges at least 120,000 SkyMiles for these exact same flights – and often much, much more than that. That's what makes this workaround using half the miles via Virgin Atlantic such a great deal.
There's equally fantastic availability to Tokyo from Los Angeles (LAX) all spring and summer next year.
Travelers based in Atlanta (ATL) are used to getting the short end of the stick with deals like these, but that's not the case here. There's rock-solid availability for four or more travelers, including almost every day in August!
And there's plenty of availability departing from Detroit (DTW) all spring and summer as well.
Bottom Line
Using Virgin Atlantic miles to book Delta One Suites to Tokyo (or Europe or elsewhere in Asia) is one of the savviest moves a frequent traveler can make. This much award availability is nearly unprecedented. And while travel to Japan remains uncertain even in 2021, it's a great chance to book a bucket-list trip to Japan for half the miles it typically costs.