Booking short domestic flights for fewer miles is all the rage among U.S. airlines these days.
Delta has been slashing prices on short domestic flights when using SkyMiles for years. United recently started selling flights as low as 5,000 miles as a precursor to axing its award chart.
And American Airlines has its own spin on these low-priced awards too: They're called Economy Web Specials. And much like its U.S. competitors, American prices these flights as low as 5,000 miles each way.
Read on to learn how they work and how to find them to score a cheap flight with your AAdvantage miles – including an occasional steal for an international fare.
How do Economy Web Specials Work?
American Airlines rolled out this new subset of award fares last year with little fanfare. But it can be a great way to get on a plane for fewer AAdvantage miles.
That said, there are some strings attached to these fares. Critically, you cannot change these flights as easily as with a standard AAdvantage award ticket. And if you cancel the ticket, you'll likely face a fee to get your miles back.
But after booking your trip, it will be just like a standard award ticket – just for fewer miles.
In some ways, these fares are similar to American's Reduced Mileage Awards. Travelers who hold certain co-branded AAdvantage credit cards can book from a rolling list of select routes and score a discount.
Those Reduced Mileage Awards are still available. And there's one huge distinction between them and the newer Web Economy Specials.
How to Find Economy Web Specials
Unfortunately, American doesn't make it easy to find these discounted flights.
While the airline publishes a list of flights that qualify for Reduced Mileage Awards, finding Economy Web Specials takes some trial and error. The airline doesn't publicize which routes you can score a discount on. 
Short-haul flights under 1,000 miles from American hubs like Phoenix (PHX), Dallas-Fort Worth (DFW), Chicago-O'Hare (ORD), and Philadelphia (PHL) seem to be the best bets. But even then, it can be unpredictable, with drastic swings in prices day by day.
And that underscores an important point behind these fares. These Economy Web Specials are almost certainly a precursor to American following Delta and United's lead with dynamic award pricing. 
American is the only major U.S. airline left that prices flights based upon an award chart rather than a constantly changing mix of cash price, demand, time of year, and other factors. These Economy Web Specials sure look a lot like the pricing on Delta when using SkyMiles.
Still, there are some good deals to be had here. You can start by simply heading to AA.com and typing in your domestic route to see. You may want to use American's dedicated search page, which will ensure these discounted results show up if they're available.
If it does, a dedicated tab will show up in the results.
A Smattering of Deals
It will take some legwork to find the low, 5,000-mile rates that you're looking for to make the most of these Economy Web Specials.
But if you focus on short flights in and out of American hubs, you'll likely find some sales. Here are a few examples.
You can get a one-way from Minneapolis-St. Paul (MSP) to Chicago-O'Hare (ORD) for 5,000 miles – or 10,000 for a round-trip.

Or fly from Chicago-O'Hare (ORD) to Nashville (BNA) for as low as 5,000 AAdvantage miles each way.

Or book the long, transcontinental flight from Philadelphia (PHL) to Los Angeles (LAX) as low as 9,500 AAdvantage miles. Not bad for a six-hour nonstop flight.

We could go on forever. American seems to constantly add more routes, subtract others, and tweak pricing on these Economy Web Special flights. Your best bet is likely to search from nearby airports and see what you can find.
International Deals?
Your best bet for scoring a deal with an Economy Web Special fare will be a short domestic flight.
But occasionally, you can snag a deal on an international flight, too. Reddit user bkstruct25 has zeroed in on some flights to Europe from American hubs this fall that you can snag as low 25,000 AAdvantage miles. That's down from the norm of 60,000 miles.
Check out the flights from Miami (MIA) to Madrid (MAD) starting at 25,000 miles, with one quick connection in Dallas-Fort Worth (DFW).
Or get nonstop, round-trip flights from Chicago-O'Hare (ORD) to Dublin (DUB) for just 33,000 miles in September.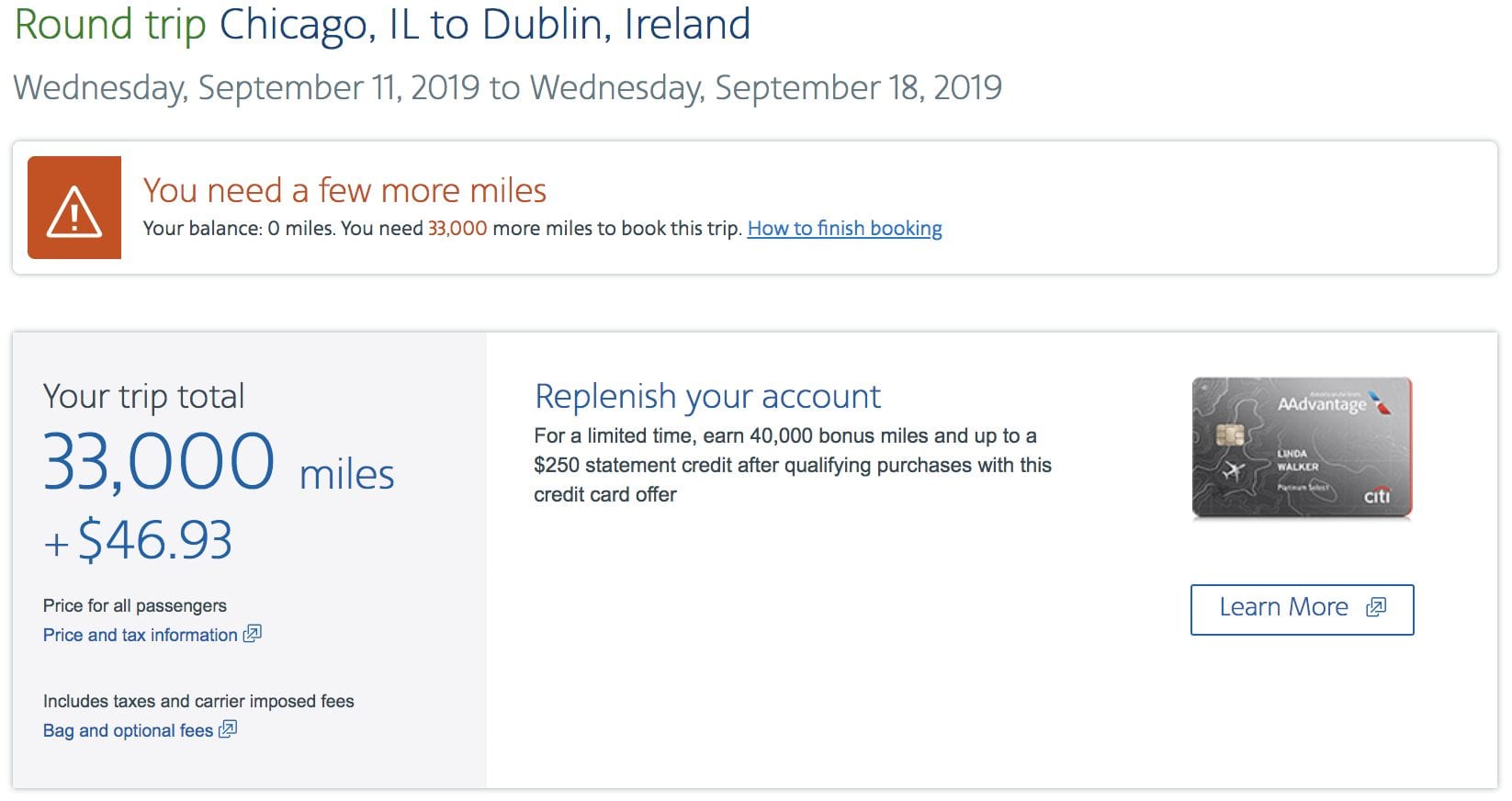 Generally speaking, these international sales are few and far between. But if you're booking an international trip, it's worth searching to see if you can score a discount.
Bottom Line
There's bad news on the horizon, as these sales make it all but certain that American Airlines will eventually get rid of its own award chart. But until then, enjoy some savings on flights with AAdvantage miles.