April was a memorable month if you were a Thrifty Traveler Premium+ member as our team of flight deal analysts scoured the globe every day for the lowest airfare and the very opportunities to use points and miles – and sent them straight to your email inbox.
Thrifty Traveler Premium+ is the best flight deal service that sends members both cheap cash fares as well as deals to book flights using points and miles. That includes cheap domestic and international tickets, discounted business and first class fares, and even award space alerts like Delta SkyMiles flash sales and chances to book lie-flat seats abroad at great rates.
In April alone, we sent Thrifty Traveler Premium+ members more than 100 flight deal alerts. And while all of them featured amazing value to some of the world's most desirable travel hotspots, a few of them stood out.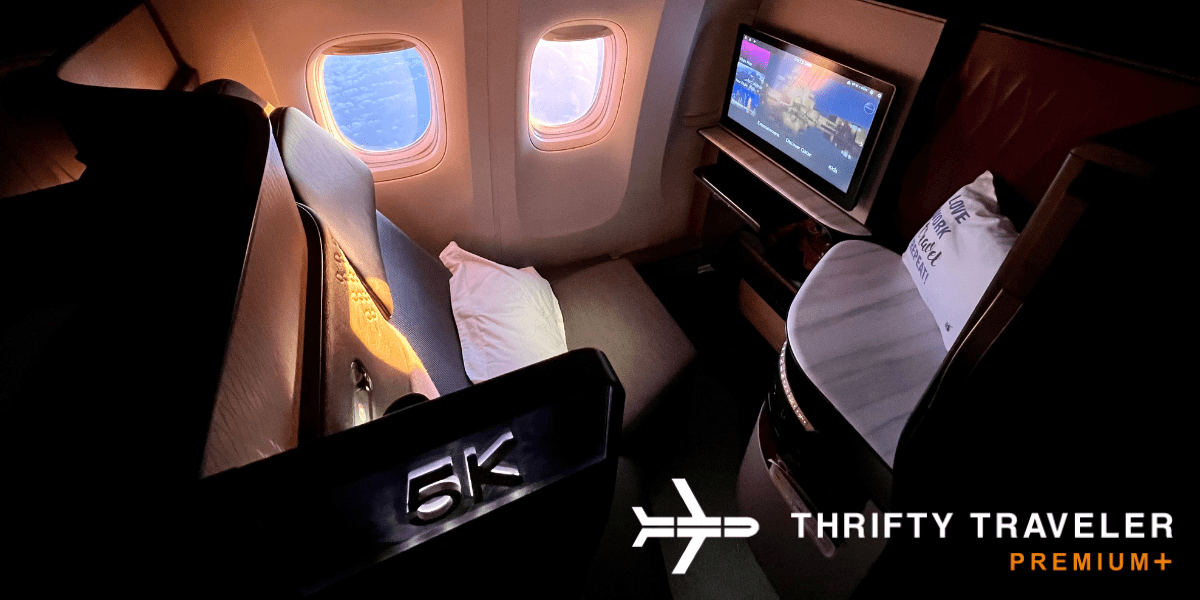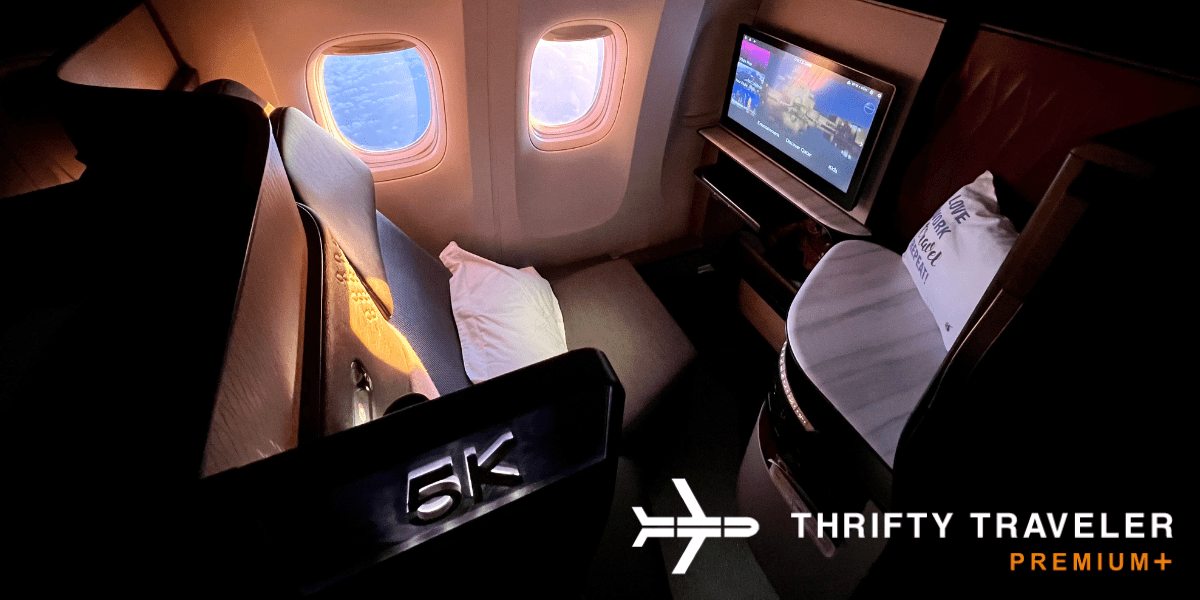 Join Thrifty Traveler Premium+ now – you'll come out ahead (and then some!) after booking your first deal!
These are the seven best deals we sent to subscribers of our top flight deal service in April.
United Business Class From 60K Miles … Worldwide!
We'll start with a deal we sent on April 20 that we still can't stop thinking about. Why? Because it was a worldwide business class deal, something we've really never seen before.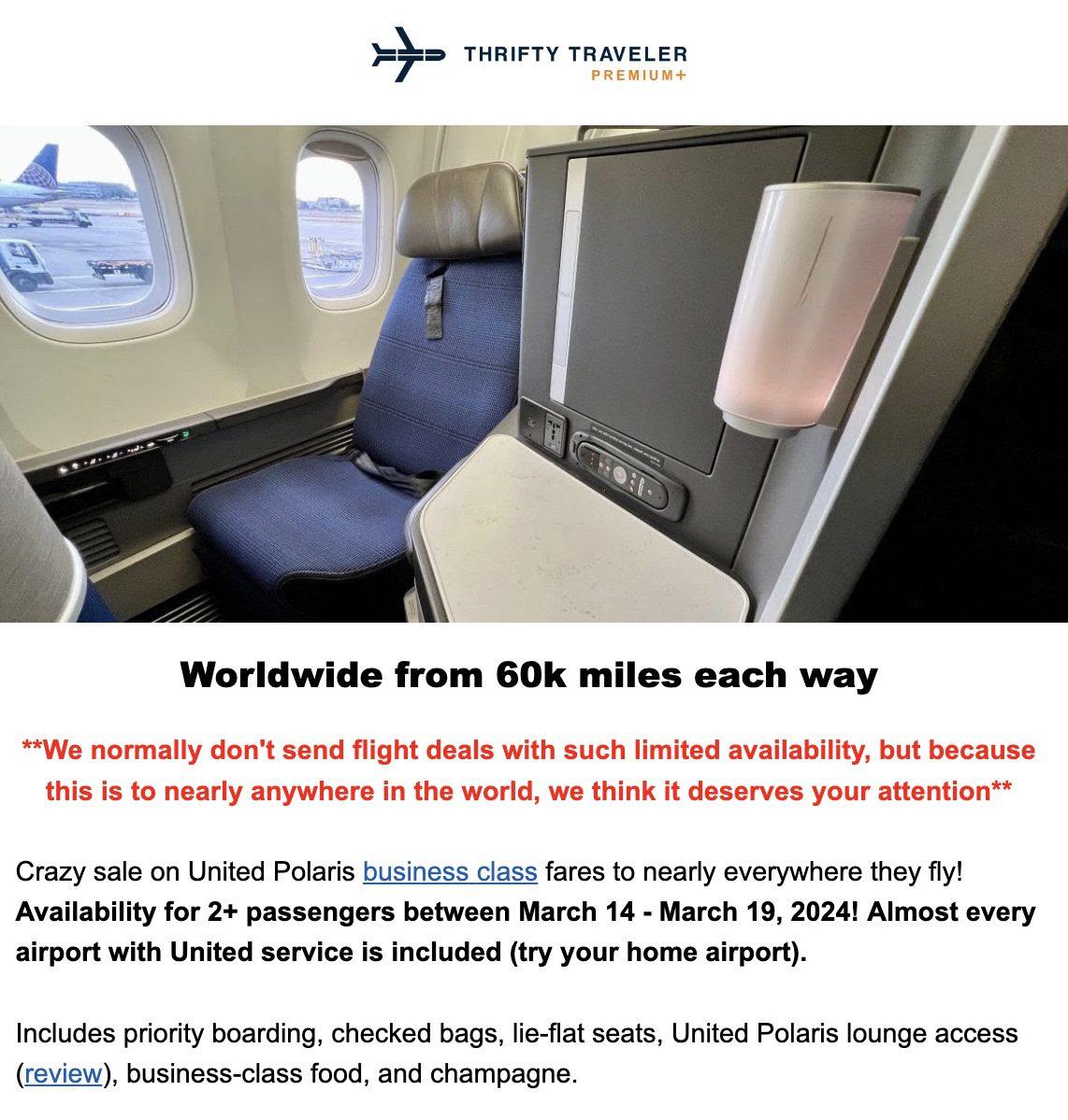 From between 60,000 and 80,000 points one-way, you could fly United Airlines business class to Cape Town (CPT), Buenos Aires (EZE), London (LHR), or really anywhere with United service.
We couldn't believe our eyes, and after we sent this deal out: It set the internet on fire. From the sound of it, many of our subscribers had a chance to book this amazing deal for a trip in March 2024. You've probably seen them on social media bragging about it!
Get every award alert we send in May with Thrifty Traveler Premium+!
Air New Zealand Business Class for 63K Points
Here's another business class deal that stood out in April: Air New Zealand business class.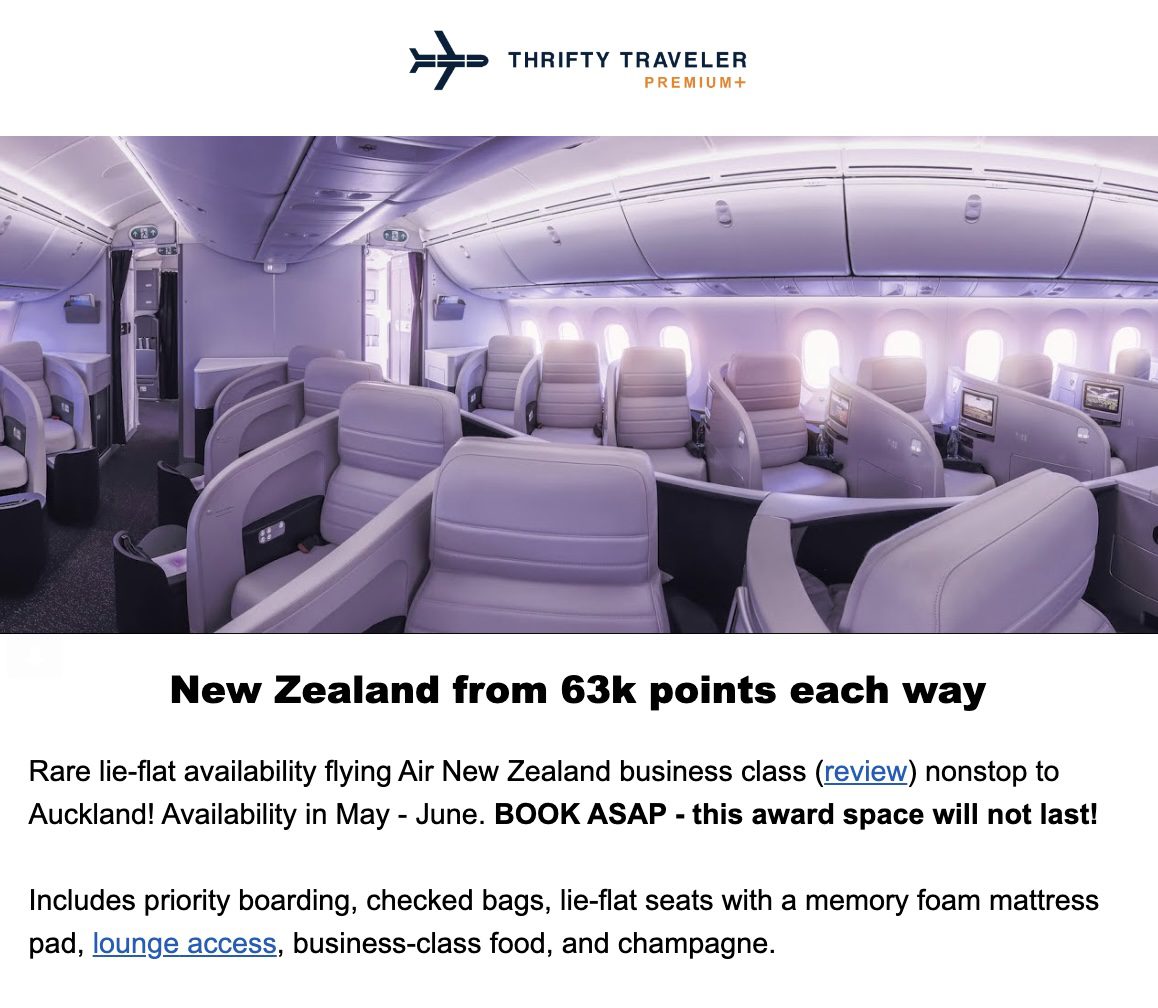 This extra luxurious-looking seat was made available for just 63,000 points on a number of routes, including Los Angeles (LAX) and Houston (IAH) to Auckland (AKL) nonstop.
This delighted many of our subscribers when it hit inboxes in April. Those with Virgin Atlantic, Air Canada, United, or ANA Mileage Club miles (or a stash of transferrable credit card points), could take advantage of this deal to book their bucket list New Zealand trip.
Santiago, Chile for Under $699 Roundtrip
Thrifty Traveler Premium+ subscribers with a quiver of points and miles were sent many ways to use them in April, but we also sent some mind-blowing cash fares, too.
This one is a perfect example: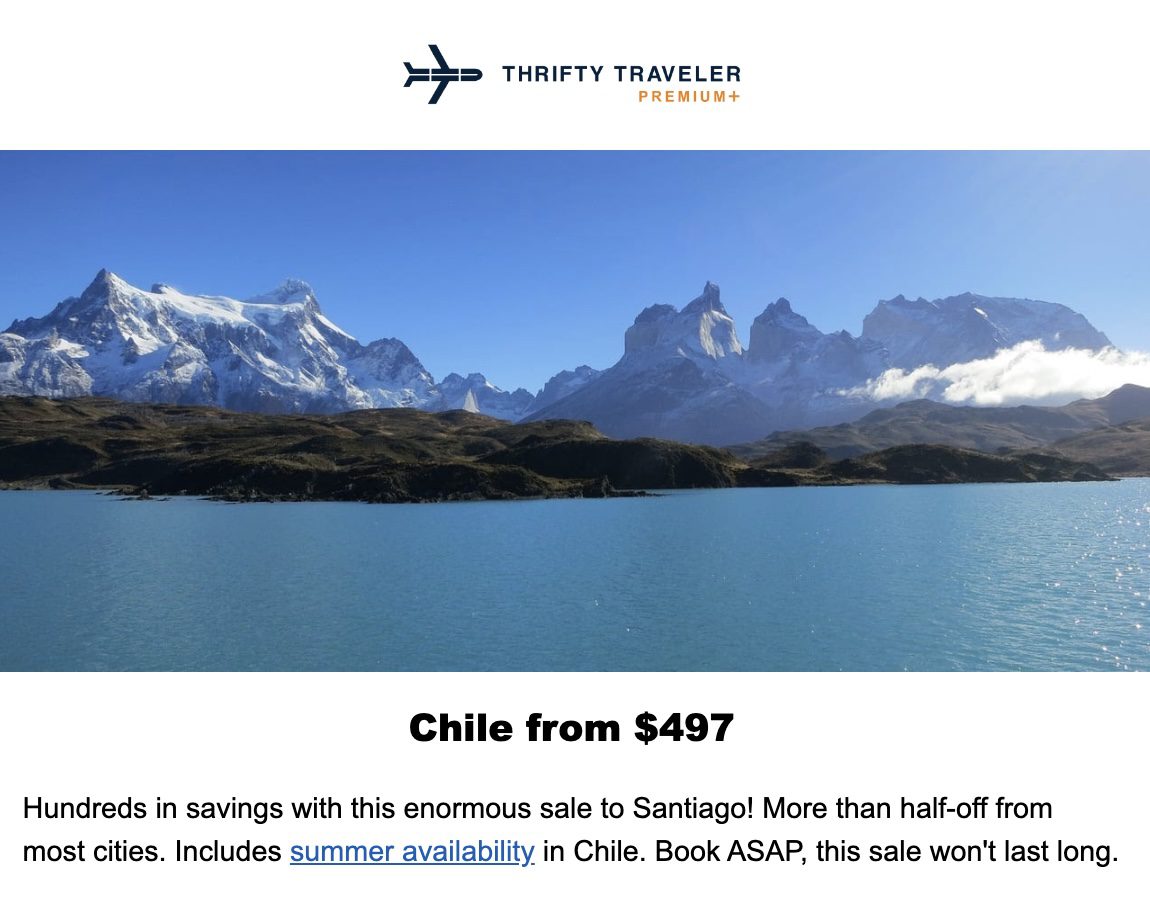 These dirt-cheap prices are gone now! Get the next deal with Thrifty Traveler Premium+!
Santiago, Chile (SCL) is an amazing destination for Americans to visit during the winter months when it's summer in the southern hemisphere. It's also the fastest and easiest place to fly to kick off a trip to Patagonia.
Flights that far south typically price out in the four figures during those months, which is why we emailed our subscribers right away when we found sub-$699 roundtrip fares to Chile. What's even more amazing is nearly 100 cities were included in the sale!
Roundtrip Flights to Cuba for Less Than $395!
Much, much, much closer to the United States, but a world away culturally, is the island of Cuba. And Premium+ members have been treated to a bunch of amazing Havana, Cuba (HAV) deals over the last few months. But something changed in April: Cheap flights to Cuba expanded to the rest of Cuba's airports and flying from dozens more U.S. airports, too!
(And, yes! You can visit Cuba as an American – and it's actually pretty easy.)
Miami (MIA), Fort Lauderdale (FLL), Boston (BOS), and New York (JFK, EWR) are used to seeing pretty competitive Cuba flights. But our subscribers in Albuquerque (ABQ), Cleveland (CLE), Des Moines (DSM), Huntsville (HSV), and Manchester (MHT) also got in on the action.
I was just in Cuba last month after booking a similar Thrifty Traveler Premium+ flight deal myself – it's an amazingly affordable, vibrant, and scenic country that deserves a spot on your list. And for under $395 roundtrip, it's also cheaper than ever to get there. That's at least $300 off the regular price, and for some of the smaller U.S. airports on the list, it's even more than that!
Half-Off Peak Summer Flights to Banff
The savings followed Premium+ members from Cuba to Canada with this flight deal to Calgary (YYC), the best jumping-off point to explore Banff National Park in Alberta.
These prices are gone now – get the next deal straight to your inbox with Thrifty Traveler Premium+!
This Calgary flight deal included dozens of U.S. cities with half-off fares during the peak summer months. Flights to Banff at the height of summer are normally hard to come by, but not this year. A rash of new WestJet routes has created a super competitive flight pricing environment flying to western Canada. And who wins when the airlines compete? We do!
Europe for Under $599 RT (on Delta!)
I know what you're thinking: What about Europe?
Flights to Europe have been pricey lately, there's no sugarcoating that. But as is always the case with airfare, just because average flight prices are high doesn't mean that they're high everywhere. In fact, it's the opposite.
And you didn't need to search budget airlines to find affordable Europe airfare either. Have you ever heard of a little airline called Delta?
These were some amazing Delta fares to Europe from American Airlines and United Airlines hub cities. And almost every major European airport was included in the sale, from Amsterdam (AMS) to Rome (FCO), up to Scandinavia, and down to Portugal. All of the fares were about $400 or $500 off the prices you'll find right now, meaning this deal would have made the cost of your Premium+ membership worth it all on its own.
Don't miss the next flight deal – join Thrifty Traveler Premium+ now to get every alert we sent in May!
Rare Cheap Summer Flights to Nantucket & Martha's Vineyard
Finally, we'll stay a little closer to home with one of our favorite domestic flight deals in April. And it's to a place where cheap flights are normally super rare, especially during the peak summer months.
With flight prices like these, Nantucket (ACK) isn't just for the rich and famous anymore.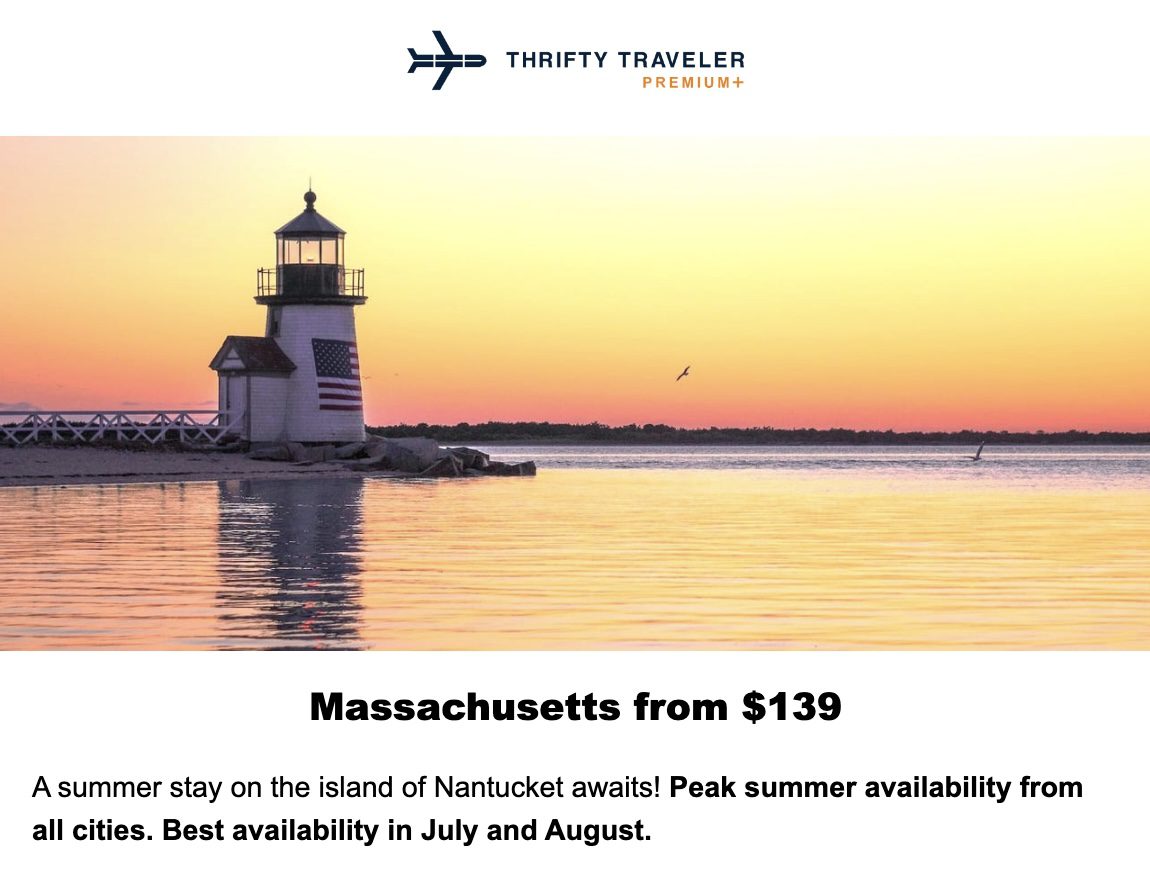 Nantucket's unspoiled shoreline and its uber-cute coastal restaurants and ice cream shops make it an overdose of summer Americana. That's what makes the destination so popular, along with its neighboring Martha's Vineyard (MVY). And we sent deals to both locales in April, with tons of June, July, and August availability from cities as far west as Minneapolis (MSP) and for cities as close as New York City (JFK and LGA) starting at just $139 roundtrip.
Bottom Line
Think flights are too expensive? Here's your proof: They don't have to be with Thrifty Traveler Premium+.
Our track record in April speaks for itself. Whether you want to find a cheap domestic flight, head to Cuba or Canada for less, book a bucket list excursion during the peak season or finally put your points and miles to use, we do the legwork for you.