We all love our mainstream, full-service airlines. The likes of American, Delta, United, and their foreign partners offer stable, reliable service to some of our favorite destinations. But ignoring budget-friendly or low-cost air carriers is costing you money, even if you never plan to fly any of them.
In fact, these budget airlines are the only reason why you are able to fly the big three airlines affordably in the first place. That's because competition drives everything in this industry, and when budget carriers offer $99 one-way fares to Europe, the major carriers have to drop their prices to compete.
The $99 fare I'm referring to came from Norse Atlantic Airways last week. The relatively new low-cost European carrier flying between the U.S. and London (LGW) and Oslo (OSL) occasionally offers staggeringly cheap fares that have routinely led to equally wild sales from major airlines. Thrifty Traveler Premium flight deal alert subscribers have probably gotten used to seeing some of them.
Remember this one?
This was a real fare from New York (JFK) to Oslo (OSL) we sent to our subscribers in 2022. And when did Delta and Air France post this sizzling fare? In June 2022, just a few weeks after upstart Norse Atlantic Airways started flying that route, offering prices as low as $230 roundtrip. Coincidence? Of course not.
At Thrifty Traveler, we've taken to calling this "The Norse Effect", but really you could call it the Icelandair effect, the TAP Air Portugal effect, the SAS effect, or, domestically, the Southwest effect.
We see examples of this happening all the time: A budget carrier sends an email announcing a sale on its flights, and within 24 hours, unannounced, the major carriers like American, Delta, and United drop their fares leading you to book a typically $800 roundtrip flight like the one from JFK-OSL for a quarter of the price.
Just recently, the Norse Effect reared its head again. A Norse Atlantic fall sale dropped fares from all over Norse's network, especially flying to the U.K. from Boston (BOS) and Washington, D.C. (IAD). And wouldn't you know it, here comes Delta…
Delta wasn't just going to let Norse have those customers. They dropped many of their U.K. flights to unthinkable lows right after Norse's posted its sale.
Here's possibly the easiest travel hack I can give you: Sign up for budget airlines' email lists to get notifications of their sales. Especially if that airline has service from your home or nearby airport and if they fly to a destination you're interested in. Again: You don't have to fly a budget airline! But their sales will notify you of upcoming, unadvertised sales from the airlines you do want to fly.
Still don't believe us? Let's do a few more examples. 
As mentioned above, TAP Air Portugal also helps drive prices down for travelers looking to head to Europe. And when they lowered their prices on fares to Porto (OPO), American, Delta, and United had to do the same.
These flights depart from Boston, Chicago, Miami, New York, and the Washington, D.C. area. Hmmm…what do those places have in common? TAP Air Portugal service.
You don't have to cross the ocean to take advantage of this trend, either. The Norse Effect could easily also be called "The Southwest Effect" because of what Southwest Airlines does to flight pricing here in the U.S. One Southwest flash sale will send domestic airfare falling in a matter of minutes.
In August, Southwest held a big sale on flights to and from their hub in Chicago (MDW). Seeing this, American Airlines wasn't about to lose customers to one of their crosstown rivals without a fight.
You didn't get an "American Airlines Chicago Sale!" email in your inbox for this one. But if you noticed the sale email from Southwest, you would have known to search Chicago flights on the other airlines, which would have led you to this sale. (Of course, you could also just sign up for Thrifty Traveler Premium and get this exact deal sent directly to your inbox.)
And while Chicago is lovely, what most travelers really want is a cheap flight to Hawaii. And since Southwest Airlines entered the Hawaii market a few years ago, it feels like they've controlled flight pricing to and from the islands.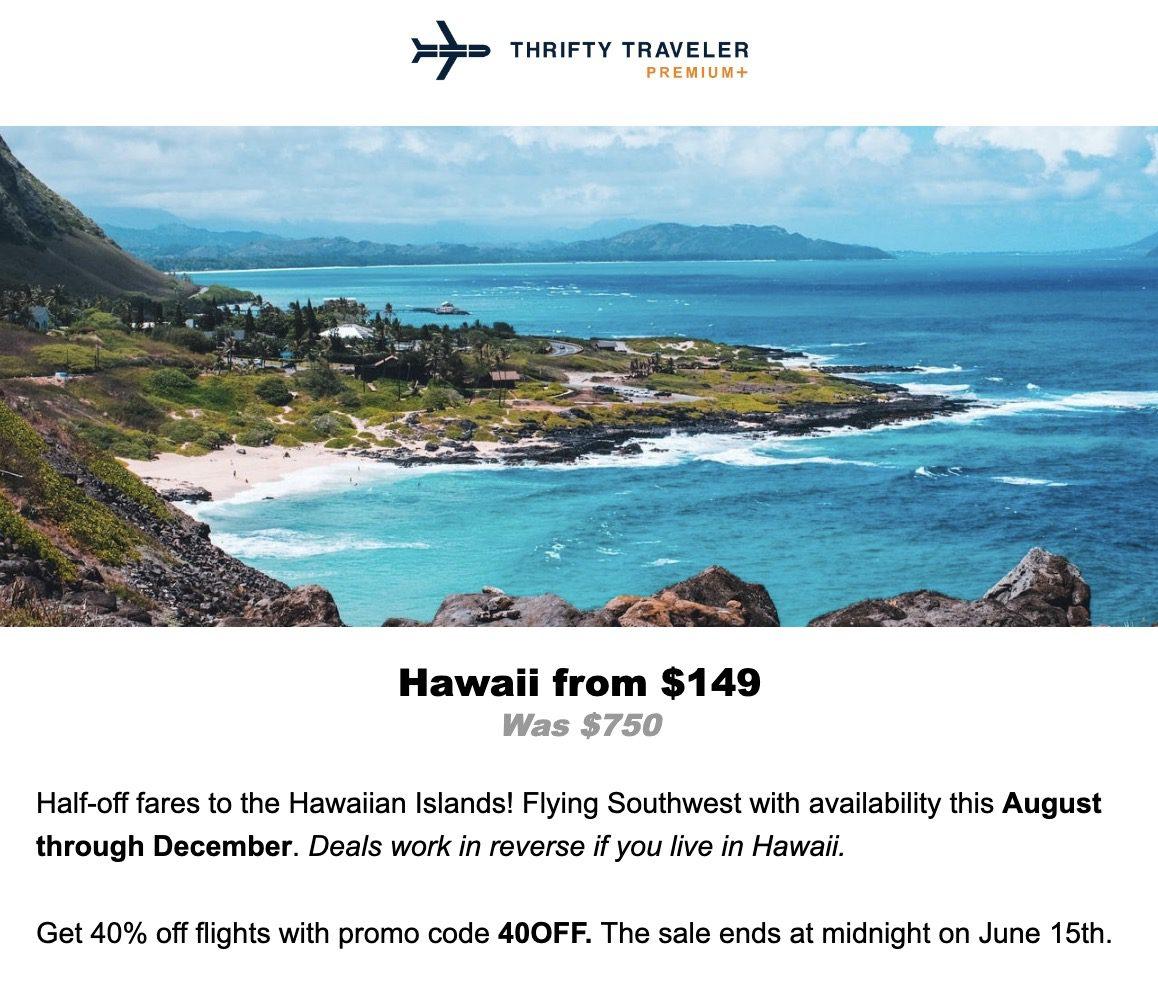 Check this out: On June 13, Southwest puts out a 40% Off Hawaii flights promo code, offering flights from $149 roundtrip to the islands. It was an amazing deal all on its own. But if you didn't want to fly Southwest, you didn't have to wait long to find the other airlines slash their own fares to match it.
In turn, Delta dropped its Delta SkyMiles fares to Hawaii, offering some insane value to try and lure its loyal customers away from those ultra-low Southwest fares.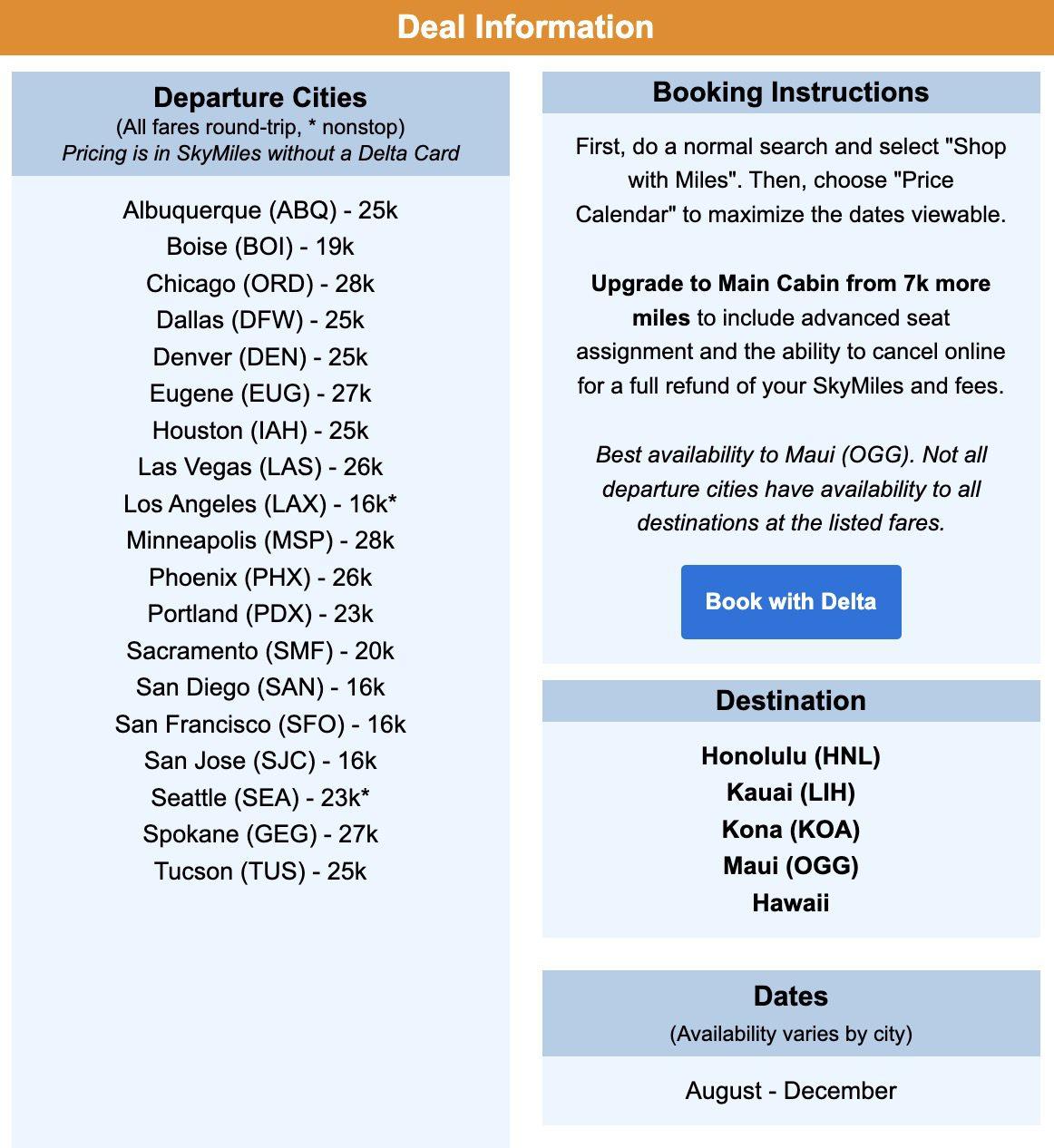 And just a few days after that, all of the other major carriers dropped their cash fares, too.
Southwest launches a sale and bang: The entire flight pricing landscape shifts for the next three days.
The cheap flight you want is sometimes just a Norse, TAP, or Southwest sale away from being a reality, and you don't have to fly a budget carrier to get it either.
Bottom Line
When budget airlines announce sales, the airlines you actually want to fly often follow suit, even if they don't publicly advertise it. We call it "The Norse Effect" and your ability to snag a cheap fare on the airline you want to fly might depend on the next sale from the likes of low-cost carriers like Norse or Southwest this year or next.