Another month, another fantastic Norse Atlantic Airways sale that could be the cheapest possible way to get to Europe this year or next.
Norse launched its latest sale this week offering nonstop fares to London-Gatwick (LGW), Berlin (BER), Paris-Charles de Gaulle (CDG), Oslo (OSL) and several other European hotspots for as low as $99 one-way in economy and just $189 in Premium Economy! Roundtrip fares with a carry-on bag each way tally up to at least $387 total in economy – but if you skip a bag, you can book for as low as $299 roundtrip! In Premium Economy, you can book roundtrips for just $519 roundtrip, too.
You'll have to book soon, though: The sale ends on Sept. 13 at midnight. Aside from some blackout dates around Christmas into the New Year, you can use this sale to score a cheap fare overseas from September all the way through May 2024.
If you're unfamiliar with Norse Atlantic Airways and are a little weary of flying something you've never heard of, don't fret! I flew Norse late last year to London and found the experience plenty comfortable for the price. The airline flies a new fleet of Boeing 787 Dreamliners with seatback entertainment for every passenger. It may not be a full-service airline … but it's not your typical ultra-low-cost carrier.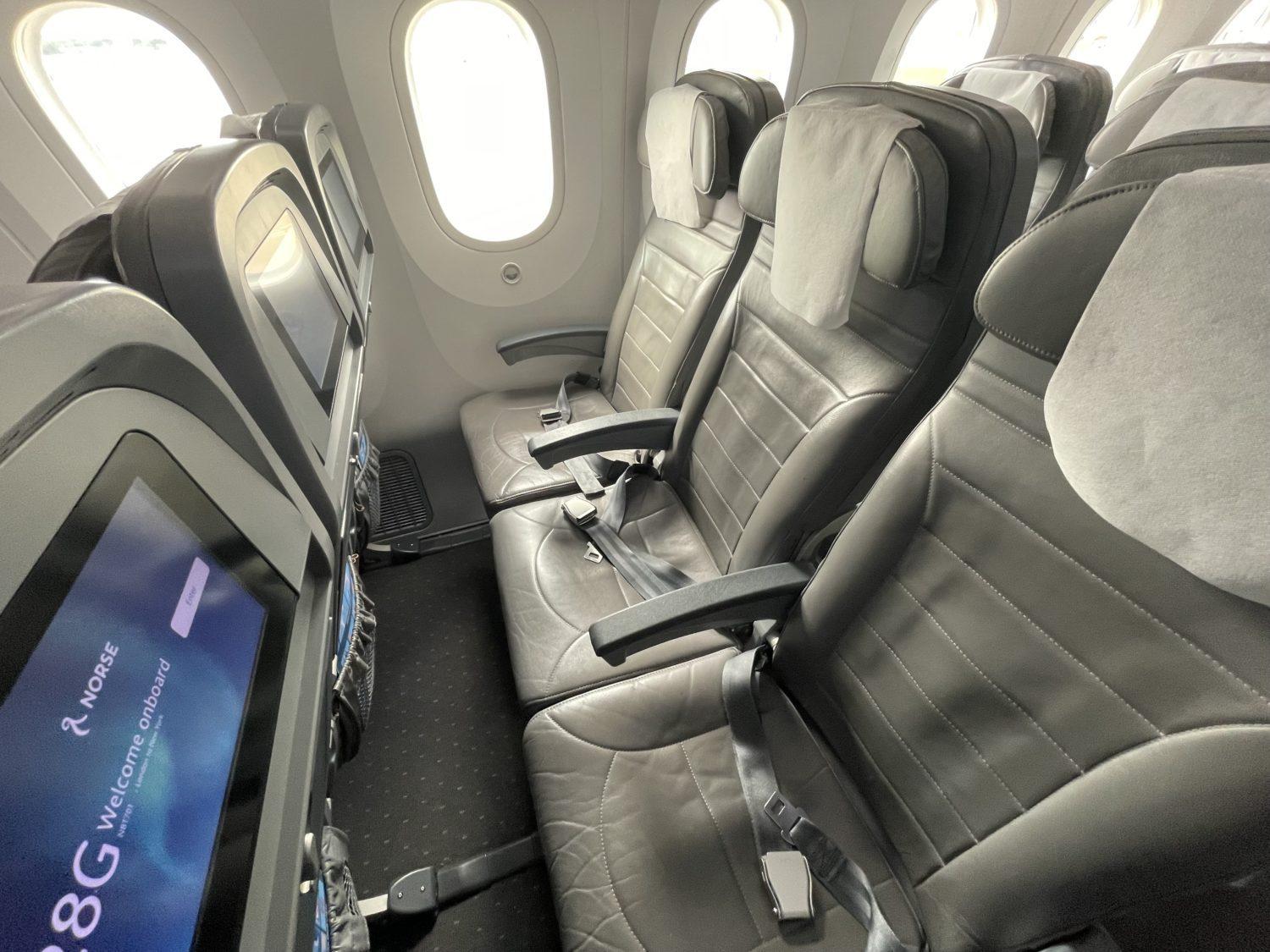 Read next: What's It Like to Fly Norse Atlantic?
The main difference is that Norse acts more like Sun Country, Frontier, or Spirit when it comes to fees – making you pay for amenities like seat selection and food and drink onboard.
Norse Atlantic Sale Details
This Norse Atlantic sale is offering some crazy rates as low as $387 roundtrip, even after adding carry-on bags both ways.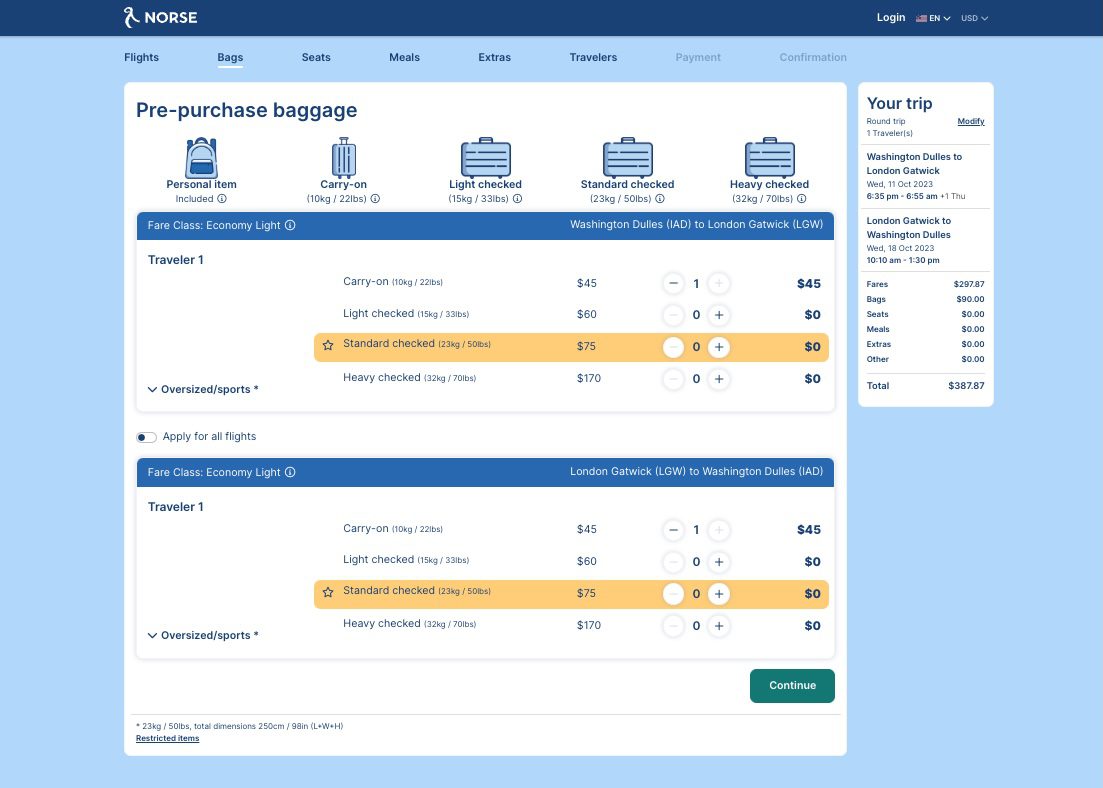 And one of the best parts about Norse Atlantic sales is that these fares to and from Europe are bookable one-way, too! It's a rarity for Europe that one-way flights are significantly cheaper than roundtrips, so Norse is your friend when it comes to rounding out an itinerary that features a one-way award ticket, for instance.
And as you can see, the $99 one-ways aren't scarce either. You can find one of them from Boston (BOS) to London (LGW) almost any day of the month of October.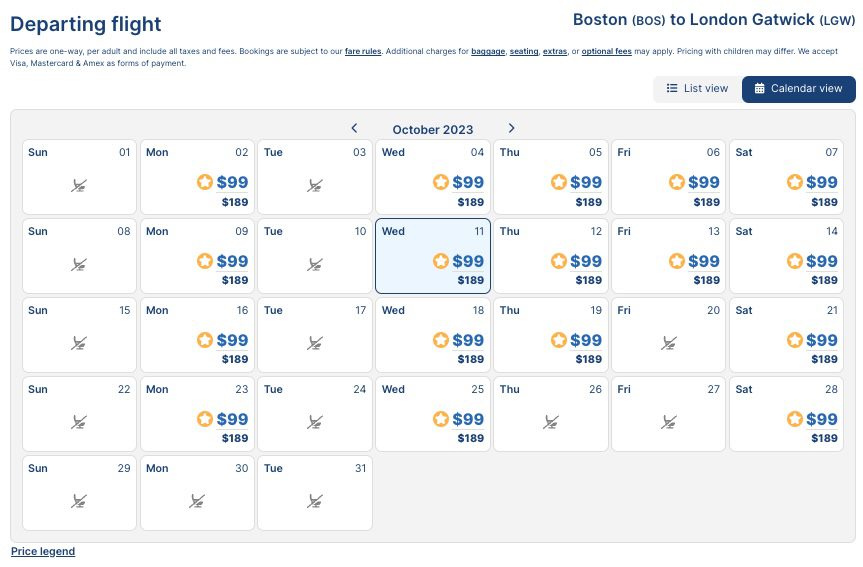 The sale ends at midnight on Sept. 13, so you have to book soon. But these promotional fares will only stick around while supplies last. So don't wait too long!
According to our searches, this deal includes almost all of Norse's routes between the U.S. and Europe (and vice versa for a roundtrip). For our Thrifty Traveler Premium members, we rounded up the best fares in Norse Atlantic Premium on this sale.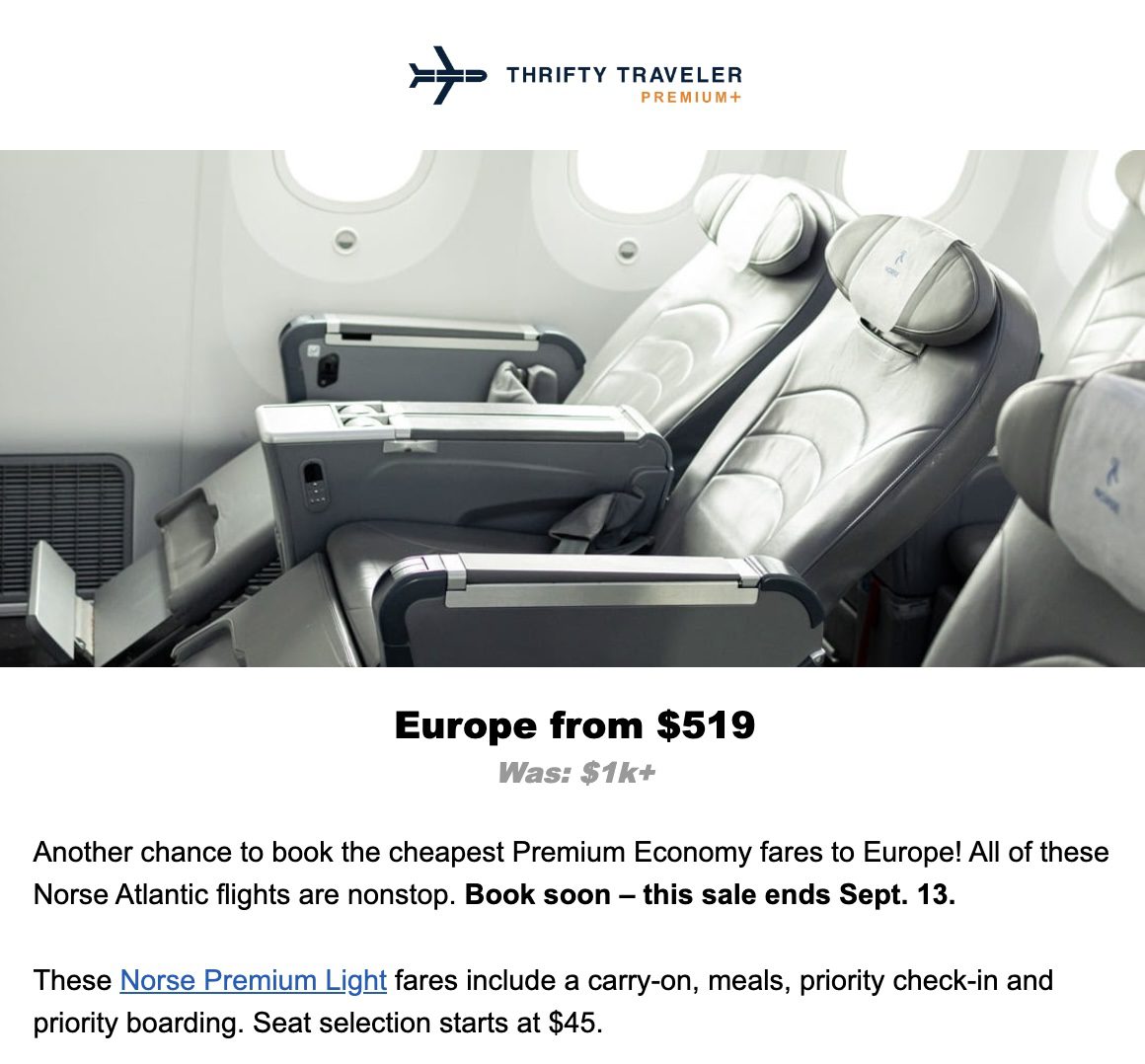 These low Premium Economy fares extended to almost all of Norse's U.S. routes, too.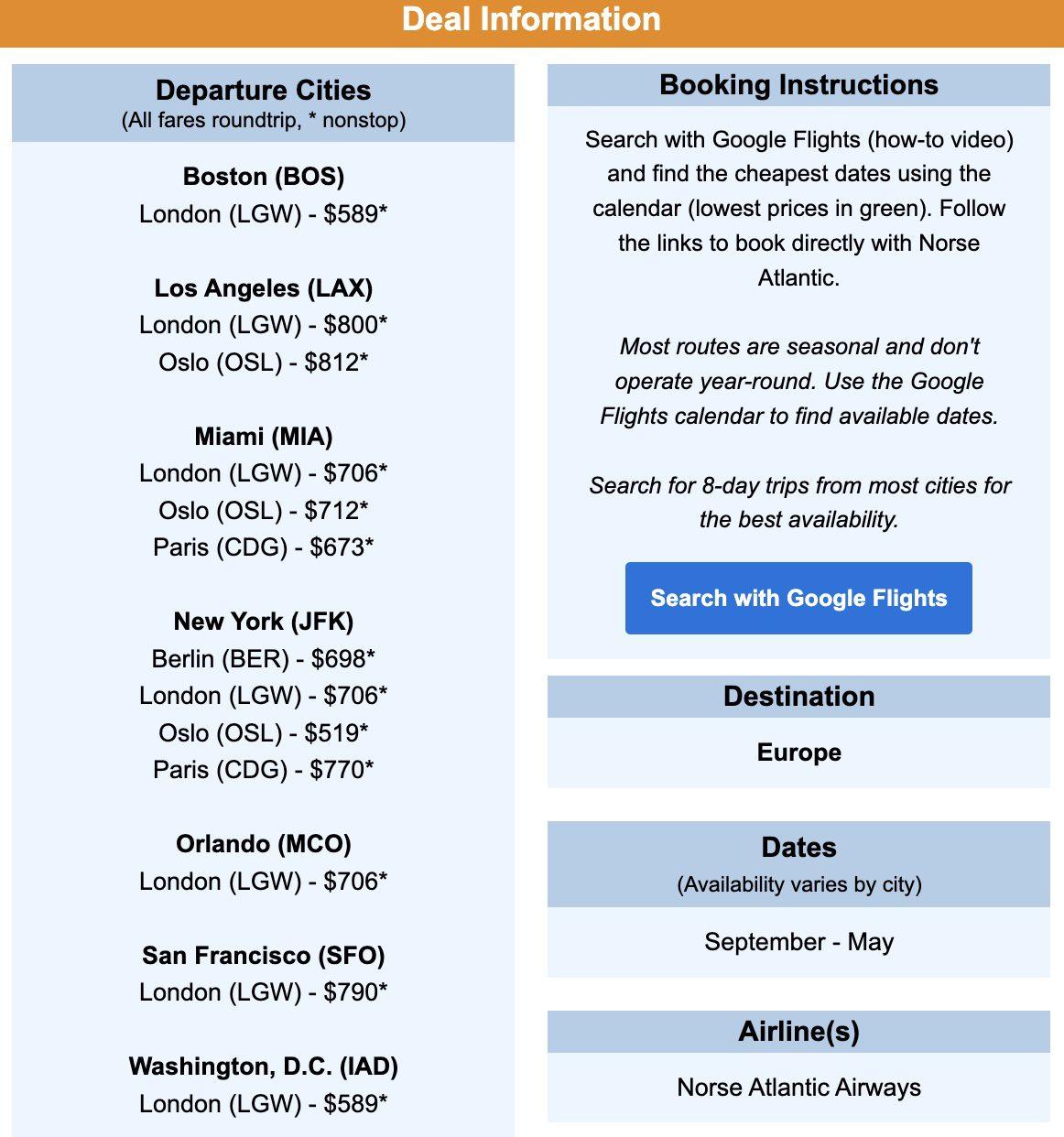 During your search for economy flights, give the Premium tab a quick look. If it's only about $100 more than the economy seat one-way, it might be worth considering. You could land a fare like this!
Read next: Our Review of Norse Atlantic Premium
Plus, with Norse, you can mix and match. That means you can grab yourself a Premium seat for the overnight flight on the way to Europe and then put yourself in economy to save money on the way home.
Sale Details
What: Nonstop fares to Europe as low as $387 roundtrip, or just $256 roundtrip without bags. Premium Economy fares start at $519 roundtrip, too!
When: The sale runs from now through midnight on Sept. 13 for travel from September through May 2024. See the sale page for full route and date details.
Where: All of Norse Atlantic's nonstop routes to Europe, including Berlin (BER), London-Gatwick (LGW), Oslo (OSL), and Paris-Charles de Gaulle (CDG).
Blackout Dates: Flights from Dec. 14 to Jan. 8 are not included in the sale.
Changes and Cancelation: Norse Atlantic charges a $200 change fee on these Economy Light and Premium Light fares.
Extras: Seat selection from $20 each way, or $45 in Premium Economy. Meals start at $30 each way. Priority check-in is $20. Priority boarding is $15. Fast-track security at London-Gatwick (LGW) is $9. Get lounge access at LGW's My Lounge for $40.
How to Book a Norse Atlantic Flight
Google Flights is far and away the best way to search for and start booking flights. But booking Norse Atlantic economy is an exception. For Norse Atlantic Premium fares, because carry-on bags are included in the fare, you can still use Google Flights to search and book.
While you can search for Norse economy fares on Google Flights, too, it's not a perfect way to do it because the fare you see doesn't include what you'll pay for carry-on bags. Instead, we recommend searching for economy fares directly on Norse Atlantic's easy-to-use website.
First, put in your desired dates and cities and press "Search." You'll get a page that looks like this.
Then click the "Calendar view" button on the top right of the search results to see the lowest fares all month long, instead of week-by-week. Here's what you'll see.

Once you choose your travel dates, you'll be prompted to choose which fare class you want for your journey. You can choose between Economy Light, Economy Classic, and Economy Flextra.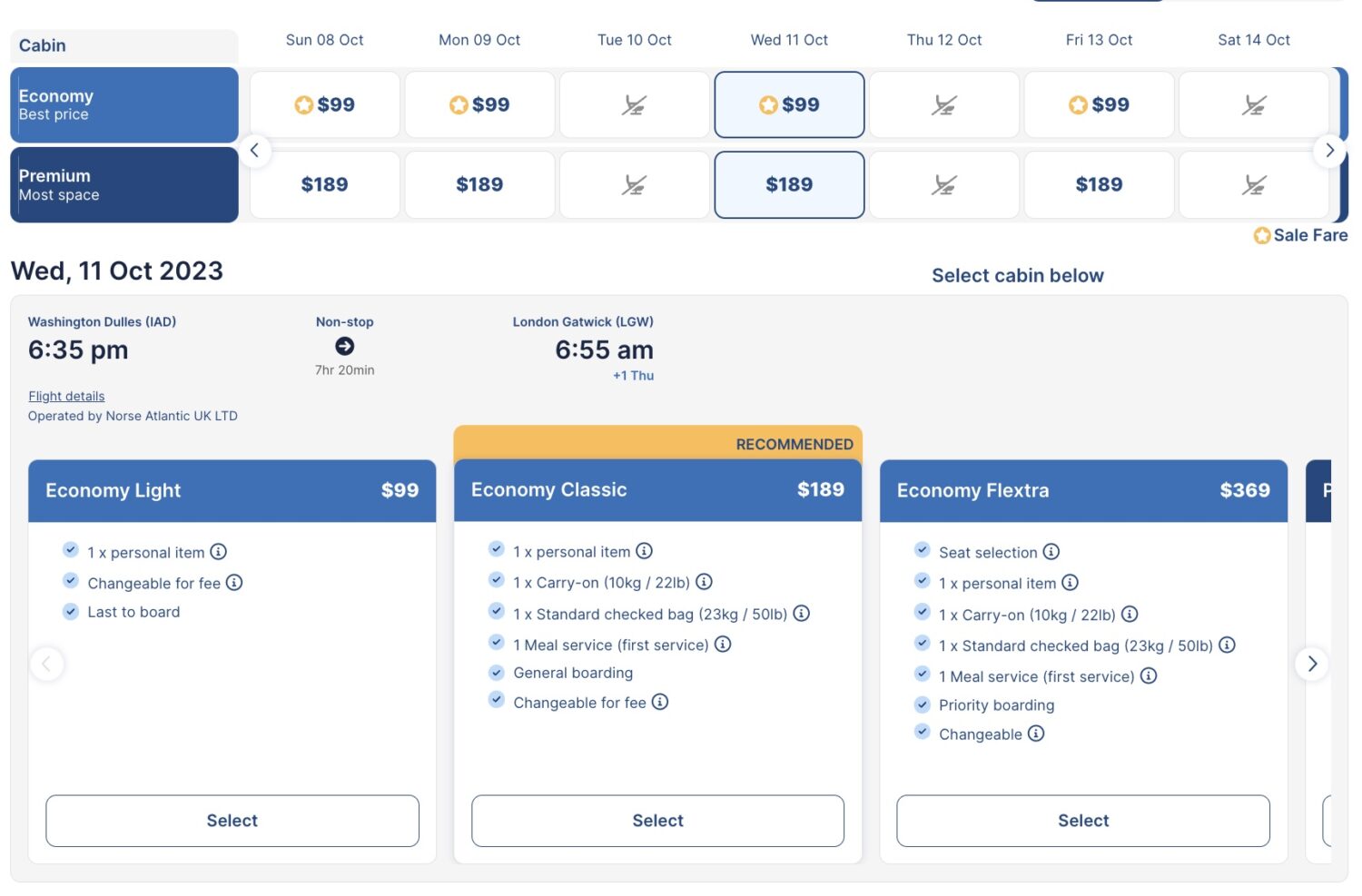 For my money, unless you need to have both a carry-on and a checked bag on your journey, choosing an Economy Light fare and then adding your own carry-on bag for $45 each way is the cheapest way to book Norse Atlantic fares. We always recommend flying with just a carry-on and avoiding checking a bag if you can. Don't leave the fate of your trip (and your belongings) up to any airline if you can avoid it.
While most of the inflight experience is above average with Norse Atlantic, the same can't be said of their food. When I made my Norse journey last year, the meal was pretty awful – and that's part of what you're paying for with a pricier Economy Classic fare. If I had to do it again, I would have picked the Economy Light fare and had a big dinner before the flight, or brought my own food on board (like many of my much happier seatmates did.)

After you select your bags, click "continue" and head onto the next page to choose your seats. From the $100 per-way extra legroom seats to the $60 fee for seats closer to the front and $20 middle seats at the back, there are lots of options on Norse. Every seat has seatback entertainment and the same amount of legroom (except for the bulkhead), so don't fret about feeling more cramped.
If you're going to choose middle seats in the back anyway, just skip the seat selection and save the $40. You're likely to be placed in one of those seats anyway at check-in.

After you've selected your seats, you are asked to add trip extras like meals, carbon offsets, priority boarding or check-in, and more. As I mentioned earlier, I don't think any of these extras are worth the cost. I assure you: That's not what the meal looked like.

After this page, you simply put in your traveler information, pay the fare, and voila – you're flying Norse Atlantic to Europe this year or next.
Bottom Line
If you're tired of seeing astronomical airfare to Europe for a trip this year or next, consider booking this Norse Atlantic sale for one of the best values for flying across the Atlantic.
Norse Atlantic's Economy Light fares are on sale to Europe starting at just $299 roundtrip, or $387 roundtrip with carry-on bags. You can also find Norse Premium Economy fares starting at just $519 roundtrip, too.
Lead photo courtesy of Norse Atlantic Airways