The next two months of fall in the northern hemisphere are some of the best times of year to travel within North America for a number of reasons: Flights are cheaper because the busy summer travel season is behind us, crowds are typically lighter because school is back in session, and maybe the best reason of all – the landscapes explode with color as the leaves change.
Fall is ripe for short-haul travel, and the forests and mountains of North America make for some of the best leaf-peeping in the world. Just a few hours from home, you can fly to watch the leaves change across screensaver-worthy landscapes this year.
But if you have designs on a fall colors trip this year, you'd better get to booking. The leaves have already started turning in Alaska, and every week you get closer to peak colors where you are or where you hope to go.
The entire United States will be past peak colors by Thanksgiving day, with most destinations reaching that point by mid-to-late October, according to the Smoky Mountains Fall Foliage Prediction Map which has a prediction tracker for fall 2023. Note: All predictions in this article are from the Smoky Mountains tracker.
Read on for our favorite fall colors destinations, when you should travel for peak colors and a few suggestions of cheap flights you can take to get there.
Banff National Park & the Canadian Rockies
Peak Fall Colors: Sept. 18 – Oct. 1. 
Time is of the essence if you want to fly to Banff or the Canadian Rockies to see the fall colors this year. In fact, the colors are predicted to begin changing there next week! But peak colors are still three to four weeks away, meaning there's time to snag a cheap flight to catch the leaves change in front of the Banff National Park backdrop.
Luckily, flights to Calgary (YYC) – the gateway to Banff – have been crazy cheap for fall travel. And flights have stayed cheap, too. This flight takes off in three weeks and can still be booked for just $219 roundtrip, nonstop from Atlanta (ATL)!

Glacier National Park, Montana
Peak Fall Colors: Sept. 25 – Oct. 2 
You can't go wrong with a visit to Glacier National Park, but add a pop of (even more) color and the Flathead Mountains of northern Montana become a must-see. Plus, when you travel to Glacier in the fall, you might just have the place to yourself after the busy summer season at the park.
Great Falls, Montana (GTF) is about two hours away from the quieter, east side of Glacier National Park, and flights to Great Falls are often less than half the cost of flying to Kalispell on the busier west side of the park. This fall is no exception.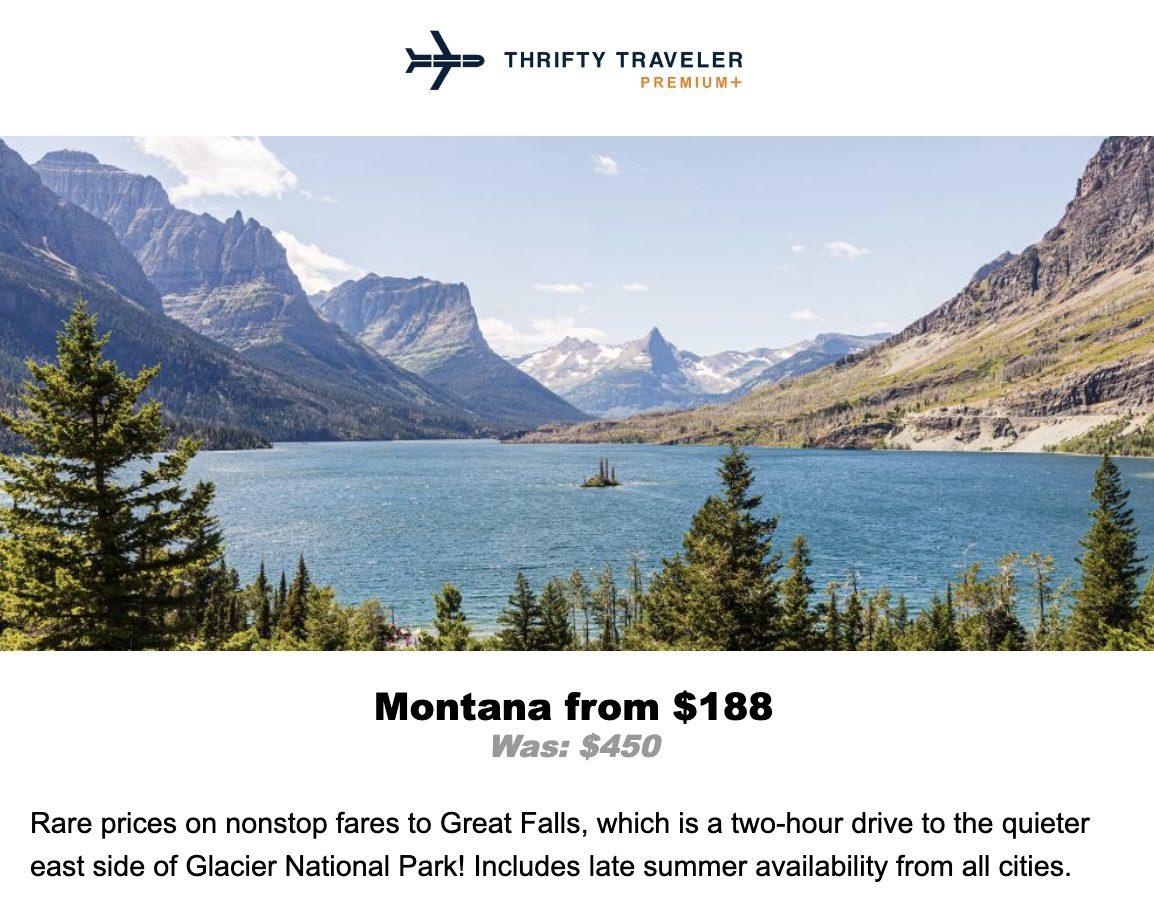 With the peak colors just a few weeks away, it might be a little tricky to find rates as low as this flight deal shows before Sept. 25, but if you aim just past the peak color dates in October, you'll still jaw-dropping, colorful landscapes and visit Glacier during the quiet season.
Just look at this Google Flights search from Minneapolis (MSP) to Great Falls during October.
Burlington, Vermont & the Green Mountains
Peak Falls Colors: Oct. 2 – 9
If you live on the East Coast, especially in the Northeast, you'll be hard-pressed to find something better than the Green Mountains in the first week of October. The peak fall colors in Vermont are spectacular, and so is airfare to Burlington (BTV).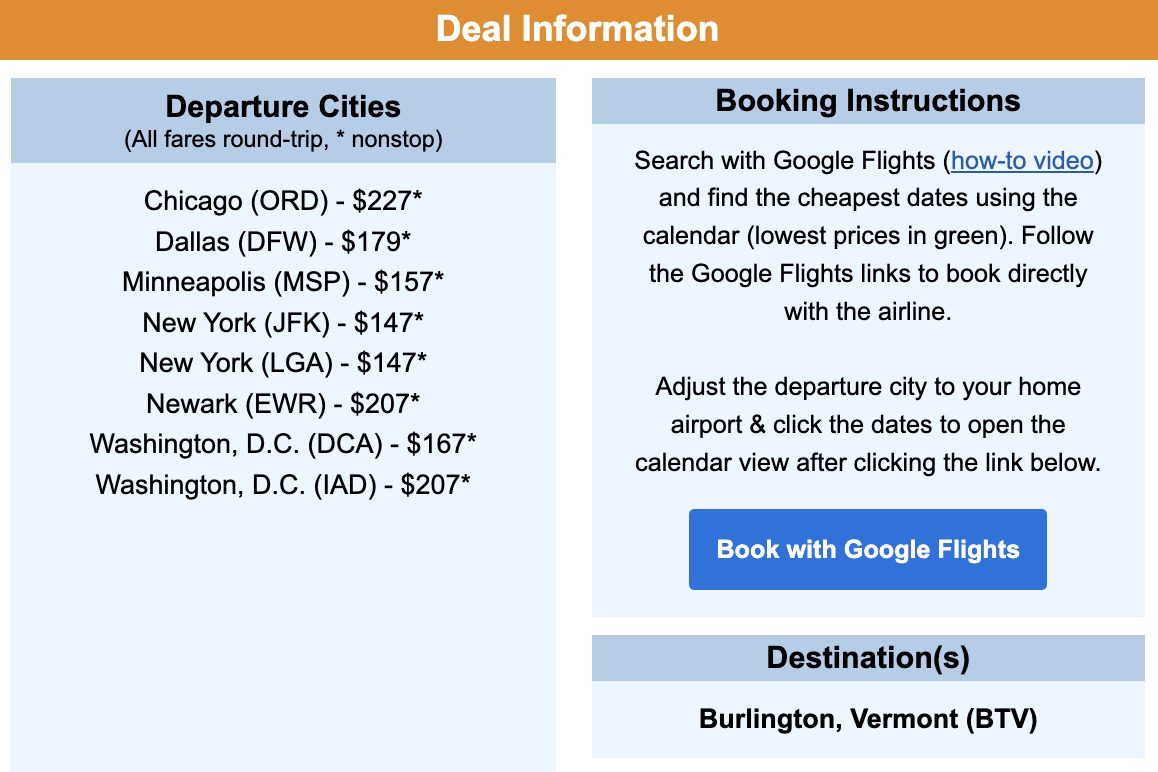 These nonstop flights to Burlington could put you in a prime position for leaf-peeping. And if you live in New York City and need to escape, flights are still cheap during peak colors thanks to this Delta nonstop flight.
Colorado and the Rocky Mountains
Peak Fall Colors: Oct. 9 – 16
If you can affordably get to Colorado for the fall colors this year, you absolutely should. The Rocky Mountains, awash in reds, oranges, and yellows, are a sight to behold. Plus, there's always the chance of a dash of snow at high altitudes, which creates some of the most spectacular vistas on the continent.
Thanks to the massive network of flights from Denver Airport (DEN), cheap flights to Denver aren't hard to find.
But if you need a little space from the hustle and bustle of DEN, or just want to see a different side of Colorado, consider flying into Colorado Springs (COS).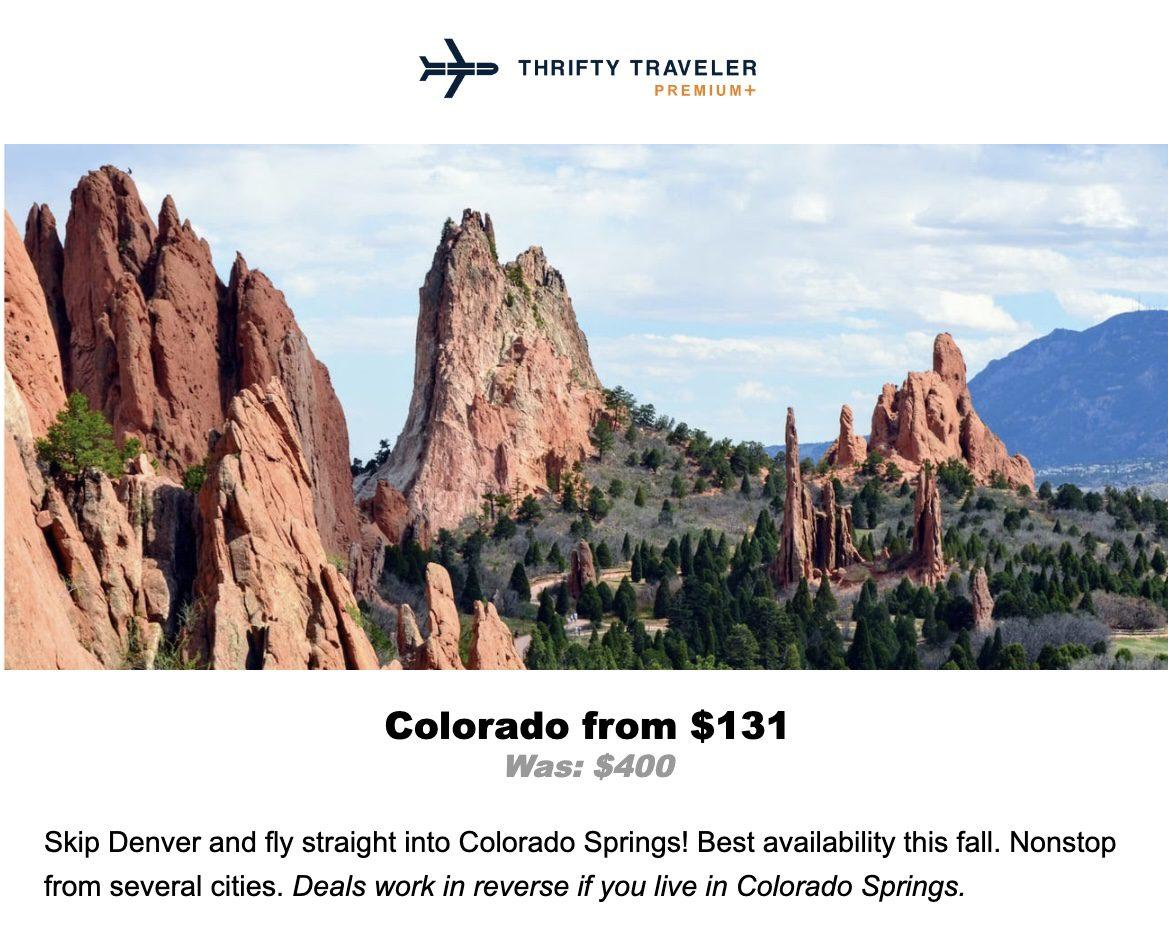 Colorado Springs is just a few hours' drive south of Denver but unlocks the glorious San Juan Mountains for fall colors-seekers. You could also dip into northern New Mexico from Colorado, or take the windy roads into the heart of Colorado to experience a quieter mountain experience sans the infamous I-70 traffic.
Lake Tahoe & the Sierra Nevada Mountains
Peak Fall Colors: Oct. 9-16
I'm a sucker for Lake Tahoe. It's one of the best summer towns in the world thanks to that amazing lake and the Sierra Nevadas. It's a top-tier ski destination all winter and spring thanks to abundant snowfall and some elite-caliber resorts. But don't sleep on the Lake Tahoe region in the fall!
The Sierra Nevada mountains see peak fall colors a little earlier than the rest of California and Nevada due to the elevation, but they're worth seeing if you can snag a flight deal like this one.
Luckily, flights to Reno (RNO) flights – just an hour from Tahoe – during peak colors are still cheap!
Niagara Falls & Western New York
Peak Fall Colors: Oct. 16 – 23
A Niagara Falls weekend can be enjoyed almost any time of year, but the epic attraction might be best witnessed during the height of fall. Being slightly more south than the mountains of New England, western New York is a great option for cheap fall colors flights because you get an extra week of time to book.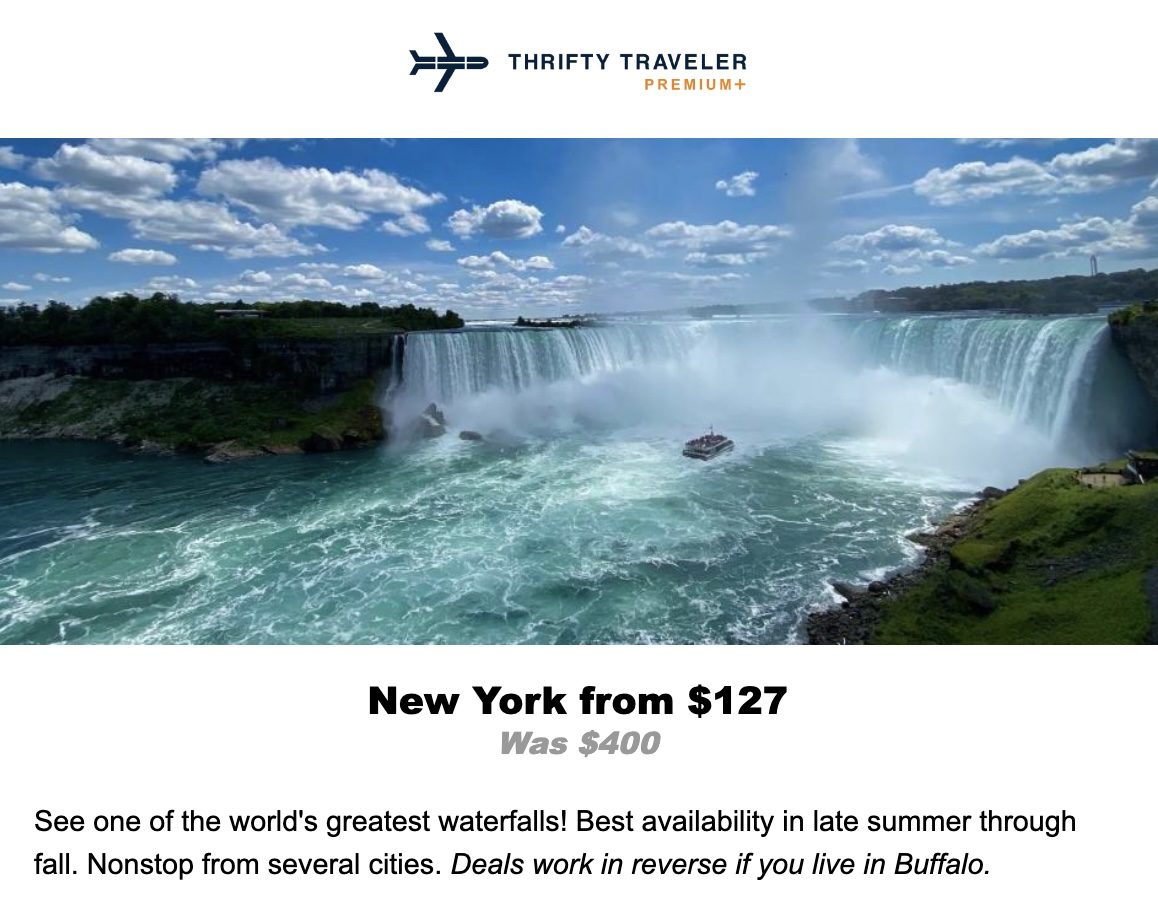 We sent out this deal a few weeks ago for cheap flights to Buffalo (BUF), which puts you at the doorstep of Niagara Falls. But the Finger Lakes region and its vineyards and hills have some amazing fall colors activities, too.
As of now, flights to Buffalo from all over the East and Midwest are still cheap. Want to escape the Florida heat? These nonstop Fort Lauderdale (FLL) to Buffalo JetBlue fares are still just $158 roundtrip!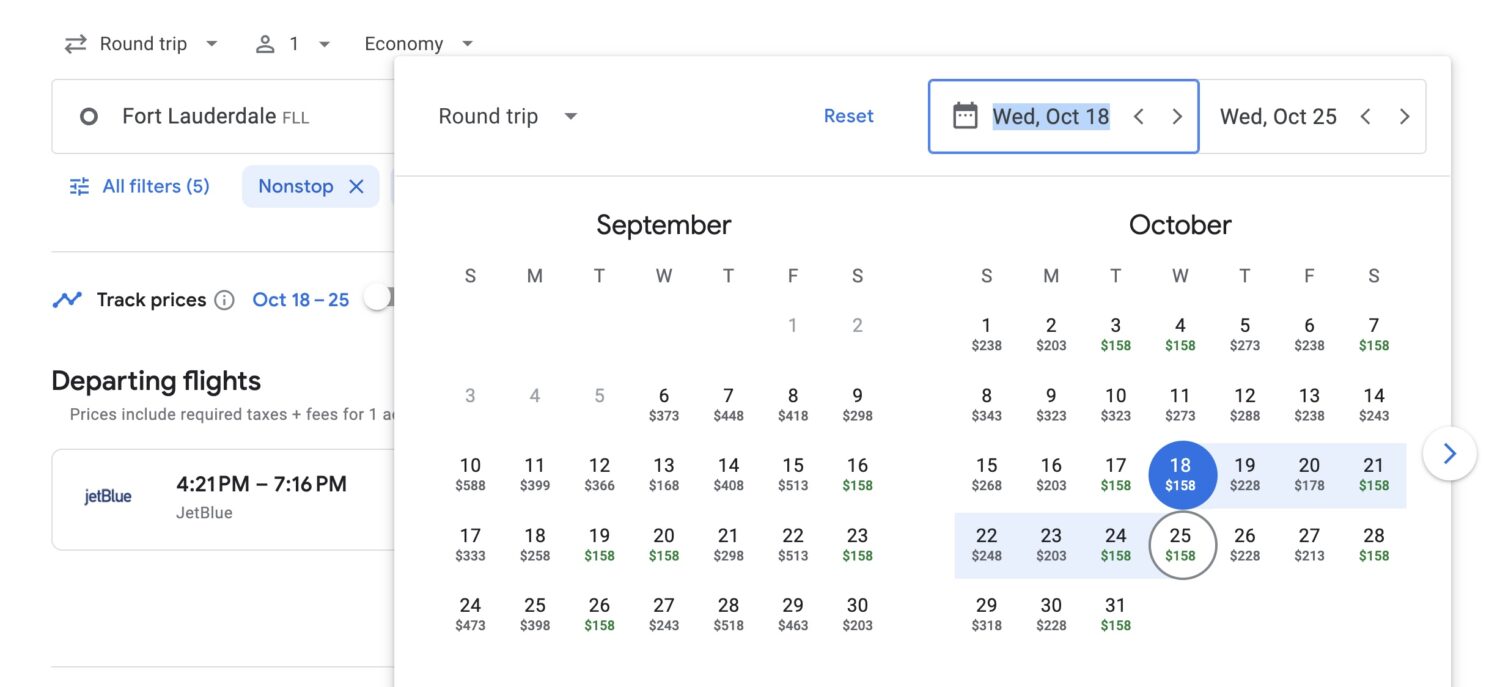 Asheville & the Blue Ridge Mountains
Peak Fall Colors: Oct. 16 – 23
Take your time getting down to the Blue Ridge Mountains for fall colors, because we're more than a month away from the leaves turning in this underrated region of the country.
In fact, your favorite travel website might be hosting its company retreat in Asheville, North Carolina right around that time after we all booked this flight deal.
You might not think of the mountains when you think of North Carolina, but the Blue Ridge Mountains illuminated in fall colors are something to behold. And because the peak is more than six weeks away, cheap flights to Asheville (AVL) are still in steady supply.
Missed the fall colors in New England? Head to Boston-Logan (BOS) and jump down to North Carolina for one last chance.
Kentucky's Bourbon Trail
Peak Fall Colors: Oct. 23 – 30
Let's be honest: Kentucky in late fall isn't just about the fall colors – it's about the vibe.
The vibe I'm referring to is Kentucky's Bourbon Trail, home to world-famous bourbon distilleries, which just feel like they fit with a cozy, leaf-peeping adventure through the Kentucky countryside.
And with about two full months until peak colors, cheap flights to Louisville (SDF), Cincinnati (CVG), and Knoxville (TYS) are as cheap as they've ever been right now, including this hot getaway from Chicago for late October during the best of the colors.

Bottom Line
The fall colors are just starting to leak into North America's top leaf-peeping destinations, but it's definitely not too late to book a fall colors trip in 2023.
Between now and the end of October, some of the most beautiful landscapes in the country will become awash with stunning colors, and this year cheap flights are in abundance to many of the best destinations.