With vaccines making their way into arms across the country, travelers are more excited than ever to get back to travel. And the appeal of our country's national parks, lands, and waters is stronger than ever.
You're in luck: You can get there for cheap. As airlines try to drum up ticket sales for flights across the U.S., we've found flights to take you to some of the most stunning U.S. National Parks at unbelievably cheap rates under $200 round-trip – and sometimes under $100!
While traveling ramps back up, now is the time to start planning your summer and fall 2021 adventures. And because we find flight deals up to 11 months out, that means you can book a great deal now through February 2022.
Take a look at some of the craziest domestic flight deals we found in just the last month. Many of these deals have already disappeared, but don't miss out on the next cheap fare we find: join Thrifty Traveler Premium and get instant alerts for all the flight deals we find from your home airport.
The Utah Mighty Five & The Grand Canyon
Don't let your dreams stay dreams! If you've got Zion, Arches, and Utah's other National Parks on your wishlist, now's the time to plan a future trip.
The cheapest way to get there? Start your trip in Vegas. Fly into Las Vegas (LAS), rent a cheap car, spend a night or two in Vegas, then head out on a road trip to multiple national parks. Here's how to do it.
And the good news is that we've been finding roundtrip flights as low as $58 (yes, roundtrip!) to Las Vegas and alerting our Thrifty Traveler Premium members to these rock-bottom fares: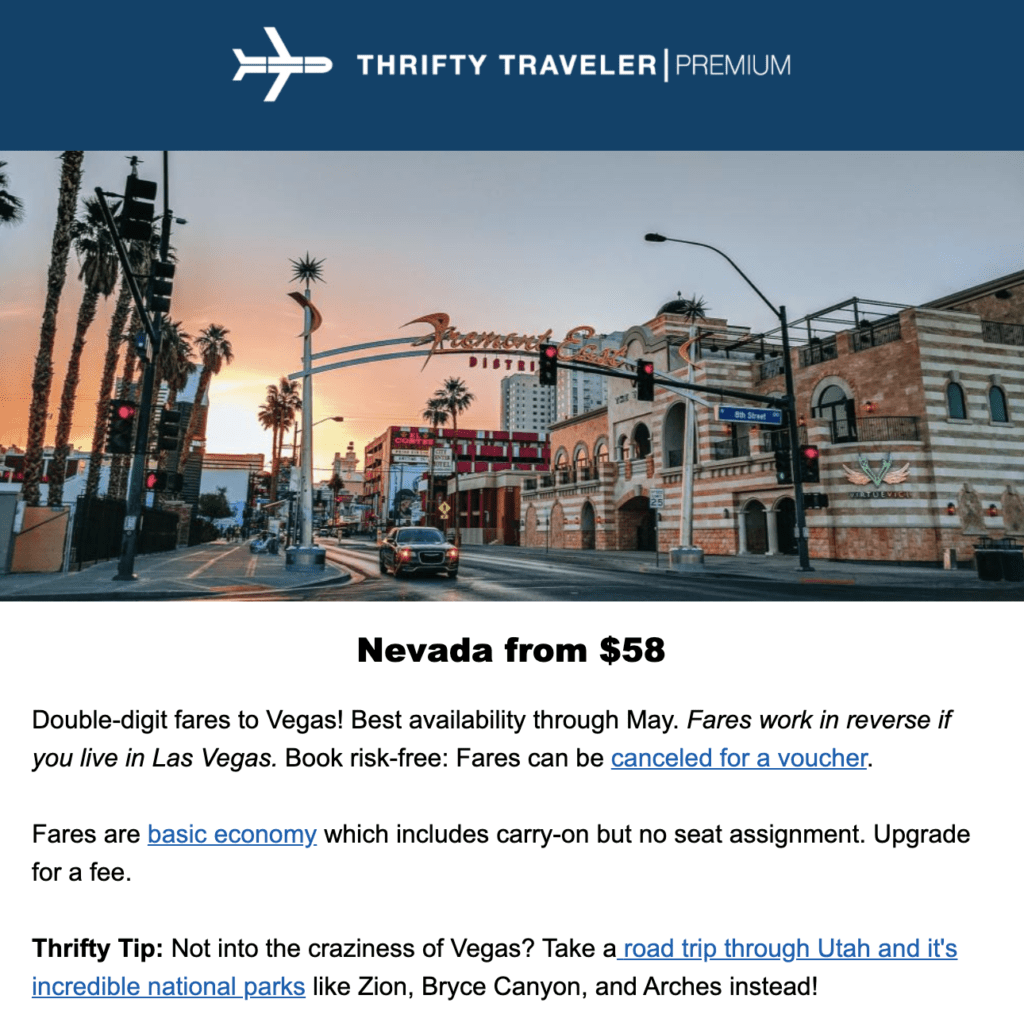 Thrifty Tip: If you're heading to more than one national park this year, you'll likely want the Annual Pass. Here's how to save on your Parks Pass. And if you've got a fourth-grader in the family, you can get a free National Parks Pass! 
Want to head straight to the Grand Canyon? We found fares from over 20 cities to Flagstaff under $200 roundtrip. The best part? This deal was available for dates through peak summer and fall 2021!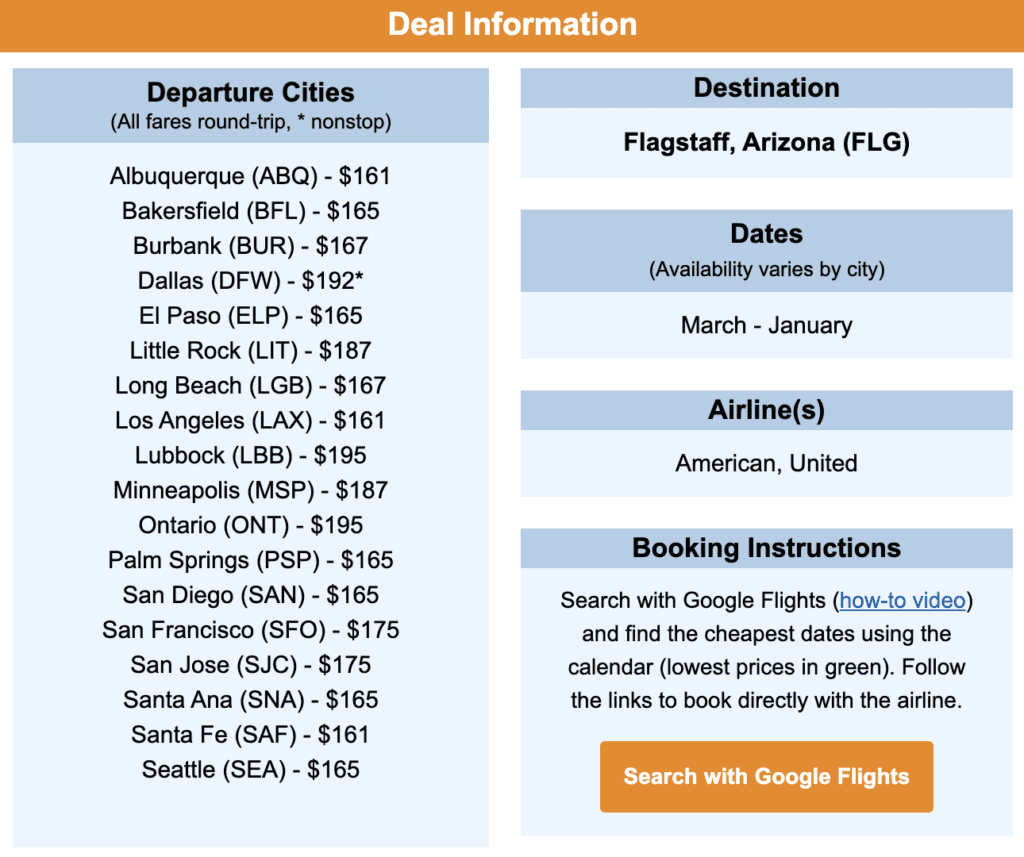 These cheap fares didn't last long – try Thrifty Traveler Premium for $5.99 a month and get the next one!
Southwest Desert National Parks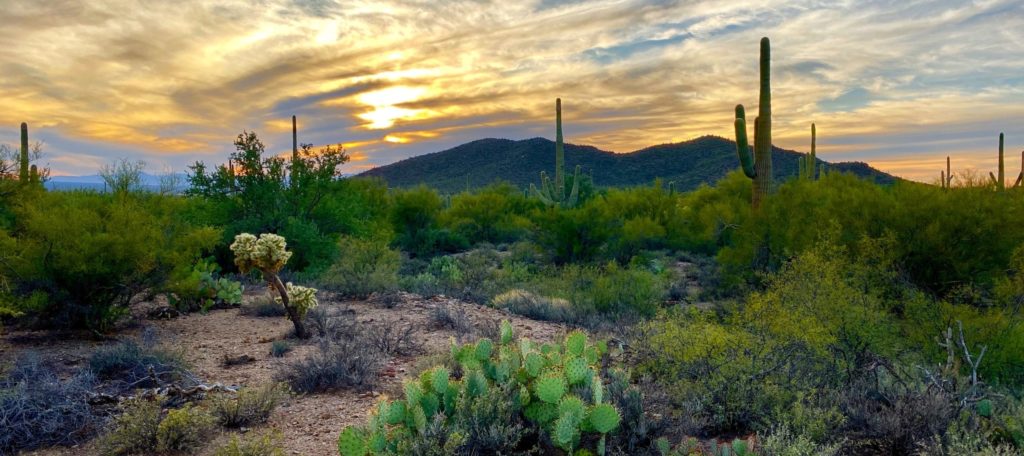 Arizona has been at the top of traveler bucket lists in 2021, and for good reason. Sunshine, cacti as far as the eye can see, and plenty of hikes and parks to explore!
In the past month, we've found flights to Phoenix as low as $58 roundtrip, and to Tucson under $100 roundtrip! You could get to Saguaro National Park for less than half the typical airfare:
Dreaming of Joshua Tree National Park? It doesn't have to cost you hundreds to get there! Fly into the nearest airport in Palm Springs (PSP), or make the short drive from Los Angeles. We recently found flights as low as $58 roundtrip from multiple cities!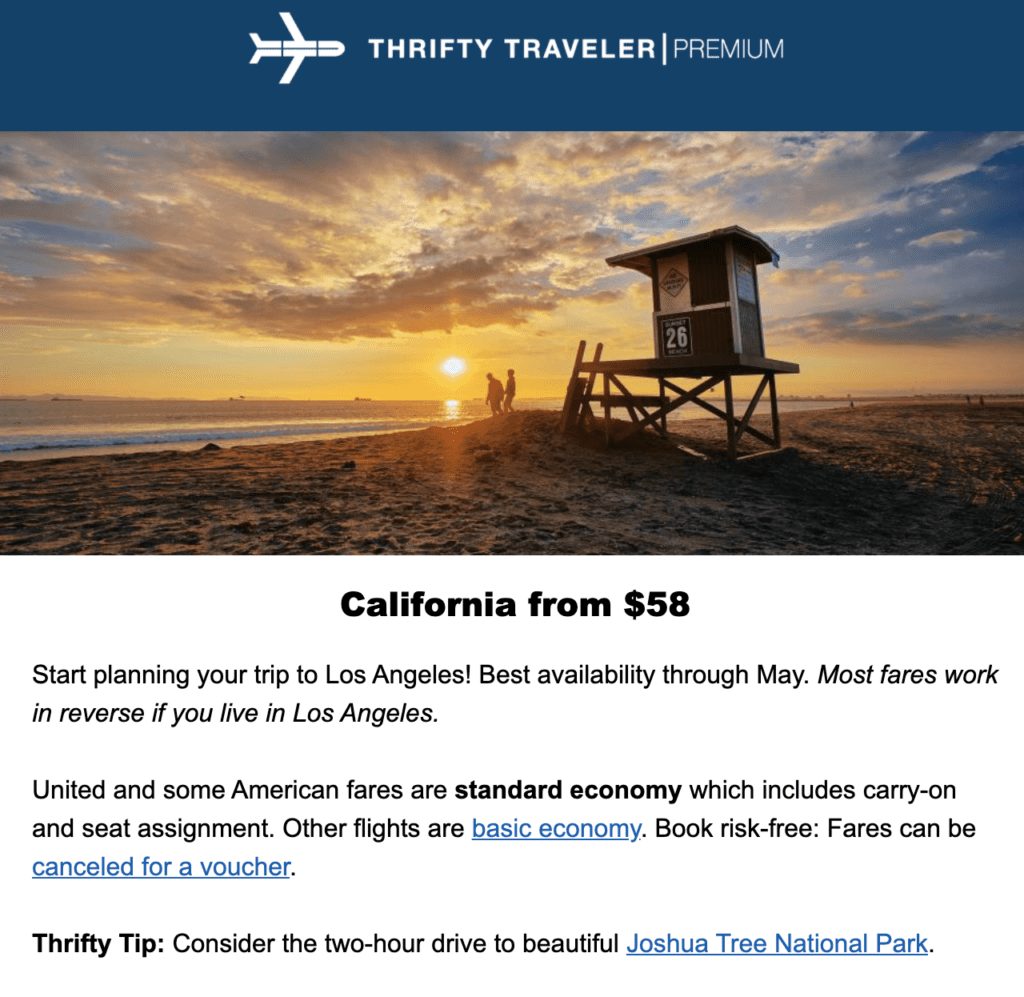 Starting with a cheap flight can make your national park adventure truly thrifty!
As you begin planning your national park adventures, make sure you know which national parks are opening, and any coronavirus-related restrictions they have in place. Check the park's site for everything you need to know.
Head North: Alaskan & Canadian National Parks
There are a whopping 17 national parks in Alaska, and I bet the most famous one – Denali National Park – is on your bucket list. And it doesn't have to cost thousands to get there.
Take this recent Thrifty Traveler Premium flight deal we found, for example. You could get to Fairbanks for under $400 roundtrip from almost every single U.S. airport! And yes, this deal was available for peak summer:
Banff National Park in Canada is also a traveler favorite. And although Canada is not yet open to travelers, we hope that changes by summer!
Here's a peek at the deal to Calgary we sent to Premium members recently. It was a nationwide deal available from over 100 U.S. departure airports, including smaller regional airports! Here are just a few of the fares that were available: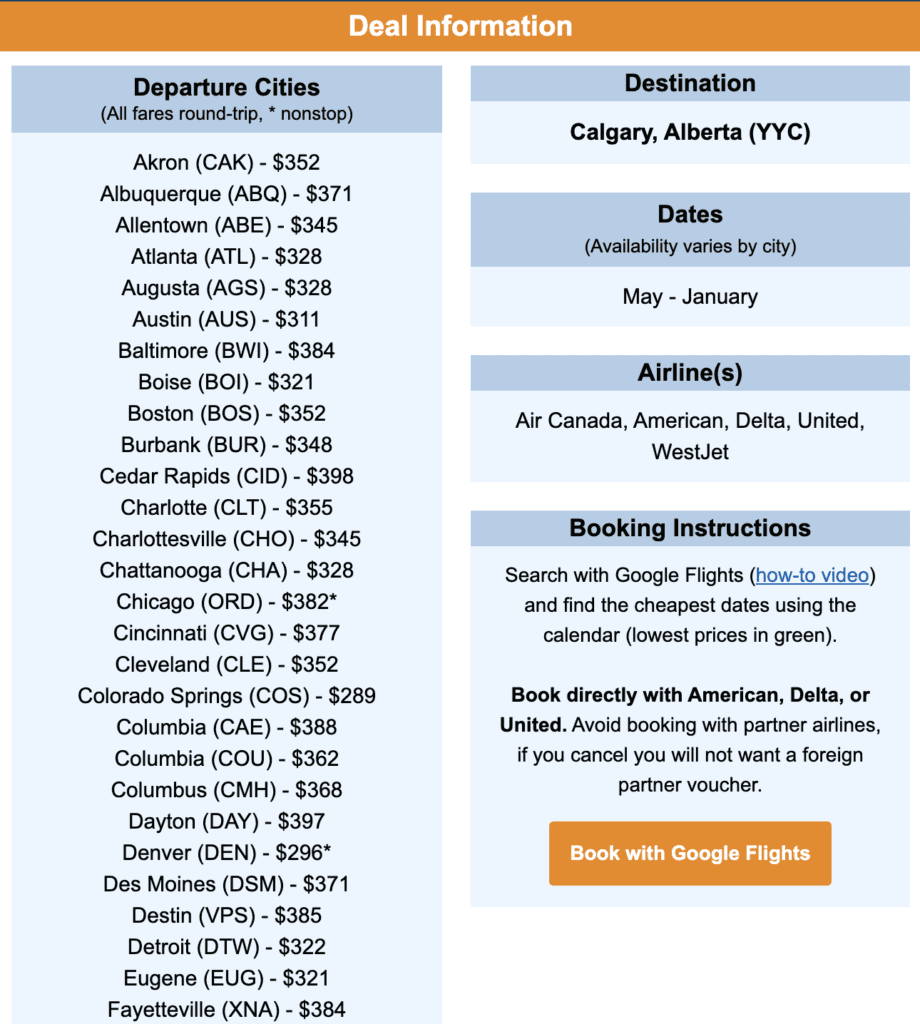 It's not just major hub airports that get cheap flight deals! Don't think we find flight deals from your hometown? Check this list and see if we do! If you don't see your airport on the list, comment below and we'll add it.
Don't want to go quite that far to see the majestic mountains and national parks of the north? Fly into Seattle and explore North Cascades, Olympic, and Mount Rainier National Parks – all within a two-hour drive of Seattle!
Here's just how cheap we've been finding nonstop flights to Seattle lately: under $200 roundtrip is a steal!
Want instant alerts for flight deals like these? Join Thrifty Traveler Premium for just $5.99 a month and get the next one from your home airport!
Yellowstone & Glacier National Parks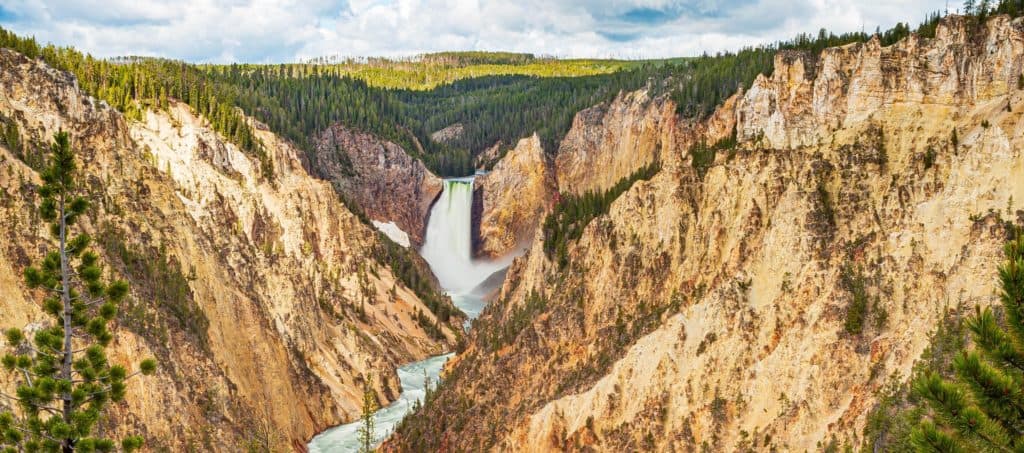 No, that's not a painting. Yes, you can get there for cheap.
The hardest part of your visit to national parks like Yellowstone and Glacier should be the hikes, not cheap flights. That's where we come in.
When it comes to visiting the beautiful lands of Montana, you've got a few options. Book a cheap flight into Bozeman for Yellowstone, or Kalispell for Glacier, and you'll be just a short drive from the parks.
Fly into Bozeman, Montana (BZN) and be next to Big Sky – and a 90-minute drive to Yellowstone. Flights to Bozeman can regularly cost $500…or more. We were so excited about cheap fares to Bozeman this past month, with several nonstop routes available for half the price through October:
Maybe you've got another Montana national park on your mind: Glacier National Park. You'll want to fly into Kalispell Airport (FCA), which is just a 30-minute drive to Glacier! We recently alerted Thrifty Traveler Premium members to half-price fares to this stunning park: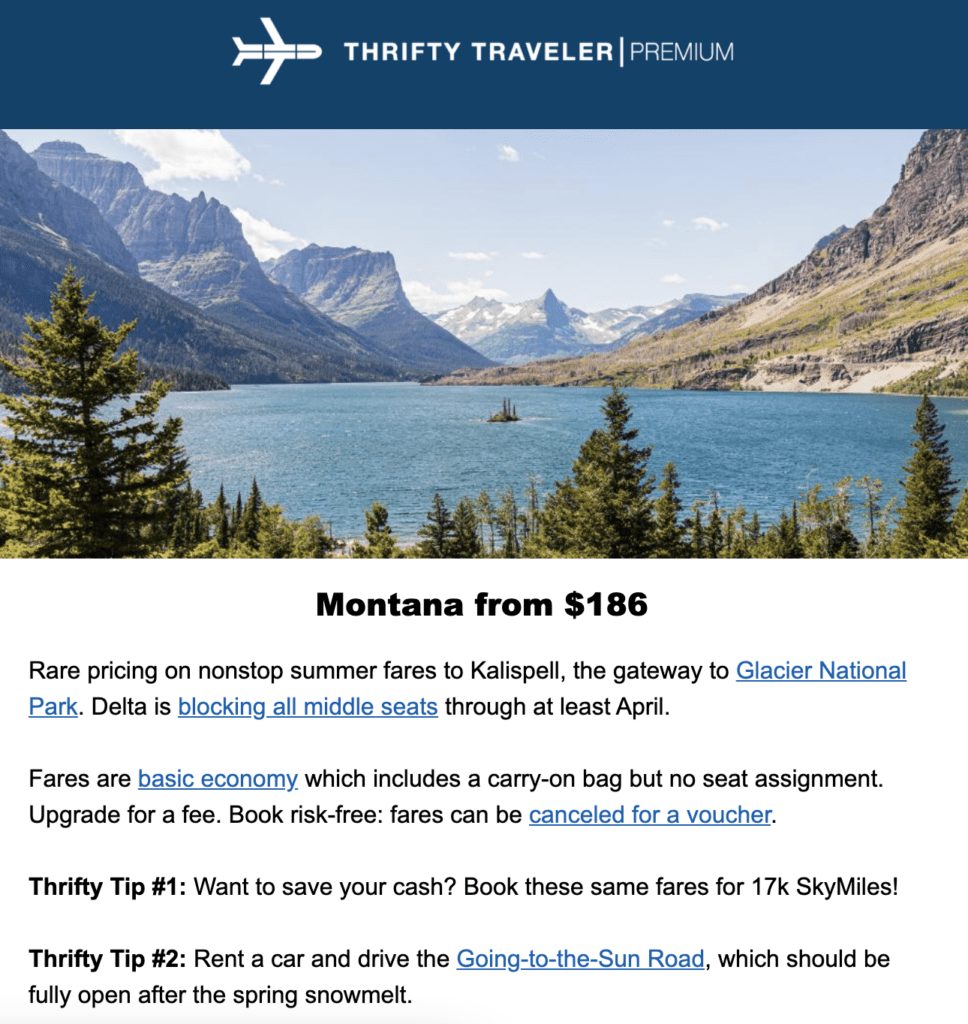 If you've ever searched for flight deals to these more obscure airports near national parks, you know finding a flight under $400 – or even up to $600 – can be a challenge. We can help! Our team is constantly searching for price drops and flash sales, and will instantly alert you when a flight deal pops up from your home airport. Get our flight deal alerts and don't miss the next one!
Bottom Line
Need some cheap flights to fuel your return to travel for this summer and fall? If a national parks adventure is on your bucket list this year, don't overpay for your flight to get there. Get instant flight deal alerts with Thrifty Traveler Premium and get there for less! See you on the trails.