Want to trade in the snow for a beach? Looking for a warm-weather destination this winter or spring, but not sure where to go? You're in luck.
Finding flight deals is our mission, and we're here to tell you that booking a flight to a tropical destination this winter doesn't have to be expensive. From the Caribbean to Southeast Asia and beyond, we're seeing tons of cheap flights to some of the best winter escapes on the planet.
Here are some of the best destinations where you can escape the winter cold without breaking the bank.
Puerto Rico
Puerto Rico is rebounding from hurricanes in 2017. It's one of the most underrated tropical islands in the region. And it's cheap. We've seen flights from 50-plus U.S. cities to San Juan (SJU) from as low as $176 roundtrip throughout the winter and spring.
Because Puerto Rico is a U.S. territory, you don't need a passport to visit. Be sure to check out Old San Juan and the gorgeous Castillo San Felipe del Morro during your stay in San Juan. For gorgeous beaches and surfing, visit Aguadilla. Take a day trip out to El Yunque National Forest. Take a boat or puddle jumper out to Vieques island, just off San Juan, for a day on this gorgeous island. Or you could stick around to see the bioluminescent bay at night light up at night.
Looking for a great place to stay? Mr. TT stayed at the W Resort & Spa and redeemed Starwood Preferred Guest points to stay for free. Read his full review of his stay in Vieques here.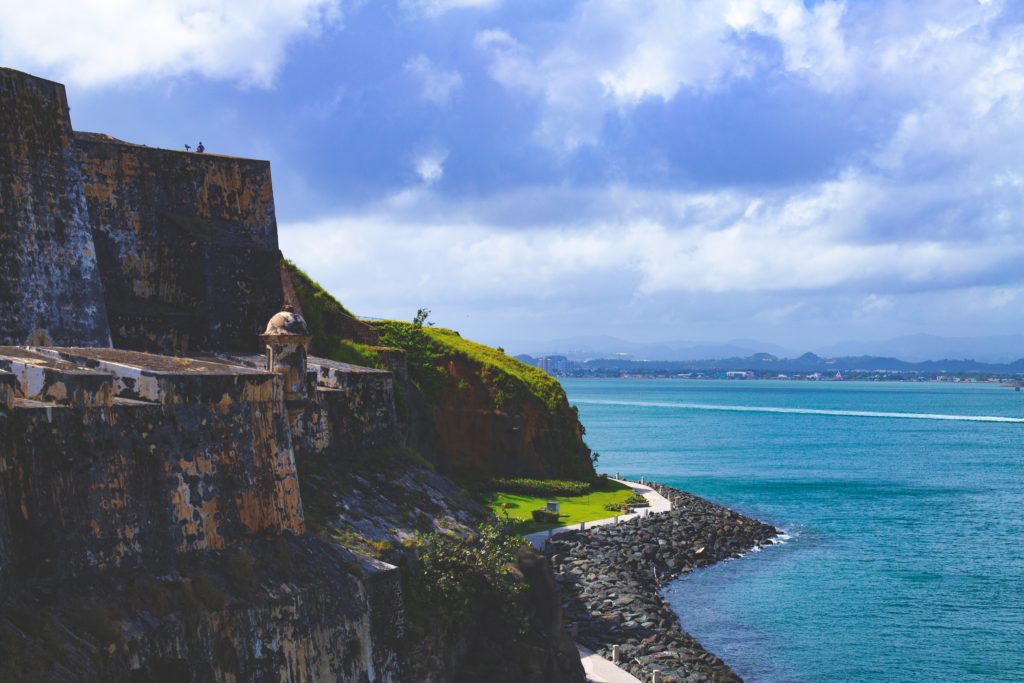 St. Thomas, U.S. Virgin Islands
Not far from Puerto Rico is St. Thomas, one of the U.S. Virgin Islands. We've been seeing some really cheap flights to St. Thomas (STT) lately: 27 cities to St. Thomas from as low as $194 nonstop and roundtrip. Check out Magens Bay to swim and soak in the gorgeous Caribbean views. To save even more money during your stay in St. Thomas, bring your own snorkel gear rather than renting each day.
Not looking to spend a ton of money on a hotel? Book an Airbnb for your time in St. Thomas – you can book a home to yourself for as low as $60 a night!
Morocco
If you're like me, Morocco has been on your bucket list forever. Use your vacatgion this winter or spring and get to Morocco for warm weather and gorgeous views. We told our Thrifty Traveler Premium subscribers about flights last month from seven U.S. cities to Casablanca and Marrakech for as cheap as $505 roundtrip. If you're headed to Morocco, be sure to swing through Chefchaouen, known as the "blue city." Go figure, everything here is painted blue!
Eating in Morocco is extremely cheap, especially from street stalls. For just a few dollars, you can gorge on kebabs and other local specialties. If you're looking to save on accommodations, try out a hostel! Rooms are cheap and you'll meet other like-minded travelers. Plus, hostels often coordinate tours so you don't have to find your own guides. Check out these crazy cheap hostels in Marrakech.
Never stayed at a hostel before? Read up on why you should consider staying in hostels, and learn about how to find the best place to stay by searching Hostelworld.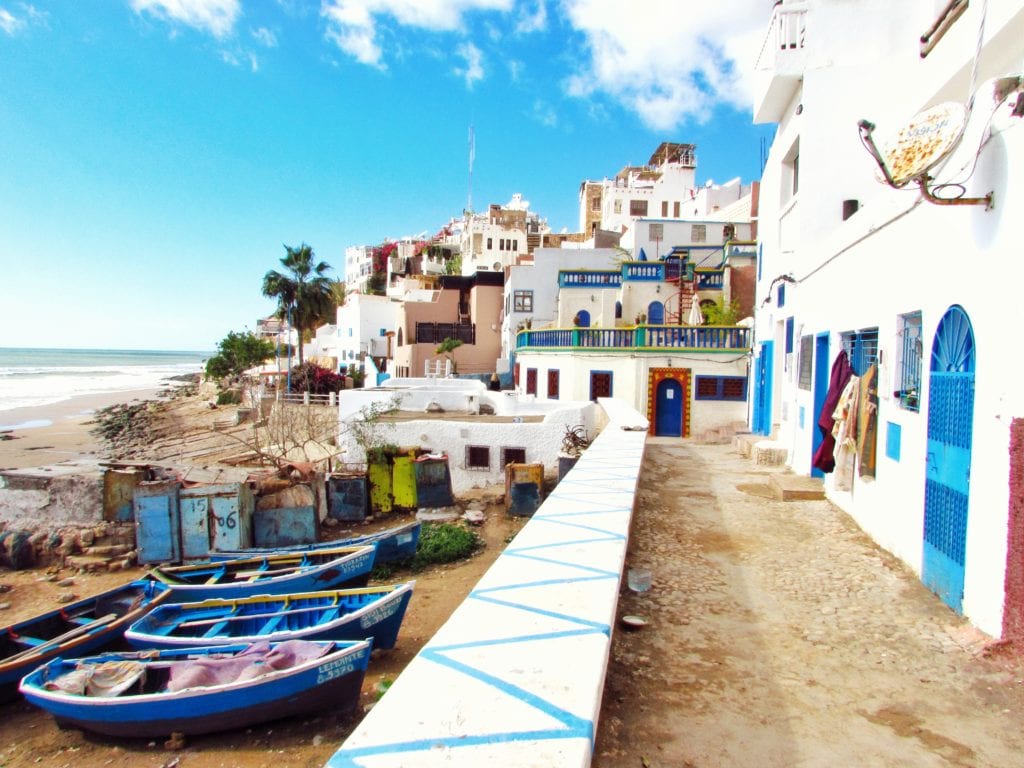 Cabo, Puerto Vallarta, Tulum, and Cancun 
Have you checked all of our favorite Mexican cities off your bucket list? The Thrifty Traveler team loves Mexico City, Puerto Vallarta, Cancun, and Cabo. Tulum is also on our list of must-sees this year. We've found cheap flights from 30 U.S. cities to multiple destinations in Mexico for as little as $184 roundtrip in the last month alone. If that's not enough reason to go this year, I don't know what is.
We love the all inclusive resorts at Hyatt Ziva & Zilara Cancun, Cabo San Lucas, and Puerto Vallarta. Want to stay for cheaper – or even free? Snag the 60,000 point offer from the Chase Hyatt credit card and use the points to stay for two or three nights. Learn how to book Hyatt all-inclusive resorts for free.
Jamaica
More Caribbean destinations? Sounds good to us! How about a trip to Jamaica?
We recently found a crazy deal: 12 cities to Jamaica from as low as $227 – all nonstop and roundtrip throughout winter and spring! If you're looking for something more than just lounging on the beach (not that there's anything wrong with that…), check out Dunn's River Falls and Blue Mountains for some hiking and stunning natural scenery.
The Philippines
Is the Philippines on your list? If it isn't, it should be. While flights to the Philippines can often cost close to $1,000 per ticket, we've been seeing far cheaper fares. Most recently, we found flights out of five major U.S. airports to Cebu and Manila in the Philippines for as low as $342. That's a steal!
The number of gorgeous or remote islands to visit in the Philippines are endless. Boracay, Palawan, Mactan, Panglao Island, and the Chocolate Hills are a few of the famous spots you've got to see in the Philippines.
Like much of southeast Asia, the Philippines is ridiculously cheap. If you travel thrifty in the Philippines by eating at street food stalls and staying in hostels, you can see this beautiful country for as little as $20 a day. Looking for luxury for pennies on the dollar? The Philippines has you covered for that, too.
Bermuda
Want to unlock the mystery of the Bermuda Triangle for yourself? We recently found flights from 20-plus cities to Bermuda for $300 this winter. Don't let Bermuda stay a mystery: this is your perfect cheap winter getaway.
There are plenty of cheap or free things to do on Bermuda. Bermuda's tourism department recommends riding the SeaExpress around the island, catching the sunset at Daniel's Head Park, watching the Gombey dancers, or checking out the Calico Jack's Pirate Fire Show. You can hike up to Fort Scaur, explore the Bermuda Railway Trail, and sit by a bonfire on Tobacco Bay Beach to name a few. All these things are free or under $5.
Thailand
It's not always easy to find a cheap flight halfway across the world to Southeast Asia. But that seems to be changing.
We recently found crazy cheap flights to Thailand from a few U.S. cities for as low as $372. And it's even cheaper once you get there. With some of the world's best beaches, Thailand is the ultimate winter and spring destination.
Get out of Bangkok and checking out other cities in Thailand. Want to visit an elephant sanctuary and take a Thai cooking class at a local farm? Visit Chiang Mai. If you're looking for a hippie mountain town nestled in the north, visit Pai. Want a classic beach and boat getaway? Try Krabi or Phuket and take a ferry out to the Phi Phi islands. Or hop on a cheap flight and get to Koh Phangan, Ko Samui, Ko Lipe, or other Thai islands.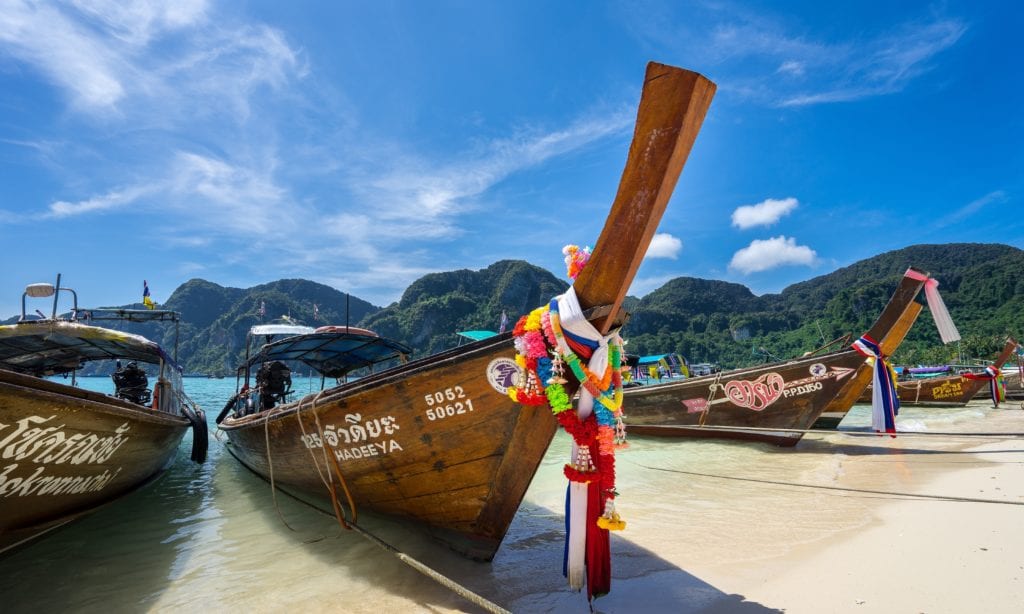 Cuba
Want to ride around in a classic pink Cadillac in Havana? It's cheap to get there. We found flights from nearly every U.S. airport to Havana from as low as $193 last month.
Traveling to Cuba is easier than you think. You will need to qualify under one of the 12 categories of allowed travel. I'd recommend selecting the vague "Support for the Cuban People" when purchasing your flight. If you don't think you qualify, then you're not trying hard enough.
Before your flight, make sure to document several "cultural activities" (tours, art events, etc.) you will participate in during your stay. Although unlikely, U.S. Customs may want to review your itinerary on your return. Do not let this requirement deter you from visiting Cuba.
Per the new rules under President Donald Trump's administration, you will want to avoid state-run restaurants and hotels. I suggest staying at Airbnb's and eating at locally-owned restaurants (top ones on TripAdvisor). You will want to document where you ate and stayed in your itinerary as well (keep it simple though).
You will need a tourist visa for travel to Cuba. The visa can be bought from your airline or at the airport for $50-$100. The airline will guide you through the easy process.
Thrifty Tip: Bring plenty of cash to Cuba. U.S. credit cards are generally not accepted and there are no ATMs.
Hawaii
Think Hawaii has to be expensive? Think again. We found cheap flights from 25 cities to all Hawaiian islands last month starting at $284 roundtrip. That's more than half off the regular airfare costs. If you time it right, you can easily score a trip to Hawaii at this price.
Don't limit your savings to the flight. I'd highly recommend visiting Kauai – the Garden Island – for a cheaper way to see the gorgeous scenery Hawaii offers. During our stay in Kauai, I camped with a Chevy Suburban and tent that I booked on Airbnb. Check out these Airbnb campers and RVs that double as both accommodation and wheels during your stay on the island! Check out my guide to camping on Kauai – it will be an experience you'll never forget.
I especially recommend visiting Kauai because this island has some of the most stunning hikes – and those are free! A few of my favorite hikes were Kuilau Ridge Trail, Sleeping Giant Trail, and Mahaulepu Beach Trail. Check out these hikes and other recommendations on the Google My Maps I put together.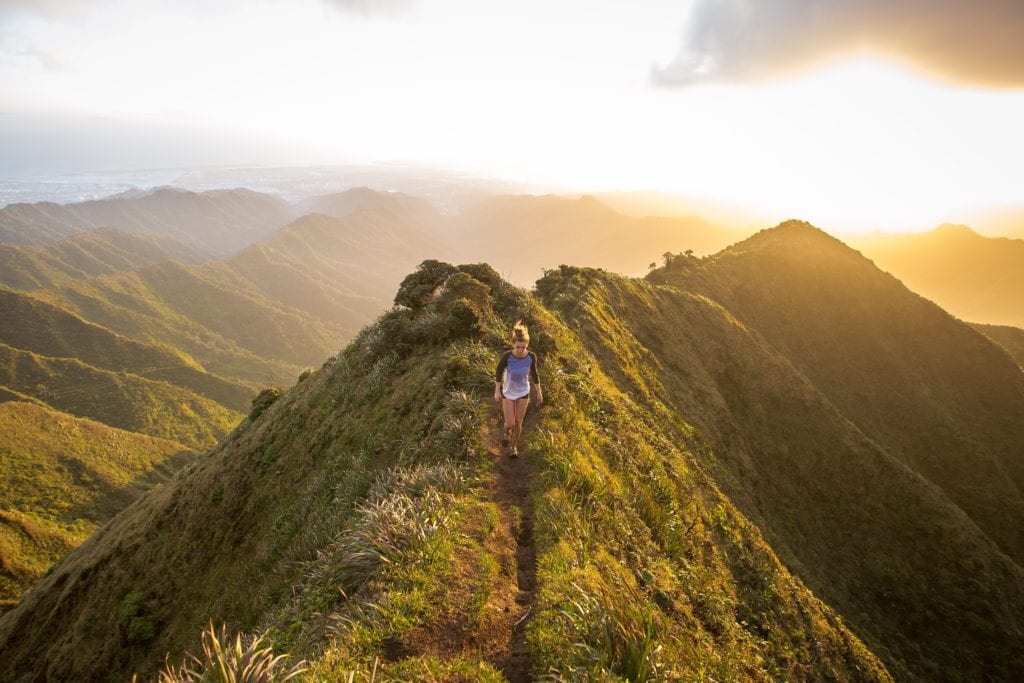 Aruba
Aruba just sounds expensive. It doesn't have to be.
Flight deals to Aruba are out there. We've found nonstop flights from 10 U.S. cities to Aruba for as cheap as $179 roundtrip. And once you're there, it's beach time. Relax on Eagle Beach and Baby Beach. Pack your own snorkel gear to save money on rentals. Check out Arikok National Park as well.
If you're not looking to spend tons of money on food and drinks while you're in Aruba, I recommend packing some easy snacks like nuts and granola bars. Book a local hotel or Airbnb that has a kitchenette and pick up some groceries at the local grocery store. Cooking some of your meals helps avoid the large expense of dining out for three meals a day.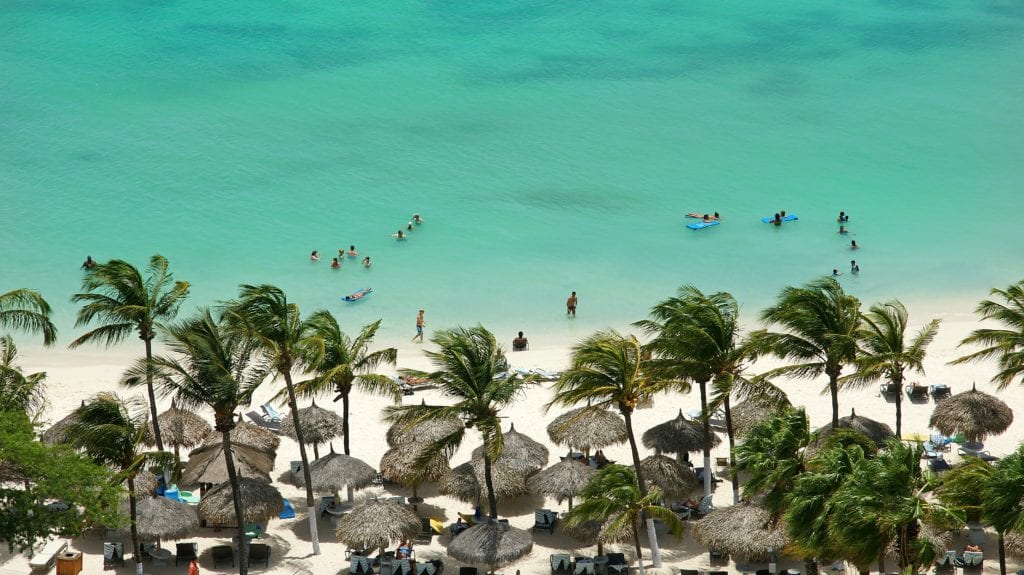 Bottom Line
Your tropical getaway is within reach. Whether the Caribbean is calling or you need to fly farther, it doesn't have to be expensive.
These destinations are just a small sample of the great flight deals we see every week. Use Google Flights to zero in on the cheapest flight possible for your winter escape. Or subscribe to Thrifty Traveler Premium to get instantly notified of the next cheap flight.
And don't forget: You can keep saving after you book the flight. Find cheap or free ways to enjoy the country (beach lounging and hiking are my favorites), stay at Airbnbs and hostels, and eat local street food or cook your own to save.