They say everything is bigger in Texas, but that's not what we've been seeing when it comes to airfare lately.
Over the past few weeks, one particular domestic flight trend has become clear: Flights to (and from) Texas are getting cheaper. Domestic airfare in general is falling, even for travel at the height of summer, and it appears Texas and its many airports are leading that charge.
It seems like every week we're sending our Thrifty Traveler Premium subscribers alerts about cheap flights to Texas. So, what's going on here, and where can you get to in Texas for cheap? Let's dig in.
Why are Texas Flight Prices so Cheap?
Whether it's Austin (AUS), Dallas-Fort Worth (DFW), Houston-Intercontinental (IAH), or any of the many other airports in Texas, cheap flights to and from the state have been abundant of late. And, we're talking really cheap.

By most measures, this flight between two highly coveted U.S. destinations in Austin (AUS) and Orlando, Florida (MCO) should be closer to $300 than it is to $100. Look around the U.S. and you'll see flight prices to Orlando are unusually high right now. So, what makes Austin so special?
The answer is simple, and it's what makes Texas such fertile ground for cheap flights in the first place: Ruthless, cutthroat competition.
In Texas, there are a few main airports that serve as international or regional hubs.
Austin (AUS): A mini American hub and Southwest stronghold (Southwest doesn't have traditional "hubs.")
Dallas (DFW): A major American hub for domestic and international travel
Dallas (DAL): A Southwest stronghold
Houston (IAH): A major United hub for domestic and international travel
Houston (HOU): A Southwest stronghold
The colossal state also has airports like San Antonio (SAT), El Paso (ELP), Harlingen (HRL), Brownsville (BRO), McAllen (MFE), Corpus Christi (CRP), Laredo (LRD), Beaumont (BPT), Waco (ACT), Abilene (ABI), Midland (MAF), Lubbock (LBB), Amarillo (AMA), and somehow more that feature service from airlines like American, Delta, United, and Southwest every day of the week.
The end result is an enormous network of flights from nearly every major airline – and each one of those flights creates more and more competition among the carriers.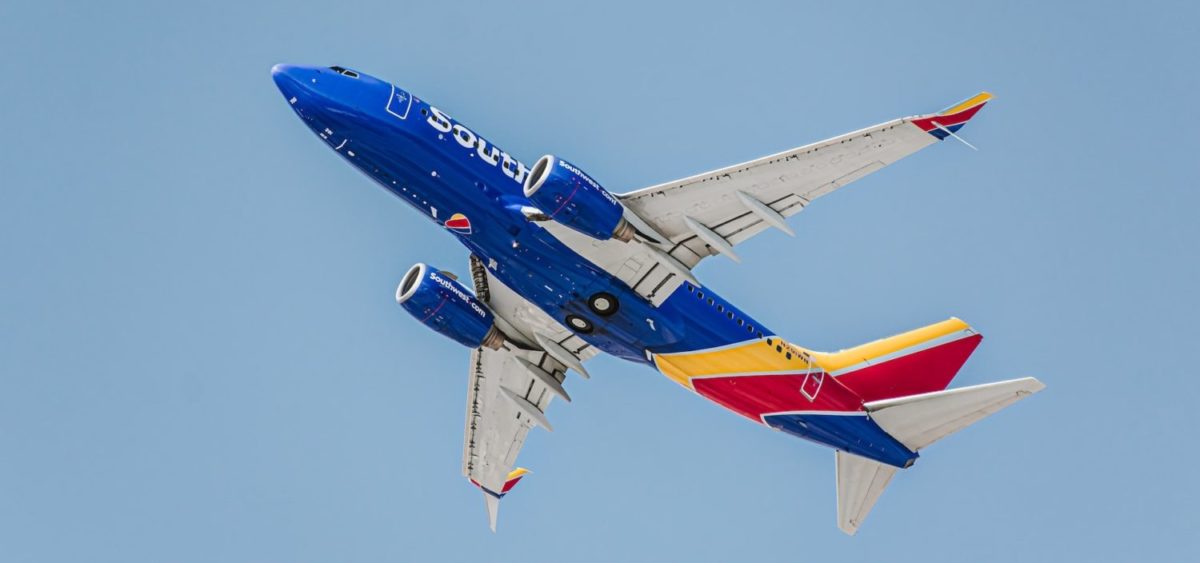 The airline that started it all is Southwest. Say what you want about the low-cost carrier, but the airline's fares are so competitive that American, Delta, and United end up having to match them more often than not.
Southwest's influence on air travel to, from, and within Texas cannot be overstated. The carrier started in 1967 as a Texas-only airline. It's grown into an international carrier flying to nearly every corner of the U.S. and down into Mexico and the Caribbean, but the airline still flexes how extensive its route network is in Texas itself.
Just look at this recent deal we sent Thrifty Traveler Premium members for flights to Las Vegas (LAS). It featured tons of nonstop fares flying Southwest from all over the country, but Texas was one of the most well-represented states on this list.
Ditto with this Denver (DEN) flight deal we found a few days ago. You'll see Austin, El Paso, both Houstons, Lubbock, and San Antonio all boasting $157 roundtrip flights on Southwest to the Mile High City and back.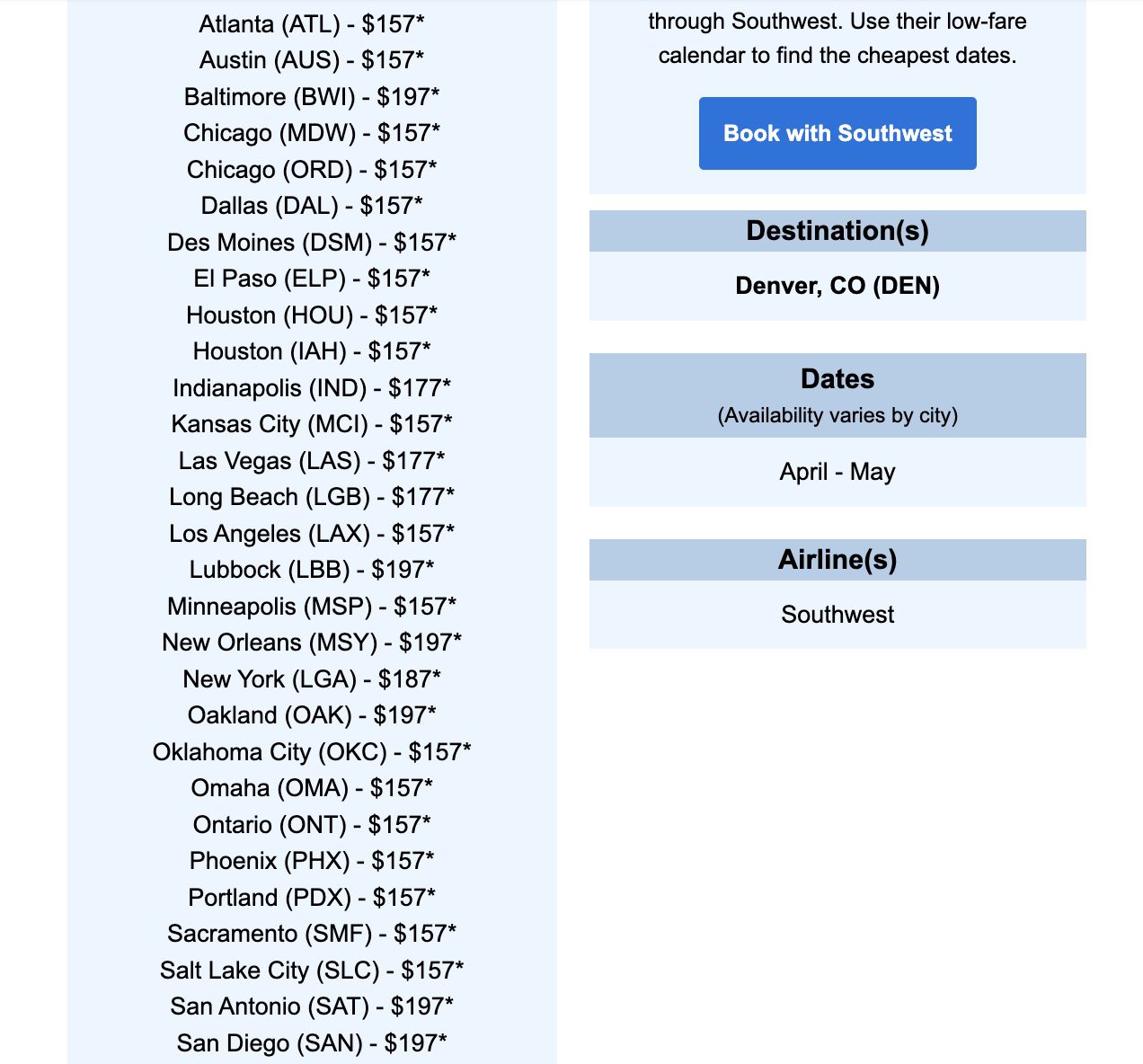 As is always the case in airfare, competition is the most important determining factor. Even when fares should rise due to higher jet fuel prices, increasing pilot wages, and skyrocketing travel demand, competition drives those fares back down. And in Texas, there's no shortage of competition.
So, Where Can You Find Cheap Flights to Texas?
Need proof that airfare in Texas is ridiculously cheap right now, especially compared to other places in the U.S.? Here are just some of the flight deals we've sent for the Lone Star State lately. Let's start with Dallas.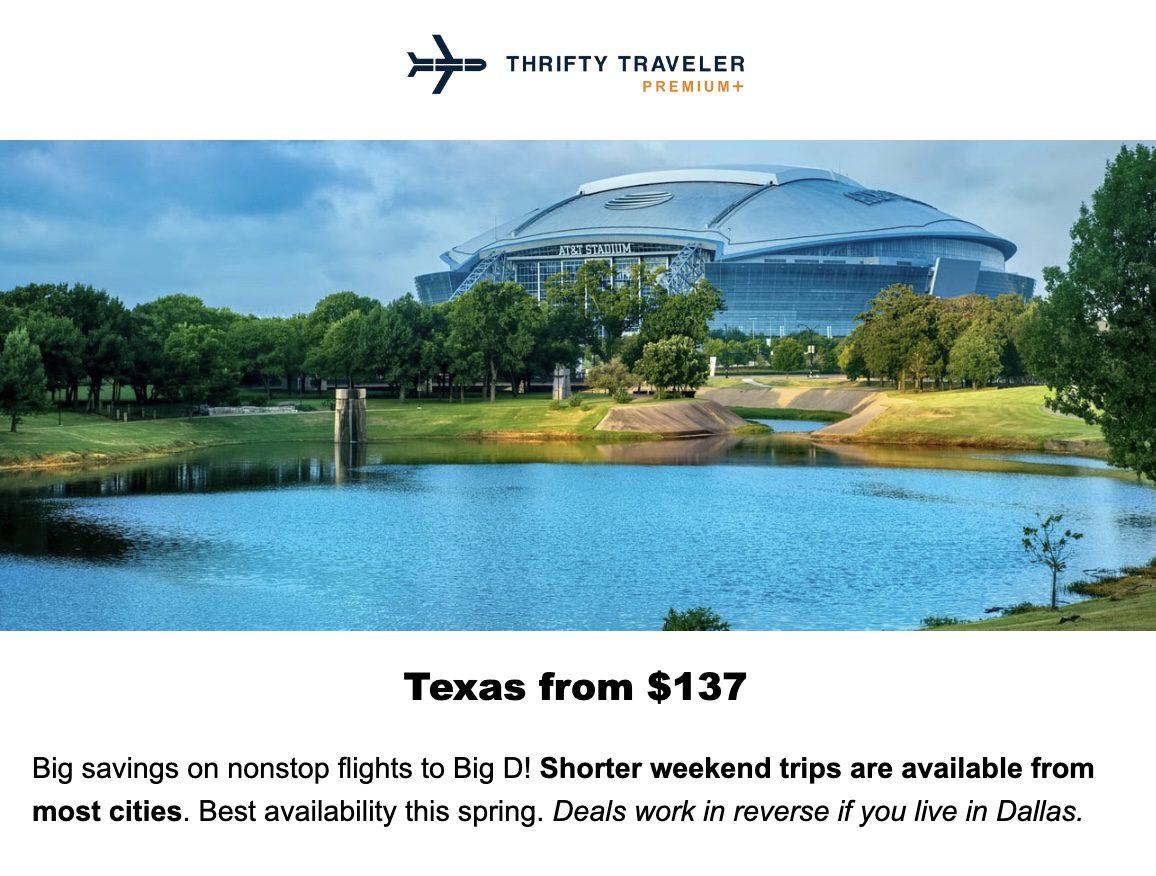 This Dallas (DFW) flight deal featured some amazing nonstop fares from all over the U.S. to Big D, including a ton of shorter weekend trips, too.
The lowest fare was all the way from Detroit (DTW), where Delta clearly had to compete with American Airlines and its DFW hub.
Further south, in Austin (AUS), there is no shortage of cheap flights to be found. We already mentioned the $89 roundtrip fare to Orlando – that was the headliner for this deal on nonstop flights to Austin and back.

Most people know of Austin, but not everyone outside of Texas has heard of South Padre Island, Texas. The strip of land along the Gulf Coast is probably best known for hard-partying spring breakers, but the hundreds of miles of coastline make for a quiet escape the further you get away from the college crowd, too.
Delta recently announced a brand-new, nonstop flight from Minneapolis (MSP) to Harlingen, Texas (HRL), which is the gateway airport to the South Padre area, and wouldn't you know it: Delta put the flight on sale right out of the gate.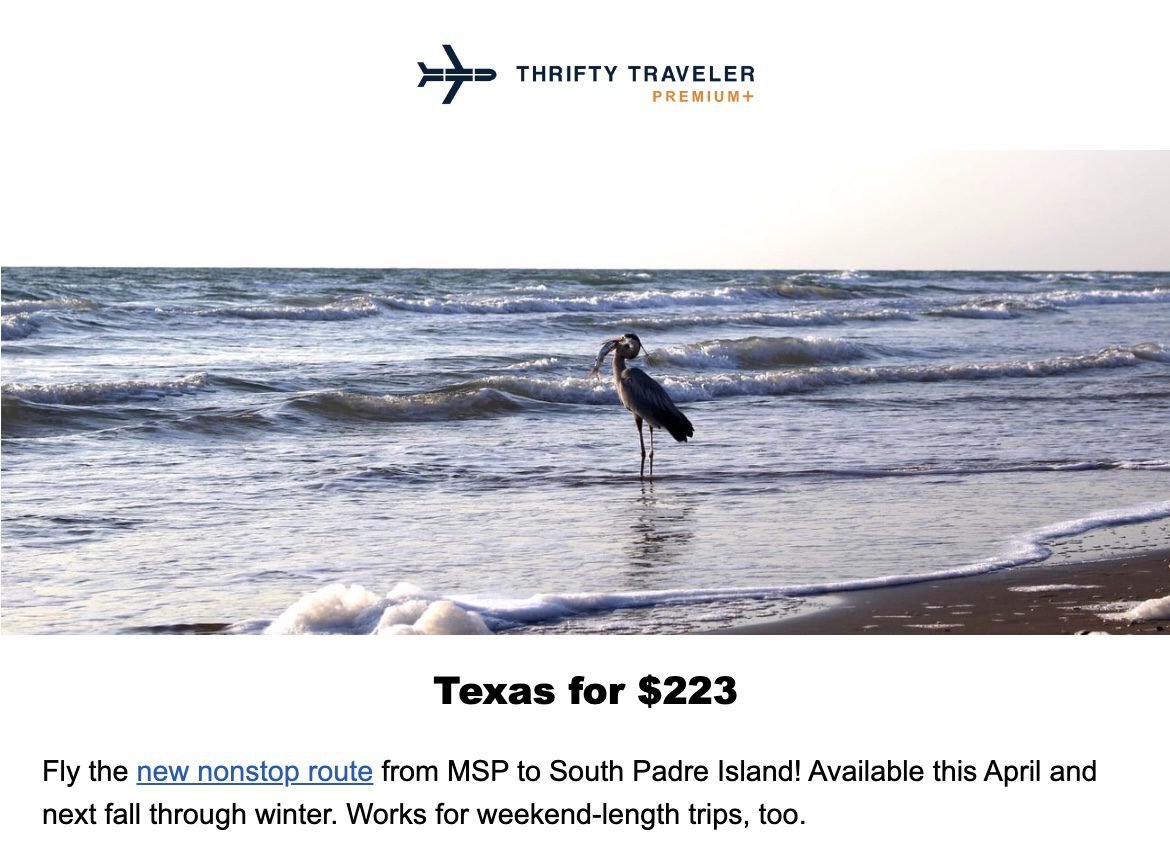 Much to our surprise, this was one of the most popular domestic flight deals we sent to our Thrifty Traveler Premium subscribers in the past few weeks! We couldn't have predicted the fervor MSP-based travelers would have for the southern Gulf coast of Texas … until now.

Not to be slept on, San Antonio (SAT) is another Texas destination that tends to be a hit among Premium subscribers, and that's doubly so when we're unearthing $147 roundtrip flights to the Alamo.
Denver (DEN), flying United, was the lowest fare on this deal, due in part to Southwest's competition on the route.
Last but not least, Thrifty Traveler Premium members with designs on blasting off to Houston (IAH) saw a flight deal in their inbox this week with some crazy low fares to Texas' biggest city.
A day at the Space Center Houston looks pretty spectacular, and any one of these sub-$197 roundtrip flights would get you there.
Bottom Line
It's easier to find cheap flights to Texas than it is to find burnt orange in Austin right now, and that's because Texas has a unique, ultra-competitive environment when it comes to air travel.
Southwest, American, and United all have enormous, Texas-sized operations in the state, meaning those airlines and their competitors have to compete with each other by offering cheap flights on routes all over the state. And when airlines compete, travelers win with some unbelievably low fares to Texas this year or next.