The content on this page is accurate as of the posting date; however, some of the offers mentioned may have expired.
Any and all golf fans have felt the pull of the Augusta National Golf Club in Augusta, Georgia. The course plays host to one of the biggest tournaments in the world: The Masters. And getting tickets is a tall task.
The tournament uses a lottery system to randomly pick guests who will be eligible to buy tickets for the event. I've entered every year for more than a decade and missed out. But 2019 is different.
Last year, I got word that I could get tickets for the April tournament. This set off a race to book flights, hotels, and a rental car for one of the most popular sports events in the country – never a cheap feat. Read on to learn how I did it all using a few different points programs and $500.
Event Tickets
On the morning of July 2, I got the email I have been waiting over ten years to receive. I almost fell out of my chair I was so excited. I was pulled in the ticket lottery to buy two tickets to the first round of the Masters Tournament on Thursday, April 11, 2019.
Assuming you get pulled in the ticket lottery, the actual cost of the tickets is quite reasonable. The same can't be said if you are buying tickets on the second-hand market. All said our two tickets were $230 ($115 each).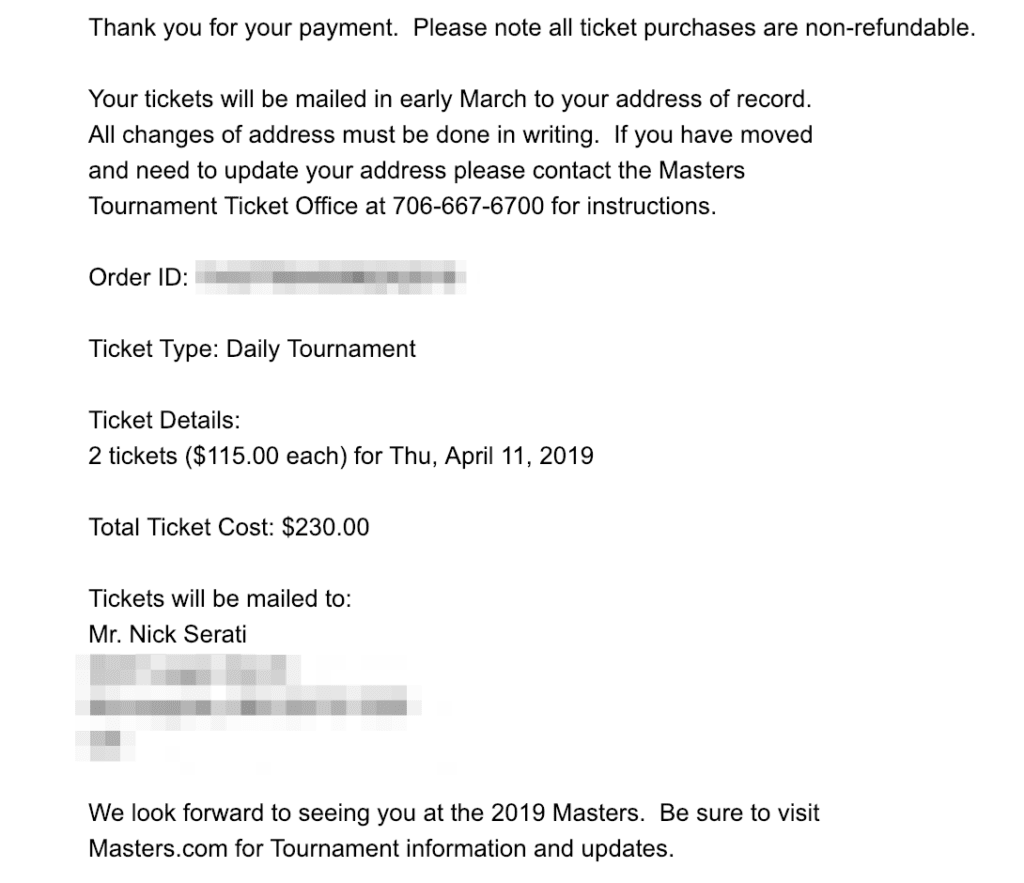 Total Cost $230
Lodging
After securing our tickets, it was time to find a place to stay. Because of the crowds the Master's Golf Tournament brings to Augusta and the surrounding area, finding reasonably priced lodging can be nearly impossible.
Struggling to find an Airbnb for less than $500 a night, I turned to one of my favorite websites, awardomatic.com. Awardomatic lets you search specific geographic locations with the ability to filter by hotel chains. This is especially useful if you are looking to use points as it can give you a good idea of which hotel points programs to start exploring.
We decided to look into the Hilton hotels in the area.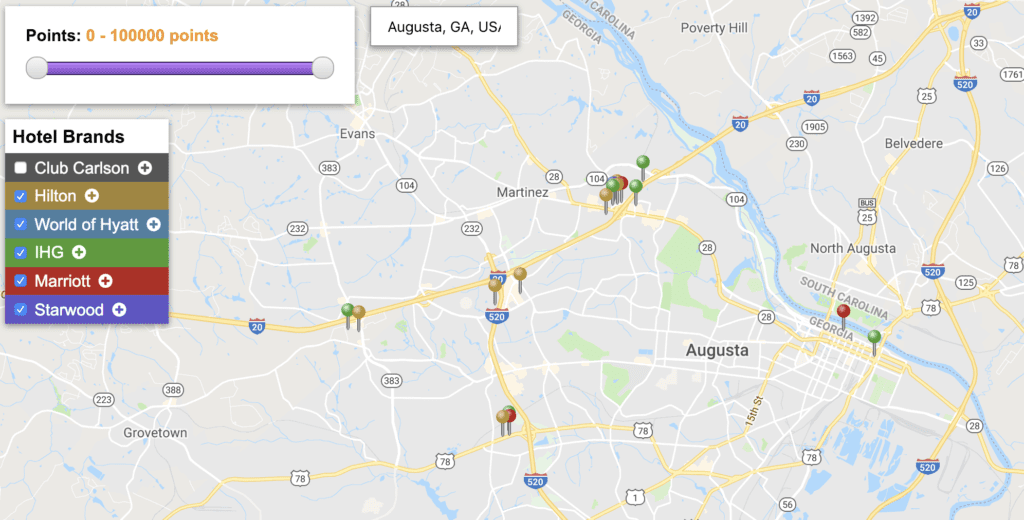 Both my wife and I were flush with Hilton Honors points after we took advantage of the welcome offer on the American Express Hilton Honors card. We both earned 75,000 Hilton Honors points after spending $1,000 in the first three months of card membership. Additionally, the card has no annual fee. 
Since Hilton makes it incredibly easy to pool your points with other Hilton Honors members, I transferred my wife's points into my account, and we had just over 150,000 Hilton Honors points ready for use.
Hilton is a great option for sporting events, concerts, or anything else that drives the cash prices of hotels up during a specific time. That's because while the cash prices skyrocket, the award prices using points do not. Many of the hotels around the area were already sold out when we were ready to book. However, I was able to find a room at the Hampton Inn & Suites Augusta West.
The cash price of the room was $800 a night, which I was not willing to pay. This is the beauty of points and miles, folks: I was able to book the hotel for 50,000 Hilton Honors points a night (150,000 points total). 
Using our formula for when to use points vs. paying cash, I am getting 1.6 cents of value out of each of my Hilton Points. In my opinion, you should normally be able to get 0.5 or 0.6 cents out of each Hilton point, so I was very happy with this redemption.
Total Cost $0 & 150,000 Hilton Honors points
Booking Flights
With the hotel booking behind us, it was time to book our flights. Since both Atlanta (ATL) and Charlotte (CLT) were just over a two-hour drive from Augusta, both options were on the table. Additionally, both cities had nonstop flight options out of my home airport of Minneapolis-St. Paul (MSP).
Airfare demand is high during the week of the Masters into both cities. Unfortunately, so are flight prices. I set up Google Flights price alerts for both destinations for multiple flight options and as I expected, prices weren't getting cheaper.
I finally decided it was time to use my airline miles for an award booking. Having a stash of both Delta SkyMiles and American Airlines AAdvantage miles, I considered both options.
Because I had over 300,000 American Airlines miles and newly issued Platinum Pro status from a targeted promo, I decided to book our flights on American Airlines into Charlotte (CLT). While I wasn't able to find AA saver level availability, we were able to book both tickets for a total of 125,000 AAdvantage miles (62,500 miles each) and $22.40 in fees.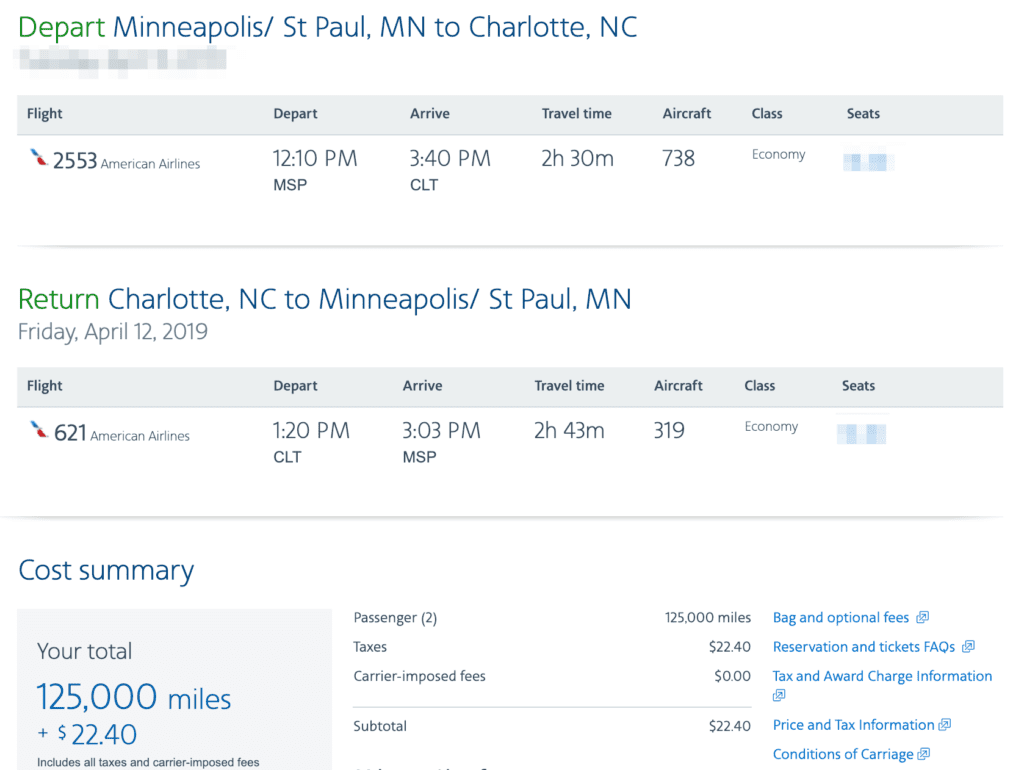 This won't go down in the history books as the best way to use AAdvantage miles but paying cash would have cost us over $1,200. Using points and miles to make otherwise unaffordable travel free is my favorite way to use them.
Total Cost $22.40 & 125,000 American Airlines AAdvantage Miles
Booking a Rental Car
Since we are flying into Charlotte (CLT) we would need to rent a car for the two and a half hour drive to Augusta. After exploring a number of options, we decided to check out Silvercar by Audi. If you are not familiar, it is a car rental service owned by Audi available at a growing list of airports.
While there was certainly cheaper options, I hadn't yet tried Silvercar so booking a rental in Charlotte was of interest to me. Each rental includes navigation, WiFi, Bluetooth, Sirius Radio, Apple CarPlay, Android Auto, child seats, and ski racks at no extra cost. 
On top of that, just for holding the Chase Sapphire Reserve credit card, you will get 20% off of your Silvercar rental of two days or more. All said we are paying $219.24  for a 3-day rental of an Audi A4 ($73.08 each day).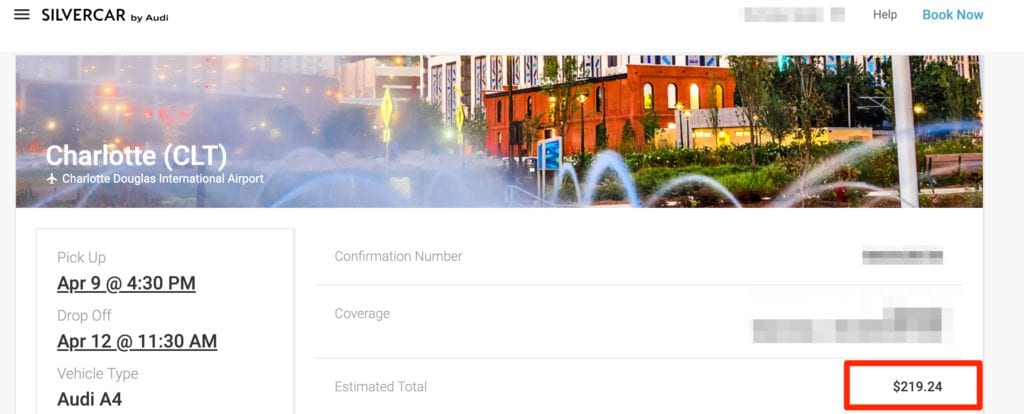 Thrifty Tip: New to Silvercar? Sign-up for the service here and enter promo code XTHPAORG in the referral code section of your account. We will both earn $25 after you complete your first rental.
Total Rental Car Cost $219.24
Bottom Line
After adding everything up, we paid $471.64 out of pocket and miles in two different programs to attend a once-in-a-lifetime event. This is a bucket list experience for me, and it wouldn't have been possible without points and miles.
Whether you are a golf fan or not, hopefully, this post was a good reminder that having points and miles in a number of different programs can help make your travel dreams and bucket list experiences a reality. What are you waiting for? It's time to start collecting them!