Picking a place to stay on the Las Vegas strip can feel like being a kid in a candy store. There are so many four- and five-star properties to pick from, yet I always gravitate back to the Delano Las Vegas.
Every room at the Delano is a suite, with massive bathrooms and tasteful decorations. It's one of a growing number of non-casino properties, making it feel far from the constant hustle of Las Vegas. But Mandalay Bay is connected: It's just a two-minute walk away if you need to place a bet or feel the buzz of lights and slot machine dings. And the complex has some of my favorite restaurants and bars on The Strip – at least in normal times.
Here's a look at a recent stay at the Delano, and why it's easily my favorite spot to stay in Las Vegas.

Booking the Delano Las Vegas
You've got a handful of different ways to book the Delano Las Vegas.
You can book directly through the hotel, of course. The Delano is easily among the upper tier of MGM properties in both quality and price, along with Aria and Bellagio.
And thanks to MGM's partnership with Hyatt, you can also book using World of Hyatt points. The Delano will run you 25,000 Hyatt per night. That may or may not be a good deal, depending on how cheap cash rates are at the time.


Read more on Las Vegas Strip hotels you can book using points!
But far and away the best way to book the Delano is through the American Express Fine Hotels and Resorts (FHR) program, the collection of luxury properties with extra perks available to cardholders with the Platinum Card® from American Express as well as the American Express Centurion Card. 
Those perks include free room upgrades when available, free daily breakfast for two, a $100 dining credit good at locations throughout the Delano and Mandalay Bay, and guaranteed 4 p.m. checkout – a godsend in Las Vegas. That can add up to a lot of savings, so it was a no-brainer choice to book through FHR.
It didn't hurt that I booked at a time when rooms throughout Las Vegas were at rock bottom rates. A normal weekday room at the Delano typically costs double or triple the $58 nightly rate I paid.

Of course, you have to add in those mandatory resort fees, which clocked in at $39 a night at the Delano. Still, with $60 for breakfast each day, $100 in dining credits, and those other FHR benefits, I came out in pretty good shape.
Checking In
Depending on who you ask, the Delano's location is either its best or worst feature.
The Delano and Mandalay Bay are located on the far south end of the Las Vegas Strip. That means it's close to Las Vegas (LAS) airport, just a 5- to 10-minute drive away. But that also means it's far from the center of the Strip. So if walking the Strip or resort-hopping is your thing, you're probably better off staying somewhere more central.

But for me, the location is mostly a selling point. There's plenty to see, eat, and do around the Delano and Mandalay Bay. Uber or Lyft rides are typically plentiful to get around the Strip – though the pandemic has changed that some. Plus, walking off the carbs with a long stroll down the Strip doesn't hurt.
Delano and Mandalay Bay are part of the same complex, so you can get to Delano through a beautiful long hallway connecting the two properties.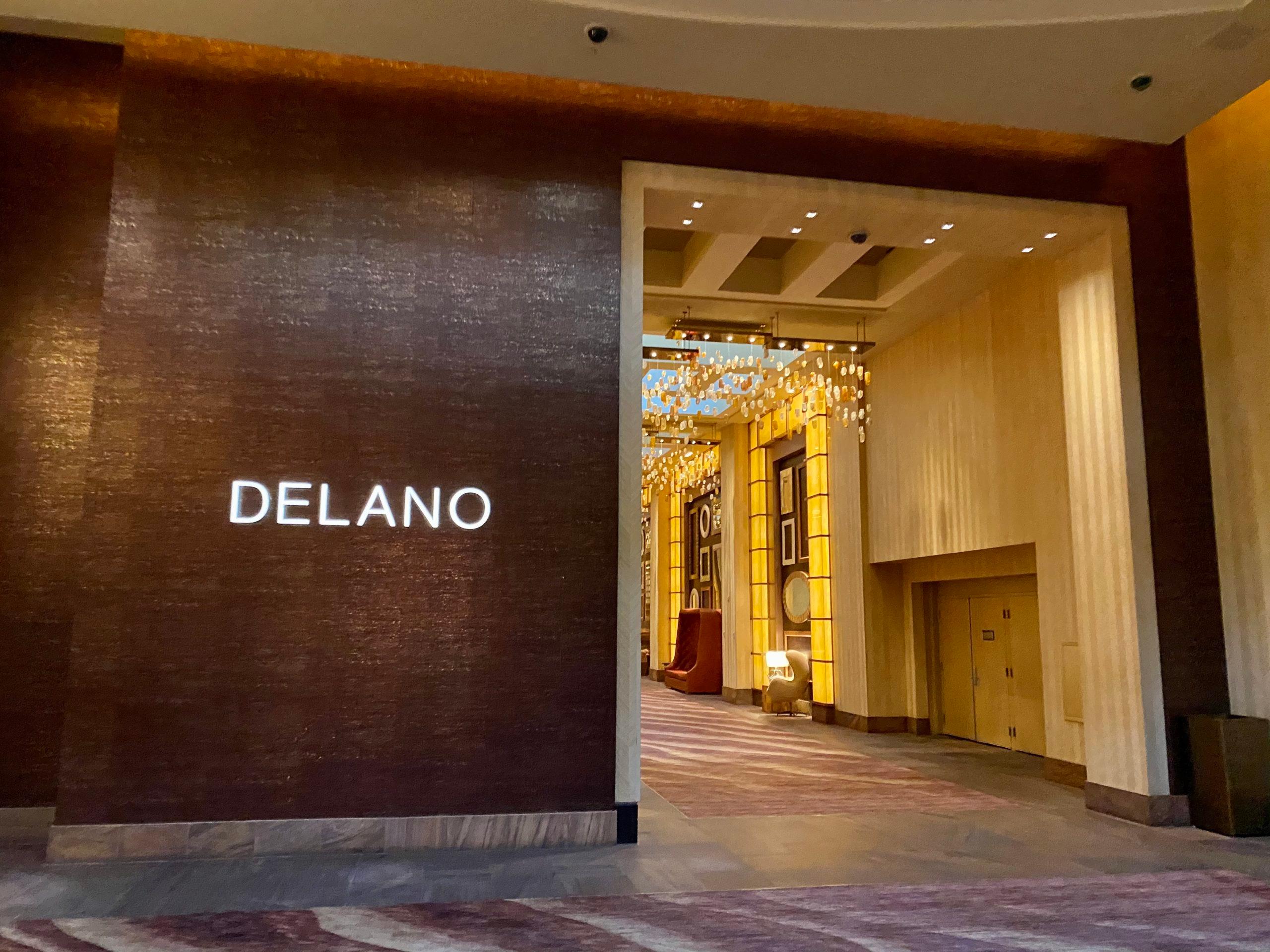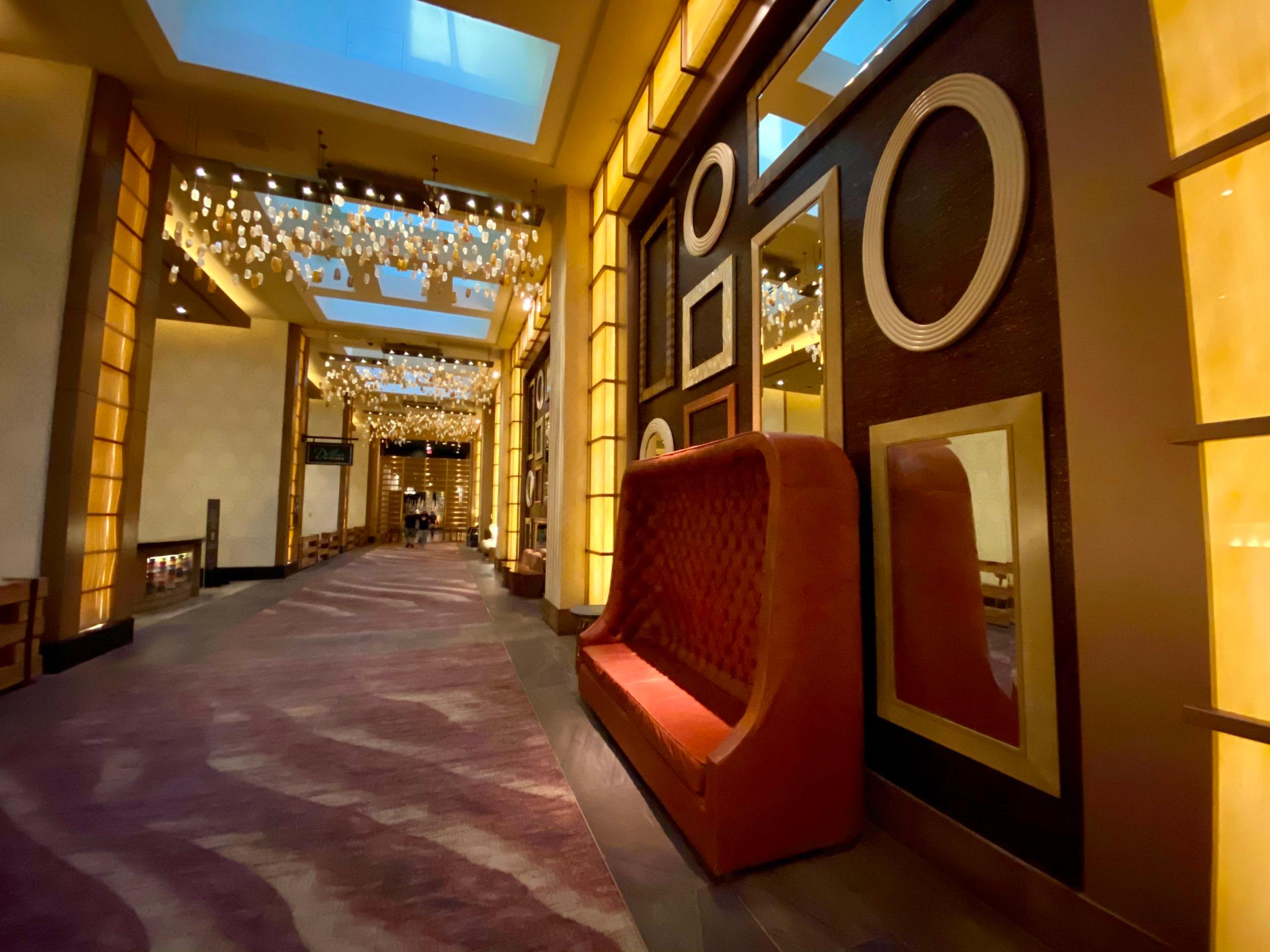 But Delano also has its own entrance at the back of the property, which has a great, understated look. That design carries throughout the entire hotel.

The lobby itself is equally chic, with artwork, sculptures, and curtain-draped columns stealing the show. At many other properties across Las Vegas, lobbies feel like an assembly line to get guests checked in and nothing more. At the Delano Las Vegas, it's an inviting feature.

You'll find the check-in desk at the far end of the lobby. Those who booked through Amex FHR can also check-in inside the VIP lounge just to the left of the check-in desk, past a small seating area. You can also grab some free water or coffee inside the lounge.

I headed to check in around 11 a.m., even before the 12 p.m. early check-in window. But that wasn't a problem. While checking in, the friendly agent behind the desk welcomed me as an Amex FHR guest and whipped out a sheet showing all the benefits of my stay: Early check-in, room upgrade when available, up to $60 total in daily breakfast credits for two, free in-room Wi-Fi, guaranteed late check out at 4 p.m., and a $100 dining credit to be used almost anywhere at Delano or Mandalay Bay.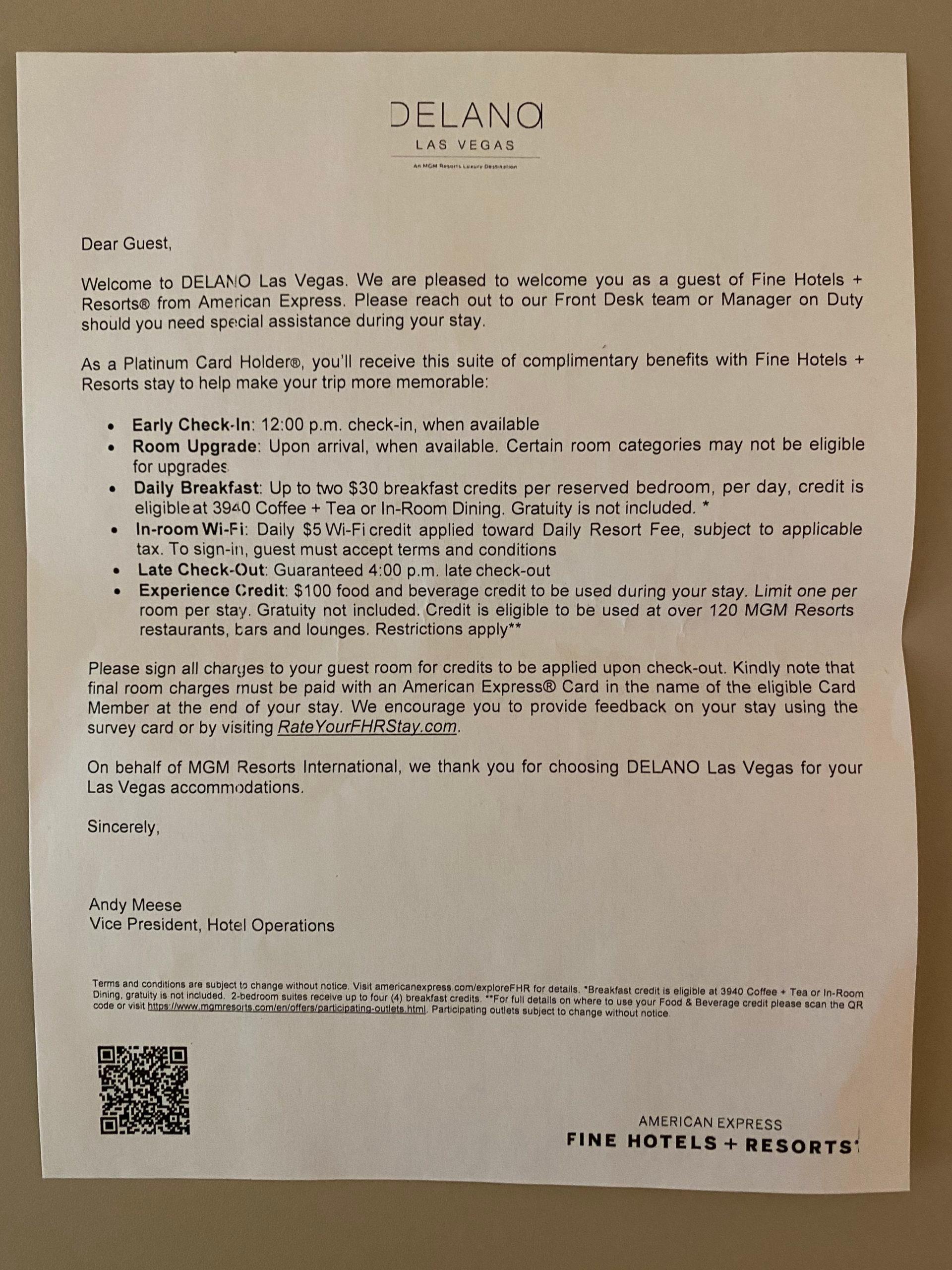 While better than your typical low-level hotel status, upgrades through FHR can be hit or miss – especially as tourism in Las Vegas gets into full swing again. At worst, you should get moved to a room on a higher floor or w a better view.
But I lucked out with a truly excellent upgrade.
The Rooms
Every room at the Delano Las Vegas is a suite, at least 725 square feet with a separate living and bedroom, a great bathroom, and even a small powder room. There's truly not a bad room on the property. That's a big part of why I gravitate to the Delano in the first place.
But as I checked in and inquired about complimentary upgrade options, the lovely agent offered to put me in a Stay Well Scenic Suite. Scenic suites are some of the best rooms at Delano before you get to the Penthouse level, with a great view of the Strip. Stay Well rooms are on designated floors, and they're equipped with special wellness amenities like upgraded mattresses, air purifiers, shower infusers, and more.
Considering Scenic Suites typically go for double or more the price of a standard suite, I gladly accepted and headed to my room on the 35th floor. I really like the hallways at the Delano: Like the rest of the property, they're classy without being over the top.

You'll only find Scenic Suites at the end of the hallway, so it's a bit of a walk – but well worth it for the extra space and sunlight. Every room opens up into a small living room area, which is separated from the bedroom by a door.
Whether you've got a Scenic suite or a normal room, the living room looks much the same. There's a nice couch, a desk, and a TV.

Here's another view of the living room area. The curtains aren't electronic, but they're easy enough to move.

At the front of the living room there was a wet bar, complete with a sink, Keurig coffee maker, and a well-stocked (and, as is typical in Vegas, exorbitantly expensive) minifridge with drinks and snacks.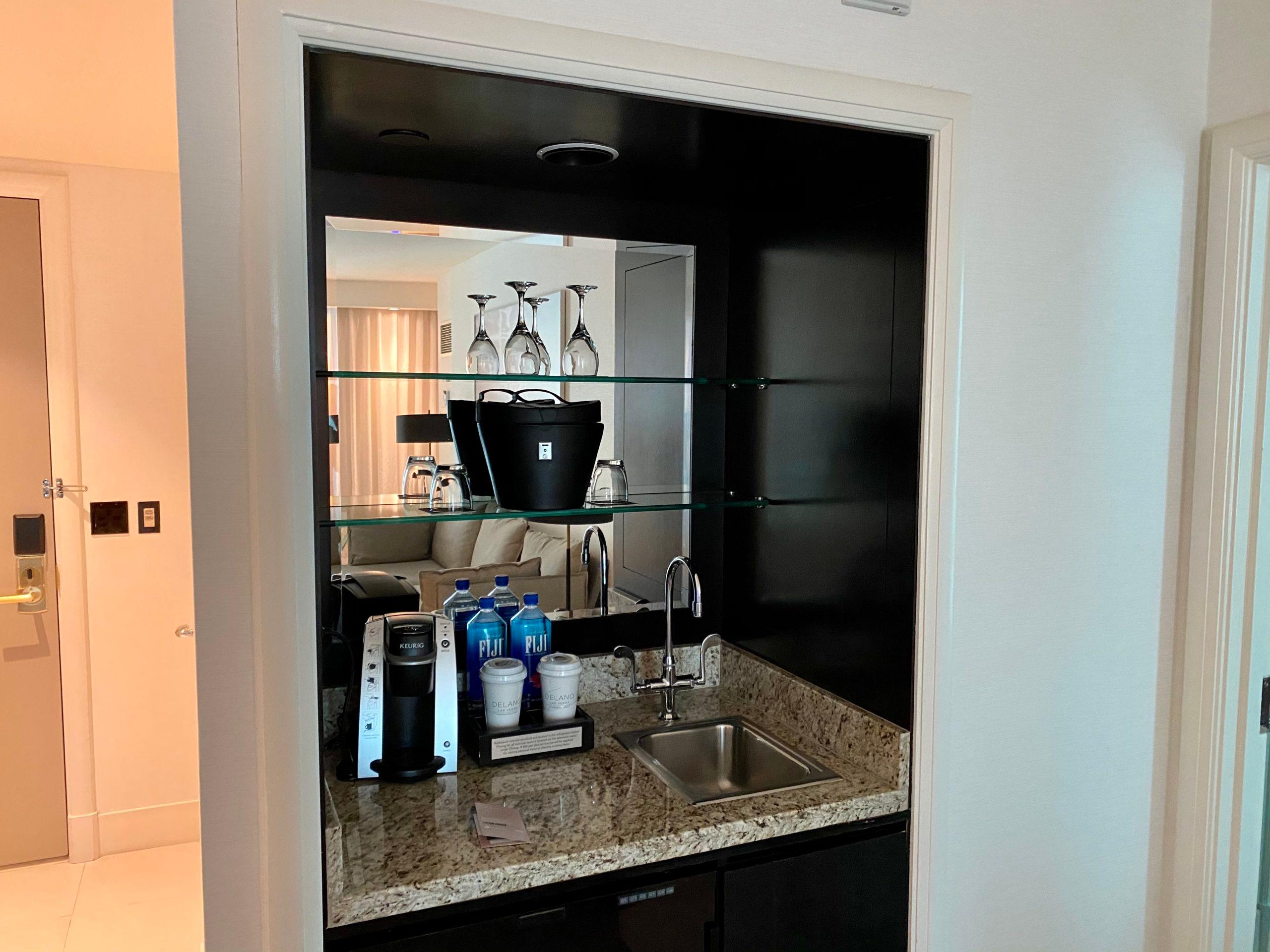 By the entryway, there's even a small half-bath, which is a nice touch you won't find in almost any other Vegas property.

And then there's the bedroom itself, which was wonderfully laid out with floor-to-ceiling windows looking down the Strip.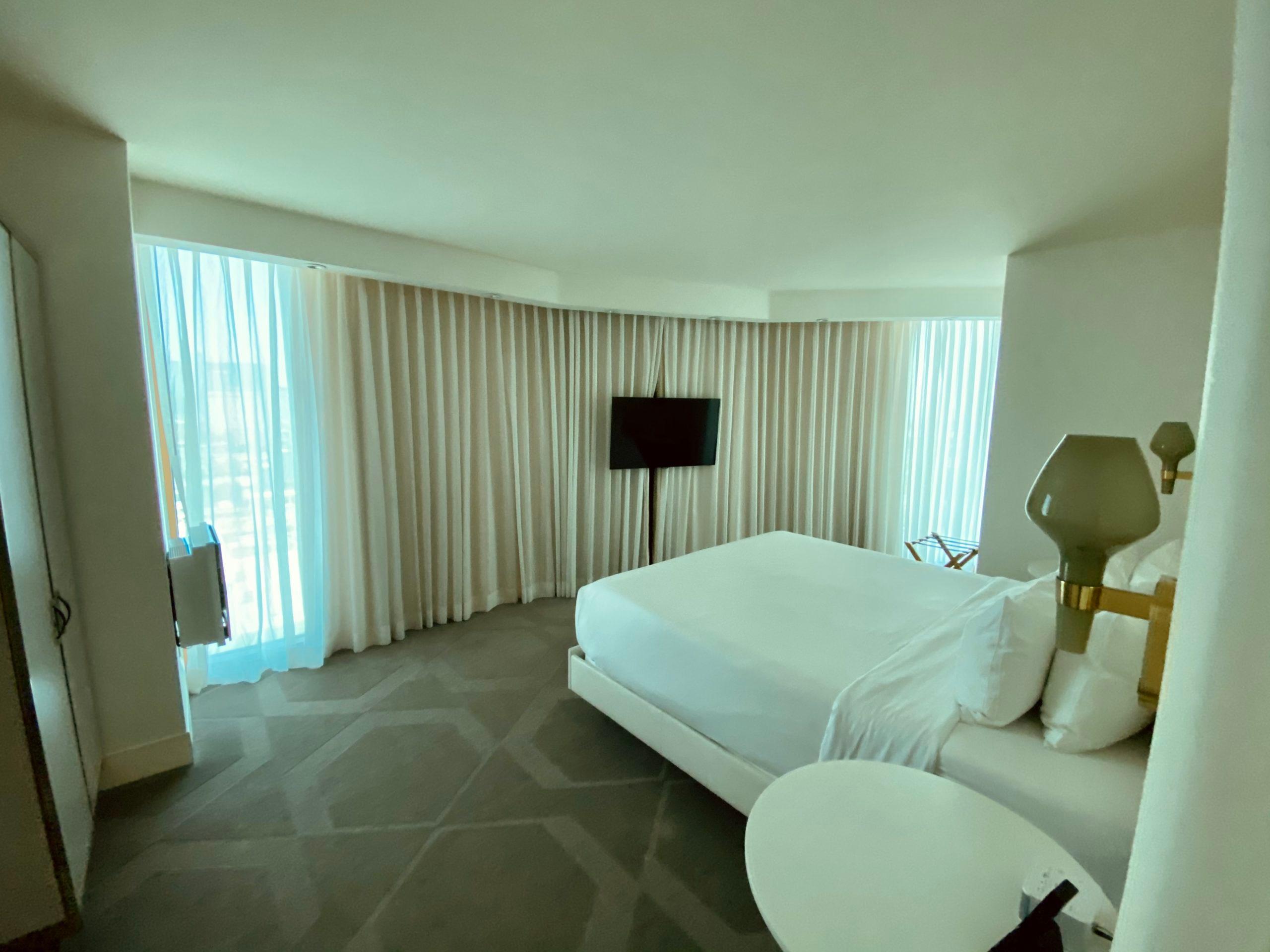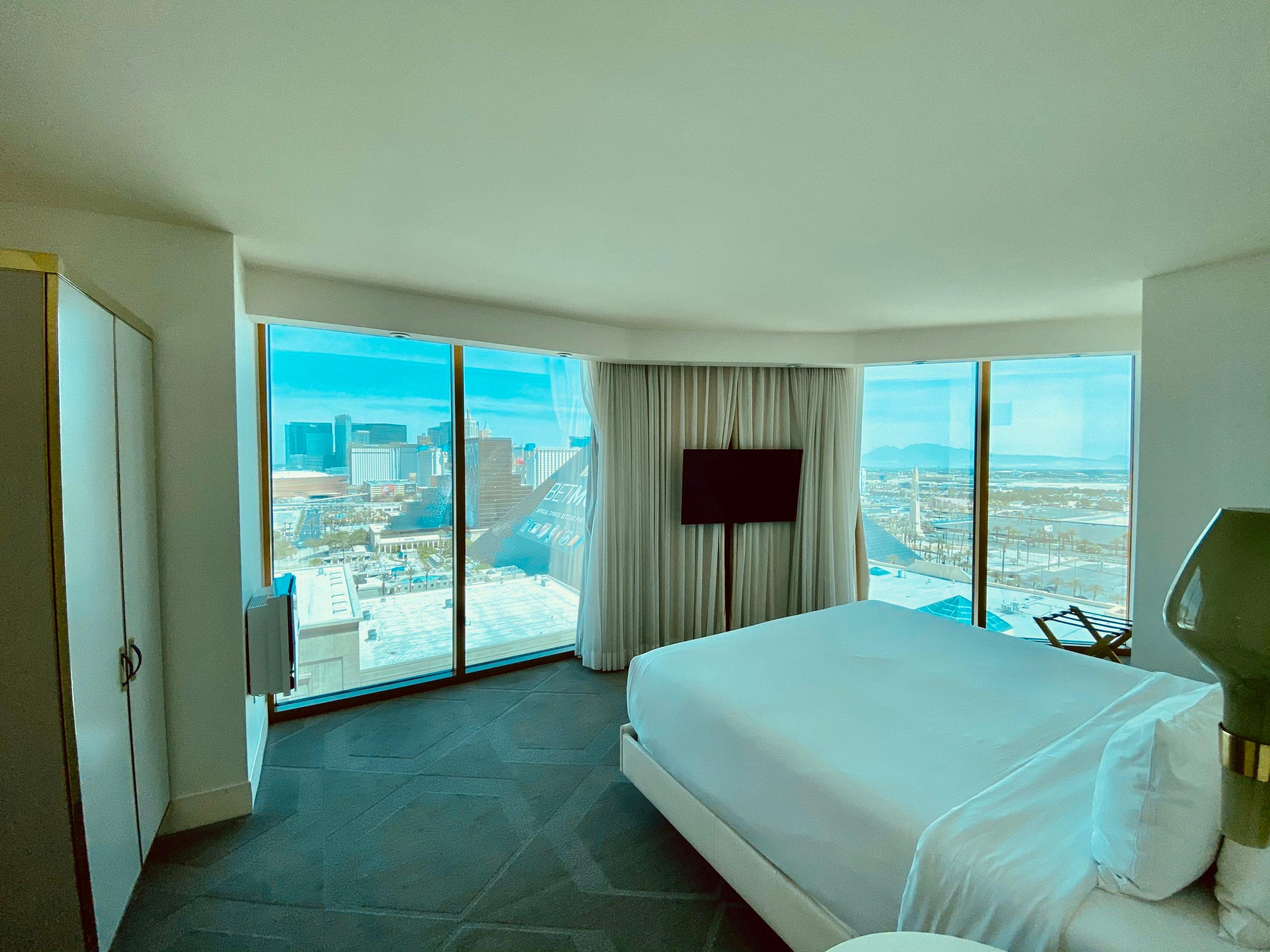 Not a bad view for a free upgrade, right?

Let's talk about the bed for a second. More than a month later, I'm still thinking about this mattress. I've always slept well at the Delano, but this was something else. Many of the supposed Stay Well amenities don't feel like they add much, but this mattress was easily among the most comfortable I've ever slept on.

There's also a small closet space with hangers, an iron and ironing board, and a small safe in the bedroom.

The bathrooms in our suite were much the same as you'll find in any room – and that's not a bad thing. They're fairly massive, with a great double vanity equipped with a lighted mirror and plenty of storage. The standalone tub and shower setup is great.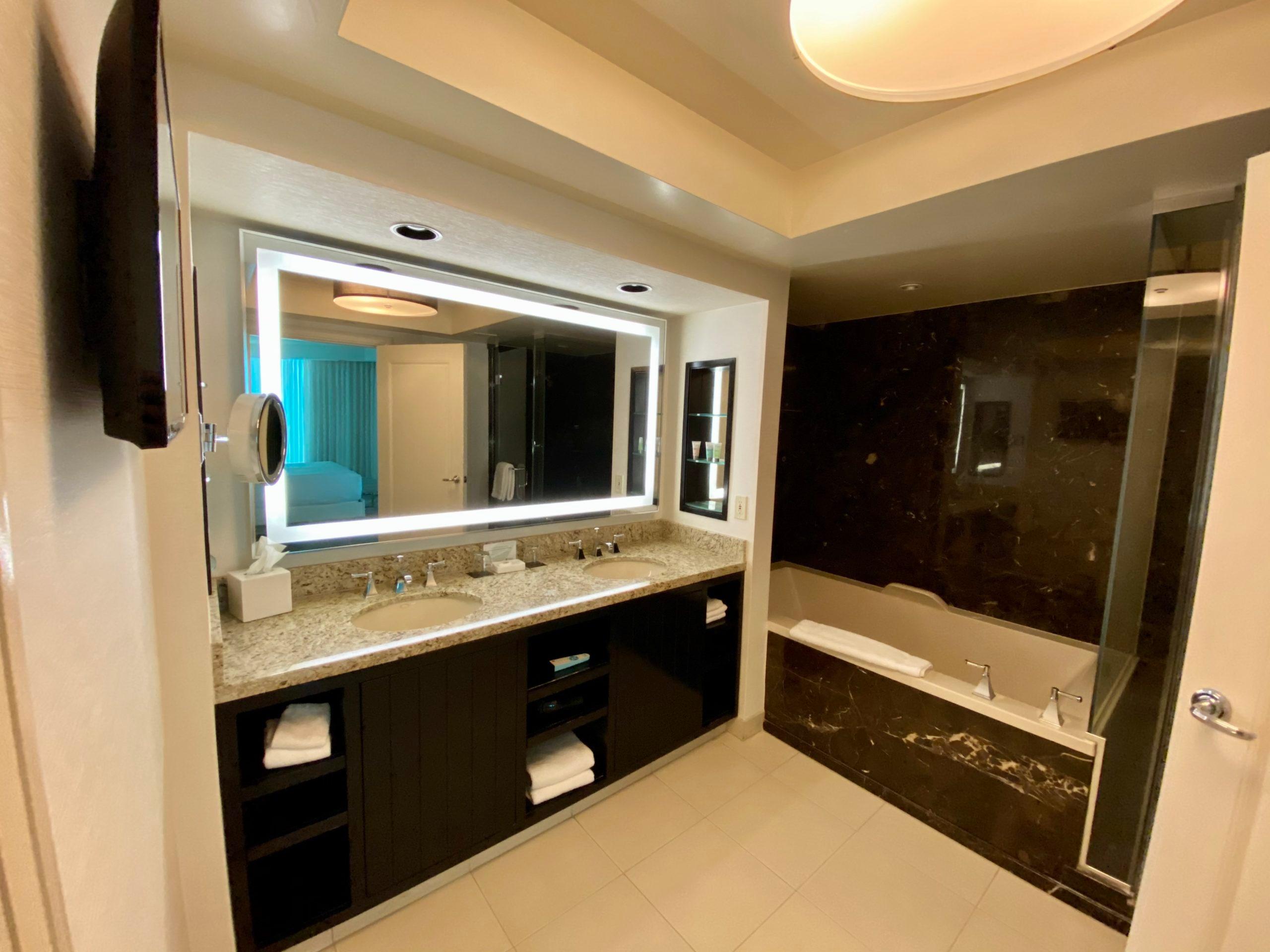 You'll find another toilet in its own small room off the side of the vanity. And yes, there's a TV in the bathroom. Who doesn't need three TVs in their 741-square-foot hotel room?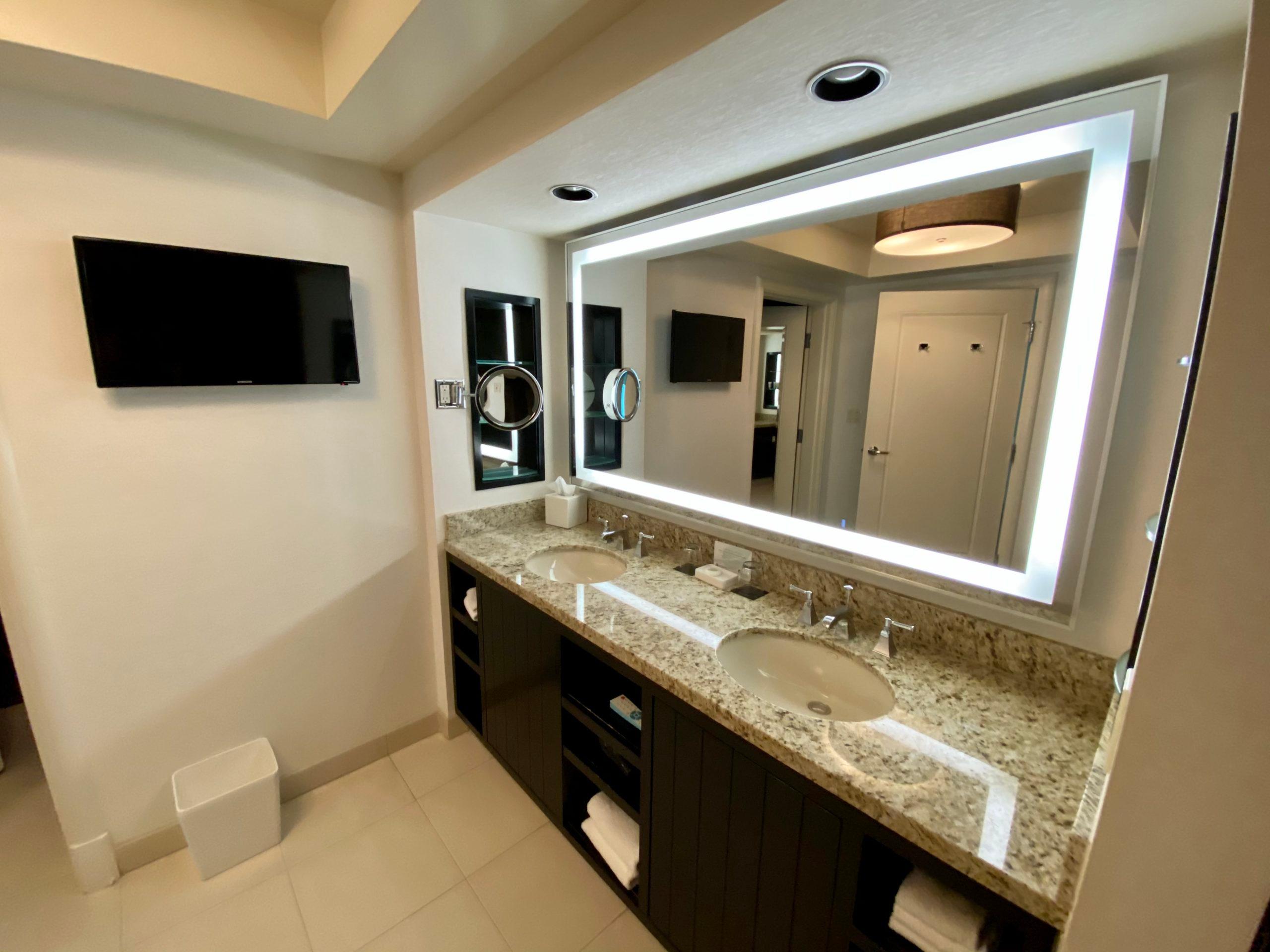 Scenic Suite or not, rooms at the Delano stand in a league of their own. Unless you're blowing hundreds (if not thousands) a night, I don't think you can find a property with larger, better-appointed spaces than this.
Dining & Drinks at the Delano Las Vegas
Let's get this out of the way: We stayed at the Delano at a strange time in Las Vegas this spring.
Travel was definitely on its way back, and Las Vegas was in the midst of a surge that the city, hotels, pools, and Uber drivers could hardly keep up with. But casinos and resorts weren't yet back to full capacity, and many shops and restaurants even on the Strip were either closed or had limited hours.
That really shaped our experience when it came time to eat and drink at the Delano during our midweek stay. Many of the best spots in Delano and adjoining Mandalay Bay were closed until soon after we left.
Skyfall Lounge at Delano is one of my favorite bars on the entire Strip, perched on the 64th floor with an unbeatable view of the city and some great cocktails. Unfortunately, it was closed until the night we flew home.

There's also Franklin, a cocktail bar with small bites in the lobby area of Delano. That, too, was closed until the night we left.

Fortunately, the 3940 Coffee Bar in the lobby was open each morning right at 6 a.m. Their coffees and iced lattes were both great.

I always look forward to breakfast at Della's Kitchen, a rare breakfast spot that boasts farm-to-table food that actually lives up to the hype. But that, too, was closed – and as of publication, it remains temporarily closed.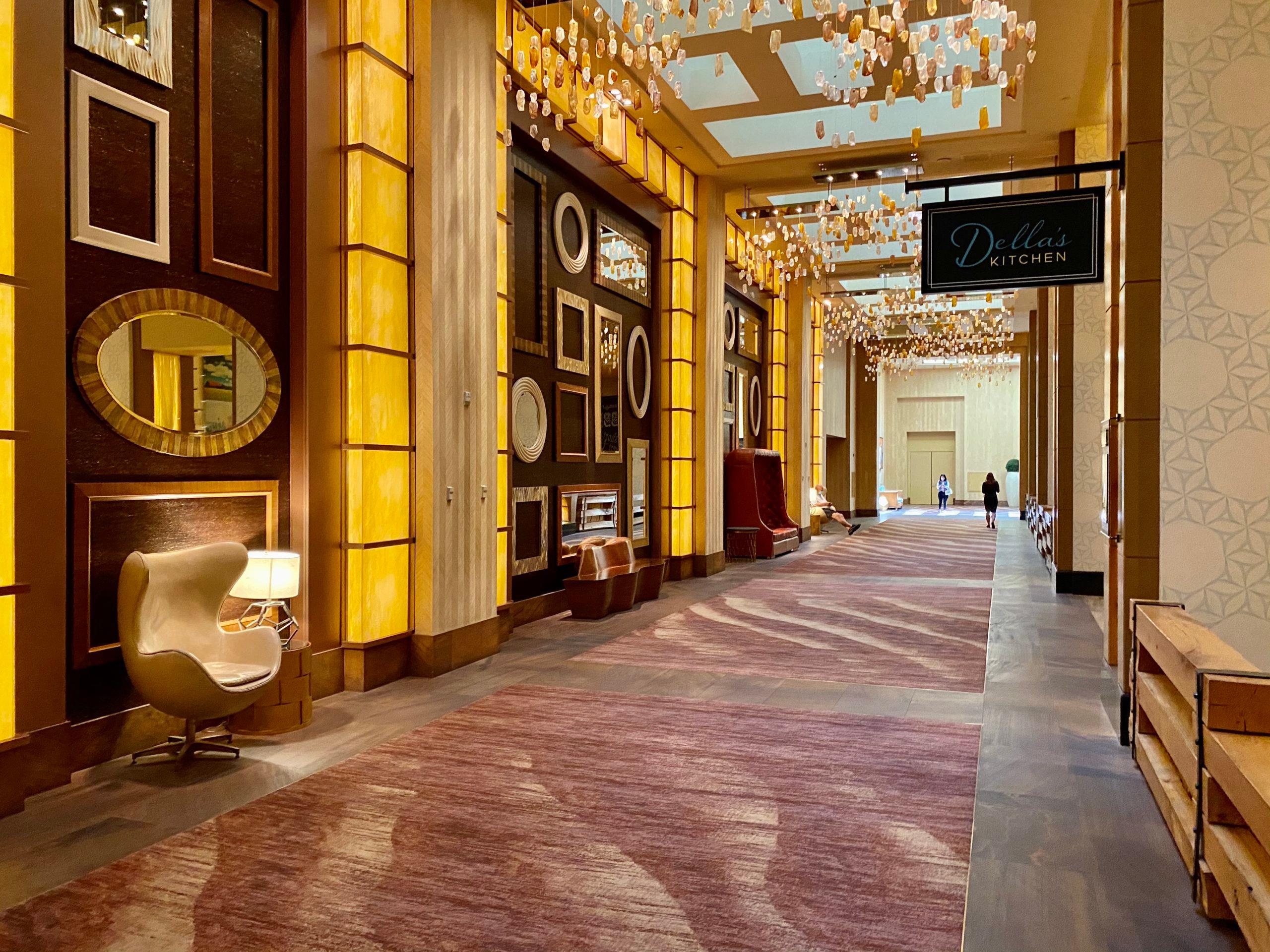 So that left us with one realistic option to put our daily breakfast credit ($30 each for up to two): Room service. We ordered in-room dining via Della's to Go, which has a pared-back menu with a few breakfast staples.
We simply called and placed our order each morning, and they dropped our food off at our door 30 to 45 minutes later in a bag packed with silverware and all the other necessities. After tacking on the $8.50 service fee and a tip, our $60 total in breakfast credits wasn't quite enough to cover breakfast – but it was close.

One morning we ordered an everything bagel with smoked salmon and the Delano breakfast. The spread included with the everything bagel was truly impressive – I couldn't hope to eat that much salmon. The Delano breakfast was great too, with eggs perfectly cooked. And everything was packaged well and still hot as we sat down to eat.

Just a five-minute walk away, there's far more to choose from in Mandalay Bay. But even there, many restaurants and bars had strictly limited hours or remained closed entirely.
We enjoyed an Old Fashioned and Espresso Martini at Hazel's, the part coffee bar, part cocktail bar near the main entrance of Mandalay Bay.

Other good options on the property include Lupo, Stripsteak, and Libertine Social. But with limited hours and other plans for dinner elsewhere on the Strip, we chose to use our $100 dining credit from our FHR booking on lunch and drinks at the pool one day.
The Pool & Other Amenities
For many, the pools at Mandalay Bay and Delano are the main draw of the place – and reason enough to overlook its location.
Mandalay Bay and Delano share a massive pool area, easily among the largest on the Strip. It's located on the Mandalay Bay side of the property, which makes it a good 10-15 minute walk from Delano itself.
Word of warning: As tourism and temperatures have picked up in Las Vegas, these pools are in high-demand. Waiting lists of three to four hours or more became commonplace in March and April, though it seems to have improved since. We paid to reserve beach chairs one day to guarantee some time in the sun one day. Another day, we put our names on the waiting list and waited about 20 minutes for a text back that it was our time to enter.
Inside you'll find an array of pools with a lazy river winding around them, and the signature feature: the wave pool.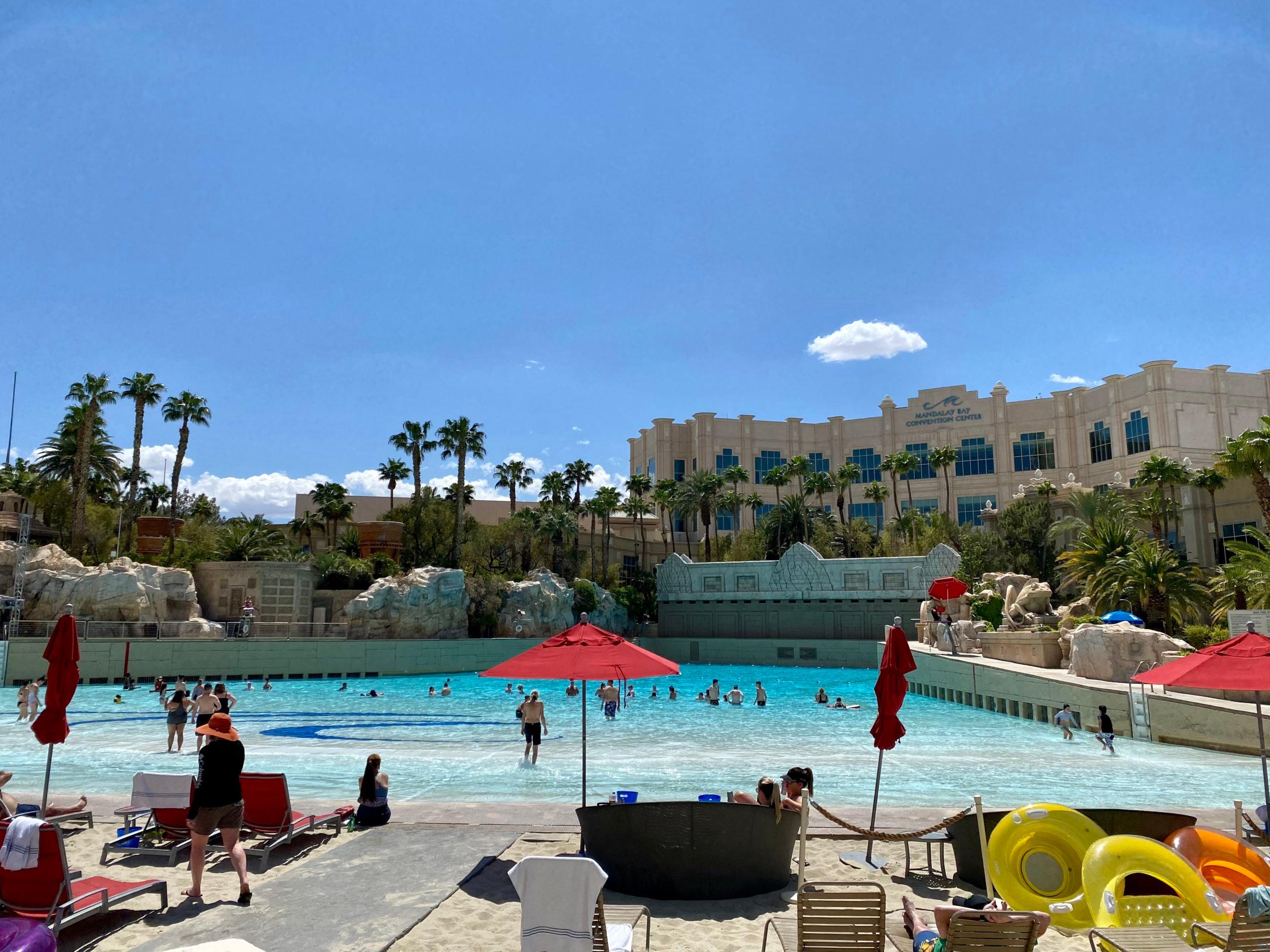 Guests at the Delano also have access to the Delano Las Vegas pool, reserved just for them near the entrance of the pool complex. While much smaller, it's also typically much quieter, too. If you can snag a seat before it fills up, this is the place to be.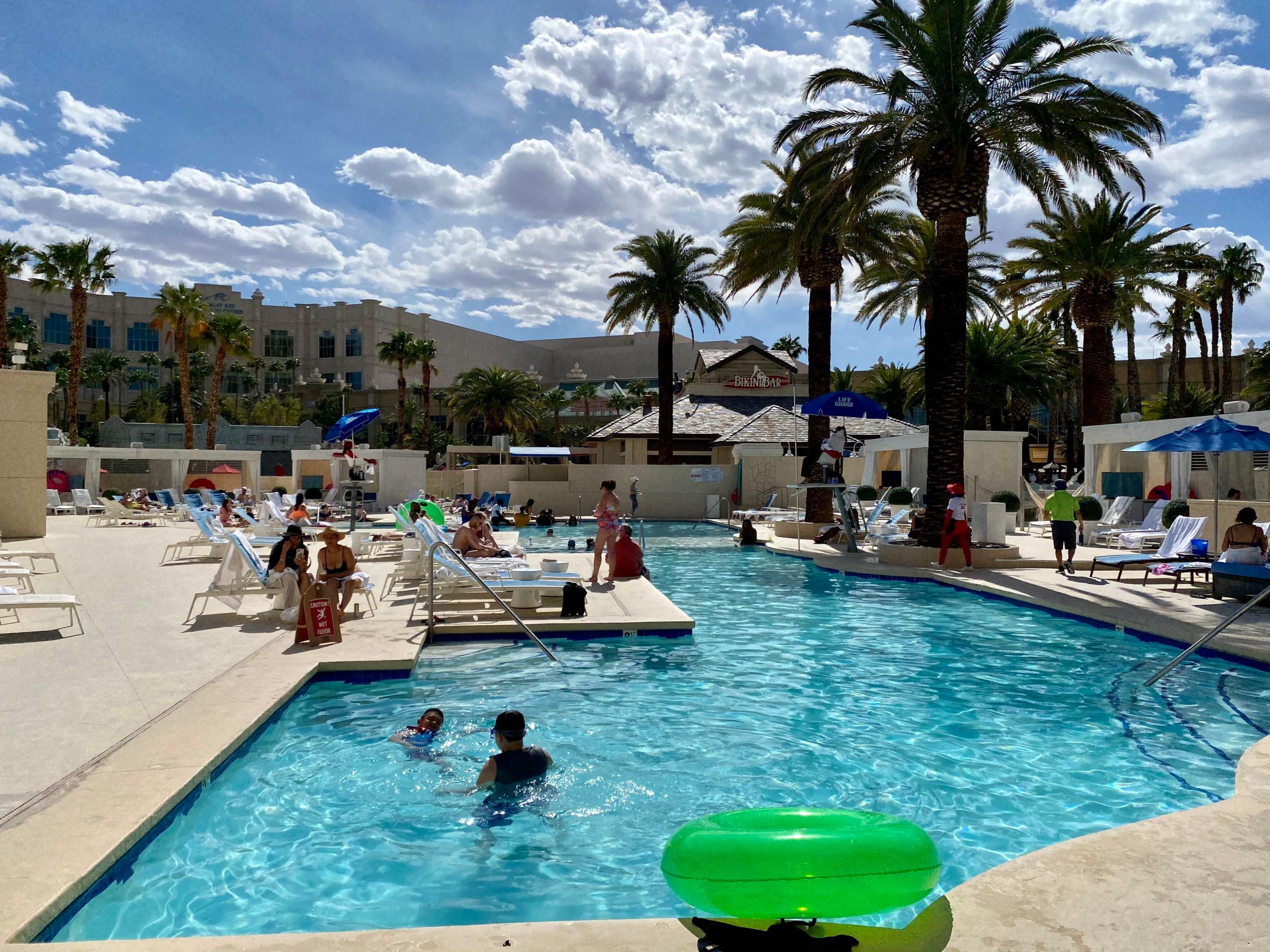 Plus, this feature wall at the entrance of the Delano pool is a cool touch.

Delano also has its own spa and gym, dubbed Bathhouse Spa and Bathhouse Gym. Unfortunately, both were closed at the time of our stay.

Bottom Line
Even during an unpredictable time and the start of a travel surge, the Delano Las Vegas still shines.
The location at the far south end of the Strip might be a dealbreaker for some – or a massive positive for others. Restaurant and bar closures due to COVID-19 certainly made it a bit harder to enjoy our stay as much as we have in the past.
But you simply cannot beat the rooms at the Delano Las Vegas, upgrade or not. If you moved the Delano just a block or two north on Las Vegas Boulevard, it'd be the runaway favorite property in town … and it's not even close.