When planning a recent trip to Boston, I was hoping for unique accommodations near the city center. And as usual, I started my search on Airbnb. But most Airbnbs were surprisingly expensive for a group of three, and those cleaning and service fees can add up fast.
So I headed over to Hotels.com to see if I could find any unique yet affordable options for our three-day stay in Boston. And I hit a home run: I found the Revolution Hotel and fell in love with its new approach to hotel accommodations: a new "generation" of hotels. Trendy style and everything you need without paying for what you don't? Sign me up!
Read on to find out about the unique traits of the Revolution Hotel.
Booking the Revolution Hotel
I love racking up free stays with Hotels.com's program – after every 10 stays, you get a free hotel night worth the average of those paid stays.
I stumbled across the Revolution Hotel on Hotels.com, and it looked like a perfect fit. A mix between hostel and hotel, this unique new hotel had everything we wanted for our short trip without the high price point.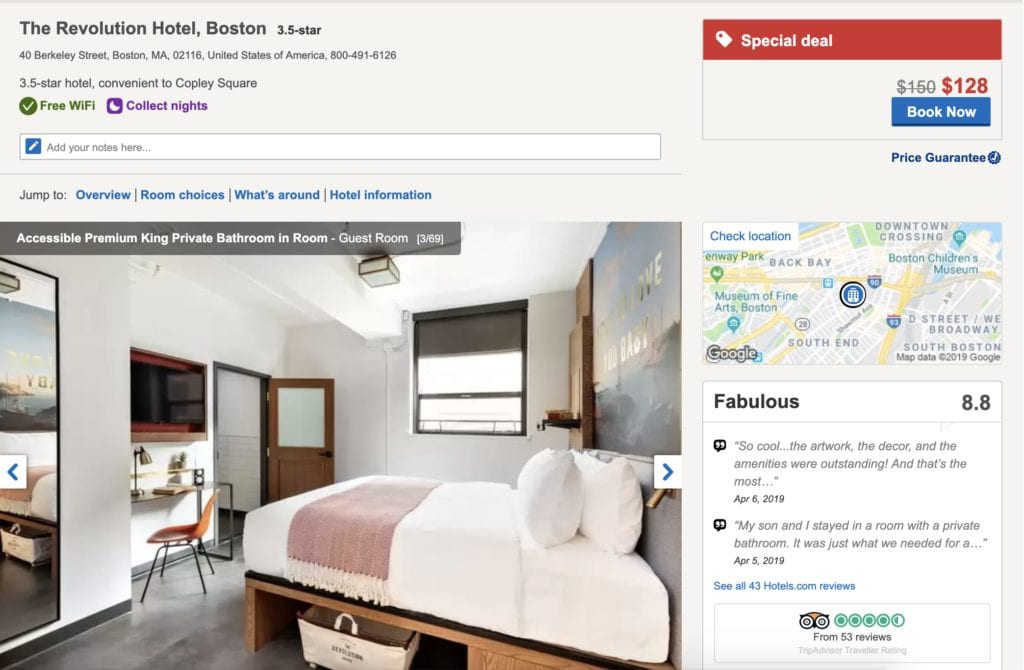 Room Options
We couldn't beat these prices for three people, and the location was perfect: a short walk to all of our top must-see spots. I was sold when I realized the Revolution Hotel isn't your typical hotel. Revolution brings a fresh perspective on hotels for a younger generation of travelers: the amenities you need with changes to give you the price point you want. This hotel takes notes from hostel accommodations without losing the cleanliness and privacy of hotels.
One notable difference between this hotel and your typical hotel is your room layout choices. If you're traveling with friends, or simply don't want to share a bed, Revolution Hotel offers options beyond a standard king bed or two twins.
If you have a group of four, you could get four bunk beds in one room: a quasi-hostel experience, without strangers snoring next to you.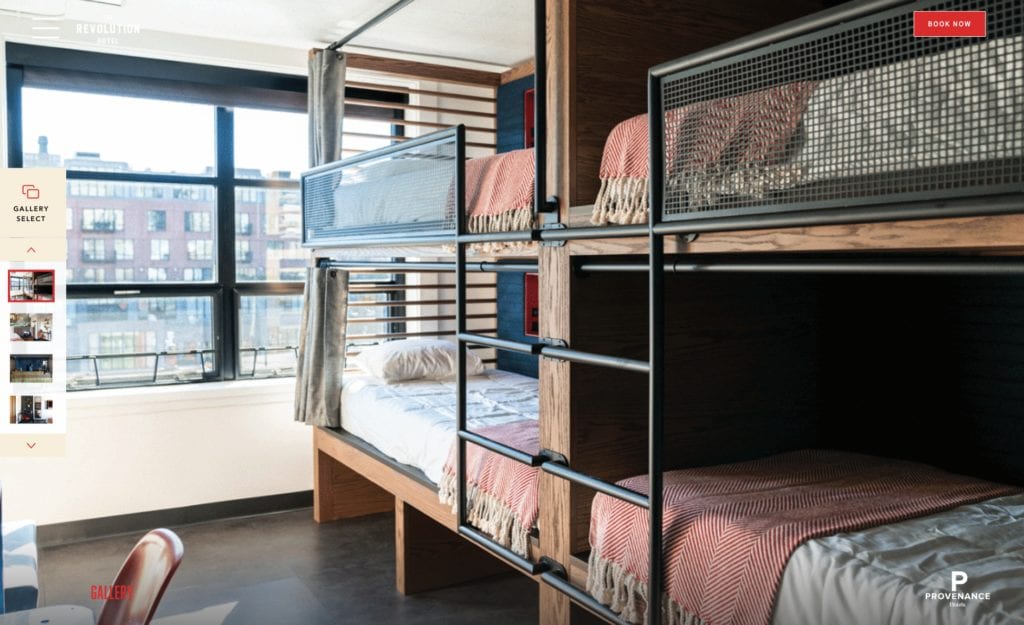 For our group of three, we opted for this unique layout: a king bed with a bunk up top for a third. This room was a perfect fit for us!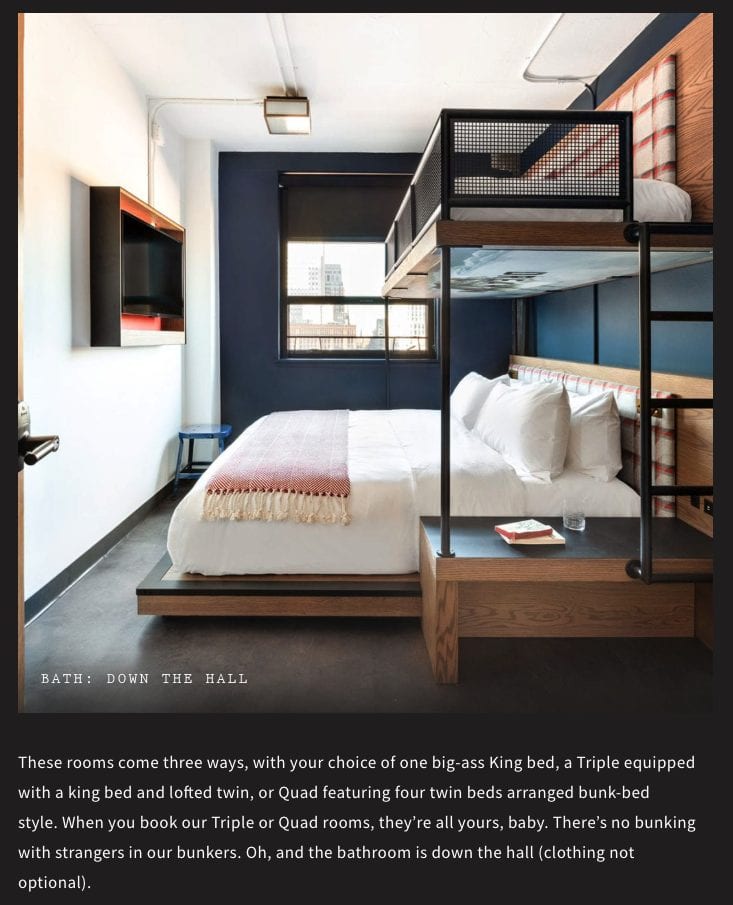 Our Room
Here's a look at our room when we arrived. The room was small, but it was all we needed for our short stay in Boston. The top bunk had a ladder going up and a cubby on the side for a phone, glasses, book, etc. The bottom king size bed had a table top with underneath storage. Both had reading lamps attached to the headboard.
To the right of the door to our room was a cute desk and floating shelves. I used the desk for working in the mornings, and we used the floating shelves for storing our toiletries.
To the left of the room door, we had a bench, a hanging rack, and some hangers. The Revolution Hotel tote included some additional toiletries and standard hotel amenity kit.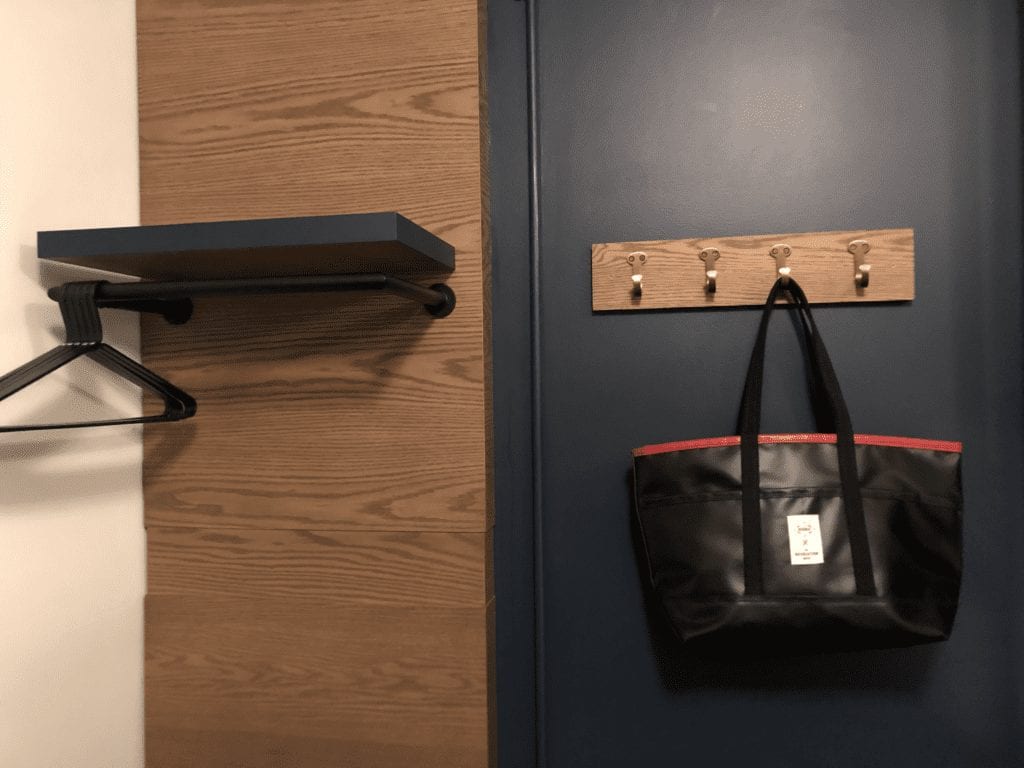 Look how cute and cozy this top bunk is! We found the linens and duvet cover to be very comfortable, and the beds were great quality. To me, bed and duvet quality are some of the most important things in a good hotel, and Revolution definitely passed the test.
We could adjust the temperature and/or open the window in our room as well. When we slept with the window open we did hear a bit of morning traffic noise, but not much at all. When the window was shut, the room was sound-proof.
A Unique Bathroom
The other most notable difference between the Revolution Hotel and a typical hotel is the bathroom situation. If you'd like, you can select one of the room options that has an ensuite bathroom. However, you also have the choice to select a room with shared bathrooms down the hall – shaving your hotel bill in the process.
For some, this may be a new concept, but for anyone who has stayed at a hostel, this is nothing new. But these shared bathrooms are nothing like the community bathrooms at your typical hostel.
Every floor has its own bathroom area, and each has eight to 12 individual bathroom pods inside with their own toilets, shower, sink, mirror, etc. Every pod is stocked with soap, shampoo, and condition. Grab a towel (or two!) from the main bathroom entrance area, and a blow dryer, and you're set.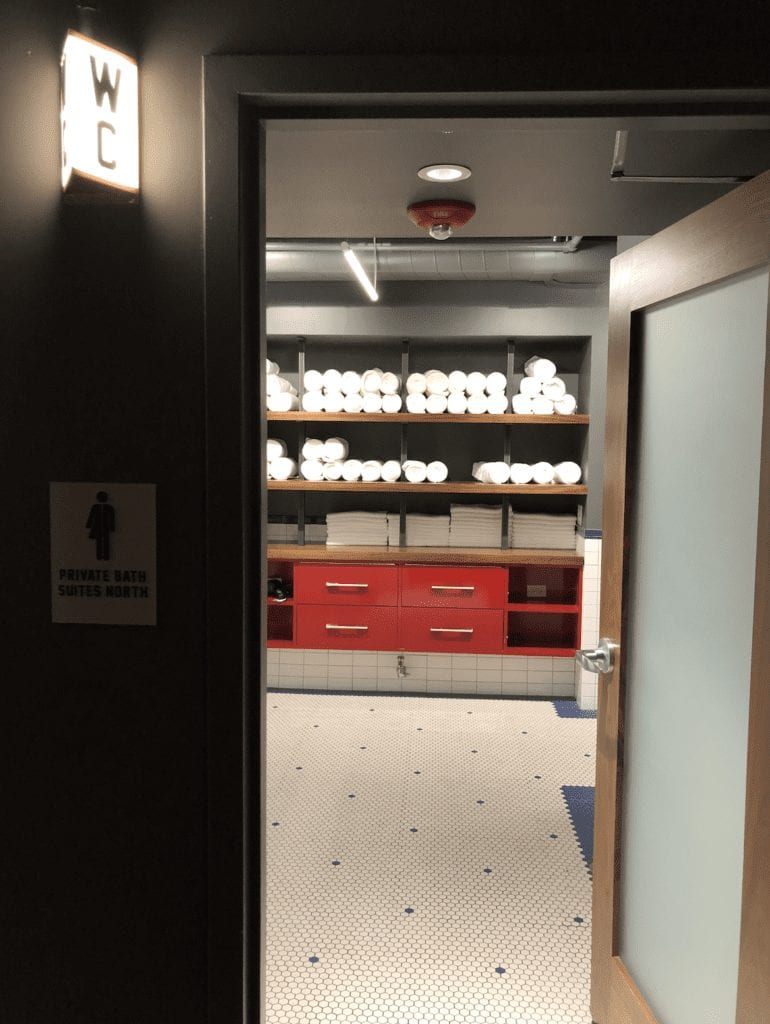 I loved that you could help yourself to more than one towel. As a lady who likes a hair towel and body towel, this was my ideal situation! When you're done with a towel, simply toss it in the used towels bin near the exit bathroom door.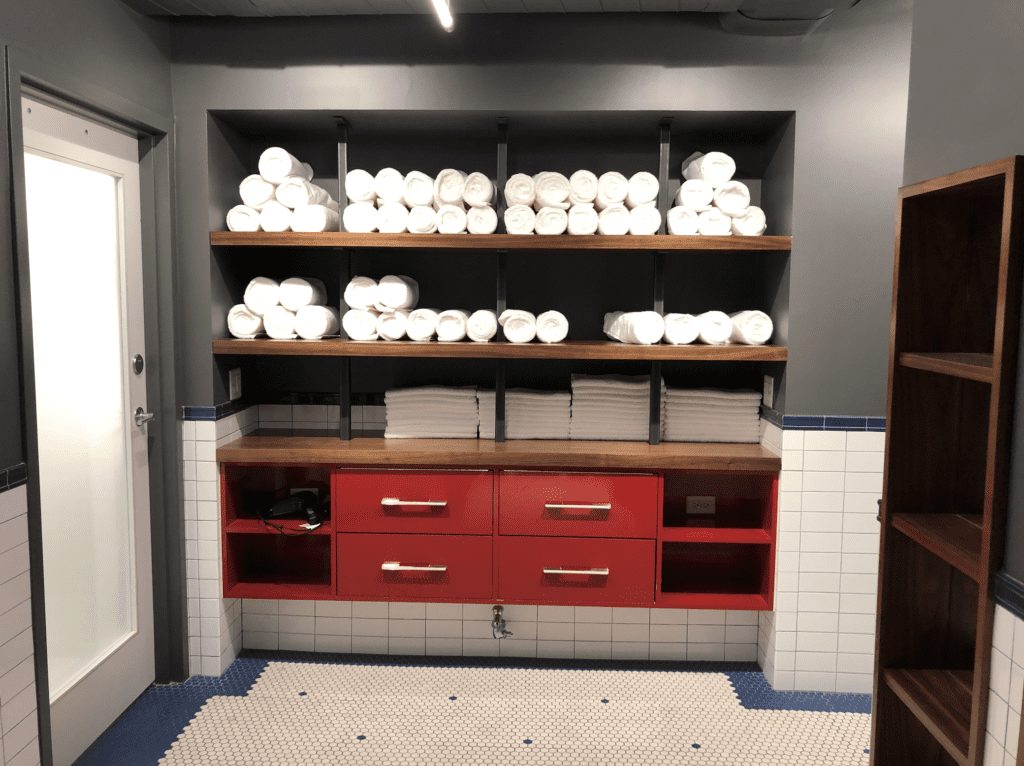 I found the individual bathroom rooms to be spacious, stylish, and clean. The shower had great water pressure and hot water. It was so nice to not have to share a bathroom with my travel buddies or rush getting ready.
I usually bring my own shampoo and conditioner, but they did provide some quality options in each bathroom as well.
Outside of the bathrooms is a water station, simply fill up your own water bottle or reusable bottle provided here. Ice was also provided in the mini fridge, with your typical ice buckets available.
Overall, I really enjoyed my shared bathroom experience at the Revolution Hotel. I loved having my own space and being able to get ready at the same time as my travel companions. Plus, if someone got up extra early to shower, they didn't disturb those sleeping as an ensuite bathroom would. I highly recommend this shared bathroom alternative!
Lobby & Shared Spaces
The lobby at the Revolution Hotel was so cute! This hip and trendy decor definitely matched the clientele they hope to attract: young travelers looking for a boutique hotel experience on a budget.
The lobby area included quite a bit of seating, including sofas and window seats near the fireplace. There were plenty of books and magazines to check out.
There was also a small coffee shop in the lobby. They didn't have a ton of options, but had some breakfast items and your standard coffee, tea, and lattes for sale. There was no coffeemaker in our room, so this was our next best option for grabbing a cup of joe before we headed out for the day. Otherwise, there are plenty of cafes around the area! Check out Berkeley Perk Cafe and Blackbird Doughnuts, both just one block from the hotel.
Downstairs on the bottom floor of Revolution Hotel, you'll find a bar and lounge: a perfect hang-out spot for happy hour or a nightcap. There are some nice sofas and tables down here, as well as some games, like shuffleboard. We didn't spend much time down here, but did go down to take a peek at the space.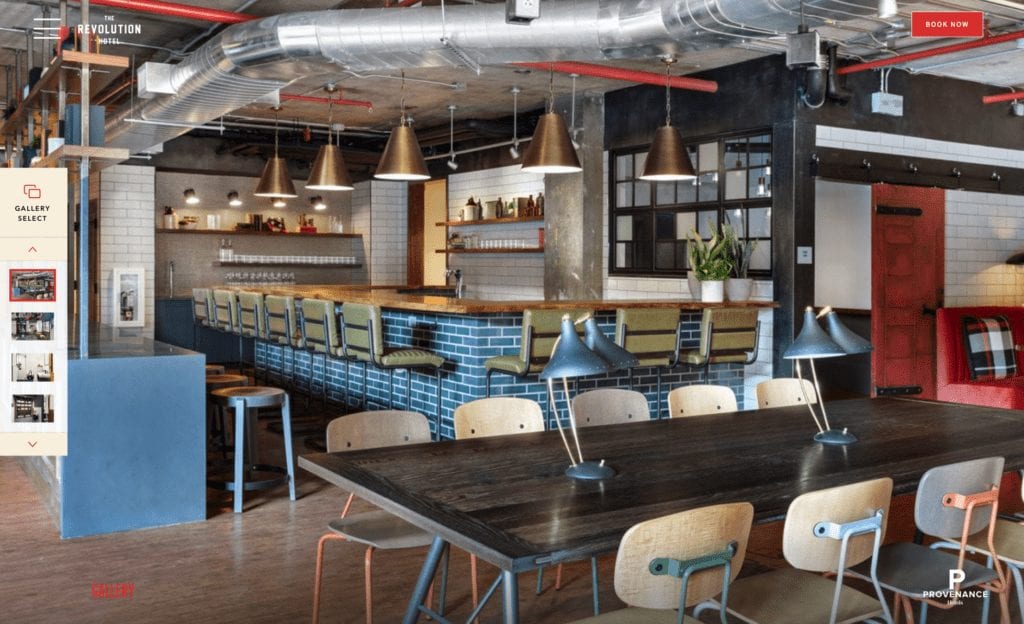 Bottom Line
We absolutely loved our stay at the Revolution Hotel! This unique hotel-hostel hybrid offers the perks of a boutique hotel with the shared space amenities of a hostel.
And the result is the best of both worlds at a great price point. We loved having a private room, and while the shared bathroom setup might scare some away, I was a big fan.
If you're headed to Boston and looking for an affordable stay, check out the Revolution Hotel.
Lead photo courtesy of Revolution Hotel