When it comes to hotels in the world of points and miles, many people think of redeeming their hard-earned points for picturesque overwater bungalows in the Maldives. And for good reason – properties like the St. Regis Maldives cost a small fortune.
But then there's the additional hundreds (if not thousands) of dollars in seaplane transfers, plus exorbitantly expensive food and drinks. What if you could use your points for an equally impressive experience that is … wait for it … all-inclusive?
Move over, Maldives. Situated in the desert just an hour outside of the glitz of Dubai you'll find the Al Maha, A Luxury Collection Desert Resort and Spa. It's one of the most sought-after and aspirational properties bookable with Marriott Bonvoy points, with just 42 villas – each with its own private pool overlooking the conservation reserve. And yes, it's an all-inclusive resort, with free food and daily activities that can easily save you hundreds.
As someone always looking for exceptional experiences on a budget, I decided Al Maha was where I wanted to make my first big aspirational points redemption after piling up Marriott Bonvoy points … which is basically a fancy way of saying I spent a lot of points to do something I wouldn't otherwise be able to afford. That's what they're for, right? Right!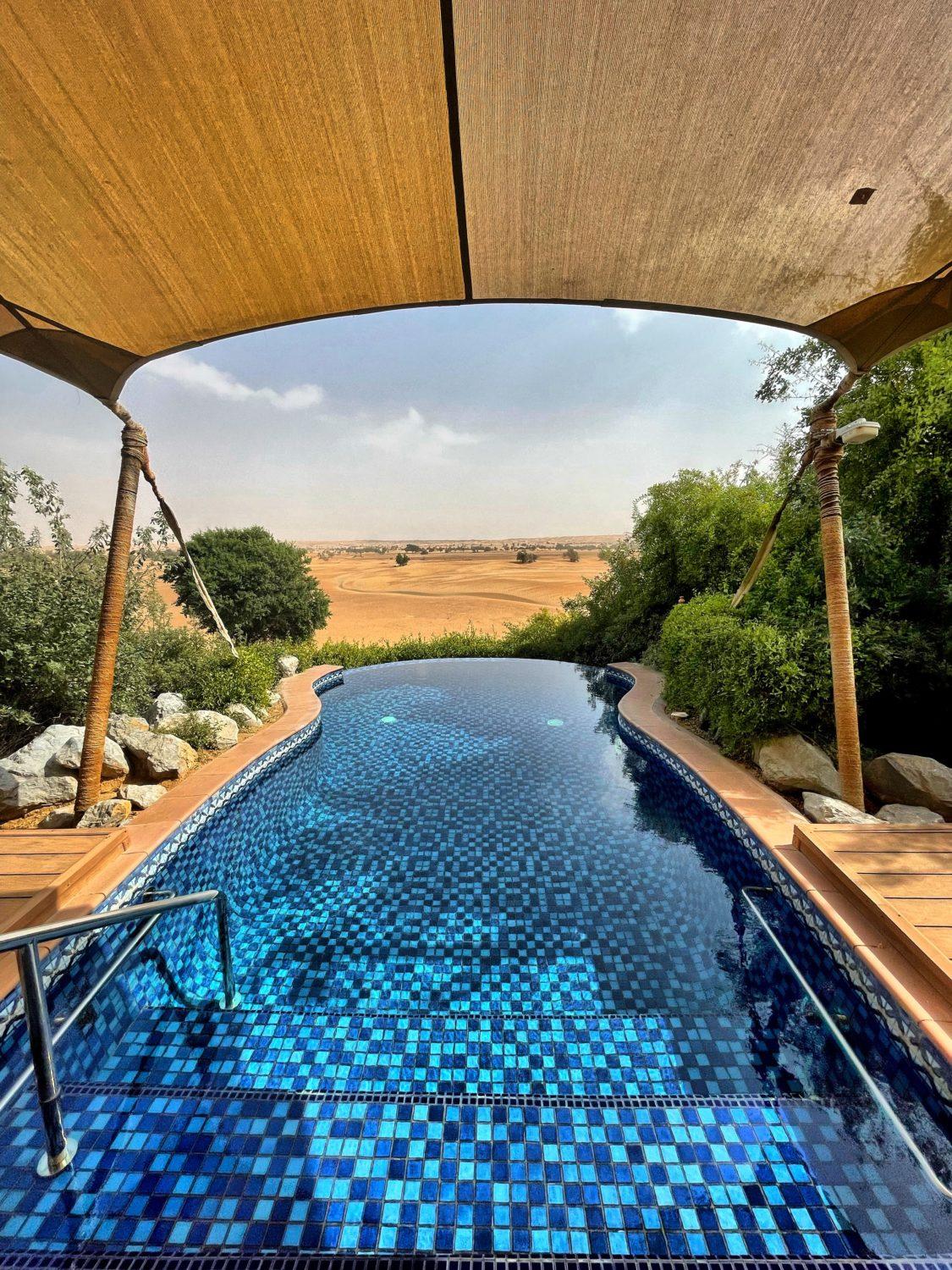 I spent two incredible nights in my own private pool villa overlooking the desert, and can't recommend this experience and property enough. Read on for a full review of the property and everything you need to know before a visit to Al Maha, a Luxury Collection Resort and Spa.

How to Book the Al Maha
Whether you're using cash or Marriott Bonvoy points, it's not cheap. But boy is it worth it.
The Al Maha is one of Marriott's most-expensive properties when using points, as it's a Marriott Category 8 property – the highest in the hotel chain's award chart. That means it will cost 85,000 Marriott Bonvoy points a night during standard times.
But because Marriott uses peak and off-peak award pricing, that can be as low as 70,000 points in off-peak times or as expensive as 100,000 points per night during peak times. Off-peak awards are incredibly difficult to find, so expect to pay 85,000 to 100,000 Marriott points per night… at least for now.
Late last year, Marriott announced that they will be moving to a dynamic pricing model in March 2022. At the highest level, that means award rates will be closely correlated with the cash price of a room. And since cash rates at Al Maha can range from $1,000 to over $1,500 per night depending on the time of year, this property will almost certainly cost far more Bonvoy points in the not-too-distant future.
So if you have Marriott points to burn and a stay at the Al Maha is on your list, you may want to book your stay sooner than later. You've been warned.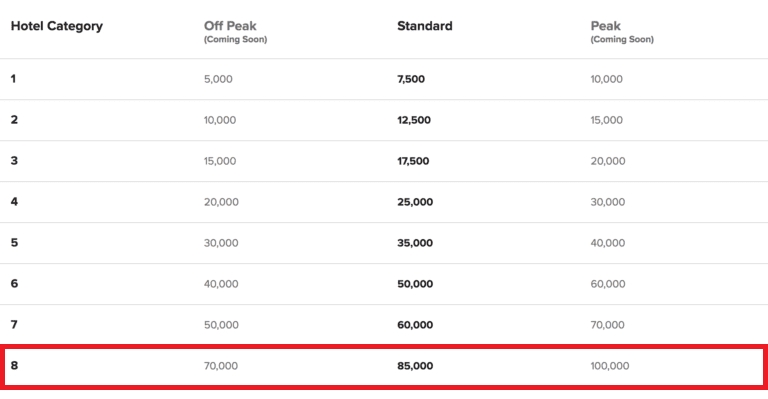 I visited in January, which is high season in Dubai, so I paid 100,000 points per night. But that high cost in points gets more than most hotel redemptions as even award redemptions at the Al Maha are all-inclusive.
That meant three amazing meals were included every day – including room service – and two desert activities. The only things not included in the rate are spa services and alcoholic beverages, though two of the activities do have a small surcharge.
One major item to be aware of, particularly in the pandemic era of travel, is that Al Maha has a very restrictive cancellation policy. Award bookings must be canceled at least 30 days prior to arrival. If you need to cancel within 30 days – your booking could be subject to a charge of one night's room rate.
If you choose to book Al Maha, consider an insurance policy that could cover the cancellation fee. I found one for about $80 that worked for me. Everyone's needs are different, so make sure to read the fine print.
Read more on COVID-19 and travel insurance!
Al Maha Location
Al Maha is located about one hour outside Dubai proper near the border with Oman. The resort is still located within the emirate of Dubai.
That makes it a convenient commute, since each emirate in the UAE enforces their own border policies. The resort can be reached by taxi, which cost about 180 AED (~$50 USD).

The front gate to the resort is a bit confusing. Our taxi driver didn't know how to get there but the resort sent this GPS link one day before check-in which we were able to use to help navigate.

Once at the front gate to the resort … you still have another 9 kilometers to go! This last stretch is on a dirt road through the desert and can be a bit bumpy. While the resort recommends a 4×4 vehicle, our regular city taxi was able to make it just fine.
The resort also offers transportation options that can be arranged ahead of time. I opted for their standard luxury car service to get back into Dubai at the end of my stay which cost 340 AED (~$95 USD).
Lobby and Check-In
The first thing you'll notice upon pulling up to the resort is that the main lobby is unassuming and fits right into the surrounding desert.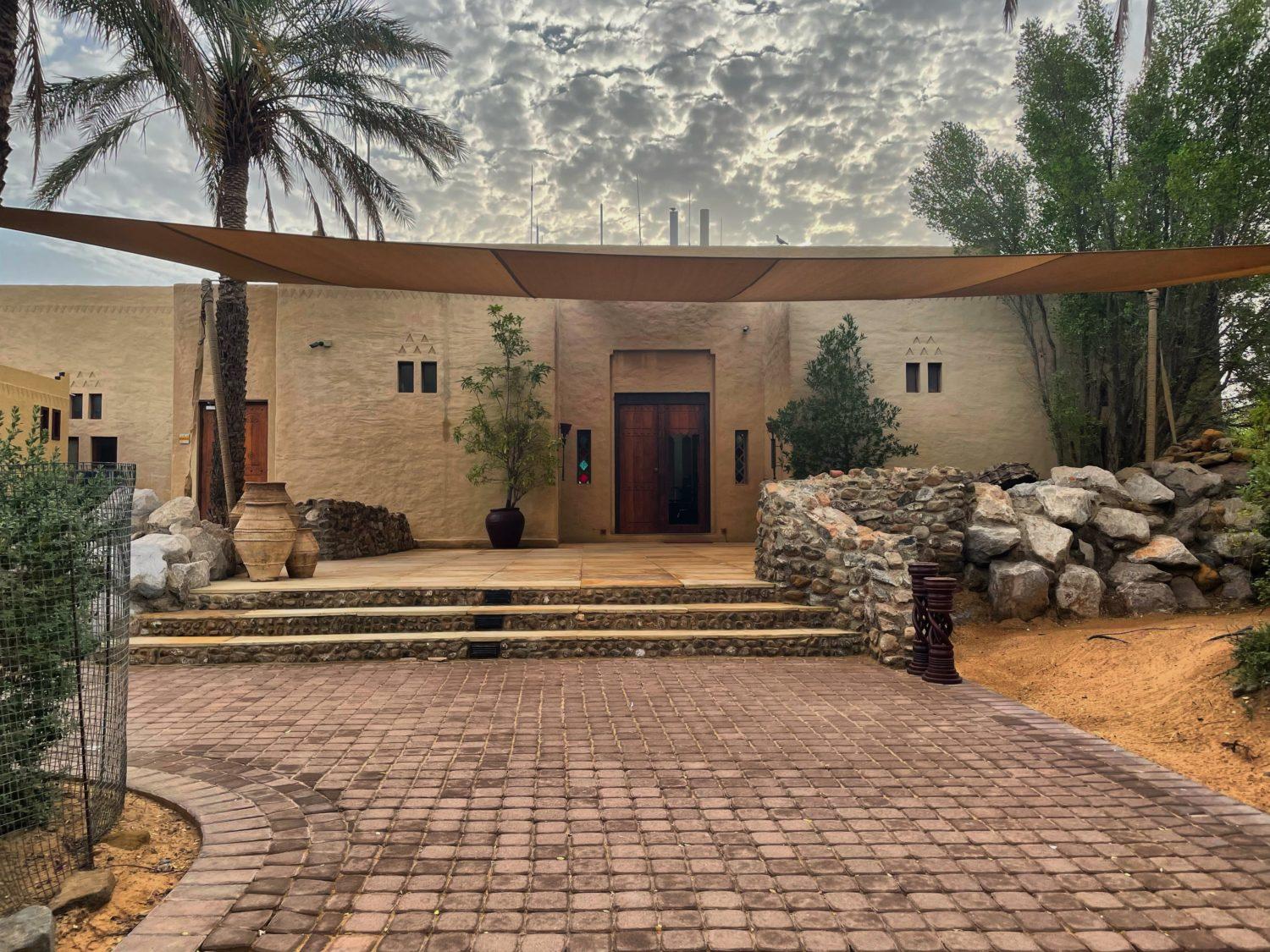 The staff warmly greeted me and whisked my bags away. I was ushered into the lobby which is decorated with traditional Bedouin style furniture. Check-in time is 3 p.m. but I was notified on the Marriott Bonvoy app that my villa was ready before 1 p.m. I arrived at 2 p.m. to maximize my time!
Even if your villa is not ready, it's okay to show up an hour or two early to enjoy the resort – there's plenty to see!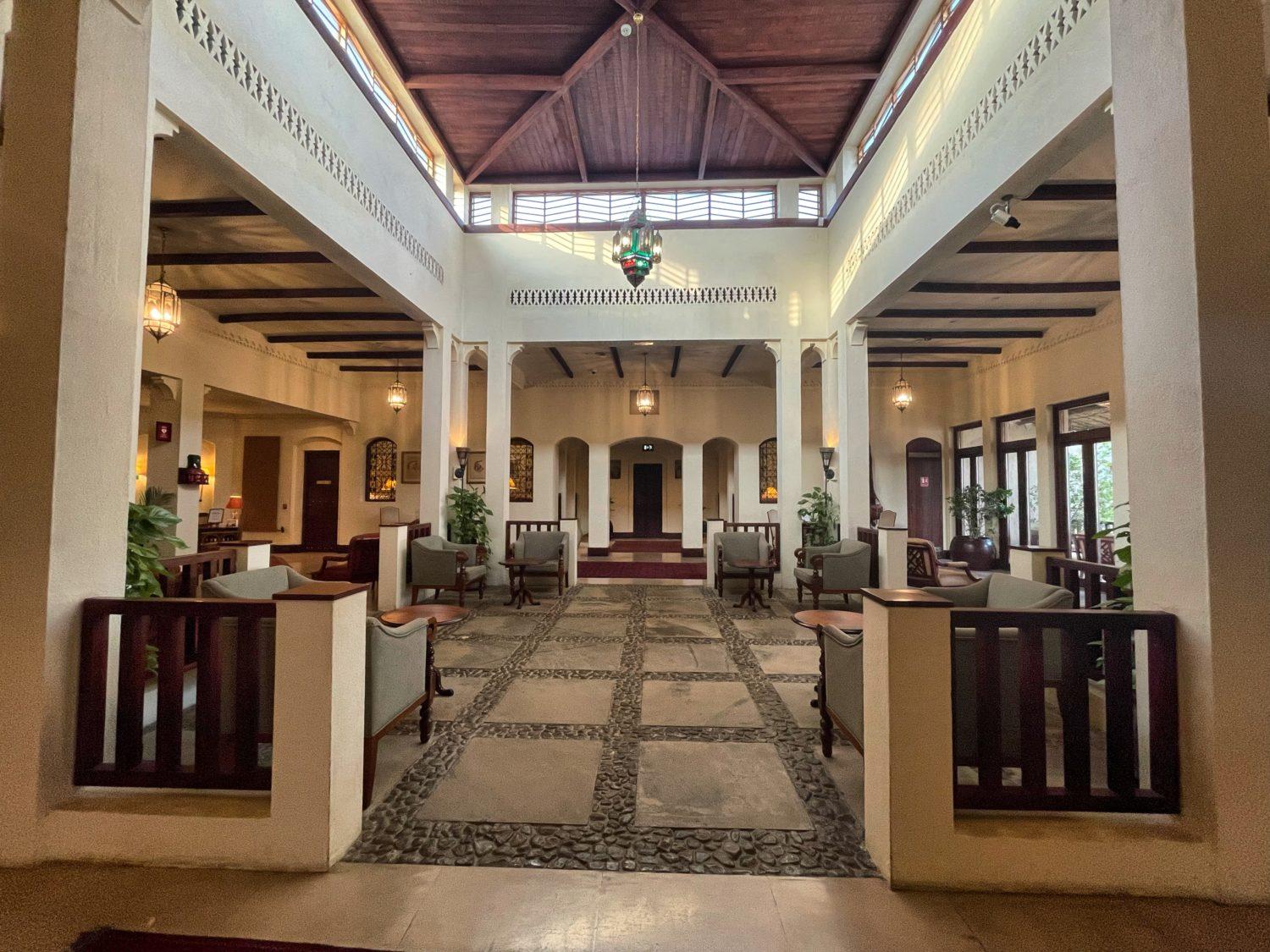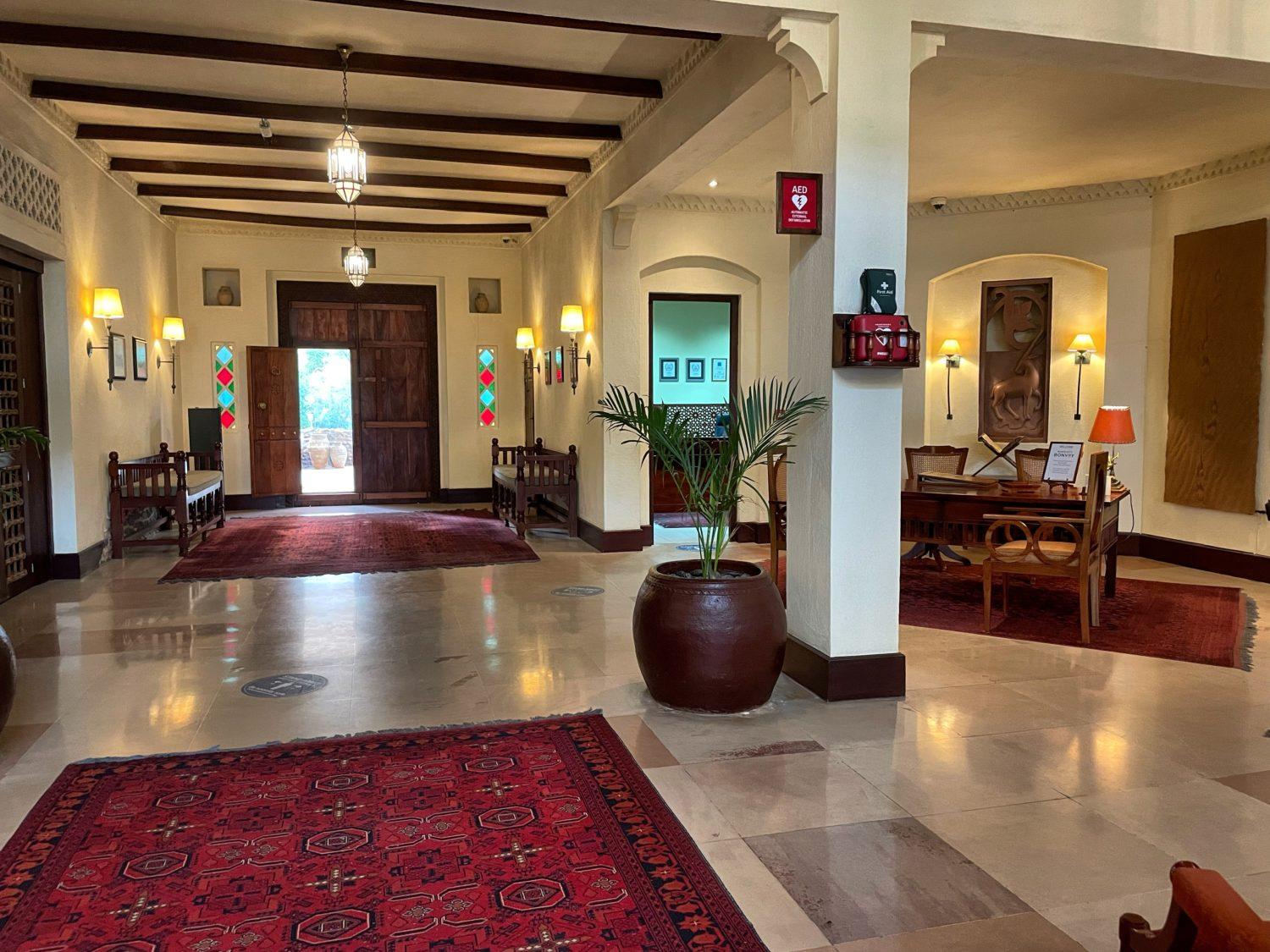 After a short wait in the main lobby area, we entered a more private check-in area with curtains and comfortable seating. The staff left refreshing welcome drinks while they copied our passports.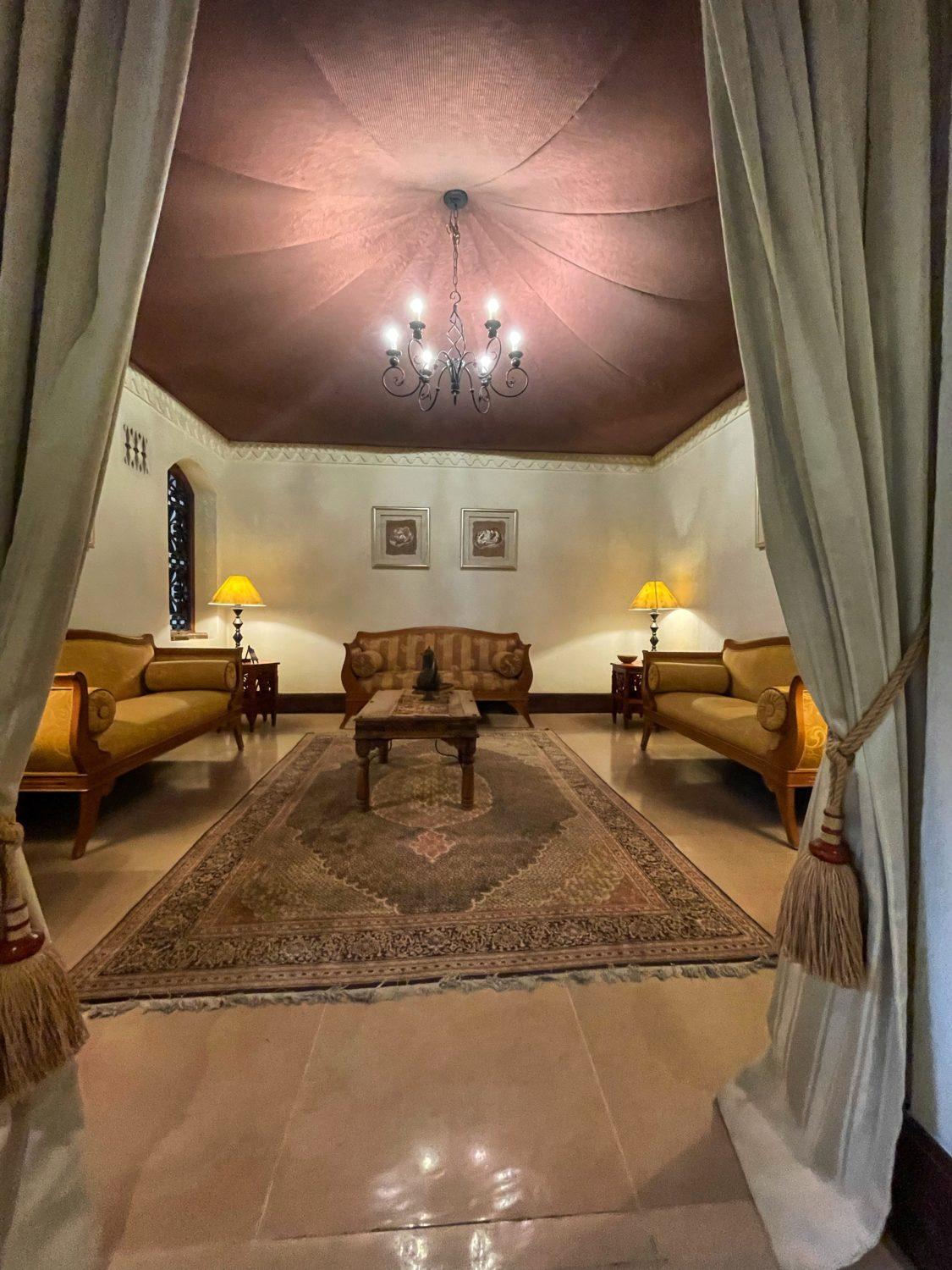 They returned to thoroughly explain the features of the resort, how the meals worked, and that room service is available any with food delivered within an hour.

We were also introduced to our personal activities guide, Liam, who was with us for the duration of our stay. He explained each of the available activities at Al Maha and informed us we could pick two per day. We got signed up for our chosen activities (more on those later).
The entire check-in process took about 20 minutes. Finally, it was time to see the villa!
Al Maha Private Villas
Al Maha has just 42 Bedouin-style villas, each with their own private pool. All villas have expansive desert views and, on a clear day, the mountains of Oman rise up in the distance. Free-roaming wildlife abounds – about 350 gazelles live within the immediate resort grounds.
I was in Villa 15 which is just a few minutes walk from the main lobby while still being situated in a private area. Each spacious villa clocks in at just over 800 square feet.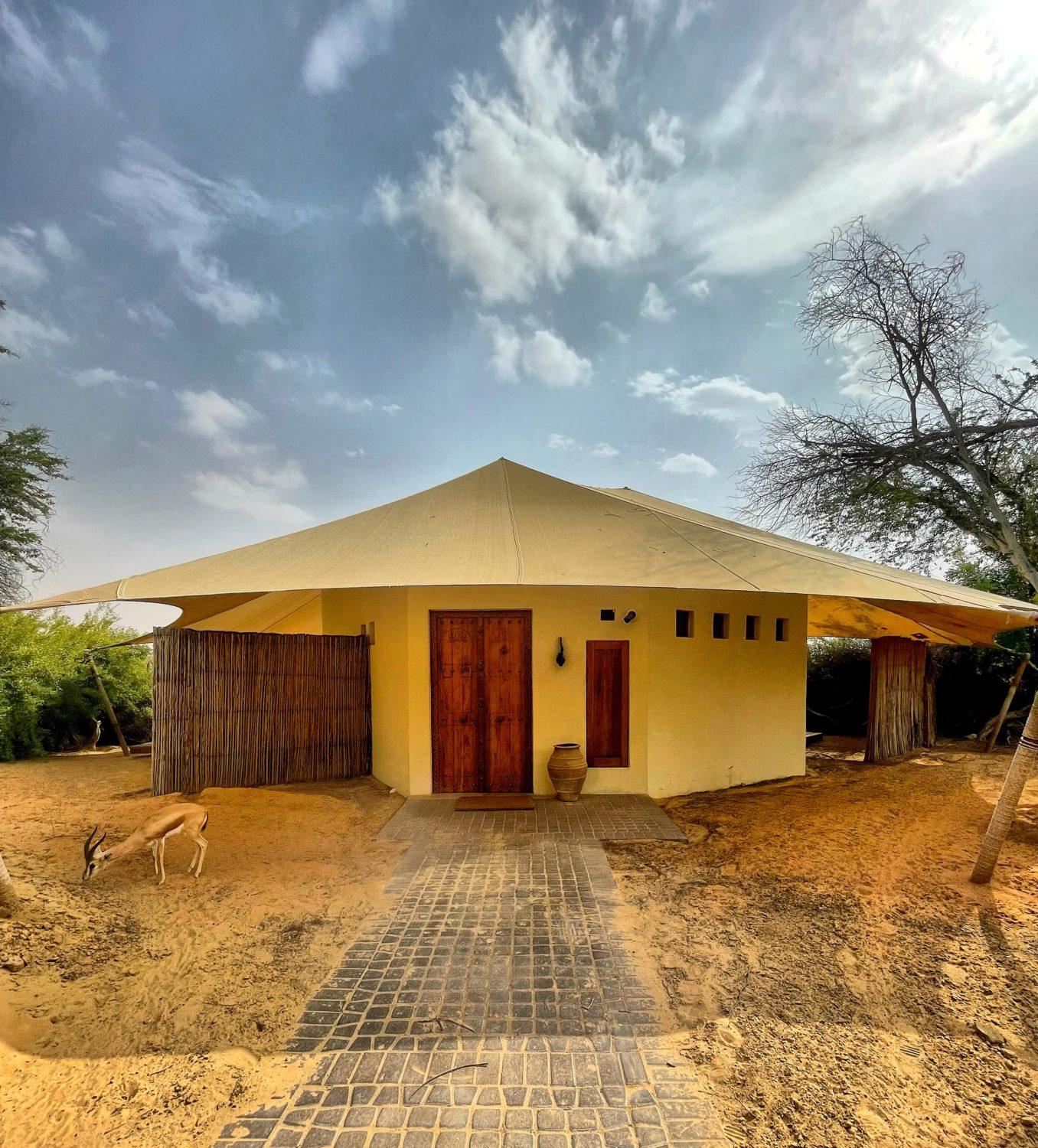 Upon entering the villa, guests will be greeted by a sizable entryway. This area also contains a mini-bar (which is not included in all inclusive rate) and drink machine with an assortment of teas and coffees. There is also a dressing table with electrical plugs.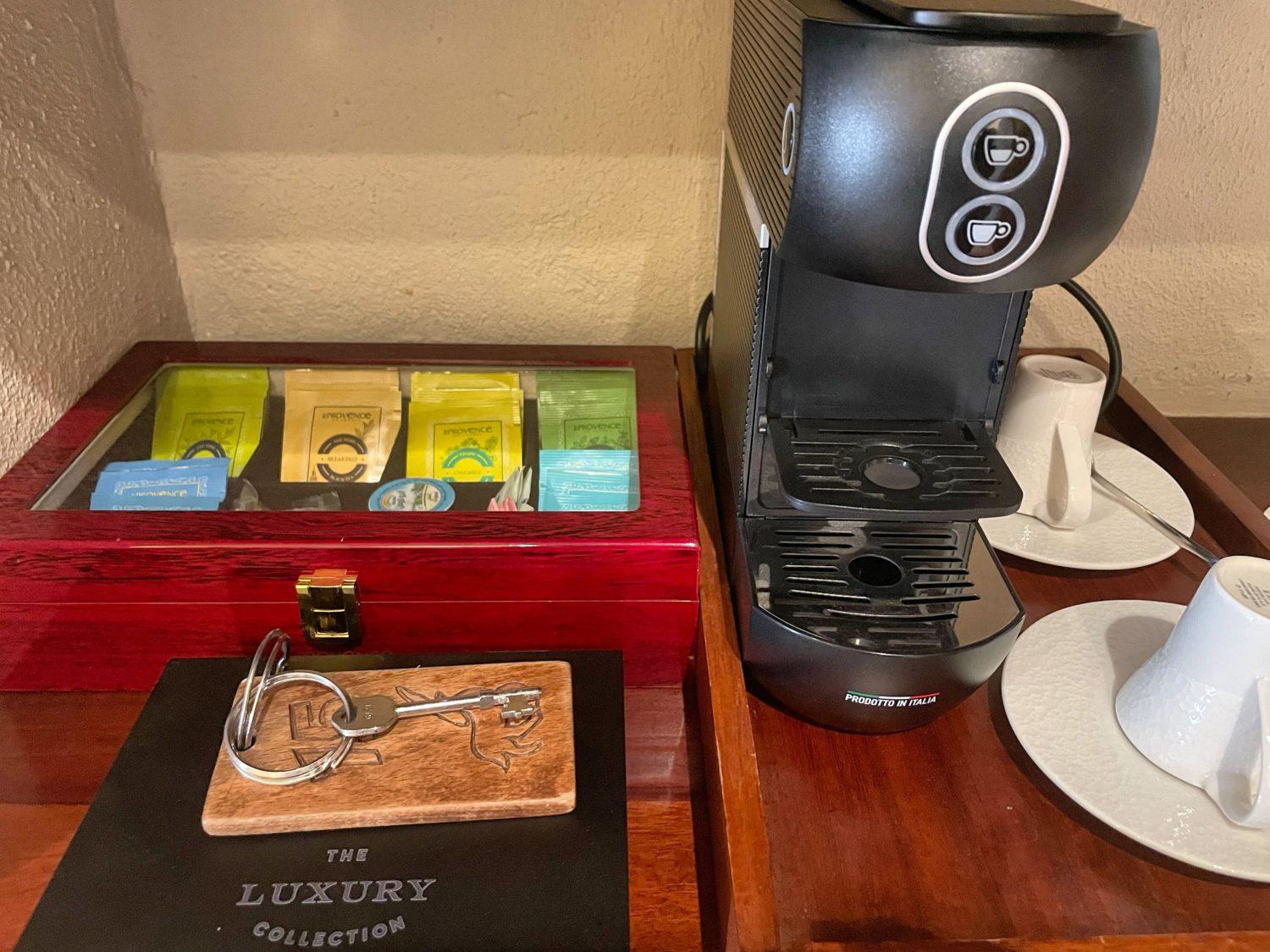 The bathroom is located just off the entryway, equipped with double sinks, an oversized soaking tub and separate shower. The shower drained, slow which was a minor annoyance. Oh, and beware that the hot water handle in the shower can get extremely hot when trying to adjust the water temperature.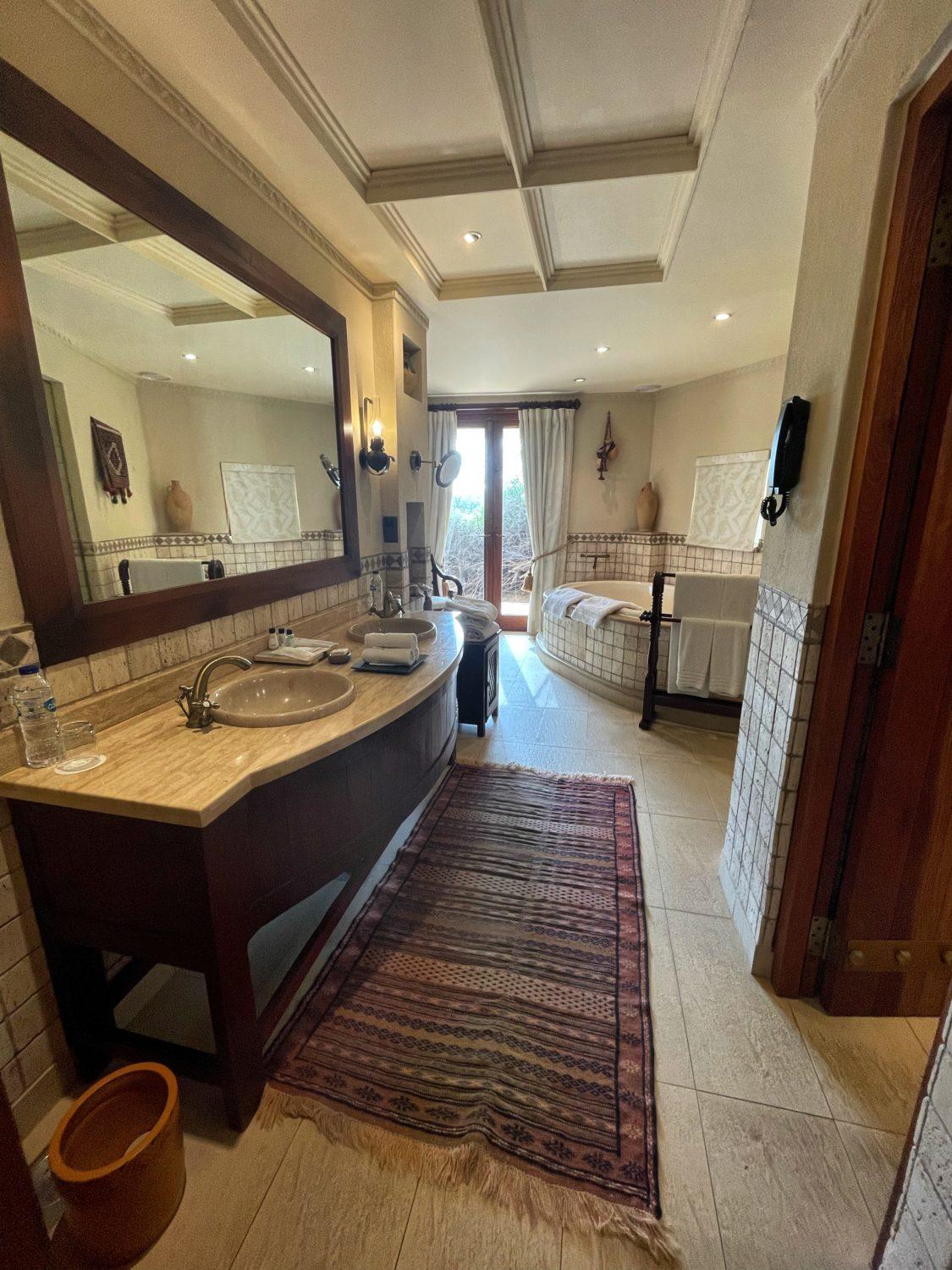 The toilet and bidet is partitioned off with a door for extra privacy.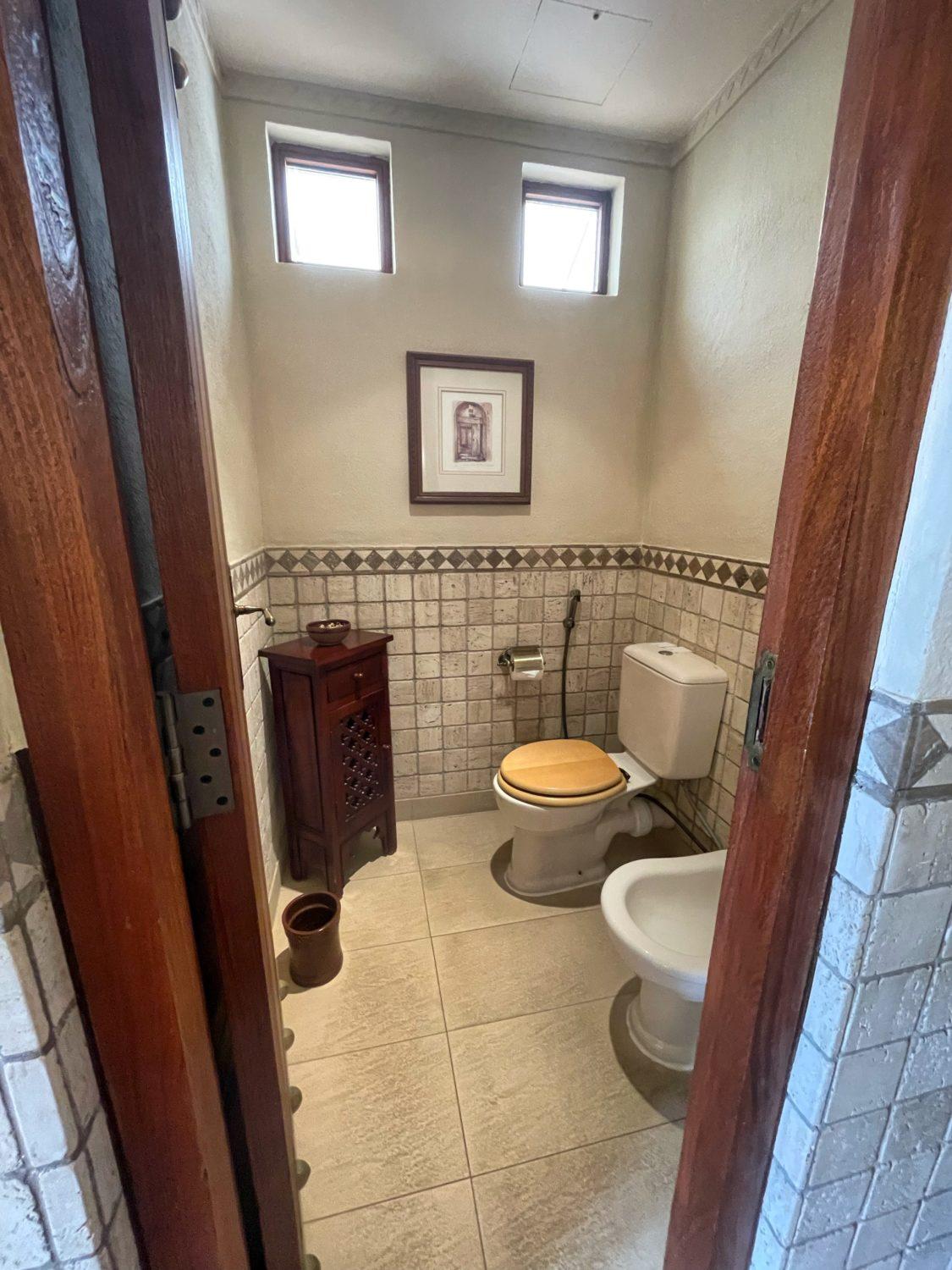 The toiletries are provided by luxury beauty brand Byredo and include standard body wash, shampoo, conditioner, and soap. Additional bathroom amenities are provided including mouth wash, a shaving kit, q-tips, and even full size toothbrushes. They clearly try to think of everything!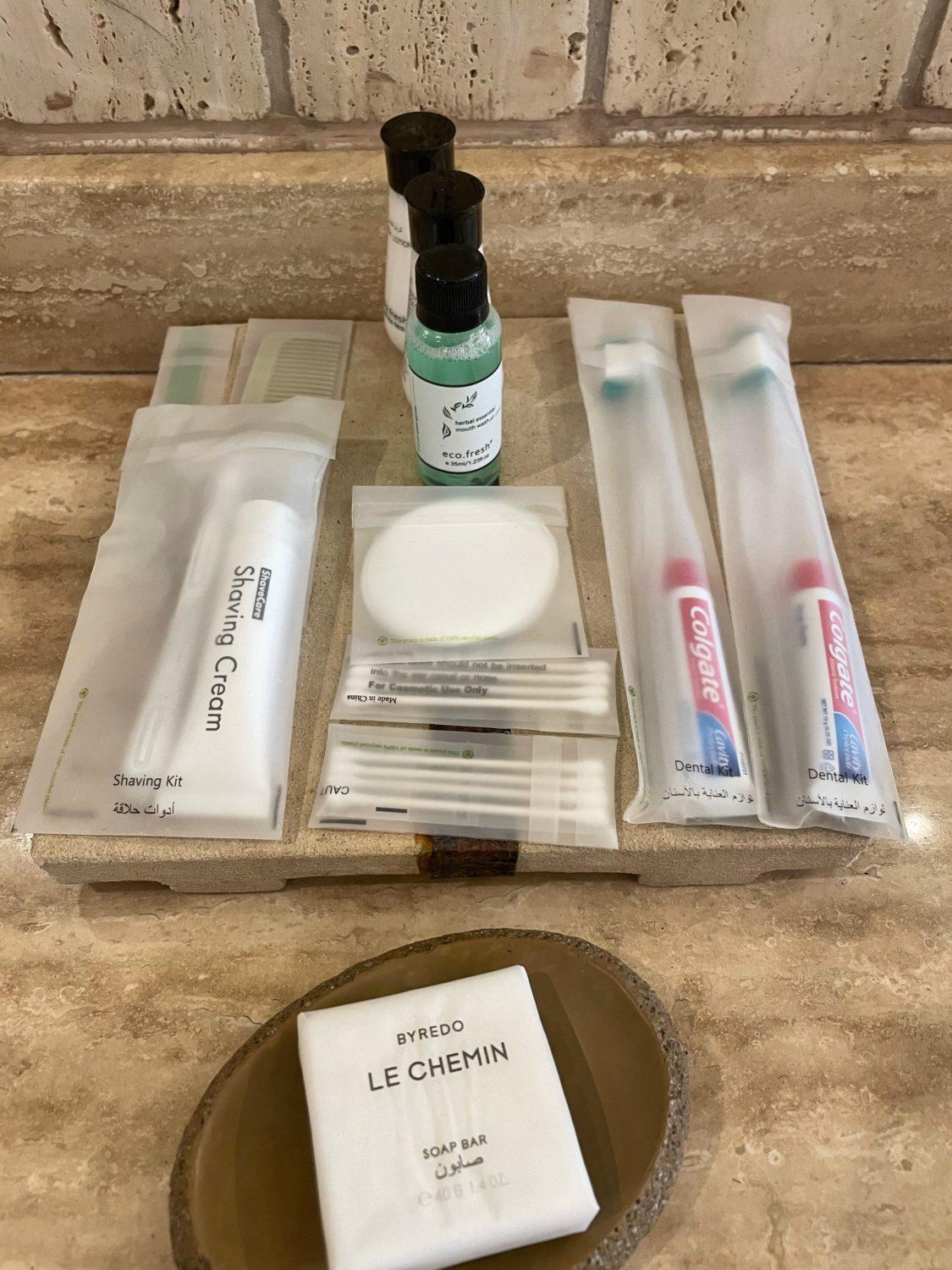 The main area in the villa is quite spacious, with an oversized king bed and living area. There is a desk, armoire with plenty of clothing storage, and a couple of chaise loungers. The coffee table is perfect for having indoor room service if you choose. Additional unique touches include an art easel and binoculars for watching the wildlife.

I thought the bed was incredibly comfortable – probably one of the best hotel beds I have ever slept in with the perfect balance between soft and firm. The pillows are also oversized and on the firmer side which is a welcome change from often flimsy hotel pillows.
The ceiling of the living area is tented and meant to look like a traditional Bedouin-style dwelling. The climate control in the villa was good and the air conditioning worked well – an important feature in the middle of the desert!
While the interior of the villa is spacious and comfortable, it's the view that truly steals the show. Each villa has a spacious deck off the back of the main living space equipped with two pool loungers and an expansive view of the desert! There is also a small table with two chairs for outdoor room service.

The plunge pool itself is quite large and has enough space to swim a little. My favorite part of the pool was that it's temperature controlled! The resort had it set to around 80 degrees and said if we wanted to change it to cooler all we had to do was call the front desk.
January is winter in Dubai and daytime temperatures were in the mid-70's with nighttime temps dipping into the low 60's. The warm pool made night-time dips possible. I just loved this feature. Here's a shot looking back at the pool and villa.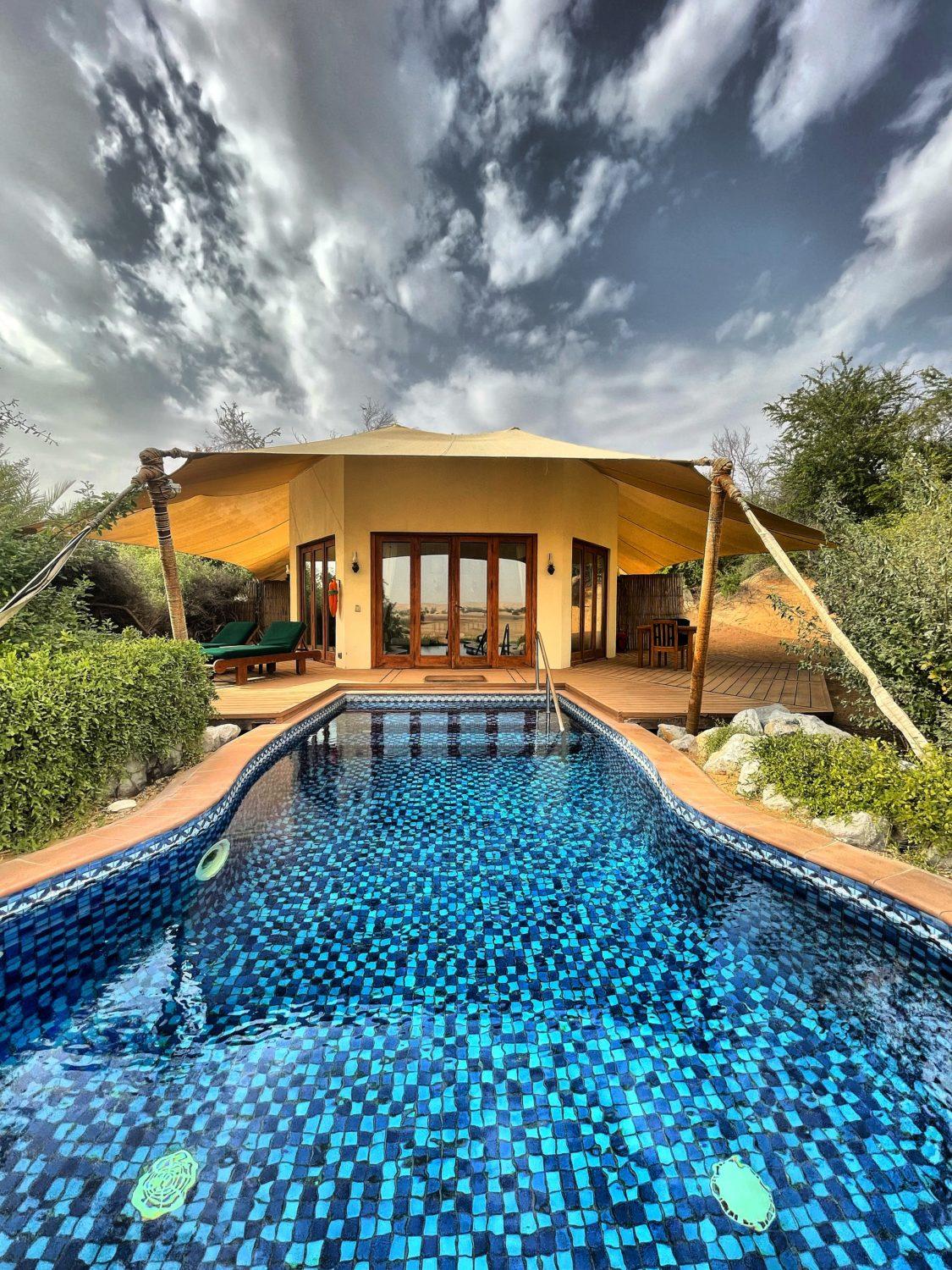 I spent a lot of time on the pool deck looking out over the desert and taking in the view. The desert is foggy at sunrise – I recommend waking up early enough to see it!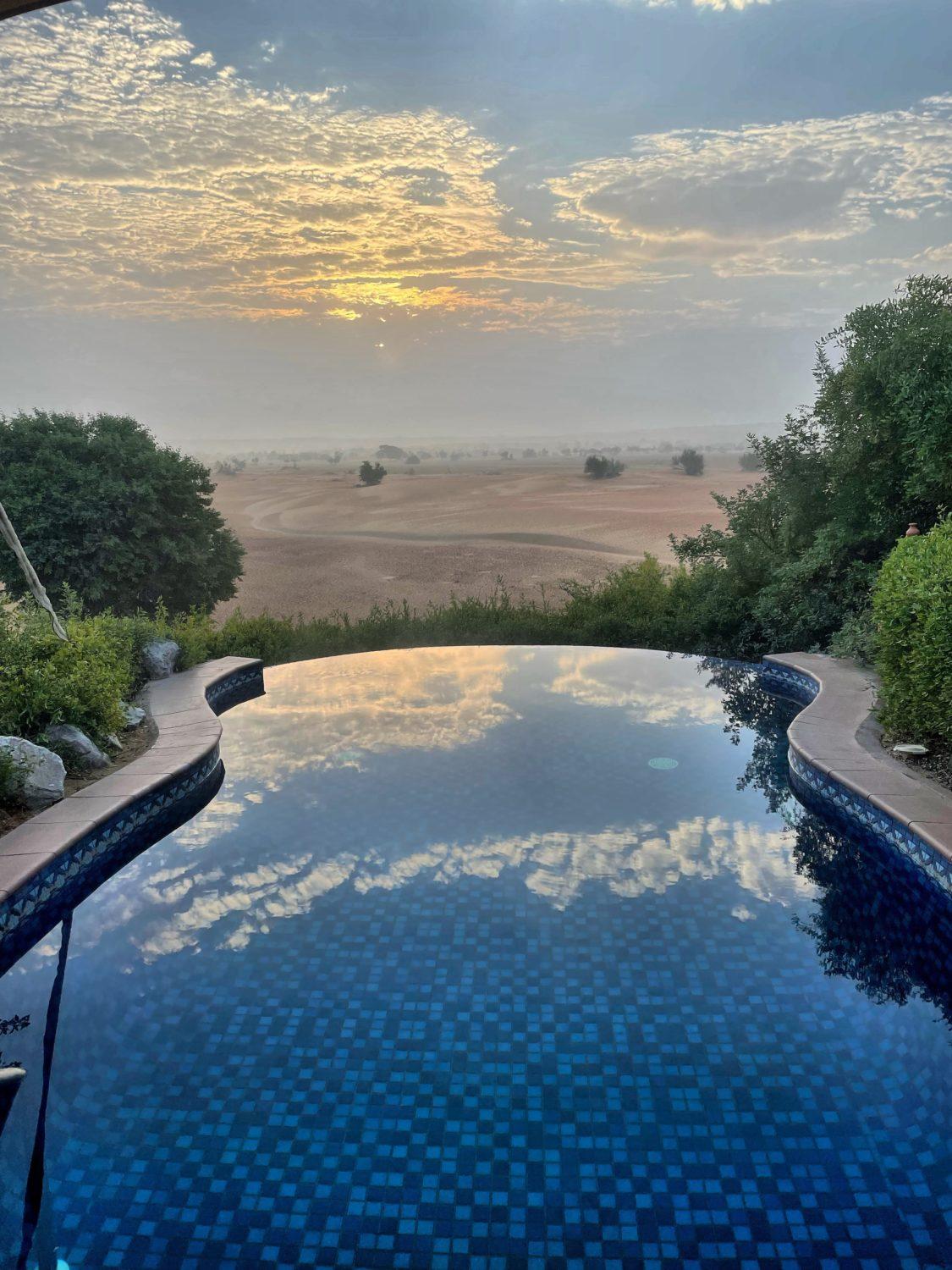 The Wi-Fi was spectacular in the villas, with wireless internet coverage extending through the rest of the resort, too. Overall, the villas at Al Maha are spacious, comfortable, and have views that are second to none.
Facilities and Amenities at Al Maha
Most of the allure of Al Maha lies in the private pool villas and included desert activities. In my opinion, the rest of the resort infrastructure is pretty bare bones. But that's not a bad thing.
There is a gym, sauna, and spa attached to the public pool area. Spa services cost extra and while I didn't make use of this during my stay, it seemed others were: The sauna was in use every time I stopped by, so I never got a look inside at the actual facilities.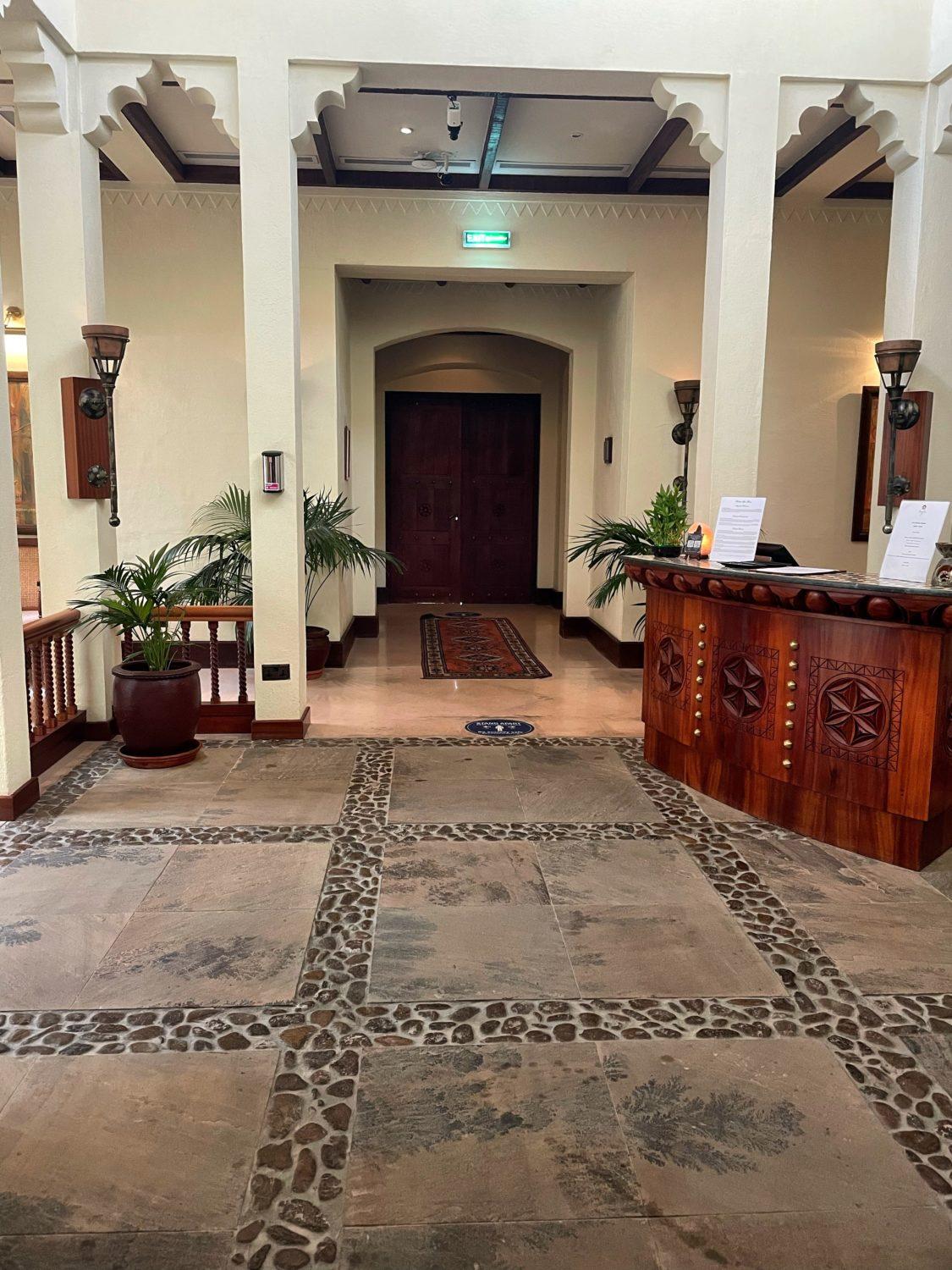 The gym was also simple but more than adequate, with a few cardio machines and weights, too.

The resort also has a public pool area with a number of loungers and a sitting area. This whole area seemed pretty quiet for the duration of my stay, even though the resort said they were at 90% capacity. Clearly everyone else was content with their private villas, too!

I am guessing that like me, others opted to enjoy their private pools. Outside of using the gym or possibly booking a spa service, these amenities seem more like formalities than practicalities.
In the main lobby area, there is also a bar called Hajar Terrace Bar. There are a few seats indoors as well as on a deck overlooking the desert.

In addition to alcoholic beverages available for purchase, the bar is also set up with a self-service tea and coffee machine. I used the machine on more than one occasion. I wouldn't recommend the cappuccino but the assortment of teas is spectacular. The terrace bar is the perfect place to unwind after some desert activities!
Daily Activities at Al Maha
Stays at Al Maha include two activities per day. A guide went over each activity in detail at check-in, and there was also an activities menu in the villa. Horseback riding and the desert drive have a surcharge of 270 AED (~$75 USD) per person.
I was super excited to choose activities and did so at check-in. I went with the camel trek, the desert drive, wild life drive, and falconry. Activities with surcharges do not count against the complimentary number of activities, but I ran out of time to try any more!
You can click the image below for a closer look.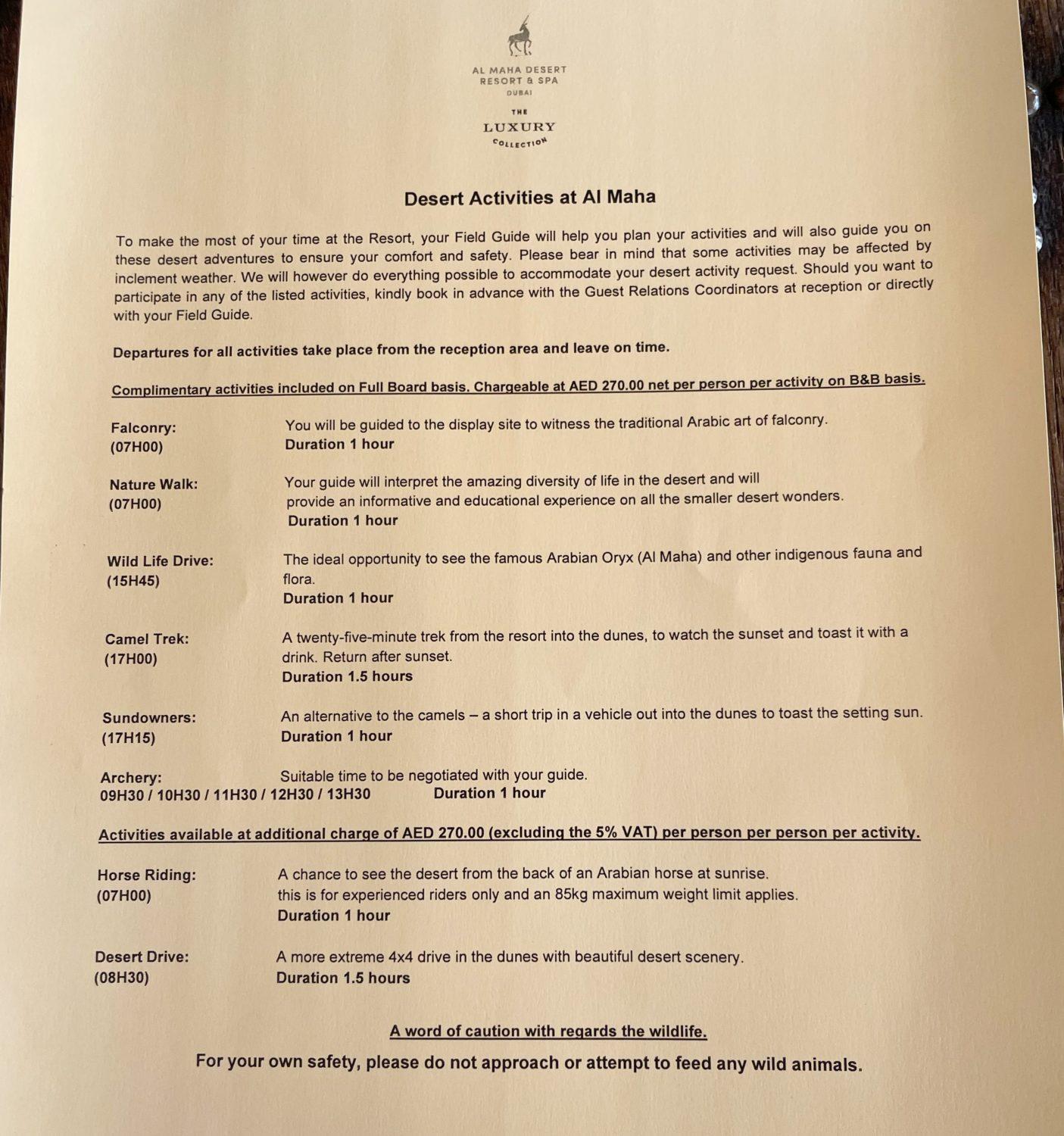 The camel trek is an evening activity that kicks off with a 20 minute camel ride about a mile into the desert. I thought riding the camels was much like a horse but taller and a bit bumpier. When we arrived at the designated spot in the desert, the group disembarked and was treated to complimentary wine and dates.
Guests took photos while the sun set and enjoyed the view. After about 20 minutes, you ride the camels back to the resort. If camels aren't your thing, you can get the same wine and sunset experience with the Sundowners activity. I personally loved the camel ride but 20 minutes each way was plenty – I didn't feel like I needed more.

The next morning, we woke up early to meet in the lobby for the Desert Drive, one of the two activities with a surcharge.
I was a little anxious about this activity because I get motion sickness easily. I would recommend Dramamine if you are prone to motion sickness. I took some and felt just fine, but there was a guest in another vehicle that ended up feeling ill.
The drive takes place in the resort's Land Cruisers with a maximum of four people per vehicle. We rode with our guide, Liam, who we got to know throughout the stay.

The drive takes about 90 minutes and actually leaves the conservation reserve. Once off the reserve, the guides drive the Land Cruisers up and down the sand dunes. It was an exciting drive!

After we had our fill of some dune bashing, we stopped for a bit on top of a very tall dune. It was the first time I got to see an expansive desert with dunes as far as the eye can see. This experience made the desert drive my favorite activity at Al Maha.
I would definitely recommend spending the extra money for it. It felt very exclusive: You get to see the desert in a way not many people get to.

Later in the day, Liam met up with us again for the wildlife drive. We hopped in the Land Cruiser again and took a spin around the conservation reserve looking for wildlife.
Liam was very knowledgeable and explained a lot about the history of the reserve as well as the wildlife. Eventually, we found some oryx. As we looked at the animals, Liam explained that Maha is Arabic for oryx.
If you are a bit shy about the dune bashing, the wildlife drive is a tame alternative that still let's you see some of the desert!

The last activity I tried was falconry. It took place early in the morning since the birds can't be out in the heat. I am not a morning person, so this was strike one for this activity.
But I'm glad I woke up for it because it was interesting to learn about the history of falconry and why it's important to Bedouin culture. The staff flies a couple different kinds of falcons and explains how the birds have been historically used for hunting.

At the end, they showcase an owl and allow guests a little time to interact with the birds. This was an interesting activity to round out the selections, although I also wish there would have been time to try archery!
Food and Beverage at Al Maha
All of the desert activities really help one work up an appetite. Fortunately, the food and beverage service is another area that truly shines at Al Maha.
Even though the resort only has one restaurant, Al Diwaan, the food far surpasses anything you would ever expect from an all-inclusive.Al Diwaan has indoor and outdoor seating. I would recommend outdoor seating for dinner and indoor for lunch as the flies can be quite bothersome during the daytime.

I had breakfast in the villa one day and at the restaurant the next. Both were delicious but I preferred breakfast in the villa. Room service was prompt and came within about 20 minutes of ordering.
Breakfast is a mix of American and Arabic flavors with a variety of omelettes, egg benedicts, and shakshuka. If you're feeling fancy and extra hungry, there's even a petite filet mignon on the breakfast menu.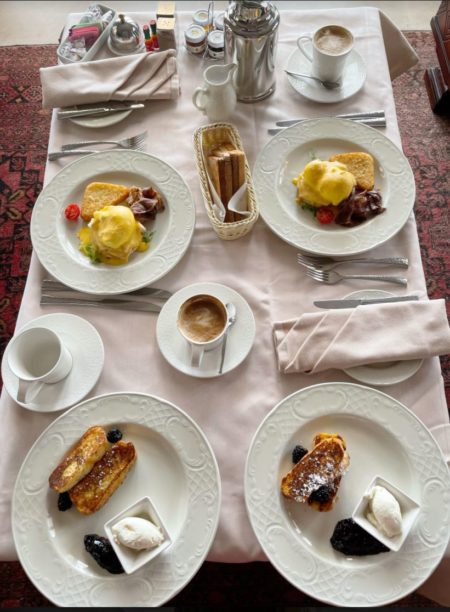 Lunch is served as a three course meal. I cannot stress this enough: You must go light on lunch if you want to survive three meals a day at Al Maha.
Instead of getting our own three course lunches, my travel partner and I shared an appetizer and dessert and got our own entrees. And still, it was almost enough to induce a food coma. Entree options include a beef filet, lamb chops, corn fed chicken, and jumbo prawns. The prawns were my favorite, as they were very fresh and tender!
Pro tip for lunch: the resort will offer it even on the day you check out. Although you have to be out of the villa by noon, sticking around for lunch is the way to go. Keep your plans flexible to be able to take advantage of it.

If you haven't had enough food by dinner, get ready for another five courses – yes, five. Dinner at Al Maha is five courses but only if you eat at Al Diwaan. If you opt for room service, the lunch menu applies.
The resort openly recommends coming to Al Diwaan for dinner and for good reason. It was one of the highlights of the stay. Be aware that a smart casual dress code applies for dinner, so pants and collared shirts are required for men. Ladies would do well to wear a casual evening dress.
Dinner starts with an amuse-bouche, followed by an appetizer of choice. I had pan fried octopus and my travel partner had scallops tempura with beluga caviar. Both were excellent.

Entree choices included a variety of proteins such as lamb shank, salmon, beef biryani, and a vegetarian option. However, the beef fillet with truffles and foie gras sauce really stole the show on the menu.
It was as divine as I hoped. I didn't expect one of the best steaks I've had to come from an all-inclusive resort, but here we are.

Dinner service concluded with a palate cleanser and dessert. We were again so full from all the food that we split a dessert instead of getting our own. The only thing left to do was to fall into a steak-induced slumber back in the villa's oversized king sized bed.
Al Maha Service
The service at Al Maha is both unpretentious and unobtrusive. It accomplishes both while still being incredibly attentive to guests' needs. Small touches abound that enhance the experience even more.
A welcome gift of fruit, Arabic sweets, dates, and nuts had already been placed in the villa before our arrival.

Throughout the stay, it was clear the staff made an effort to remember our names and activity schedule. Room cleaning and turn down service took place while we were out at our scheduled activities. This made service absolutely seamless and we never got interrupted while spending time relaxing in the villa.

Al Maha During COVID-19
Al Maha makes a perfect socially distanced escape in the midst of the ongoing COVID-19 pandemic. It doesn't get much better than outdoor activities, plenty of open space, and private villas to relax in.
Masks are required indoors and outdoors in Dubai unless you are alone or seated at a dining establishment. This was really the only noticeable difference from a "normal" experience at the resort. Facilities were clean and sanitizer was readily available in public spaces. Everything seemed to be business as usual.

How to Earn Marriott Points
You don't have to wait until you've stayed at tons of Marriott properties to book your stay at Al Maha.
Marriott points can easily be earned in a number of ways. First, Marriott has co-branded credit card relationships with both American Express and Chase.
The Marriott Bonvoy Brilliant™ American Express Card is a great place to start. On top of a big welcome offer bonus, you'll get a $300 statement credit to use towards Marriott purchases each and every year, a free night award certificate each year, and many other benefits.

Click Here to learn more about the Marriott Bonvoy Brilliant™ American Express Card.

Then there is the Marriott Bonvoy Boundless® Credit Card issued by Chase. You won't get nearly as many benefits as you'll get with the Amex Bonvoy Brilliant card, but the annual fee is only $95 each year.

Click Here to learn more about the Marriott Bonvoy Boundless® Credit Card. 

Finally, both American Express Membership Rewards and Chase Ultimate Rewards transfer to the Marriott Bonvoy program at a 1:1 ratio. That means one credit card point is equal to 1 Marriott point.
If you can time it right, Amex occasionally runs transfer bonuses of up to 30%. I used a 30% transfer bonus last year to top off my Bonvoy balance in order to make this redemption.
Read more: The Master List of Credit Card Transfer Partners 

Bottom Line
Al Maha, a Luxury Collection Desert Resort and Spa is one of the world's unique properties. With its all-inclusive service model, it might just be one of the best values in the points and miles world.
It was well worth the amount of points I spent. In fact, I'd do it all over again. That is, at least until Marriott changes their award chart. If you're sitting on some Marriott points or have had your eye on Al Maha, now is the time to consider locking in your stay.
Lead photo courtesy of Marriott