Staying connected while traveling is a necessity these days, whether you need to monitor work or just need data to navigate a new place.
Major cell phone providers each have their own offerings to stay connected abroad. We think Google Fi service stands far above every carrier for international phone and data service. It's the cheapest, easiest, and most effective international phone plan, period. It offers coverage in 200-plus countries, almost always with lightning-fast speeds.
Google Fi has rolled out new enhancements like beta service for iPhones and a new, unlimited data plan – in addition to the pay-as-you-go international data model. It can easily be the best cell phone plan for travelers, whether you make it your main cell phone carrier or just turn it on and off while traveling.
Here's why Google Fi is the best option.
How It Works
It's safe to say that Google Fi isn't quite like other cell phone service providers.
Rather than running its own network of cell phone towers, Google Fi piggybacks on the networks of T-Mobile, Sprint, and U.S. Cellular in the U.S. to keep you connected at home. The result is 4G connectivity in most major U.S. cities, and a 3G connection across much of the country. There are just a few pockets where domestic service is weak, including much of Alaska.
It also offers coverage in more than 200 countries or territories and counting. Check out the full list of countries, and you'll see that every major destination (and many of the smaller, less-touristed spots) is covered, from Albania to Zambia.
Very few countries don't make the list: Cuba, Lebanon, Iran, and Syria won't have coverage, nor will many small island nations in the South Pacific and many East African countries like Somalia, Ethiopia, and Eritrea.
Safe to say, you'll likely have coverage no matter where you're heading. And it will almost always be at blazing fast 4G speeds, which means you can also easily use your phone as a hotspot to connect via laptop when you need it.
But that's only half the equation. Google Fi is great on your wallet, too.
How Much It Costs
Unlike traditional cell phone carriers that levy big charges for international service, the prices don't change whether you're at home or abroad. 
And Google Fi now offers two plan pricing options:
An unlimited plan starting at $70/month with unlimited texting worldwide; unlimited calling in the U.S.; 22GB of high-speed data per month (slower speeds after 22GB of data usage); free international calling from the U.S. to 50 countries; calls worldwide for 20 cents per minute; free Wi-Fi calling worldwide
Pay-as-you-go starting at $20/month plus $10/gigabyte of data with unlimited texting worldwide; unlimited calling in the U.S.; free data after using 6GB each month (capping your monthly bill at $80 maximum); calls worldwide for 20 cents per minute; free Wi-Fi calling worldwide.
Here's a look at the monthly cost breakdowns between the two Google Fi plans for one cell phone line. Keep in mind those per-line rates will drop as you add more lines to your plan.
We think these two plan options give Google Fi some unbeatable flexibility to suit travelers' needs. Want high-speed service at home and while traveling without having to think about it? The Unlimited plan is probably right for you. It's roughly the same as what you'd pay with any major carrier – but will keep you connected no matter where you travel without paying a penny more.
Looking for a service just to take with on your travels while keeping your favorite phone and provider at home? The flexible plan could easily make sense depending on how much you travel.
And there's one unsung benefit that makes it even more compelling.
Pause Your Service When You Don't Need It
That's right. You can pause your service when you don't need it – and not pay a dime to do so.
This is one of the most generous policies you'll find among cell phone providers. If you only want Google Fi when traveling, this ability to pause your service in three-month spans is unbeatable.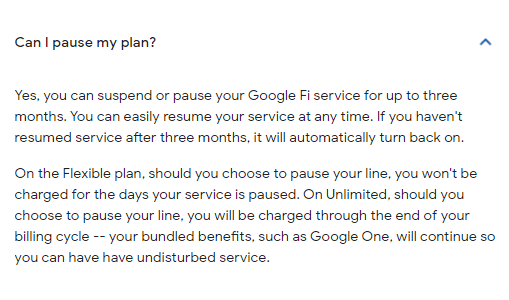 Google allows you to pause your service for up to three months at a time – but you can continually go back to extend the pause as needed. Or log back in and resume your service earlier. And Google doesn't explicitly cap how often you can pause Fi service.
Pausing your account is as simple as logging in online or via its smartphone app. It will automatically resume when your three-month pause lapses, but you can choose to re-pause the account.
Great Phones … with Amazing Photos
Maybe you're a diehard Apple fan who will be buried with your iPhone. That's OK, you're not alone.
And thanks to some recent strides in Google Fi's service, it's not a dealbreaker. Almost any iPhone (iPhone SE and up) can be moved over, though there are still plenty of bugs to work out as it's still in a beta period. Your iPhone on the Fi network won't have Wi-Fi calling, access to your usual visual voicemail, and texting non-iPhone devices will take some extra setup.
Safe to say you're probably better off sticking with a phone designed for Fi. And Google's Pixel phones are worth a second look if you ask us. The interface may feel foreign at first, but it's straightforward and easy to use.
But whether you go for the entry-level Google Pixel 3a or the Pixel 4 or Pixel 4XL, one thing is for sure: You can take some killer photos. While the iPhone 11 Pro piles on accolades, we still think that for the money, the Pixel takes some of the best photos with little help or editing.
Here's an unaltered shot from the Imperial Palace in Tokyo, Japan.
And another of Muscat, Oman using the Pixel's outstanding "Night Sight" mode.
Why bring another camera when you can slip a Pixel in your pocket? We think these photos are that good – for all but the professionals out there, it should make your camera irrelevant.
You can pick up these phones for fairly cheap, either as part of a monthly installment or paying upfront. At the time of publication, the Pixel 3a is currently just $299 when you activate your Google Fi service within 30 days of purchase. Or pick up the Pixel 4 and 4 XL starting at $799, and 50% of the purchase price back in a Google Fi service credit.
But hold tight, these phones go on sale many times a year including Black Friday and Cyber Monday.
Bottom Line
Whether you want an everyday phone that keeps you connected abroad or a travel-only phone, we think Google Fi is far and away the best option. While the hiccups with using iPhones aren't quite smoothed out yet, the price, convenience, and speed of Google Fi easily beats other major carriers' international plans.
Sold on Google Fi? Use our referral code for $20 off your first monthly bill!