Sometimes, flights and schedules don't work out. Maybe you've got a long layover and want to pop into the city to explore. Or perhaps you've got to check out of your hotel hours before your flight home. If only you could lock up your bag somewhere so you don't have to lug it around.
Bounce Bag and Luggage storage is aiming to solve that problem by providing locations around a growing list of U.S. cities to store your luggage for a small fee. Simply find the location nearest you, book space, drop off your belongings and you will be on your way.
Where is Bounce Available?
When Bounce first launched, it was only available in a handful of cities. But that list has steadily grown – it's now available in the eight U.S. cities listed below:
New York City
San Francisco
Boston
Washington, D.C.
Berkeley, California
Austin, Texas
Chicago
Los Angeles
The service works with businesses across each city to provide contracted luggage storage. So odds are that there will be a location near you to drop off your bag.
Unfortunately, Bounce is not currently available in any cities outside of the U.S.
How Bounce Works
Once you've decided you need to store your luggage during your next trip, simply visit the bounce website or mobile app to find the location nearest you.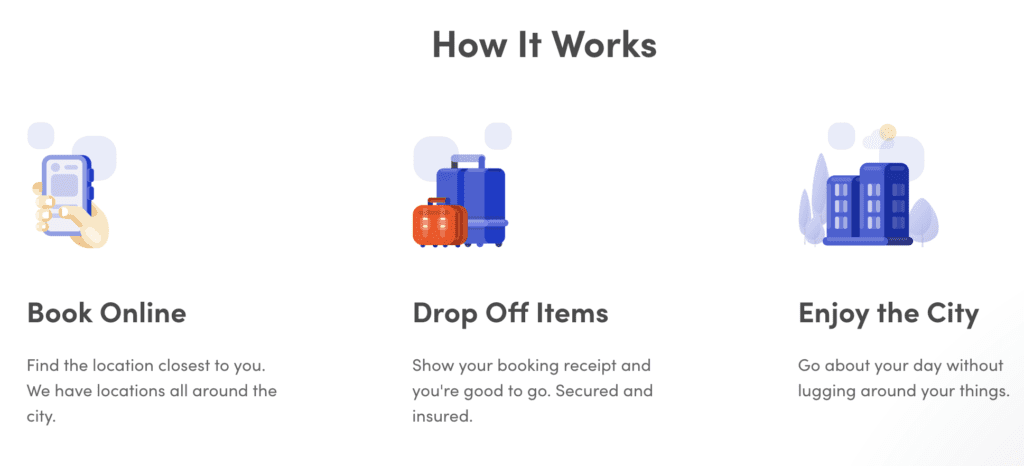 From here, you simply select your check-in and out date and time and drop off locations with baggage space available will appear. The cost for each bag is $5.90 for a day and each bag will be insured for up to $5,000 in value.
Once you have decided on a storage location, you can see the location's available hours and finish your reservation. Upon arrival, simply show the attendant your booking receipt, drop off your luggage and go explore the city.
Is There a Mobile App?
The Bounce: Bag Storage Everywhere app is available on both the Apple App Store and Google Play. You can make a reservation by using the app or on the full desktop website.
Do Larger Bags Cost More?
The size of the bag will not increase the price of your storage. Each bag will cost $5.90 per day.
Their general rule of thumb is "if one person can pick it up, we will take it!" However, if you have questions about your specific item, you can reach out to [email protected].
To read more about their frequently asked questions, visit their website.
Our Analysis
I haven't yet used the Bounce luggage storage service myself, but it's certainly intriguing. I can't even count the number of times I have arrived at my final destination hours before my Airbnb or hotel check-in time and didn't have a good option for my luggage.
I really hope the service catches on and we see it make its way to Europe, Asia, and beyond. I think $5.90 per bag is an incredibly reasonable price that many people would be willing to pay for the convenience of not lugging their bags around.
Bottom Line
While the problem isn't critical, not having a place to keep your bags can sometimes be a nuisance during your travels. Bounce is aiming to fix that with their luggage storage service and I am excited to try it out on my next visit to one of the cities currently offering the service.