The Alaska Lounge Seattle is their flagship lounge for good reason.
As you walk into this mezzanine-level lounge with sweeping window views, it's hard to think of a better-styled lounge. From the wrap-around fireplace seating to the lounge chairs along the windows, there's no shortage of seating or style here. While the food is far from the best you'll find in an airport lounge, fresh-made pancakes and mini-Starbucks with barista-made coffees make up for its shortcomings.
If you're flying out of Seattle (SEA), you've got plenty of lounge options to pick from. But the Alaska Airlines flagship lounge is absolutely worth a visit.
How to Get into the Alaska Lounge Seattle
Alaska's flagship lounge in Seattle is one of three total Alaska lounges in the Seattle-Tacoma airport. One Alaska lounge is on Concourse C; the other on Concourse D. But this one, in the North Satellite area above the N Gates, is the one you don't want to miss.
The flagship lounge is located on the mezzanine level above gates N13-18 in the North Satellite. This lounge is open daily from 6 a.m. to 10 p.m. Just take the stairs or elevator in the middle of the walkway up to the second floor, and walk across to the lounge entrance.
You can't just waltz into an Alaska Lounge. But luckily, it's gotten much easier in recent months.
Several Alaska lounges across the country rejoined Priority Pass, the vast network of 1,000-plus airport lounges that you can access with the right credit card. It's no sure thing that Alaska Lounges like this one will remain part of Priority Pass for long – these lounges have come and gone over the years, and just a handful are still accessible today, including the North Satellite location at SEA. And even when it is on the list, Alaska Lounge employees may turn away Priority Pass members at busy times.
A handful of credit cards come with Priority Pass access, and few are better than The Platinum Card® from American Express when it comes to lounge access. This card will get you (and two guests) into Priorty Pass Lounges, all 14 Amex Centurion lounges, Delta Sky Clubs if you're flying Delta that day, Escape Lounges, and more.
Read our full review of the Amex Platinum Card.
Don't have Priority Pass? If you're dying to see this lounge, you can purchase a day pass for $50.
Walk down the hall on the left side and show your boarding pass and Priority Pass card or other entry materials to the staff at the welcome desk. Then, in you go!
Layout & Amenities
Photos can hardly do this space justice. The Alaska Lounge Seattle is truly phenomenal.
As you walk into the Alaska flagship lounge, you'll be greeted with the lounge's statement piece: a large fireplace with a wall of windows in the background.
Seating of multiple shapes, sizes, and textures wrap their way around the fireplace, offering a front-row seat for anyone who wants it.
I visited in the summer, so the entire lounge was fairly empty. I had my pick of seating.
In fact, this area of the lounge was pretty empty overall. Most travelers had opted for the tall, comfortable seats even closer to the windows. Nearly every seating option had access to a charging outlet and table.
This lounge is just two years old and has been kept in pristine condition.
The ceiling details give the space a warm, moody vibe that pairs well with the cloudy, mountainous, and oftentimes rainy window view.
Head to the left of the entrance, and you'll find an alcove with cushioned, private seating complete with tray tables and charging ports on the armrests. This is a great spot for traveling groups or families to congregate.

But by far the most popular seating options were these lounger chairs along the back left-side wall. These loungers had a small table, lamp, and charging ports attached. We, too, went for these seats to kick our feet up and look out the windows.
To the right of the entrance is the food area, with a handful of larger restaurant-style tables for bigger groups to eat together. These were mostly empty, with most visitors heading for more comfortable seating.
Closer to the windows in the food area you'll high-top tables and lounge chairs looking out to the tarmac beyond.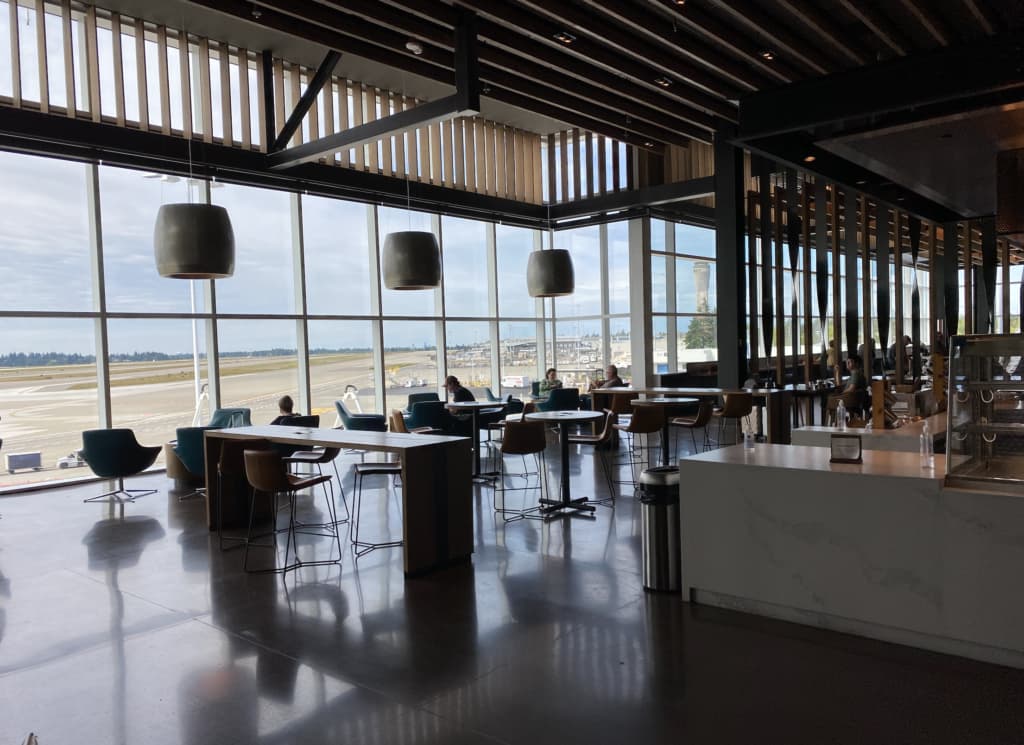 Further right is the bar. This area was less populated, except for the comfy chairs and nooks along the wall. There was plenty of high-top tables and barstool seating next to the bar.
The bathrooms were simple, clean, and fashionable.
Food & Drink
The food hub at the Alaska flagship lounge shares its space with a mini Starbucks setup, where you can grab a coffee, simple latte, or tea. No Pink drinks or fancy blended concoctions here, sorry.
The COVID-19 pandemic has led many airlines to scale back their food and drink offerings in lounges, and that was definitely the case here. You'll find some limited wrapped fruit options in the clear case on this side, but the rest of the food is around the other side.
The food selection was pretty limited and lackluster compared to the sweeping views and high-end decor. Food options on the day I visited were turkey wraps, a simple chicken salad, and packaged cheese cubes and crudité – all prepackaged, as has become the norm in many airline lounges these days.
Even though it was a warm summer day, I was more excited about the two soup options: a tomato bisque and wild rice soup. The soups are still served by staff during COVID-19. The staff serving soup and managing the food area were very kind and hospitable.
There were also a few name-brand packaged snacks, like Oreos and pretzels. While cutbacks were inevitable, the contrast between the high-end finishes of this flagship lounge and its rather lackluster food selection was still a bit disappointing.
And then there is…a pancake maker? These pancake makers are an Alaska Airlines signature touch in its lounges, which struck me as funny. It went mostly unused by visitors during my visit, though a few kids got a kick out of it.
There was an ample toppings bar next to it:
Beyond the food island, you'll find a self-serve soft drink and coffee station.
Continue to your right past the food and drink area to the bar room. This sprawling room had a whole wall of comfortable cubby-style seating, plus plenty of long bar tables in the middle and around the windowed walls.
There were no seats around the actual bar itself during my visit, which makes it easier to walk up and order.
They had a handful of beers on tap, plus a selection of spirits to pick from. To my surprise, they didn't have any specialty lounge cocktails so we had to get a bit creative with our orders.
There was a sign at the bar explicitly asking guests to not tip, which differed from some other lounges I've visited where tipping is highly encouraged. The bar service was quick and accommodating. The bar also had grab-and-go packages of bar snack mix, which was delicious!
Bottom Line
The flagship Alaska lounge at Seattle Airport (SEA) is truly a stunner.
It's all about the views at this lounge. Snag a lounger chair spot along the back windows, snap a photo of the fireplace, and pick up some pancakes and bubbly.
While the food and drink selection didn't quite match the luxury design style, we definitely didn't go hungry. And the look of this lounge is tough to beat.