Editor's note: We're republishing our review of flying Spirit Airlines from this fall to give readers a sense of what it's like flying budget airlines during the pandemic. This review was initially published in October 2020.
From mandatory masks to rigorous new cleaning procedures to limiting in-flight service, airlines have done a lot to make flying safer during the pandemic. Flying today is unrecognizable to what it was just a few months ago. But what about flying Spirit Airlines during COVID?
I've flown Spirit Airlines a handful of times, most recently just last year, so I know what to expect from this budget carrier: less legroom, small armrests, no free food or water. But that was before everything changed. I recently flew Spirit Airlines from Sacramento (SMF) to Las Vegas (LAS) to get back home after helping my brother move across the country – my first flight since the pandemic upended travel.

And while some of the changes Spirit has made in the name of safety were obvious – requiring masks, deep cleaning – I was shocked at just how little some other things had changed flying Spirit during coronavirus. 
Read on to see what I mean.
Booking
I booked my flight from Sacramento to Las Vegas about a month in advance … at the low, low price of $38 one-way.
The best bang for your buck with Spirit is going bare-bones and flying without a carry-on item or other add-ons. I still flew with just a carry-on this time, but when it came time for seat selection, I chose to purchase one.
Spirit isn't blocking middle seats during coronavirus, and I didn't want to get stuck in one. So I paid an extra $12 for an aisle seat in the front – at least then I'd be able to make a quick exit and only rub elbows with one stranger instead of two.

The booking process looked just like normal until I had completed my booking. On the confirmation page, there was a notice about Spirit's requirement for all travelers to wear face masks over the nose and mouth during travel.


I had prepared myself for what to expect from Spirit during coronavirus before my flight. Spirit has made these commitments to safety:
Face Masks: All travelers 2 years and older are required to wear a face mask over their nose and mouth throughout the flight. No medical exceptions are allowed.
Check-In: Spirit now requires travelers to certify they will wear a mask and have not experienced any COVID-19 symptoms.
Cleaning: Spirit says it cleans planes between every flight with new, stronger disinfectants. Read more on Spirit's cleaning procedures.
Boarding: Little has changed with Spirit's boarding process, though the airline says it will encourage social distancing as passengers get on the plane.
I was curious to see how this would play out in practice.
Check-In
Despite checking in through the Spirit app (to avoid the fee Spirit charges for printing boarding passes at the airport), I stopped by the check-in gate on my way in to see what things were like.
Sacramento Airport (SMF) had 6-foot social distancing markers on the floor for each check-in station and reminders to social distance on the screens above each airline check-in counter. The airport also provided Purell stations around the check-in areas as well as plexiglass across all counters.
While some neighboring check-in counters for other airlines had extra signage about their safety measures, face mask requirements, and other new COVID-19 procedures, the Spirit check-in area did not.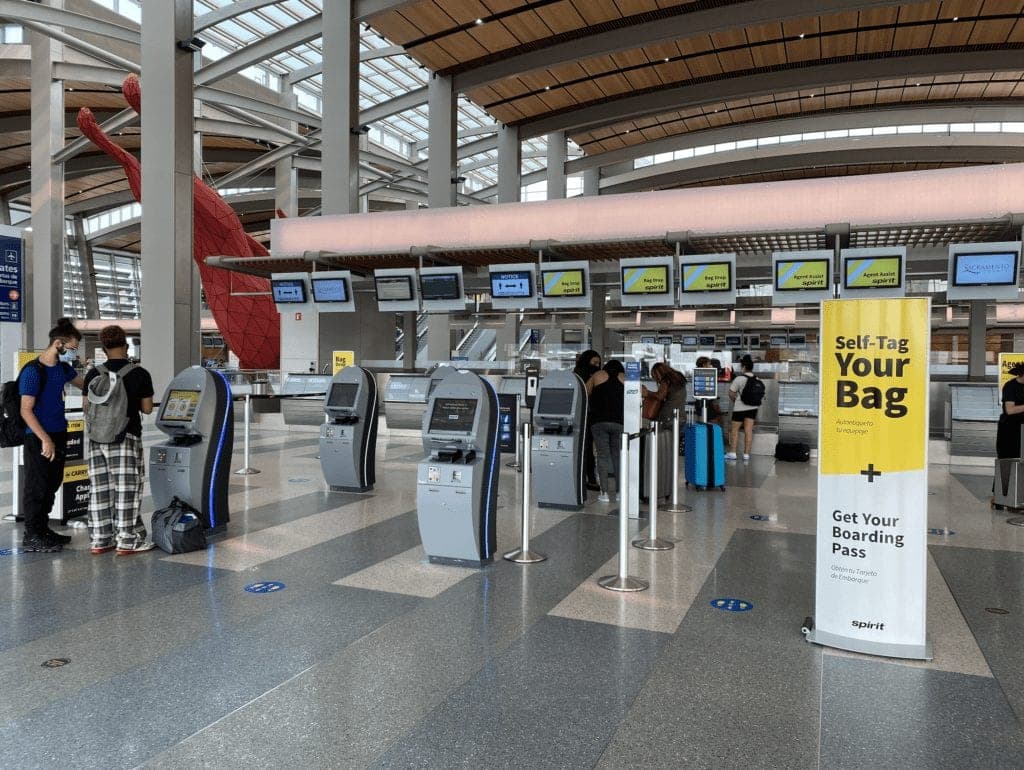 There was one Spirit-branded hand sanitizer station in the check-in area, but other than that, there was no signage about safety protocol or face mask requirements – only the usual signage about checking to make sure your personal item isn't too big – or you'd better pay for your bags – flanked the check-in area.
Over at the Southwest check-in area, the changes were much more apparent.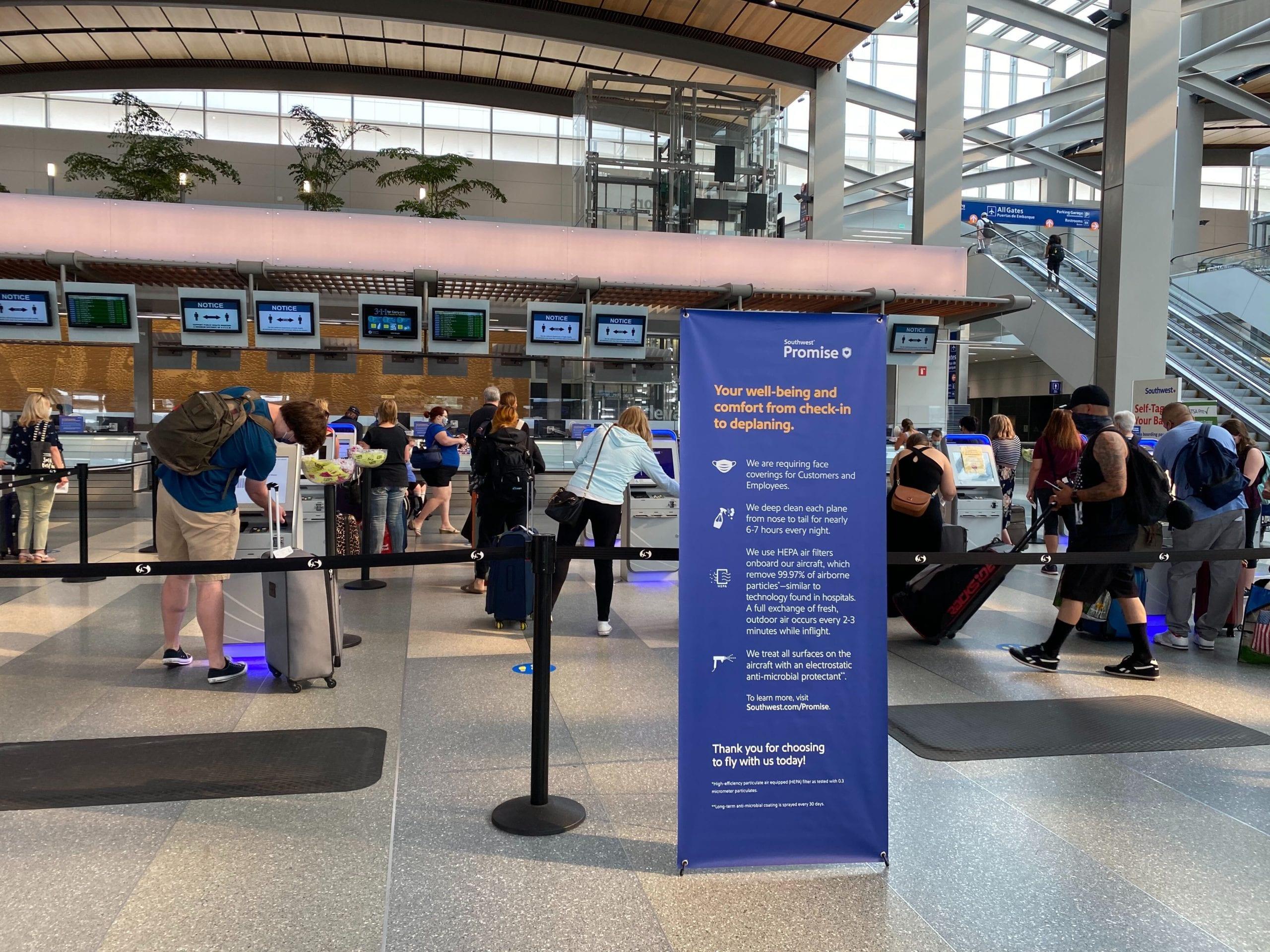 Among the check-in gate attendants for Spirit, mask usage varied. One attendant wore a face mask and face shield. Another wore her mask below her nose. And yet another sat with her face mask under her chin behind the check-in counter.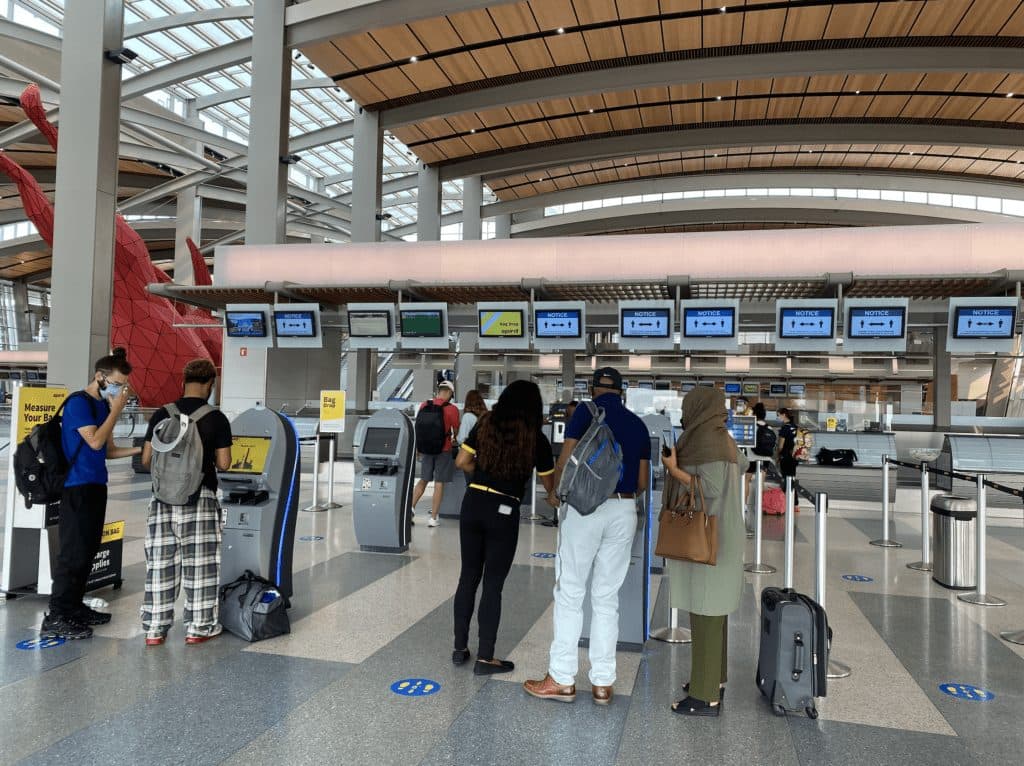 At the Gate and Boarding
After clearing security and arriving at my gate, many of my fellow Spirit flyers had shed their masks completely while seated – far more than those who remained masks. As I waited to board, Spirit agents never once reminded travelers about social distancing or mask requirements at the gate.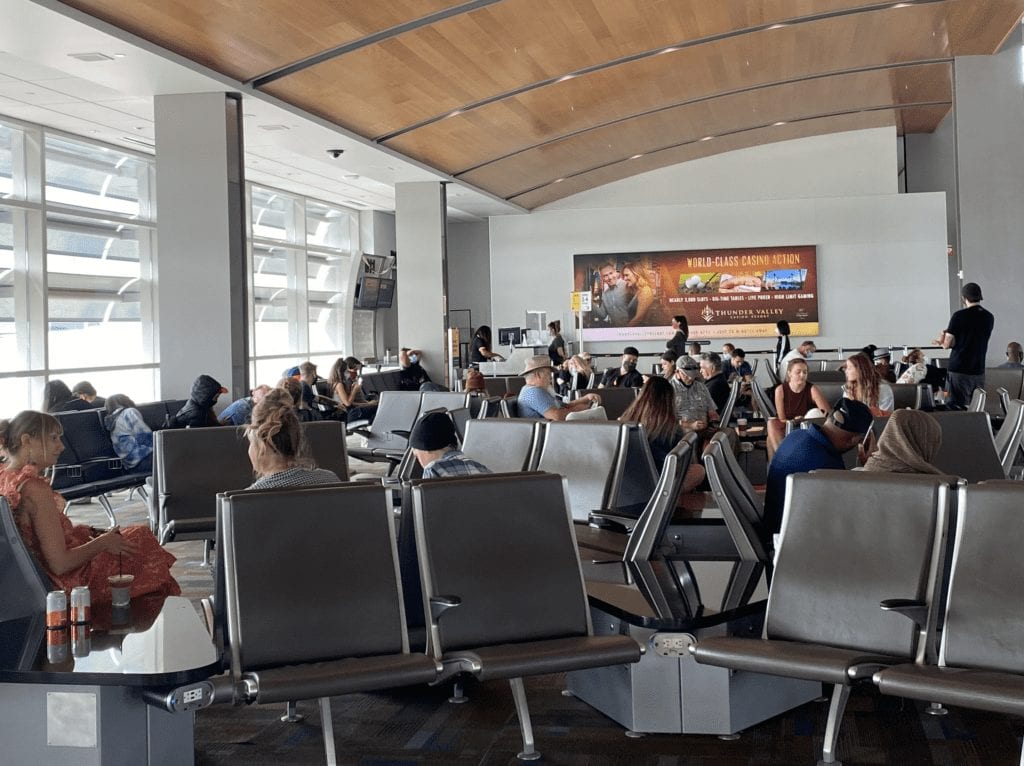 A Southwest flight began boarding shortly before our flight in a neighboring gate, and I couldn't help but notice the differences again.
The Southwest gate agent announced that masks are mandatory at all times in the airport, which types of masks are not allowed in flight, and that they offer free masks if anyone needs one.
During boarding for our Spirit flight, however, there were no announcements related to COVID-19 safety measures, no call to wear a mask, and no reminders to socially distance while boarding. The zone-based boarding process hasn't changed. And boarding looked much the same as it did pre-pandemic – except for the masks, of course.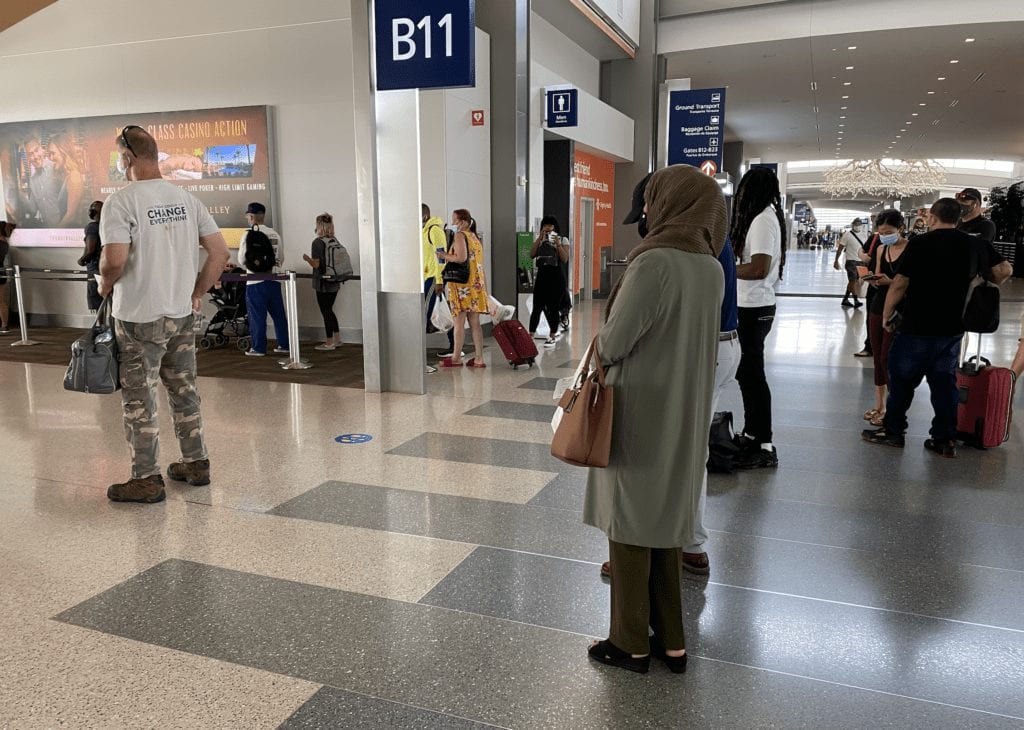 Just as before the pandemic, everyone sprung up to jump in line as soon as the first zone began boarding. Once again, there were no reminders to stay six feet apart. And the line wrapped around the walkway and spanned a few gates.

One man boarded the flight without a face mask, and the flight attendants stopped him at the door. They asked if he had one, and he did not. They handed him a face mask and told him that he would need to pay for the mask at the end of the flight.
Before Takeoff
As we boarded and got settled in our seats, I realized that we had a nearly-full plane to Las Vegas. On my flight, nearly all travelers were wearing a mask – though some had their masks under their nose.
It has been six months since I've been within six feet of even some of my closest friends, so rubbing elbows with a complete stranger heading to Vegas was a whole different kind of pandemic panic. The small Spirit seats and tiny armrests seemed even smaller in a time when "social distance" is ingrained into our brains.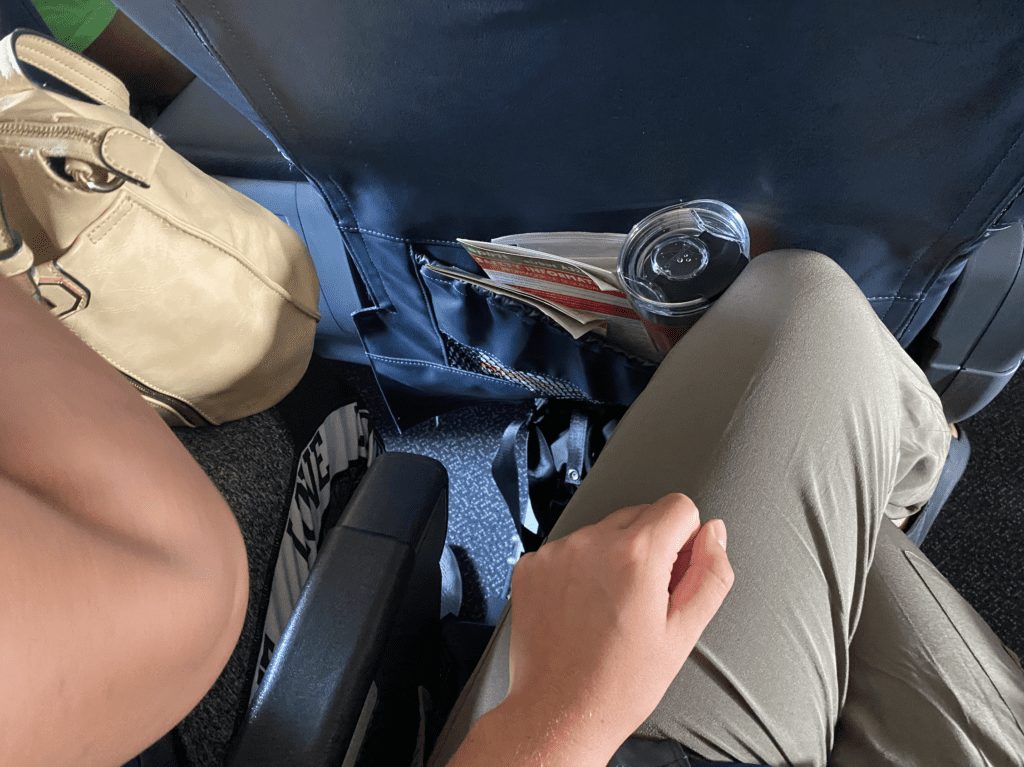 Noting the nearly full flight, a flight attendant announced we should stay in our assigned seats until takeoff. But he offered that anyone could move to any seat they'd like (besides the exit row) once we were in the air. Like most budget airlines, Spirit is not blocking middle seats during the pandemic.
While backing out from the gate, a flight attendant again came overhead to remind passengers that masks are required at all times, and to slide them back on after eating or drinking. And they also touched on some of the safety features onboard: noting that air vents circulate the air every 2-3 minutes and new cleaning procedures for high-use areas.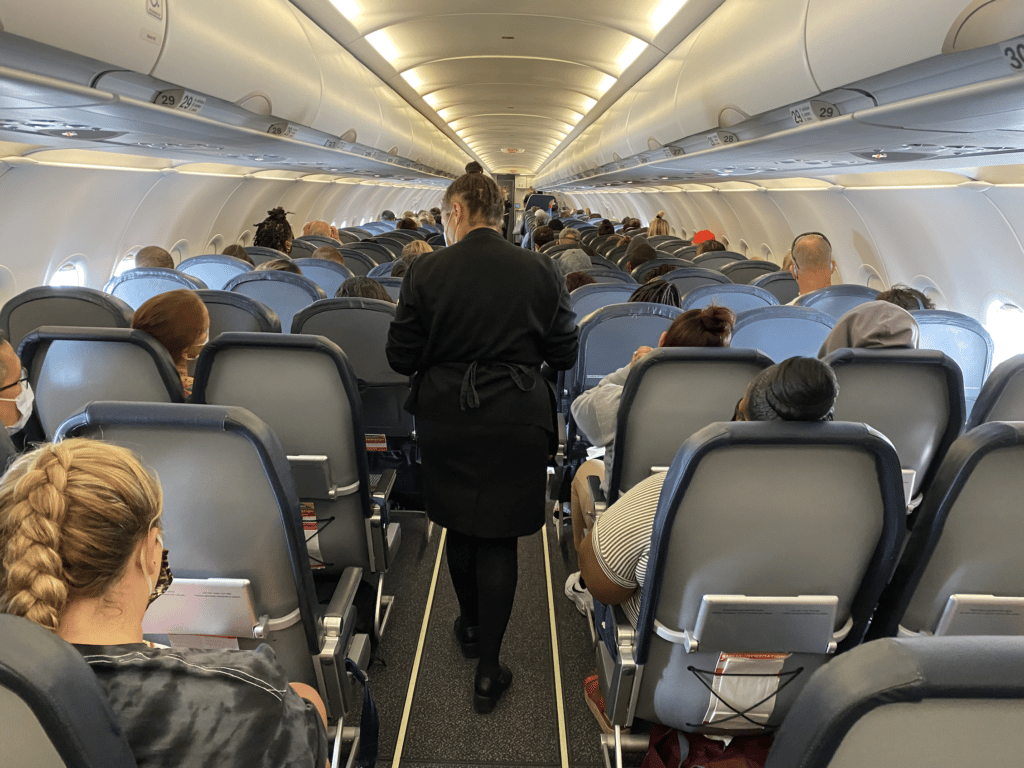 As we prepared for takeoff, a flight attendant approached a traveler sitting in one of the Big Front Seats who was wearing his mask around his chin while listening to music on his phone (without headphones). After two reminders from the flight attendant, he slid his mask up – but under his nose. The flight attendant came overhead with a targeted announcement: All travelers must wear a face mask properly, and listen to music with headphones at a reasonable volume.
Nothing changed.
Spirit says it has banned hundreds of travelers and counting for failing to wear a mask properly during the pandemic.
In-Flight with Spirit Airlines During COVID-19
If you've flown Spirit before, you know it's a bare-bones experience: if you want a snack or even water, you'll have to purchase it.
Some airlines have reduced in-flight drink and snack service, or eliminated it entirely. On Spirit, seat-back menus have been removed but flight attendants were still selling drinks, alcohol, and snacks inflight. Many aisles ordered something to enjoy without a mask.
Attendants were wearing gloves to serve the food. They handled credit cards, as there did not appear to be a contactless payment option.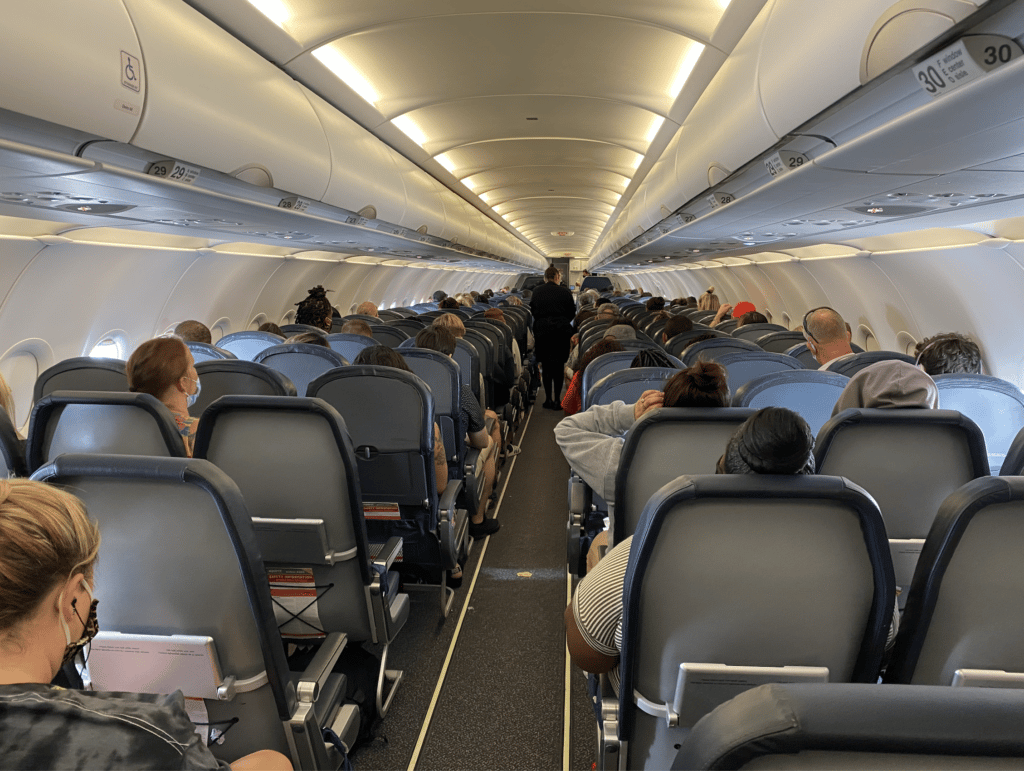 One of the hallmarks of flying Spirit is their light-heartedness – flight attendants joke around and try to have some fun during the flight. Throughout this flight, flight attendants gave out "knucks" and patted travelers on the shoulder while joking around. When I didn't hear a flight attendant's joke in the galley, she removed her mask to repeat it.
It seemed … misplaced. These moments of mask-free interactions and physical contact gave me the impression that Spirit itself isn't taking their own safety protocols seriously.

As in pre-COVID times, they did the "Lucky Seat" announcement: someone in a middle seat on the flight gets 5,000 Spirit miles. They then asked who could guess the original colors of Spirit planes and how many seats are on the flight for 1,000 miles – travelers pressed the call button to win the miles if correct. Attendants use this fun to introduce the Spirit credit card, and once again walked up and down the aisle to hand out paper applications and pens.
But perhaps the most memorable activity during this flight was inflight yoga. Attendants instructed everyone to stretch out, up above, and then left and right … over their neighbors. They also asked travelers to stretch down to pick up garbage to hand to flight attendants.

Before COVID-19, I would have gotten a kick out of this activity. But during a global pandemic when personal space is top of mind, asking strangers to reach across each other in already tight quarters felt to me like a missed opportunity to make travelers feel safer.
Deplaning
This was just a short one-hour flight, and I have to admit I was pretty thankful for that.
When it came time to deplane, everyone stood up and waited in the aisle as normal. No social distancing was suggested or enforced, and if you'd looked at the line waiting to exit from behind, you'd have thought it was a flight in September 2019 – not September 2020.
Bottom Line
Want to get to Vegas, Miami, or some other vacation spot as cheap as possible? Fly Spirit. Want to feel like your airline is taking a once-in-a-lifetime pandemic seriously? If my flight was any indication, you may want to fly another airline.
In normal times, I enjoy flying Spirit. The fun-loving, laid-back approach to Spirit service is great. And of course, the price is right.
I wasn't sure what to expect from Spirit when it comes to safety in our strange new normal. While there were some notable changes, the lack of safety procedures and enforcement left me speechless. Perhaps I should have expected that from a dirt-cheap ticket. And of course, not every traveler cares about rigorous safety standards right now.
Next time, I'll pay extra to fly an airline I trust will take and social distancing standards and other safety measures more seriously.