No, they don't only fly to Alaska.
Alaska Airlines is a powerhouse along the West Coast, flying in and out of its hub in Seattle (SEA) and throughout California. And despite its relatively small size, it has a diehard fanbase with customer loyalty that rivals the much-bigger Delta.
Curious what the hype is all about? I recently flew Alaska's nonstop route from Minneapolis-St. Paul (MSP) to Seattle (SEA) thanks to a cheap flight, and found that Alaska's frequent flight deals don't compromise on quality.

Booking & Checking In
Flights from Minneapolis to this West Coast hub are often well over $200 roundtrip, though we see flight prices drop to the $160s every few months.
But we found and sent Thrifty Traveler Premium members an alert for $124 nonstop and roundtrip flights from MSP to SEA on Alaska Airlines. And I knew this deal was too good to pass up, so I booked it too.
Back in April when I booked, Alaska (and almost every other U.S. airline) was still offering fee-free changes and cancellations on all flights booked. Unfortunately, that has changed: most airlines require you to upgrade to book at least a main cabin fare to get that flexibility.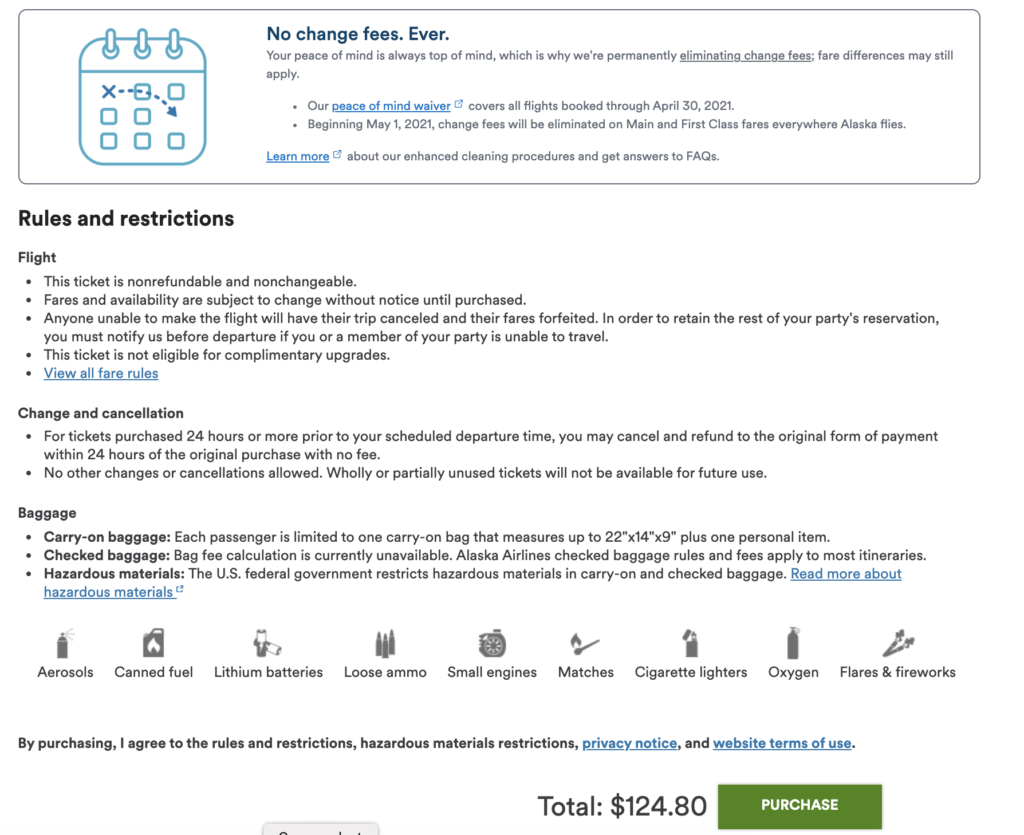 Because I was still covered by this flexible policy back in April, I went for the cheaper basic economy ticket – which Alaska calls "Saver Fares." That meant I couldn't pick my seat in advance, but could still bring a personal item and carry-on bag.
Read our full guide to Alaska Basic Economy for more details!
Exactly 24 hours before our flight, I got an email to check in. That's when I was assigned a seat and lucked out: I got a window seat. Alaska stopped blocking middle seats throughout the plane way back in January 2021.
Alaska also has an app you can use to check in and get your boarding pass, or you can print your ticket at the airport.
Need to check a bag? Read up on Alaska Airlines baggage fees!
Boarding
Alaska Airlines boards using Groups A to E after special groups. Unlike other carriers, they haven't pivoted to using back-to-front boarding.
But they had a little fun with their boarding announcements: The gate agent called out, "A as in awesome," "B as in biscuit," "C as in charming," "D as in delicious donuts, "and "E for everyone else!" There were a few chuckles from the boarding travelers at the "E" alliteration.
Another part of boarding stood out to me: The gate agents greeted every passenger by name. They had two gate agents checking tickets, so the process went quickly. There was less than a minute between groups as we boarded.
There was quiet music playing as we entered. Flight attendants greeted some of the passengers at the front as we boarded, but we were not given Purell wipes upon entering, as is the case on Delta and several other carriers.

Just 10 minutes after we started boarding, we were pushing back from the gate. Our flight was hardly half full. I lucked out with nobody else in my aisle, as did quite a few other travelers towards the back. Nobody was seated in the exit row behind me, and there was plenty of overhead bin space.

This wasn't the case on my flight back home, but it was a nice perk for the flight out to Seattle. I've recently been on some very full flights, and that's the norm these days.
Read more: Flying Soon? Assume Your Next Flight Will Be Completely Full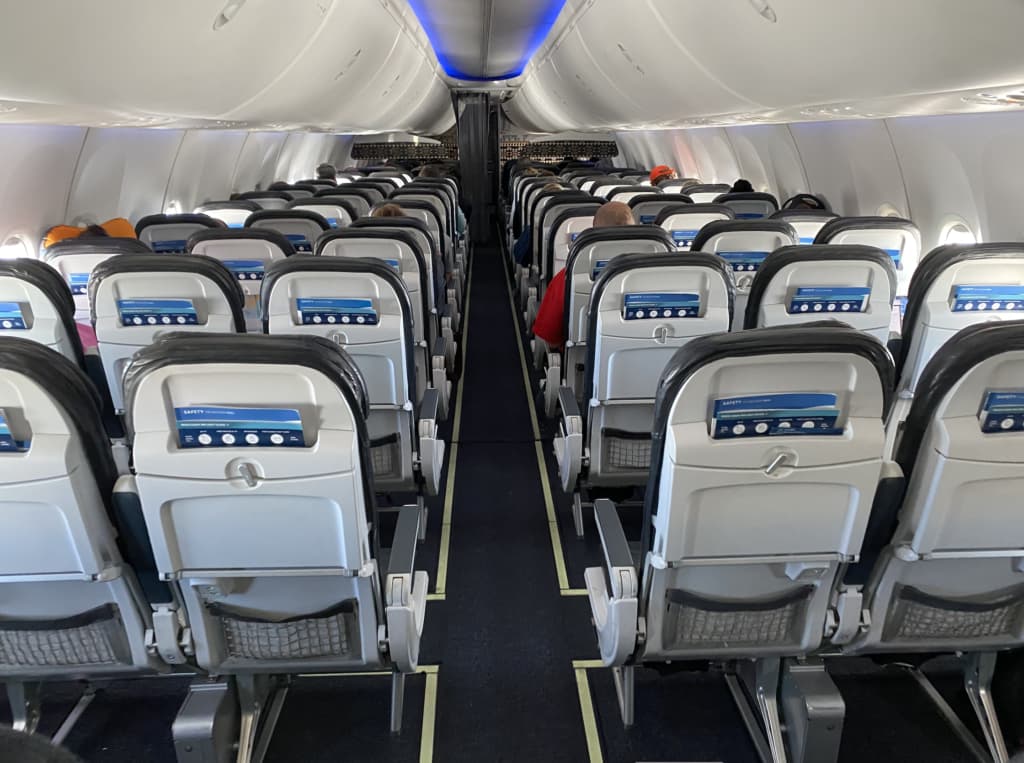 Seats on Alaska Airlines
The seats on Alaska Airlines were a simple black leather with no logo or frills, but plenty comfortable. It helps that the seats have adjustable headrests and moveable armrests.
Alaska Airlines boasts 32 inches of legroom in these economy seats, just under the reigning champion of legroom among U.S. carriers: JetBlue, with 33 to 34 inches of pitch in econony.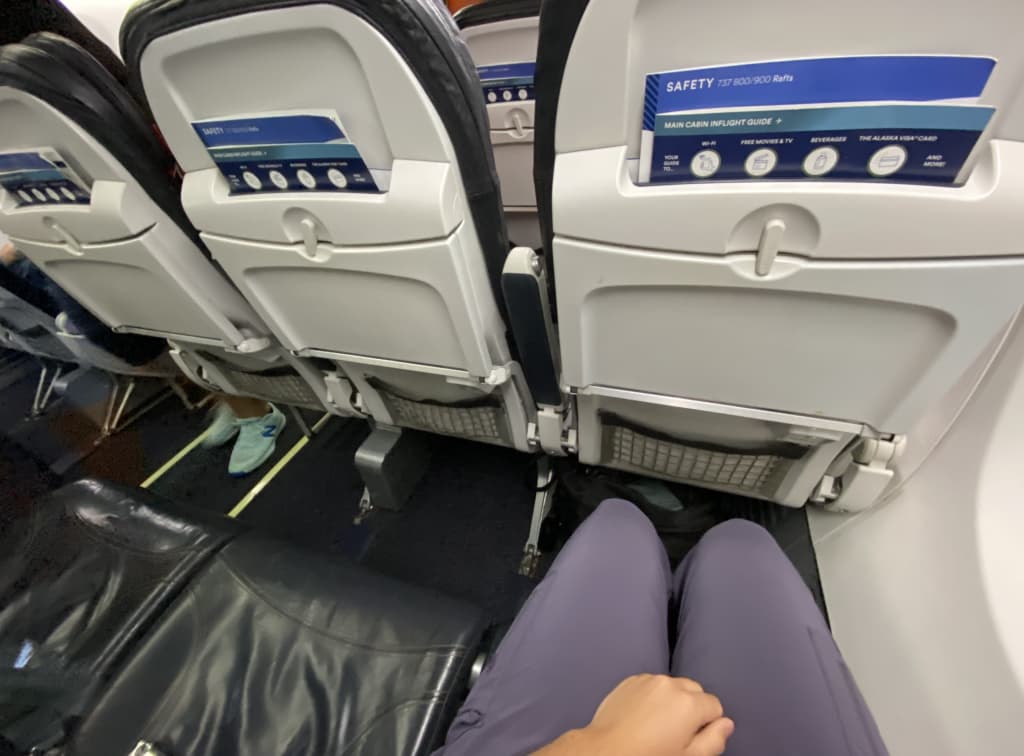 The tray tables showed some signs of wear, but were definitely usable. Each seat had an outlet just above the pouch, which included a three-prong outlet and a USB socket.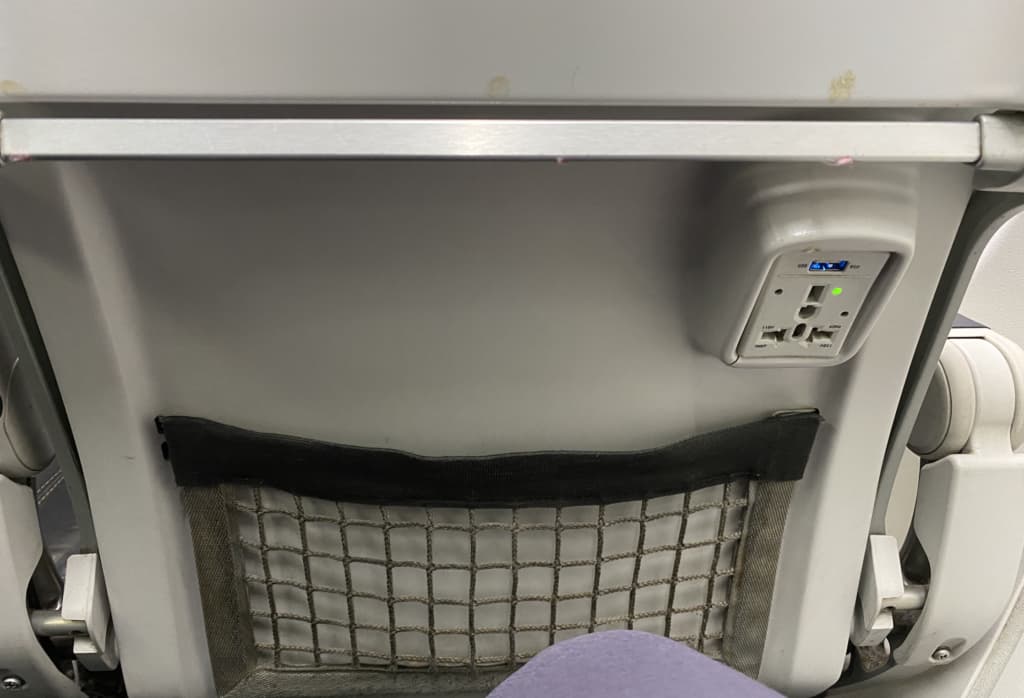 The lavatories were clean and pretty standard. No news is good news here.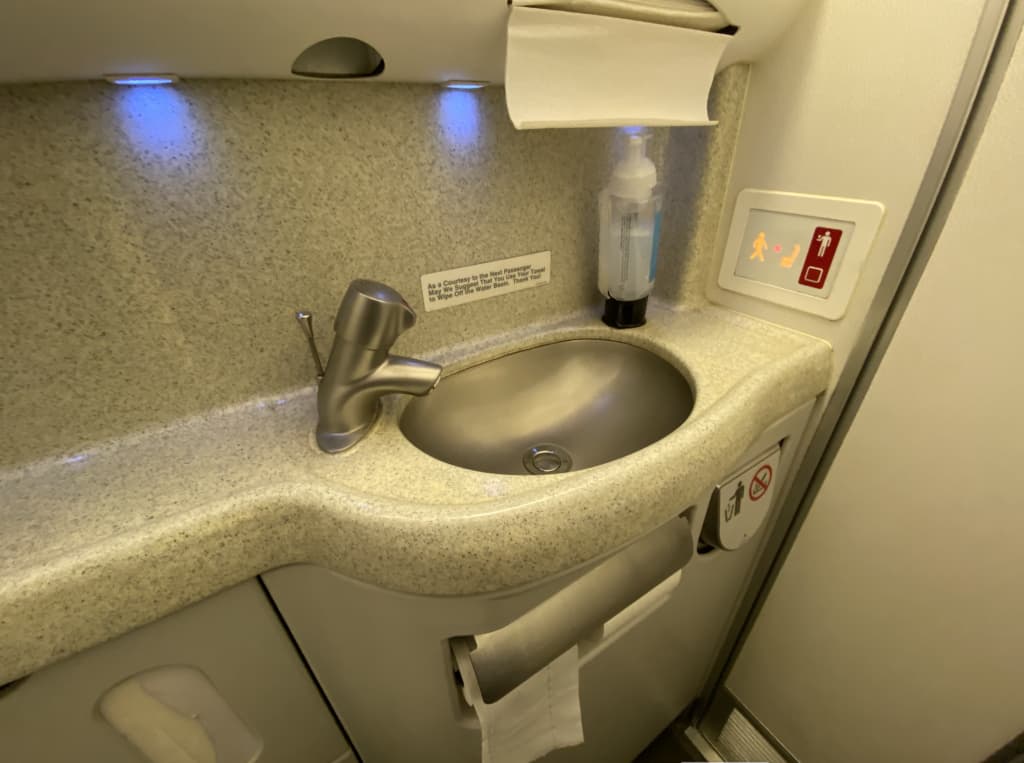 Wi-Fi & Inflight Entertainment
One thing you won't find on Alaska Airlines? Seatback entertainment.
So of course, our Boeing 737 didn't have TV screens in the seat back. Instead, Alaska Airlines has an inflight entertainment portal you can use to stream hundreds of movies and shows on your own smartphone, tablet, or laptop.
I checked out the selection and found several movies and shows of interest.

I also purchased the $15 Wi-Fi pass for the entire flight to Seattle. I had a great, speedy connection for the duration of the flight – almost better than my Wi-Fi at home.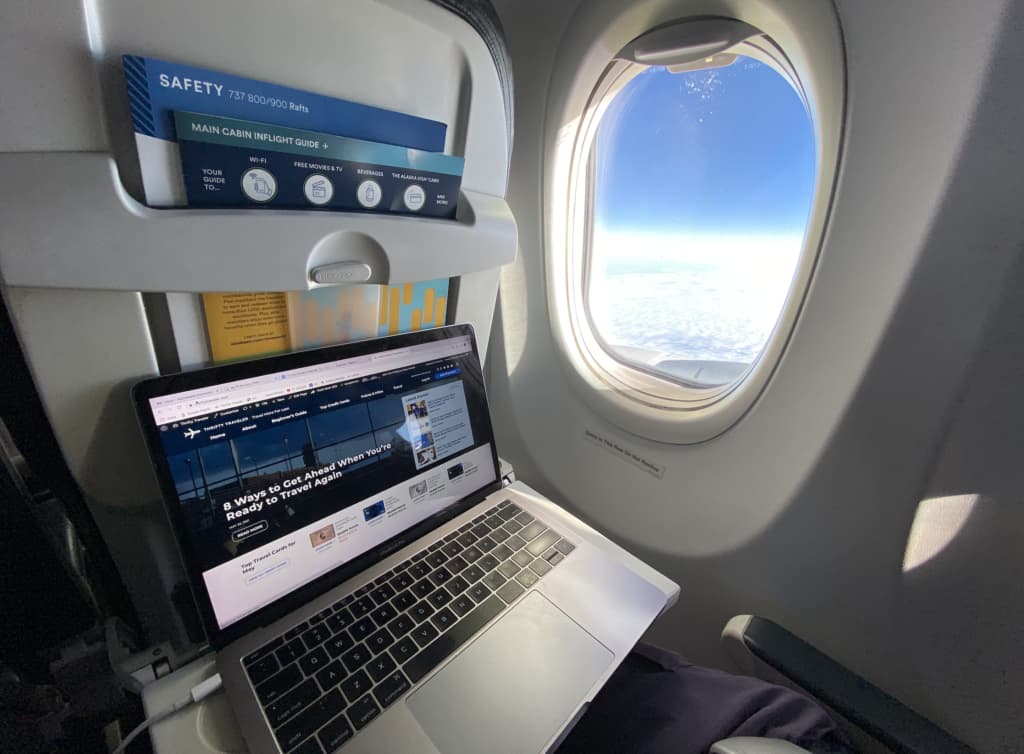 Food & Drink
Right before the drink cart came around, an attendant first came through with a Biscoff cookie and a Purell wipe. This would have been nice to receive upon boarding, but it came in handy to wipe my tray table and armrests down before food and drink was delivered.
A Biscoff cookie is provided as a snack for Main Cabin passengers, and that's all you'll get – unless if you pre-order ahead of time. I must have missed that in the check-in email, as I didn't realize until I was already on the flight that I couldn't buy more to eat once on the plane.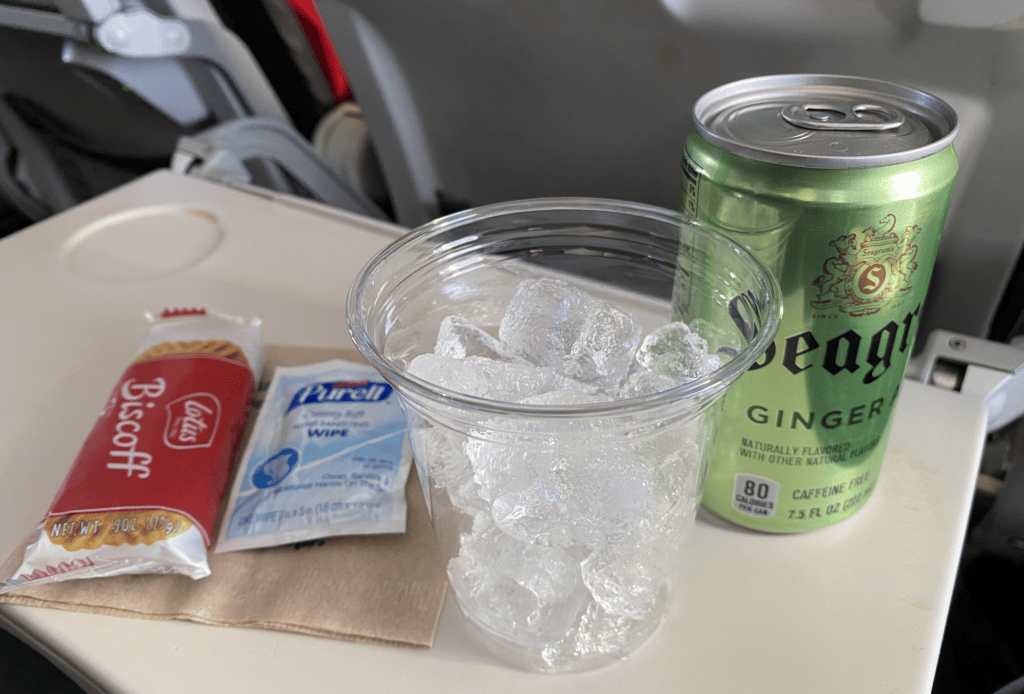 Alaska offers Coke, Diet Coke, Sprite, Ginger Ale, seltzer water, orange juice, Starbucks coffee, Teavana breakfast tea and mint tea, and bottled water for free. Alcohol and mixers are also available for puchase in the Main Cabin – and complimentary in Premium and First Class.
Note that food and beverage service is only available on trips over 350 miles (excluding flights between Portland and Las Vegas).
Service
On my flight from Minneapolis to Seattle, I was impressed by the flight attendant service.
Upon boarding, a traveler wearing a bandana instead of a mask was asked if he needed a complimentary mask.
And just as the gate agents read each passenger's name when checking tickets at the gate, the flight attendant doing overhead announcement also let us know the names of all staff and pilots that would be serving travelers that day.

But one thing stood out even more. During the flight, a passenger a row ahead of me was having a panic attack about flying. Throughout the course of the flight, a flight attendant came by multiple times to check on him. She also talked him through things at the back of the plane near the attendant's quarters and gave him a snack bar.
That's an impressive level of care that you won't find on every flight.
Deplaning
While some airlines have overhauled the deplaning process, Alaska was not among them.
Alaska Airlines did not announce row-by-row to get up and get off the plane. Fortunately, most people stayed seated until a few rows before them had cleared out to exit.
The deplaning process went smoothly and we were greeted by the attendants at the front on the way out.
Bottom Line
This was my first flight with Alaska Airlines, and I was impressed. The legroom was a step above what you'll find on many carriers, Wi-Fi was speedy and reliable with easy outlet access, and the service was truly top-notch.
Just keep in mind you'll need to pre-order food if you want more than a light snack onboard an Alaska Airlines flight. While it was in fine shape, our plane was showing some signs of its age. And don't count on having a seatback screen to stay entertained on your flight.
Have you flown with Alaska? What was your experience?