For airport picker-uppers, group travelers, and concerned friends and family members, a major new update to the incredible flight-tracking app Flighty is here to help.
If you ask me, Flighty is the best, most-user friendly travel app out there right now: It gives travelers up-to-the-second updates on flights like schedule changes, delays, cancellations, aircraft swaps, and more – often long before the airline itself. The app's latest update released on Tuesday – Flighty 3.0 – neatly streamlines the process of keeping tabs on the flights of friends, family members, and loved ones, too.
The signature feature is Flighty Friends, allowing users to quickly share their upcoming flights with each other with just a few taps, replacing the manual process of entering each flight for a friend or companion. Flighty users can pick and choose which flights to put in a friend's feed or automatically share them all. And whether you've got the free app or have upgraded to a Flighty Pro subscription, it's available now with the latest update.

Read our full review of Flighty Pro and why we think it's one of the best apps for travelers!
"We've all been there – digging for flight numbers, texting every flight update, figuring out who is arriving when – coordinating flights is a constant mess," Flighty founder and CEO Ryan Jones said in a statement. "Flighty Friends solves all those issues automatically – invite loved ones once and you're done. They'll always have your latest flights, status, ETA, and can get instant alerts.
"Plus it's not 'AA101' that landed, it's 'Mom' that landed, so we show it that way," he added.
This latest update weaves friends' and family members' flights into Flighty's sleek and easy-to-use interface, helping travelers coordinate group trips or airport pickups and drop offs. Here's how to put it to use.
Already have the Flighty app? Head to the app store and update yours for these new features! Sorry, Android users – Flighty isn't available for you (yet).
What is Flighty Friends?
For years, Flighty has given travelers the option to track others' flights by manually entering their flight information. It allowed you to track those flights just like your own, but the flights would be automatically deleted after completion, keeping those flights out of your travel statistics the app vigorously compiles for you.
Flighty Friends puts a personal touch on that process, allowing you to quickly share all your upcoming flights with a spouse or loved one or pick specific flights to share with a friend. In your new Friends' Flights tab, you'll now see journeys labeled for each person who has shared flights – plus, you can filter by specific friends.
Crucially, not everyone you're sharing flight details with needs to be a Flighty Pro member to take advantage of Friends' Flights. For instance, my spouse is not a Pro member, but she and I will be able to share flight details with each other even though I paid for a subscription and she hasn't. You can also send flight information to someone who doesn't even have the Flighty app – it'll simply pull up in an internet browser window.
Here's a look at my "Friends' Flights" page on the app. The bottom three flights were friends' flights I entered manually before this latest update. The top two are flights shared by our editor (and now officially "Friend"), Kyle.

As you can see, Kyle's flights come up with his own special icon – each user can set their own icon individually to be a photo, memoji, or something else.
As was always the case with Flighty, you can get alerts for your friends' flights if you want up-to-the-second updates on their journey. But now, you can customize the alerts you receive from flight-to-flight. Say I'm picking up Kyle from the airport in Denver (DEN) on this flight, but I don't need alerts at 5:30 a.m. when Kyle's plane is taxiing for takeoff at Minneapolis-St. Paul (MSP). I can customize the alerts so that my phone is (or isn't) pinging all morning with updates on Kyle's flight.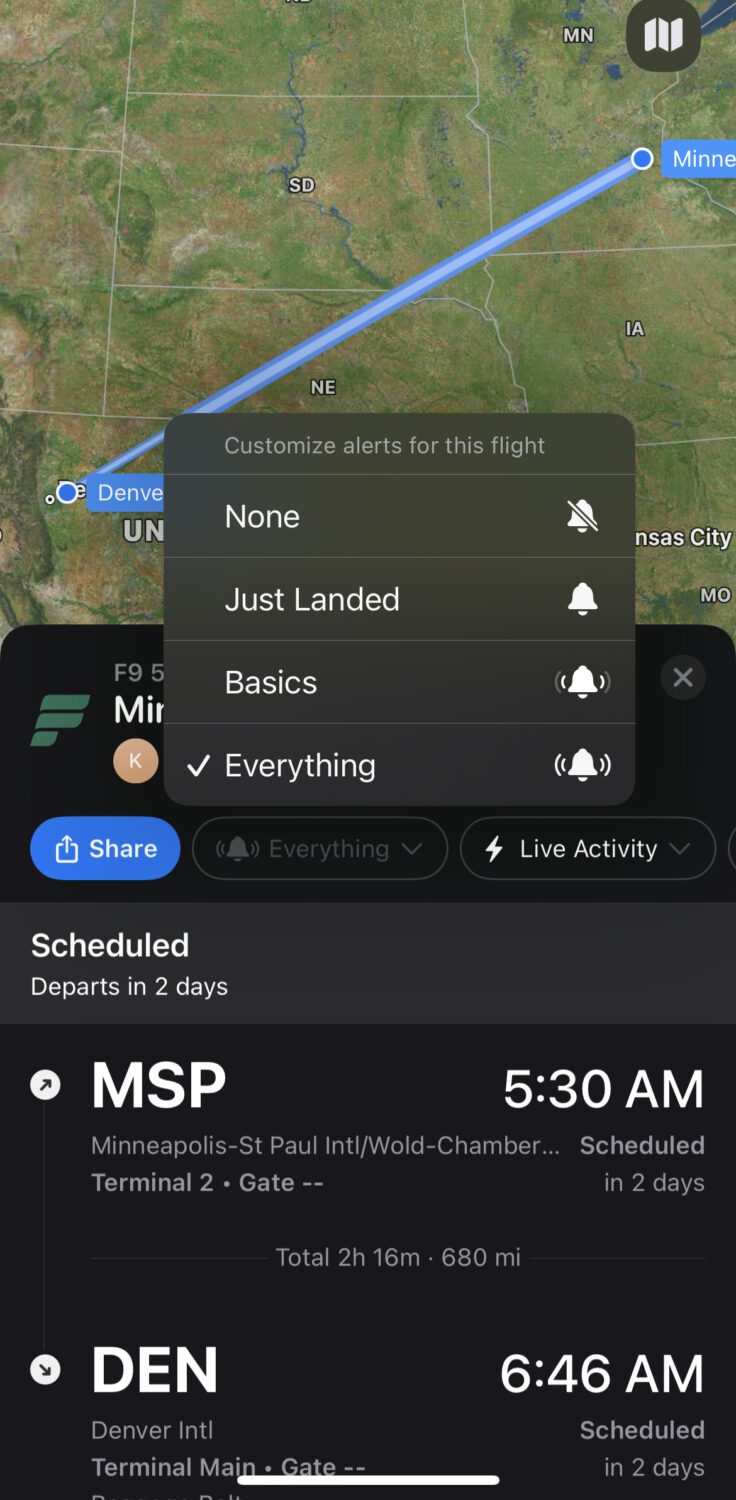 Flighty also uses the "Dynamic Island" feature on the iPhone, giving travelers a sneak peek at live flight information from the lock screen. You can toggle that on and off for your friends' flights under the "Live Activity" tab you see next to the alerts settings in the screenshot above.
Besides setting alerts flight-to-flight, you can also set up alerts for your each of your friends more broadly. Say I wanted to keep apprised of all of Kyle's comings and goings – who wouldn't! I can click on Kyle's name under my "Friends" and setup what alerts I want for all the flights Kyle shares with me.
Once you have your friends' flights shared in the app, you can track them all with ease. I can see this update being especially useful for group travel when you have travelers arriving from different places, with push notifications for each friend.

In this example from Flighty, four different family members on three different flights are all heading to Austin (AUS), and this Flighty user has updates setup for each one of them. They aren't just generic updates: They're personalized with each user's image and name.
I've long used Flighty Pro for airport pickups and group trips, even when I had to input the data manually. The personalized touch and the ability to share your own flights easily has made the Flighty even more powerful.
How Does Flighty Friends Work?
Sharing your flight details is easier than ever with Flighty Friends – and it's more secure than you might think.
For one, when you share a flight, your sensitive data like your booking code or seat number aren't shared: just the basic flight information. And while you can easily share all of your flights – something you might want to do with a spouse, for example – you can also pick and choose which flights to share, so someone isn't tracking you around the world all the time.
None of this data is shared publicly, unlike other apps that have turned this kind of information into a travel social media platform.
"That's not what users want," he said of the social aspect of sharing flight data. "They want to share with just a few friends and family, all privately, without signing up for a new service."
So, how do you share a flight with a friend? First, you go to your "My Flights" screen on the home page of the Flighty app. You'll see the universal "share" symbol at the top of your My Flights page.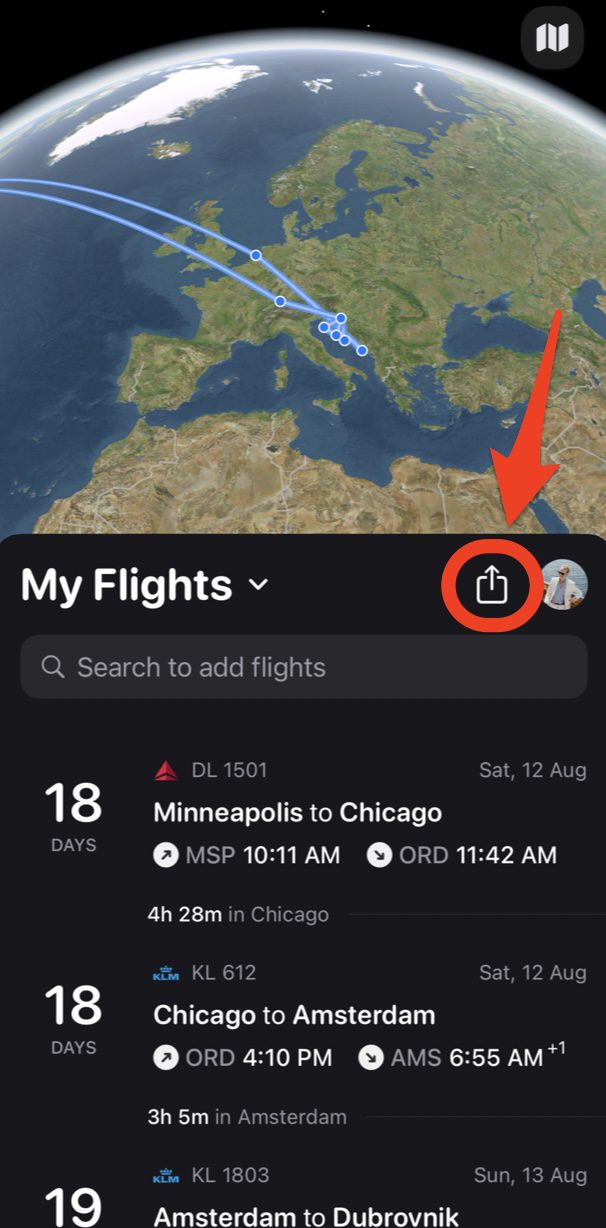 From there, you've got some options.
How to Add a Friend & Share All Flights
If you want to share all your flights with a loved one or family member, simply click the option to "Invite Flighty Friend" and send a link via text, email, or another platform.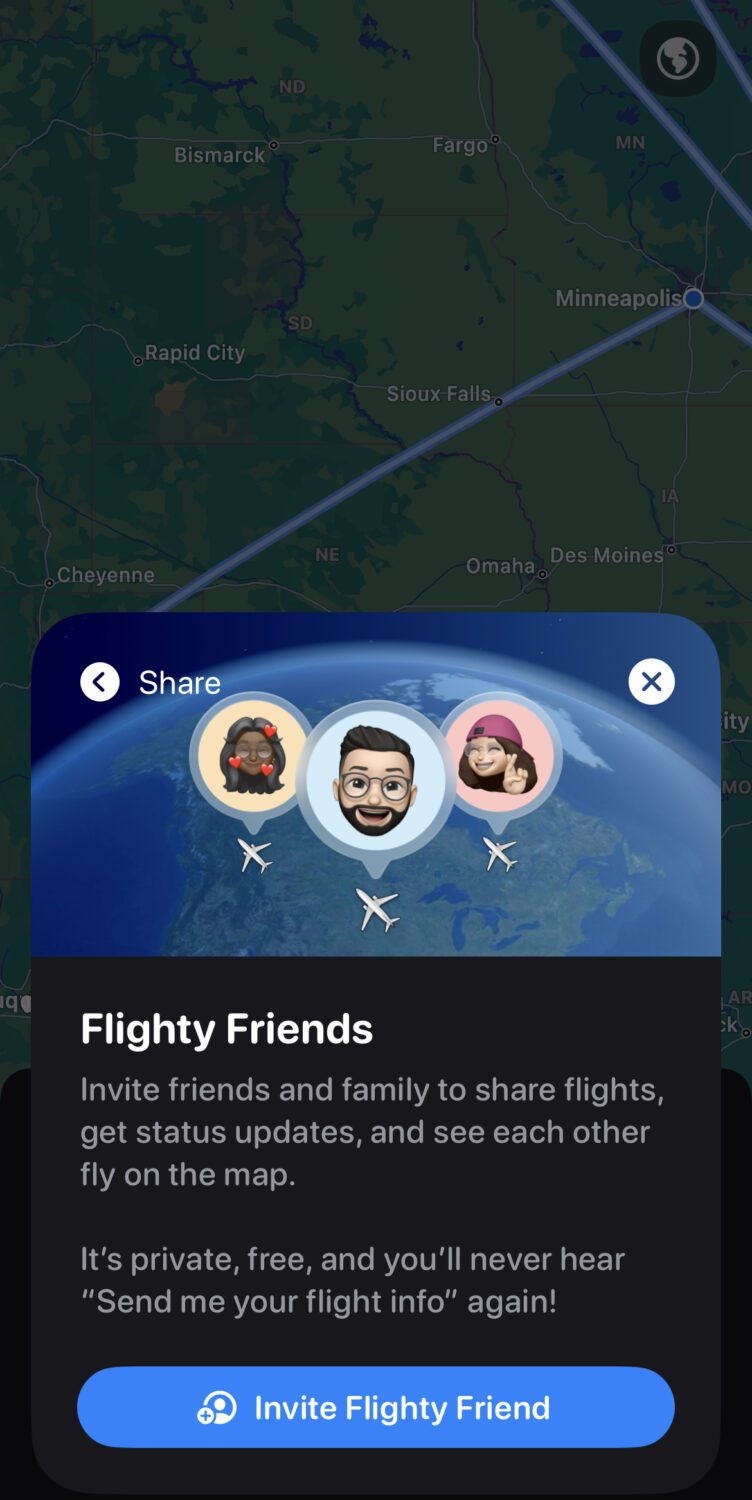 Once your accounts are linked, your app will automatically display any flights they've added to their own Flighty app under "Friends' Flights." You can manage each friend you've added to your Flighty dashboard by going to your profile and "Flighty Friends," toggling between which kind of alerts you want for each friend or opting to stop sharing flights with that person altogether.

How to Share Select Flights
Don't want to share everything with a friend – just a few flights? No problem.
Instead of inviting a Flighty Friend, click to share and then "Select Flight."  From there, you can pick and choose which ones to share with a friend. For example, I decided to share my upcoming itinerary to Croatia with Kyle … but not every single flight for the whole week.

Once I selected the flights to share, I tapped "Continue" and the app generated a link that I could share with Kyle via email, text message, Slack, or any other sharing platform. Plus, you can customize how you want the flight tracker to look when you send it.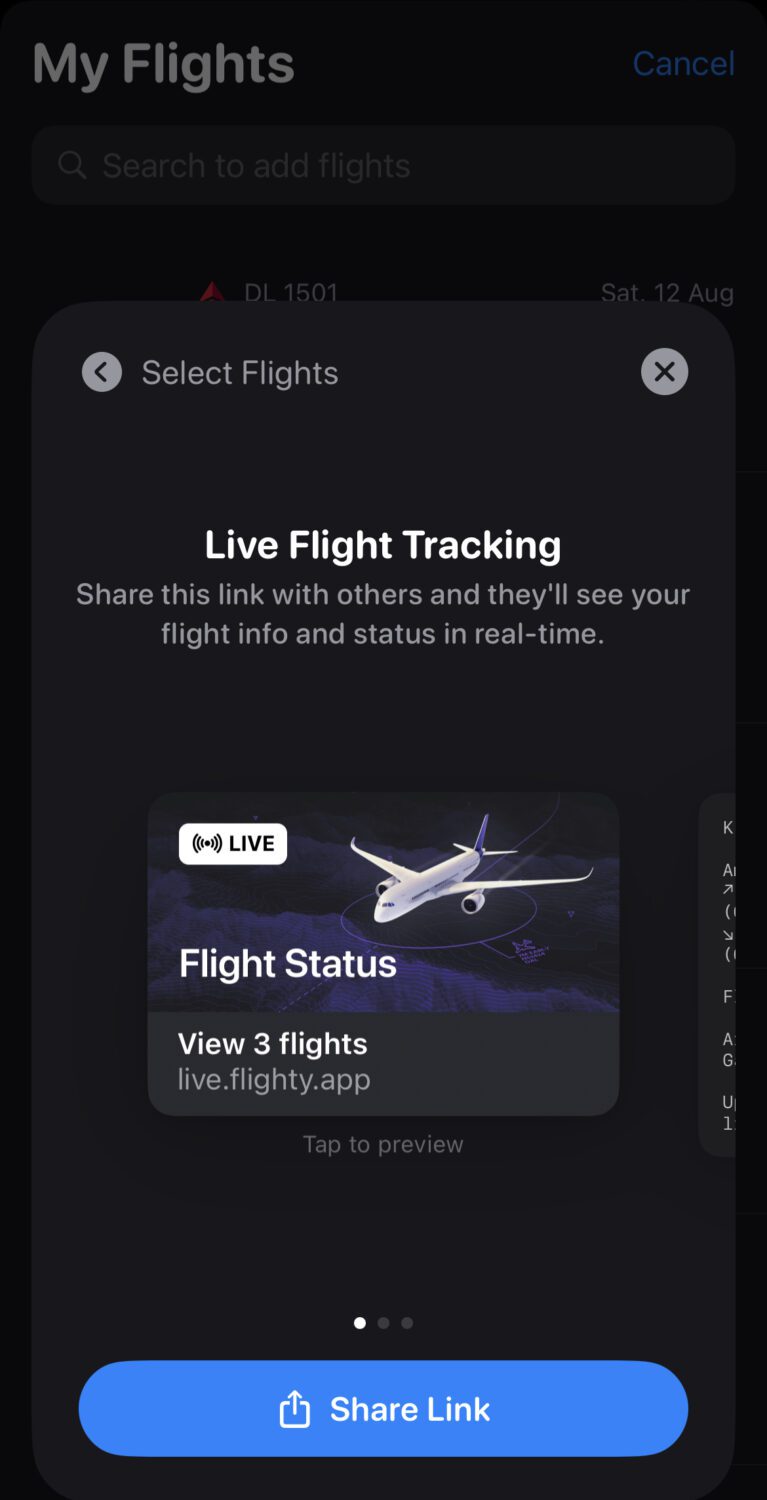 Once I sent the details to Kyle, he got a notification via text message (which is how I chose to send the link). When he opened it, he got a screen that looks like this one. These are the flights that Kyle initially shared with me. Upon clicking the link, I was taken to this screen in the app.

At the bottom, I tapped "Add 2 flights" and they were both immediately added to my Friends' Flights page. From there I could customize the alerts and track Kyle's upcoming flights.
Bottom Line
Flighty's newest update to its Flighty app gives users a seamless way to share and monitor flight details. You can share one, some, or all of your flights with other travelers in a group or with someone picking you up from the airport in a secure and simple way.
Flighty is already the best way to track your flights, period – and Flighty Pro can be well worth the $50 annual cost for frequent travelers. But this new Friends' Flights update makes it even more powerful and easy to keep tabs on your loved ones' travels, too.