You're over winter and have likely already turned your attention to spring and summer travel. But what if those upcoming trips included skiing? Yes, you read that correctly.
The ski season isn't even half over in parts of the western U.S., where record snowfall (we're talking 700-plus inches) has led to a deep snowpack – and in some areas, more snow is still in the forecast. This has made for some epic conditions all over the country for skiers and riders this winter, but it also means that many resorts will have historically long seasons, with at least two resorts promising skiing and riding into July.  Throw in cheaper domestic flights and discounted lift ticket prices, and you've got yourself some bonus skiing on a budget.
If your idea of a ski trip involves hot cocoa, a warm fire, and cold toes, let me introduce you to spring skiing. In the spring and summer, temperatures rise into the 50s and 60s, with plenty of sunshine, softer snow, and aprés ski vibes that will make you feel more like you're at the beach rather than at 7,000 feet. Ditch your goggles for some sunglasses, lather up in sunscreen, and (in some cases) skip the coat for a t-shirt.
Take it from me: In 2019, I skied at Colorado's Arapahoe Basin in the last week of June, hitting the slopes on 65-degree days for what was one of the most memorable ski days of my life (and I ski a lot).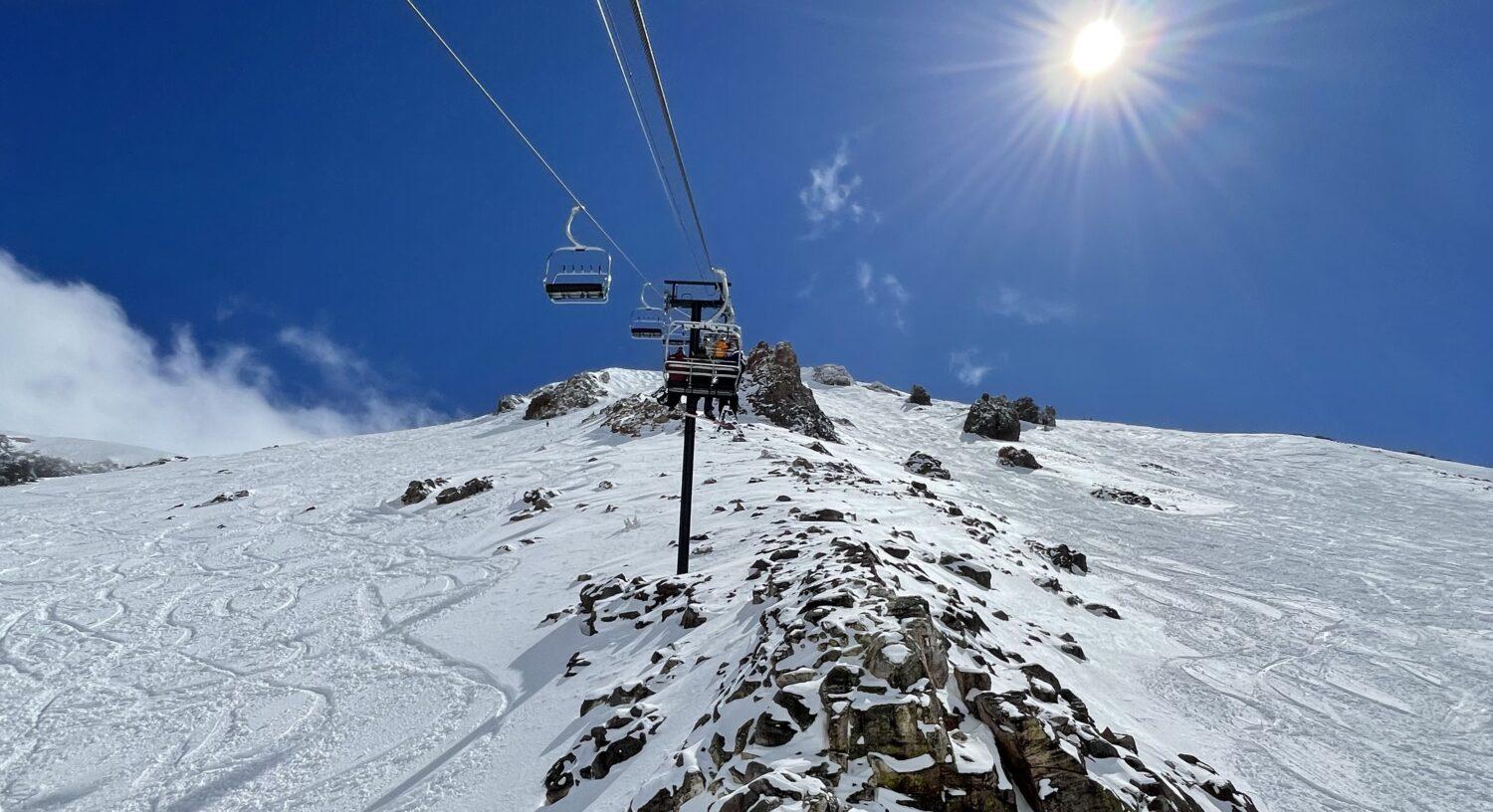 This year's incredible snowfall means that spring skiing opportunities like that are going to be abundant this year in Utah and California, where it's going to take many months for the dozens and dozens of feet of snow blanketing the slopes in those regions to melt away.
Three ingredients are coming together to make the perfect recipe for a ski trip this spring (or summer!) that won't break the bank.
Historic Snowfall in the West
How much snow are we talking about here, exactly?
Well, Mammoth Mountain in California's Eastern Sierra Nevada Mountains has reported at least 840 inches of snow since October. That's 70 feet…
Just a few days after this photo made the rounds, Mammoth made an unsurprising announcement: The resort will run its lifts through at least the month of July. So, you could be skiing in California well into the summer.
Look at that average snowpack trend line. You might have to scroll way down to see where we started the season.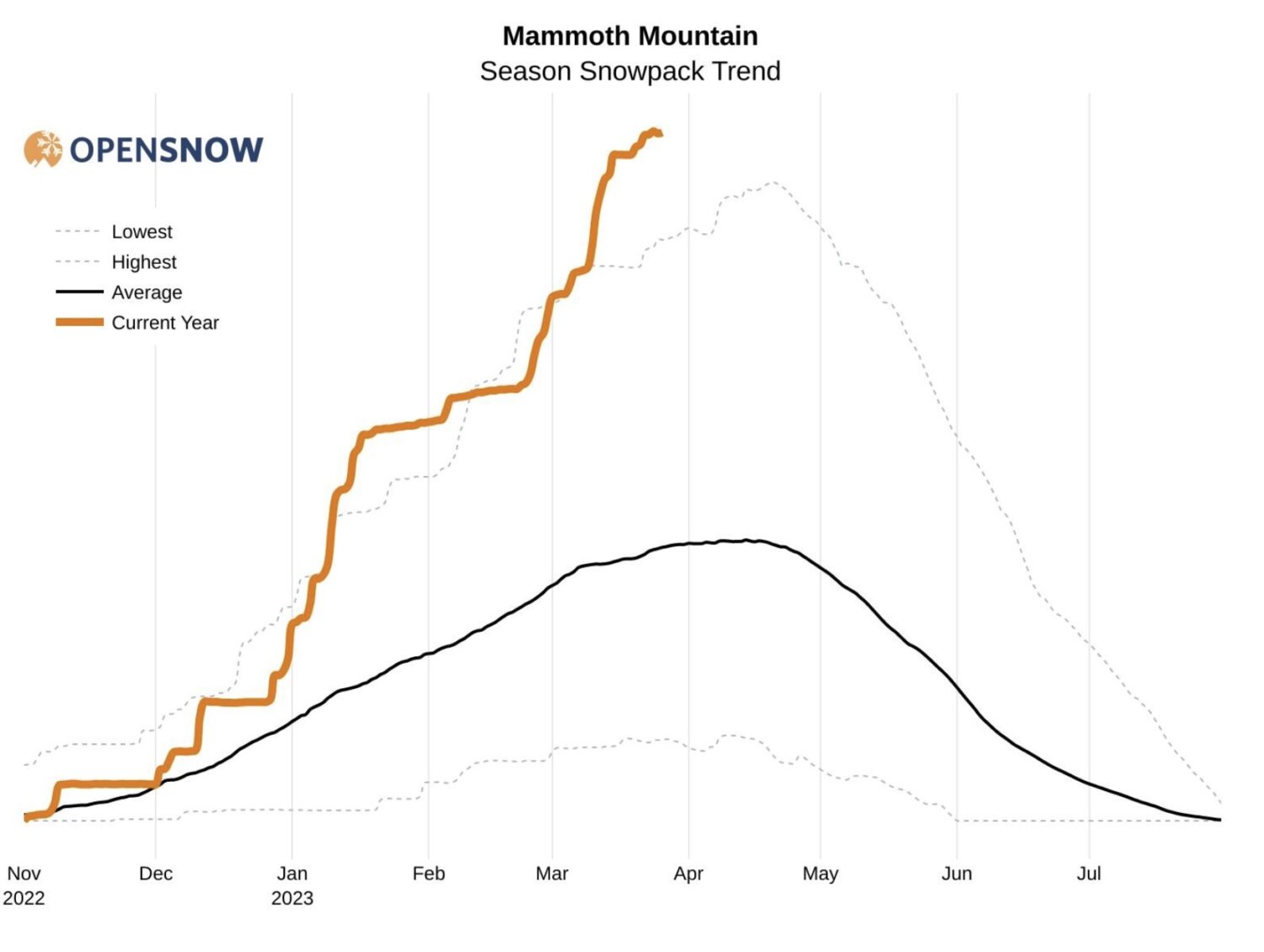 And Mammoth isn't the only resort facing that kind of snowpack. Up the road in the Lake Tahoe area, Palisades Tahoe also announced that it will run the lifts through the Fourth of July.
According to season-to-date data from the resorts collected by SnowBrains, five ski resorts in North America have more than 700 inches of snowfall this season. All of them are in either California or Utah.
At the world-famous Alta Ski Area in Little Cottonwood Canyon outside Salt Lake City, they've exploded past the previous 40-day snowfall record, besting 748 inches before the calendar has even flipped to April. And according to the latest 10-day forecast from OpenSnow, there are about 50 more inches on the way. When will it stop?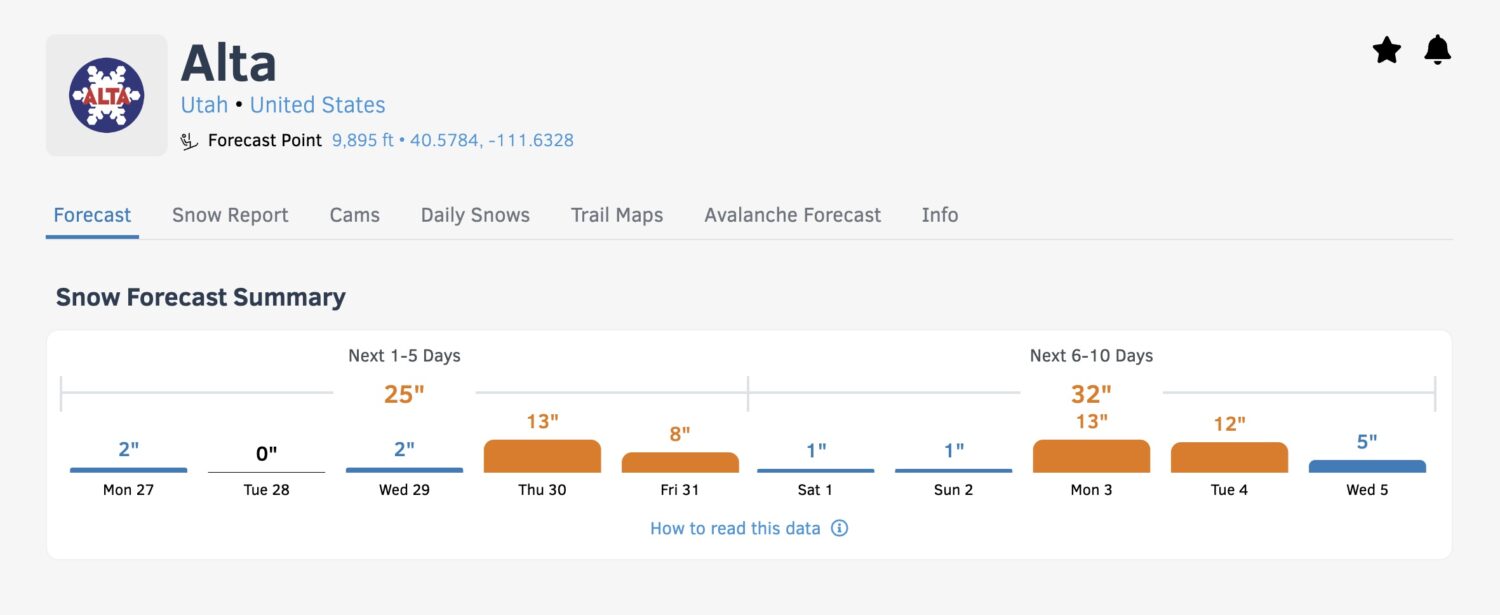 All of that snow isn't going to melt (or, evidently, stop falling) when the calendar flips to April.
So, ski and snowboard areas in California and Utah are sitting on fat snowpacks and are ready to keep their operations running, but they're not alone. While the chairlift-burying conditions in the Sierra and the Wasatch have garnered headlines, other ski areas are having great winters, too.
In Colorado, Winter Park Resort said it's going to close most of its resort on April 23, but will continue to operate a portion of the mountain as long as possible into spring. And after opening for the season way back on Oct. 31, they're setting themselves up for a historically long season.
Further south, Ski Santa Fe in New Mexico said it's going to keep its slopes open until April 16, which is a very long spring for a resort that far south.
There are so many ski areas and ski regions that will be running operations well into spring this year thanks to hundreds and hundreds of inches of snow.
Read Next: It's Time to Start Planning Your 2023-24 Ski Season (Yes, Really)
Spring Airfare is Dropping
So it looks like a spring – or even summer – skiing trip is in the cards in 2023, but how will you get there?
Flight prices have been soaring over the last few months, but we're starting to see some cracks in the dam for spring flight prices and summer domestic airfare lately. And that's just in time for you to book a cheap flight to the mountains this spring.
If you want to head to Mammoth or the Lake Tahoe area to take advantage of their bounty of snow and picture-perfect spring and summer weather, a cheap flight to Reno (RNO) is the best option by far.

Just about an hour away from Lake Tahoe and a few hours from Mammoth, Reno is a low-key, simple airport that often features some cheap flights. We sent our Thrifty Traveler Premium member this deal a few weeks back when we found flights starting at just $118 roundtrip for this spring.
Reno is on the east side of the Sierra Nevada range, but you can fly over to the west side to access the mountains, too. Sacramento (SMF) is the next closest airport to the mountains in California, and thanks to a hearty Southwest Airlines presence, it's not too difficult to find a quick, cheap flight there, either.

Plus, when you fly to the western side of the Sierra Nevada range, you can also tack on a day or two in wine country! It's never a bad idea to have other activities planned when booking a spring ski trip whether that's an afternoon at the vineyard, or a day hiking or boating around Lake Tahoe.
There's also San Francisco (SFO) to consider, too.

All three of those flight deals, which included spring availability, would be great options if you're eyeing a spring ski trip to the Sierra Nevadas. But, the Rockies have some cheap flight options, too.
Let's start in Salt Lake City (SLC), where the surrounding mountains have been getting pounded with 700+ inches of snow this year. It's been a banner year for the Wasatch range, and this Virgin Atlantic points deal to fly Delta nonstop to Salt Lake City was a boon for skiers everywhere.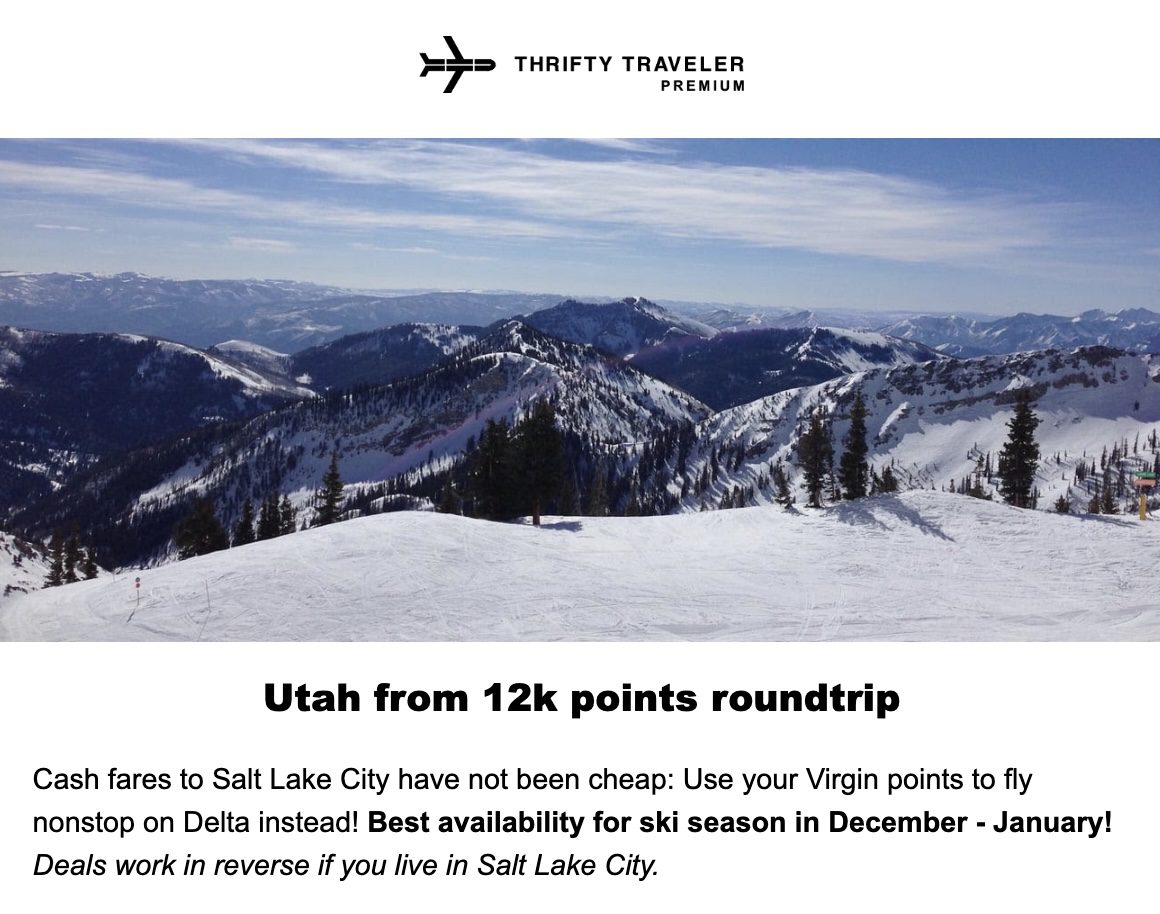 A few members of our team actually booked this deal a few months ago and are probably shredding the slopes of Park City as you read this!
This deal is long gone now – get the next one in your inbox with Thrifty Traveler Premium!
Springtime flight deals aren't hard to find a little further east in Colorado either – and with the snowpack expected to linger through April (at least), you can easily get out west and hit the slopes this spring.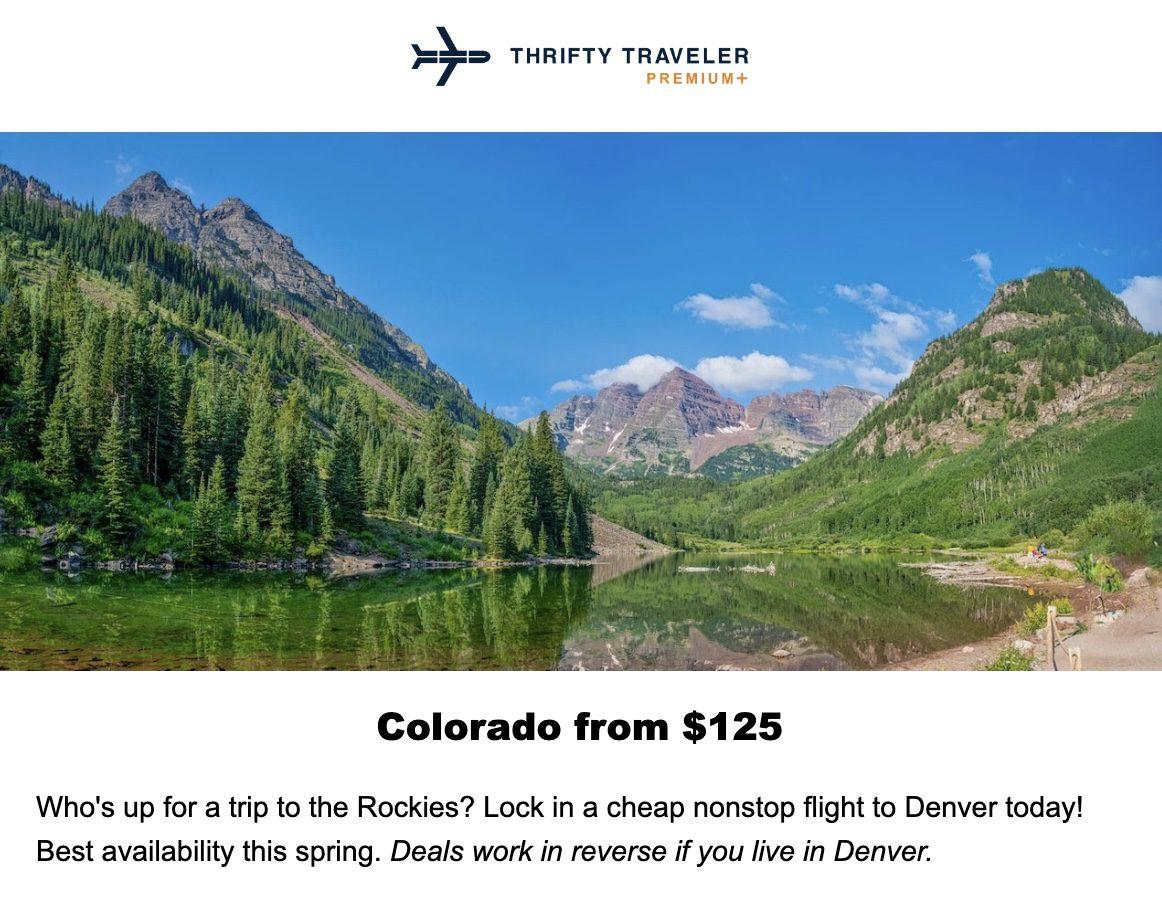 One thing is clear: The snow isn't going anywhere anytime soon. With resorts extending their seasons and airlines dropping spring and summer domestic flight prices, it's worth considering a few days of skiing this spring.
Lift Tickets Will Be Cheaper (and Your Ski Pass Just Got More Valuable)
A cheap flight isn't the only reason a spring ski trip might be more affordable than hitting the slopes in the winter. Spring is also when you'll see some of the best rates for lift tickets – and lodging, too.
There's a reason Palisades Tahoe in California – one of my favorite places to ski – calls itself the "Spring Skiing Capital." The resort typically runs its lifts long into the summer months thanks to lingering snowpack. As a result, it offers some nice discounts on lift tickets and lodging for skiers and riders during its "shoulder season."

Just a few weeks ago, I got an email from Palisades Tahoe outlining all of their spring plans. Here's the gist: Palisades is running their lifts 7 days a week through May on both the Palisades side of the mountain and the Alpine Meadows side. In June, the resort will be open for skiing and snowboarding on Fridays, Saturdays, and Sundays. Over the Fourth of July weekend, just the Alpine Meadows side of the mountain will be open – from July 1-4.
To help sweeten the deal, on top of the 20% off lodging, Palisades Tahoe is selling its annual Spring Ticket Trio, which is a fully transferable pack of three lift tickets for just $143 per day. It's a savings of about $70 per day off the window rate, and you can share the pass with friends and family, too.
And, that's not the only resort where you'll find a good bargain to ski this spring. Mammoth Mountain in California, for one, offers a nearly identical three-day transferable pass called the 3-Up. At Winter Park Resort outside Denver, they're offering an even sweeter three-day deal for just $99 a day, plus lodging at the resort from just $99 a day.
If you don't have a season pass for any of these resorts, you're going to get some of the best rates of the season starting in April.
What About My Season Pass?
If you have a season pass for one of these mountains or you hold a mega ski pass like Epic or Icon (or are thinking of buying one for next year), this extra-long ski season is incredible news.
For one, the value of your existing pass just got so much better. When you bought your Epic, Ikon, Mountain Collective, or Indy Pass for this season, you paid a flat rate to ski as many days as you can. Now, you have at least another month and probably another two, three, or even four months to redeem more days and squeeze even more value from your pass.
Read Next: Epic or Ikon? What Season Pass is Best For You

If you purchased a season pass for this 2022-2023 season, you are allowed to ski and ride the resorts on the pass until they all close – which for some might not be until June, July, or even August this year.
Let's say you don't already have a season pass like Epic or Ikon, though. How is this good for you?
Right now, when you purchase an Ikon pass for the next ski season (2023 – 2024), you get access to a handful of Ikon resorts for the rest of this spring and summer, too!

The information above is for the Ikon pass, and you're probably going to recognize some of the resorts on that list if you were reading above. When you buy your pass for next season, you get access to Mammoth and its 800+ inches of snow, Palisades Tahoe and its 700+ inches of snow, and Winter Park and its healthy snow totals (and altitude that will keep its snowpack long into May) for the reason of the current season, which as we've made clear isn't even half over in those places.
You don't get the same benefits from the Epic pass, so don't expect that purchase to get you on the slopes this spring. But there are other season passes at smaller ski areas that will allow spring access if you purchase next year's season pass early.
Read Next: It's Time to Start Planning Your 2023-24 Ski Season (Yes, Really)
Bottom Line
Upwards of 700 inches of snow have fallen in parts of the Western U.S. this year. Conditions, both on and off the snow, are perfect for a spring skiing trip in 2023.
Besides being utterly delightful, spring skiing is also significantly cheaper than peak winter skiing, and airfare for this spring is starting to fall just in time.