Only being able to bring tiny toiletry bottles in carry-ons is a pain – it's what stops many travelers from skipping the checked bag. But several airports over in Ireland and the U.K. are preparing to lift their bans on liquids over 3.4 ounces (and one has already), a trend that could eventually make its way to the U.S. … slowly.
It's happening thanks to new security screening device technology powered by Computed Tomography (CT), which are being installed in airports around the globe. These advanced systems not only allow travelers to keep their pouch of liquids inside their bags – they could make onerous size restrictions for toothpaste and contact solution obsolete.
London's two largest airports at London-Heathrow (LHR) and London-Gatwick (LGW) are trialing the new screening technology, according to a report from the Times. British regulators have given both airports a deadline of 2024 to have new screening equipment in place, allowing larger liquids through security. Until then, of course, the current 100 milliliter remains in place.
But over in Ireland, two smaller airports have already ditched the carry-on liquid restrictions. The Irish Examiner reports that Shannon (SNN) and Donegal (CFN) airports have already deployed the technology, with Dublin (DUB) and Cork (ORK) hoping to follow suit. Both Dublin and Cork still follow the 100 milliliter limit until they finish overhauling X-ray equipment in several terminals, a process that's currently set to be complete by mid-2024.

Those liquid limits have been a bane for travelers worldwide since they were imposed in 2006, when regulators rushed to impose restrictions after foiling a terrorist plot involving liquids. First meant to be temporary, they've stayed in the U.S. and abroad for more than 15 years.
Here in the U.S., travelers with TSA PreCheck can already leave all liquids, gels, and electronics inside their bags … yet there's been no sign of when the dreaded 3.4-ounce limit will end.
Read Next: TSA PreCheck vs. CLEAR: Which One is Better? 
Despite acquiring and installing hundreds of those same hospital-like scanners across the country, ditching the liquid rule in the states currently remains out of reach. With 340 airports across the country that need that technology, it's a much taller task.
Earlier this month, the Washington Post took a close look at those new CT systems as part of a story chronicling the future of the TSA on the agency's 21st birthday. The Post reported that 300 CT scanners have been purchased by the TSA so far, with plans on eventually acquiring 1,230 of them.
In a statement to Thrifty Traveler on Wednesday, the agency did not directly address a question about when the 3.4-ounce liquid limit might end, if at all. Select travelers such as nursing parents or those with medical needs can bring larger liquids, but they're subjected to additional screening.
"The introduction of new technologies has played a significant role in how aviation security has evolved over the past 20 years," the agency said.
What Could the New Rules Look Like?
If you're wondering what future of traveling with liquids looks like, look no further than Shannon (SNN).
According to Shannon Airport's new policy, travelers departing the airport can carry liquid items with no size restrictions in their carry-on luggage. That includes liquids including water, baby food, medicines, beverages, aerosol cans, and toiletries like toothpaste, shaving cream, hair gel, lip gloss, and more. You can take any of these items – in any size – through security screening so long as they're in resealable containers and are "safely contained in your luggage."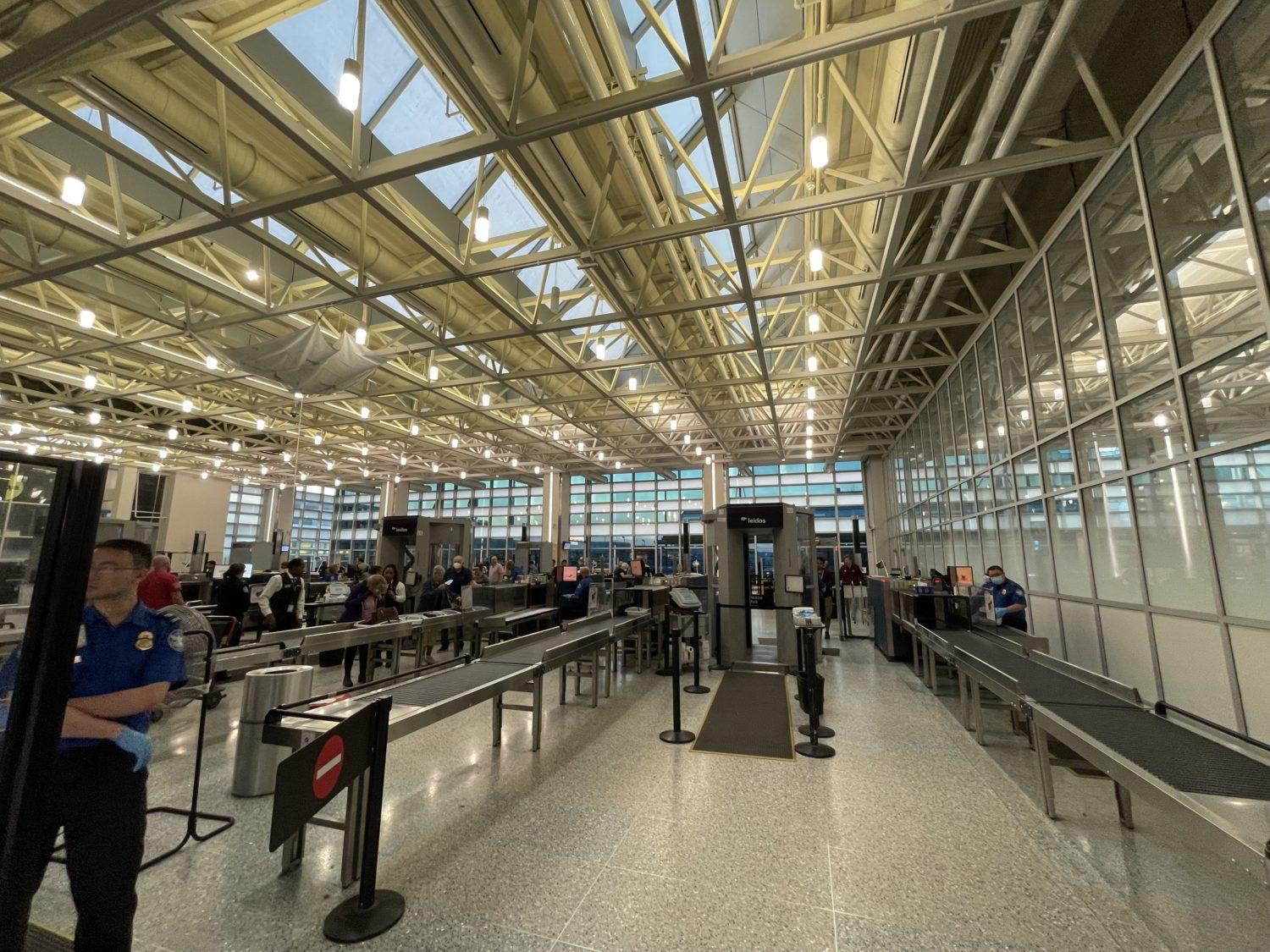 The baggage containing the liquids also has to be "at the very top of the items within your security screening tray," meaning on top of any coats or belts also in the tray, too.
But it's not a uniform experience: If you're transiting at an airport that doesn't yet have the new technology, you'll still have to adhere to the old 100-milliliter cap. So unless you're hopping on a nonstop Aer Lingus flight from Shannon to either New York City (JFK) or Boston (BOS), you're going to have to utilize the old system.
Either way, it's much different than the requirements in place in much of the world. You are allowed to carry on 3.4-ounce (or 100ml) liquid containers that fit in a quart-sized resealable bag when you go through security. In the U.S. passengers have to remove that bag from their luggage as they go through security unless they have TSA PreCheck. In the U.S., TSA calls it the 3-1-1 rule.

The same rules currently apply throughout most of Europe, too.
But what happens at the airports where this new CT technology is being tested out? The answer, according to the Times, is a hodgepodge.
In most cases, passengers at airports like Heathrow and Gatwick where new scanners are currently being tested, will still have to adhere to liquid limits. Passengers in some security lanes, however, may not be subjected to it if they put their luggage through the new scanners … but there isn't really a way of knowing what security line you'll end up in, so you can't assume anything.
For now, all travelers should still adhere to the 100ml rule, unless you're flying out of Shannon or Donegal nonstop. And even then, you'll have to follow liquid limits on all the other flights on your journey.
Bottom Line
This can't come soon enough.
The 3.4-ounce liquid limits in carry-ons have been in place across much of the globe for more than a decade. A few Irish airports have finally abolished those limits, and more in the U.K. are on track to join them within the next two years.
In the U.S., the technology that's making this happen is being installed and tested … but rolling it out nationwide is likely going to take much longer in order to make the days of 3.4-ounce bottles a thing of the past.