After two tough years, travelers across the country are itching to get back out there and travel even more for less. We're here to help – and soon.
Back by popular demand, we're bringing back Thrifty Traveler University in Minneapolis this Saturday, Nov. 5. This is a one-day, in-person seminar: a crash course on everything you need to know to see the world on the cheap, from all the tips and tricks to find cheap flights, the best ways to earn and use points and miles, and many more money-saving strategies.
We put this fan-favorite event on pause throughout the pandemic, but now we're bringing it back. Whether you're a beginner just looking to learn the basics of cheap travel or a seasoned travel hacker looking to take things the next level, there's plenty here to learn for everyone.
Registration for this one-day in-person seminar costs $125 each, including lunch – and be sure to stick around for happy hour afterward! We're hosting Thrifty Traveler University at Studio 900 @ The Hennepin (located at 900 Hennepin Avenue, Minneapolis, MN 55403). There are only a few seats remaining, so be sure to reserve your spot today!

Register now for Thrifty Traveler University!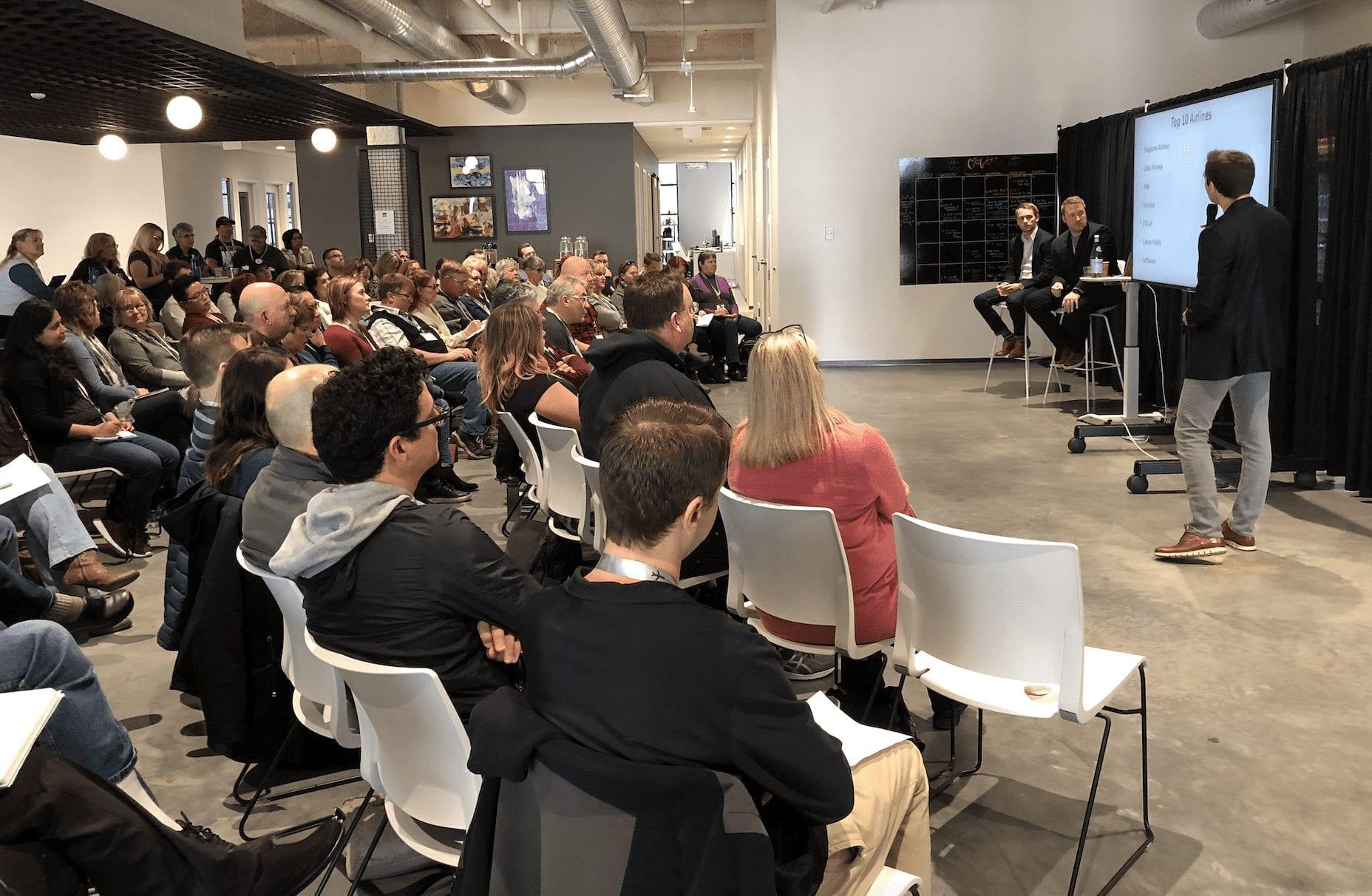 We'd like to thank our sponsor, MSP Airport, for helping us put on the event!
The airport is managed and run by the Metropolitan Airports Commission (MAC), a public corporation established in 1943 by the Minnesota State Legislature to provide for coordinated aviation services throughout the Twin Cities metropolitan area. It's our home airport, the 16th largest airport in the U.S. which recently won Best Airport in North America among large airports (25-40 million passengers) by Airports Council International-North America in 2021. MSP is connecting travelers safely to the world.
Stay updated on all things at MSP with their monthly newsletter!

What You'll Learn at Thrifty Traveler University
In short: Everything you need to know to get ahead with your travels.
We do our best to publish helpful guides here on our site, but there's only so much we can cover. This is where Thrifty Traveler University shines: It's an all-day crash course covering travel hacking from nose to tail, with helpful Q&A sessions, too. Lunch is included, as is one free drink … and plenty of prizes and giveaways!
Here's the full look at the agenda for Thrifty Traveler University:
8:30 a.m. to 9 a.m. – Check-in
9 a.m. to 9:15 a.m. – Introduction & Welcome
9:15 a.m. – 9:45 a.m. – Rethink the Way You Travel: Money-Saving Travel Tips
9:45 a.m. – 10:45 a.m. – How To Book The Cheapest Flights Possible
10:45 a.m. – 11 a.m. – Giveaway & Break
11 a.m. to 11:30 a.m. – Introduction to Points and Miles
11:30 a.m. to 12 p.m. – Navigating Airline Alliances
12 p.m. to 12:45 – Lunch & Giveaway
12:45 p.m. to 1 p.m. – Understanding Your Credit Score
1 p.m. to 2:15 p.m. – How to Use Credit Cards to Travel For (Nearly) Free
2:15 p.m. to 2:30 p.m. – Giveaway & Break
2:30 to 2:45 – How to Meet Minimum Spending Requirements
2:45 to 3 p.m. – Stay Organized While Travel Hacking
3:00 to 3:30 – Our Favorite Points Redemptions
3:30 to 4 p.m. – Wrap Up and Q&A, Giveaway 4
4:00 to 5:00 – Happy Hour
What Travelers Say About Thrifty Traveler University
Don't just take it from us: Travelers form near and far have attended our University courses over the years and still sing its accolades.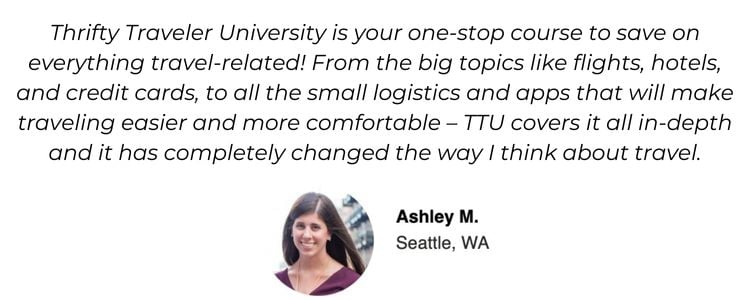 Bottom Line
This is your last, last chance. Thrifty Traveler University is just days away on Saturday, Nov. 5 – and we're nearly sold out!
Learn how to travel more for less! Space is limited and time is running out. Make sure you reserve your spot ASAP!
Register now for Thrifty Traveler University!