Who saw this coming?
Yesterday, two of the biggest bucket list destinations in the world went head-to-head for the crown. Which fan-favorite would win our second annual Thrifty Traveler Madness: A Tournament of Bucket List Destinations: Santorini or Bora Bora?
We startedwith 16 bucket list destinations around the world to begin the tournament from the Maldives to the Great Pyramids, but voters narrowed it down to the two top destinations for the finals. And there were some massive upsets along the way.
It all came down to Santorini, Greece and the coral reefs of Bora Bora. And it was a close call… But after a win of just a few hundred more votes, Santorini takes the crown!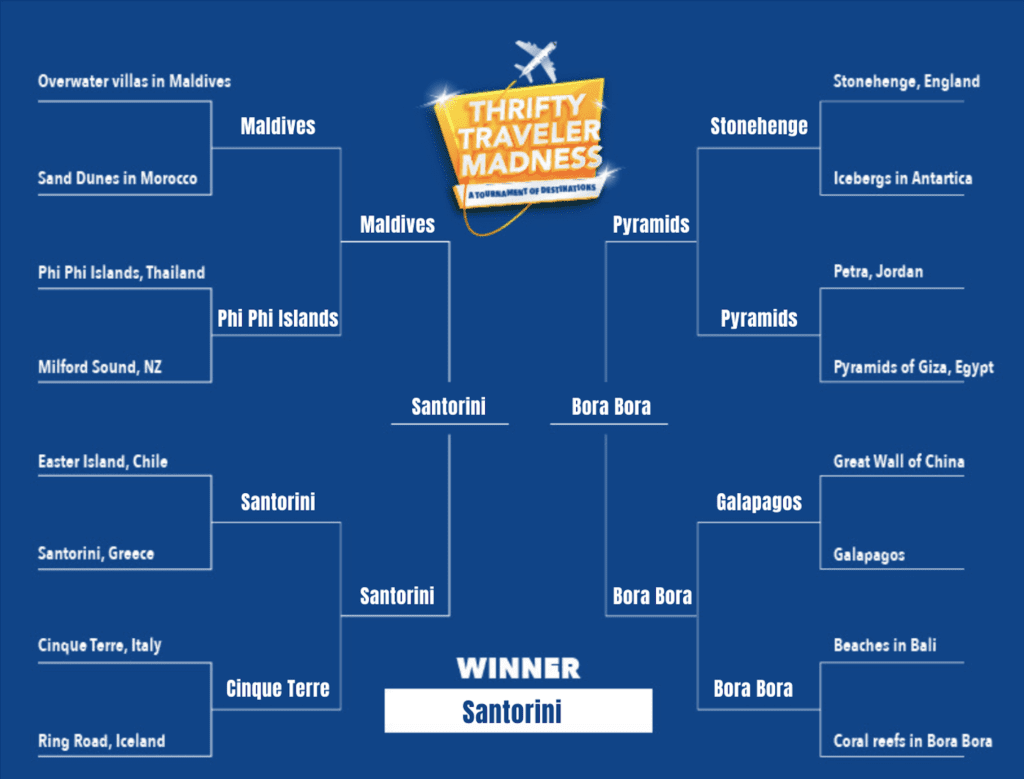 Let's recap how we got here…
In the first round, we were most shocked to see Bali, Petra, Iceland, and Morocco get booted from the competition! In the quarterfinals, we hated to say goodbye to Cinque Terre, Thailand, Stonehenge, and the Galapagos Islands.
We could hardly believe the Great Pyramids and the Maldives – two favorite bucket list spots – lost the battle in the semifinals. And in the final, Santorini had what it took to win it all!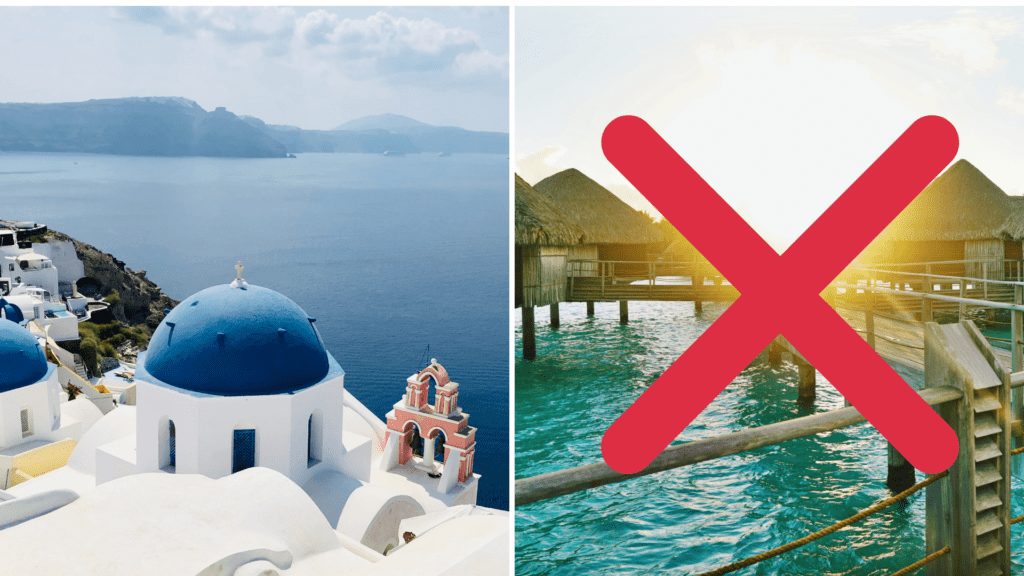 Santorini is the Champion!
We've got to hand it to Santorini – it defeated Easter Island, Cinque Terre, and Bora Bora to take the champion's throne! Now, how to make it to this top bucket-list destination for cheap?
If you're not careful, flights to Greece can cost you $1,100 – or more – roundtrip! But they don't have to. Cheap flights to Greece do exist, and we're finding them for 2021 travel.
Check out this recent deal we found and sent to Thrifty Traveler Premium members from as low as $523 roundtrip (that's $500+ off!) this fall and winter: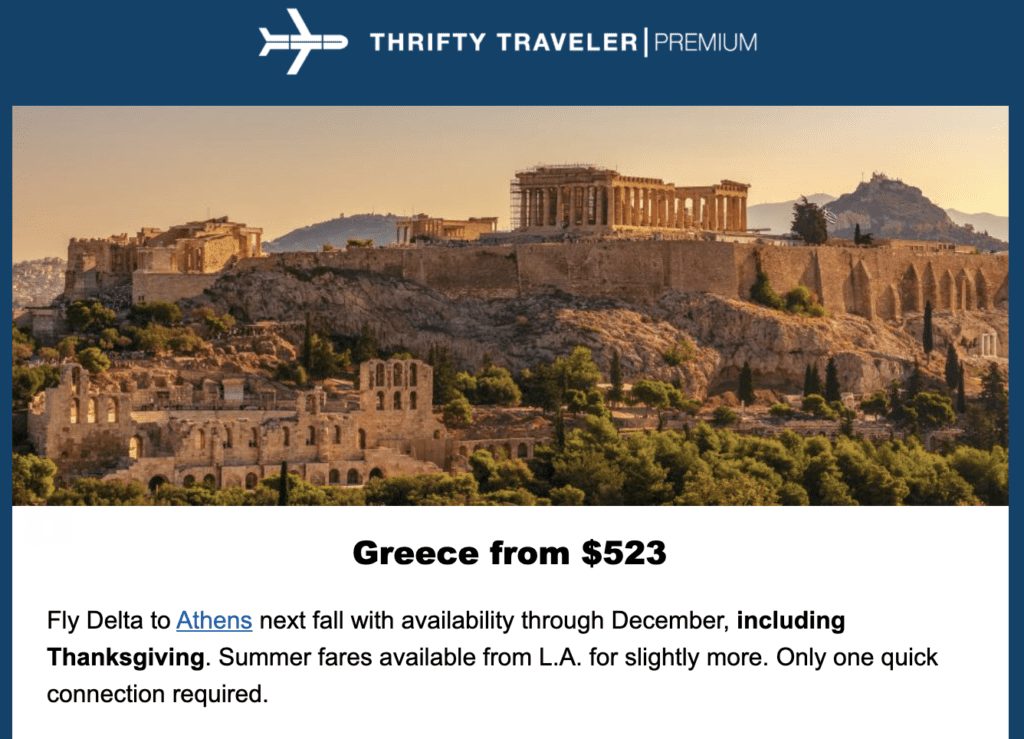 This deal is gone now, but sign up for flight deal alerts with Thrifty Traveler Premium to get the next cheap flight to Greece! 
Oftentimes, we see Greece get some flight deal love when it comes to European fare wars. Take this Europe fare war for summer 2021 for example: $500 roundtrip to any of these European cities for more than $600 in savings.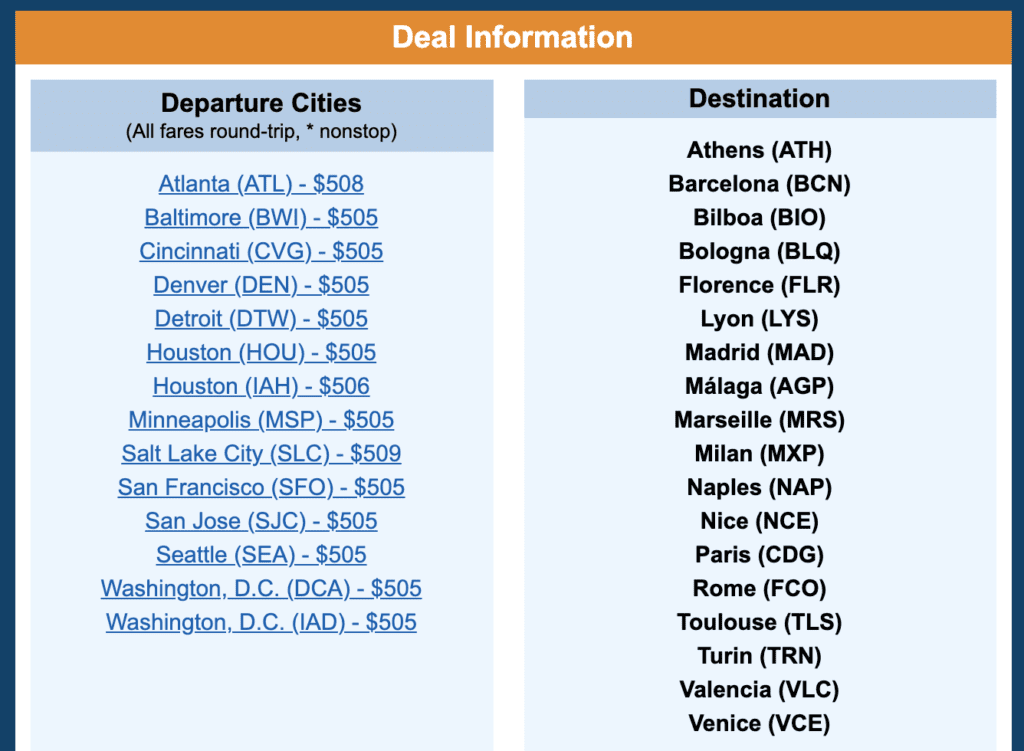 Your best bet for cheap flights to Santorini? Snag a cheap flight to Athens, then take a ferry or short flight to the island. While you're there, island-hop to Mykonos, Crete, Paros and beyond.
Want to use points and miles instead? We find award fares and flash sales to use your points and miles on! With this deal we found, you could have used your American Airlines miles to fly roundtrip to Greece for 50k miles from any U.S. airport:
Savings of $1,200? Yes, please! When cheap fares to Greece come around, we find them and instantly alert our Thrifty Traveler Premium members. This deal is no longer live, but make sure you get instant alerts for the next ones we find!
Congrats, Santorini!
A huge congrats to our winner of this year's Thrifty Traveler Madness tournament, Santorini! The title is well-deserved for one of the most sought-after bucket list destinations in the world.
And thank to you, fellow travelers, for participating in this bracket competition! We hope this has brought a smile to your face, and excitement to return to travel in 2021. It's time to cross some destinations off your bucket list!