A creative web browser extension launched late last year solved a major pain point for travelers: Displaying Southwest prices on Google Flights, finally allowing flyers to compare fares with other carriers in one spot. Two months later, it seems the airline has moved to shut it down.
The Wanderlog extension for Google Chrome that used a workaround to pull in and display Southwest flight prices hasn't been working for at least a few days – maybe even several weeks. The company's co-founder confirmed this week that Southwest had reached out, putting a stop to it. 
"Unfortunately, a lot of folks' fears have materialized and we've received a notice from Southwest," Peter Xu said in an email to Thrifty Traveler. "On advice from our lawyers, we're evaluating next steps."
That's why users who have installed the Wanderlog extension to see prices when searching Google Flights are back to seeing "price unavailable" next to Southwest along with an error saying: "Southwest searching is currently disabled while we work out some issues."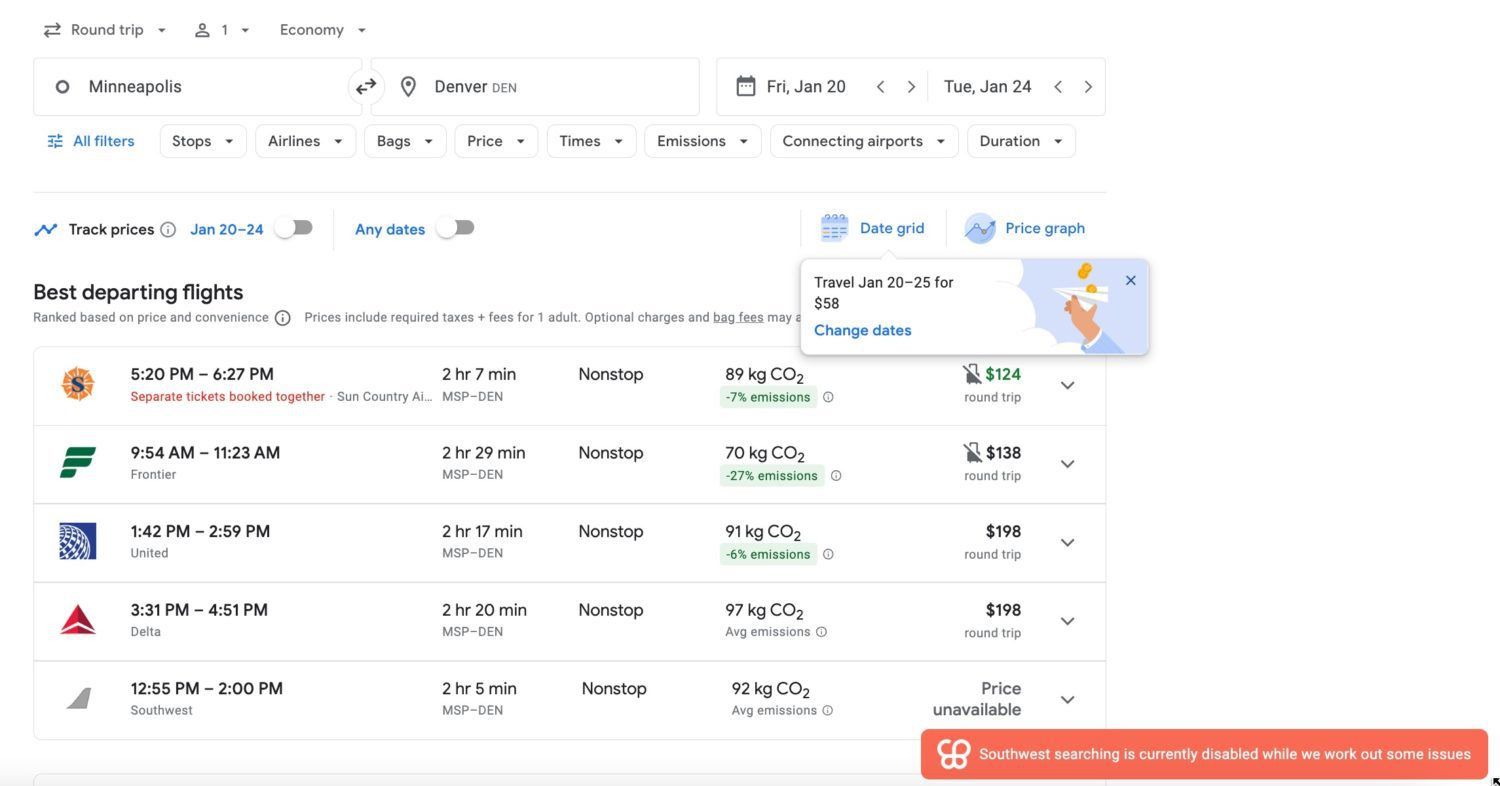 Whether Southwest sent a cease and desist order or something else is anyone's guess. Xu didn't elaborate and Southwest itself did not respond to a request for comment on its actions.
But it comes as little surprise: It was fairly obvious from the start that this crafty extension would ruffle feathers with the Dallas-based airline.
For decades, you haven't seen Southwest fares through Google Flights, Expedia, Kayak, Skyscanner, or virtually any third-party site where you can search for flights .. and that's by design. The airline doesn't list its fares on almost any flight search platform, preferring to force customers to Southwest.com instead, where they don't have to pay extra to sell its fares or show its customers options on other carriers.
Wanderlog's tool changed that, using a discrete process to pull in Southwest fares and turn Google Flights into even more of a one-stop-shop for flights. After adding the Chrome extension to your browser, wait a few seconds after hitting search for fares, and voila: Wanderlog would display prices for Southwest flights in your Google Flights tab.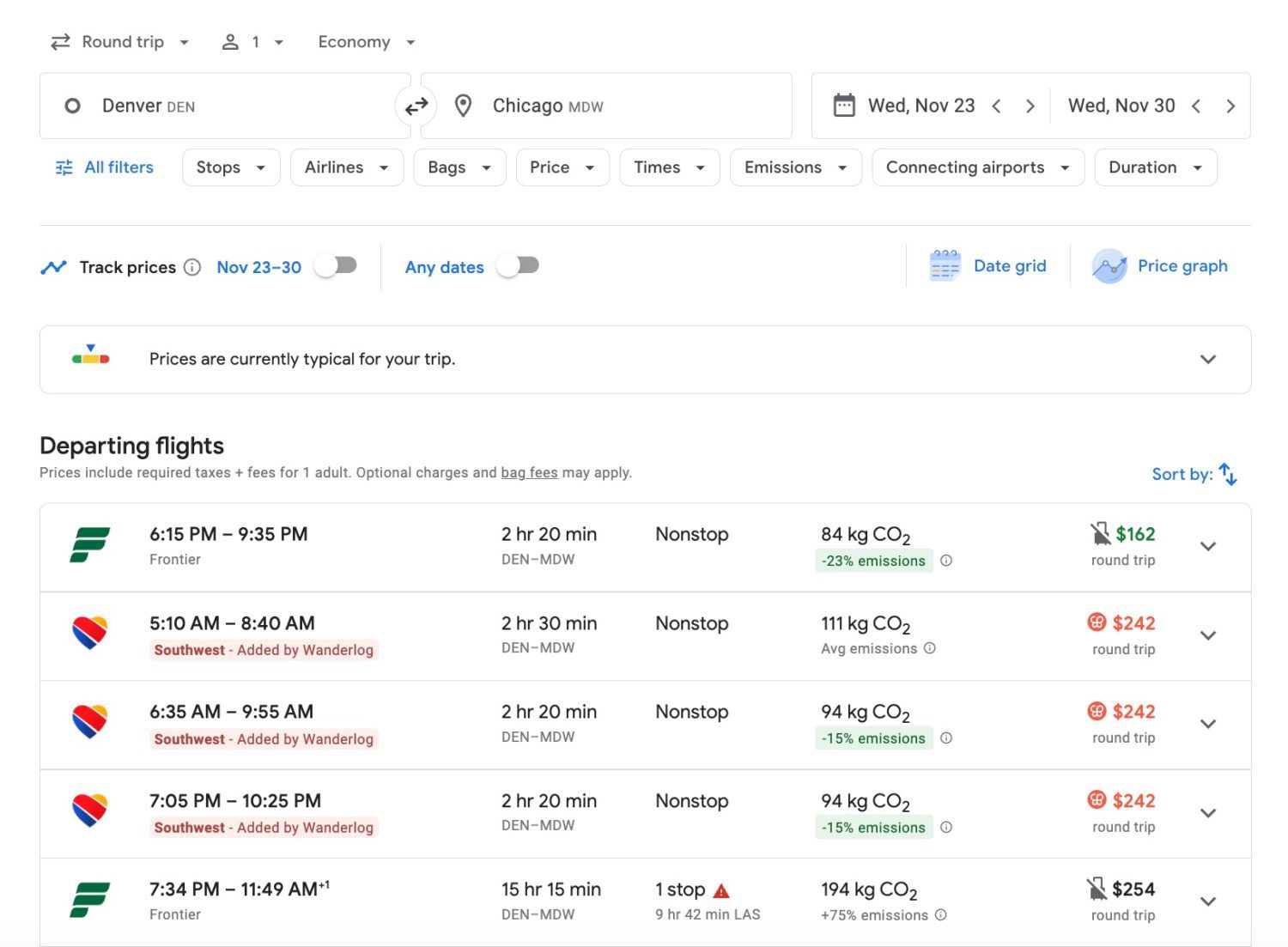 It wasn't perfect, but it solved a major problem by allowing travelers to easily compare Southwest prices against other airlines.
Just two months later, Southwest has put its foot down. And given the dynamics at play, it's hard to see how they find a way to make it work again.
Months ago, Xu admitted that Wanderlog never approached Southwest about the idea, apparently going by the old adage: "It's easier to ask forgiveness than it is to get permission."
"We love using Southwest. We think they're one of the most consumer friendly airlines out there these days," Xu said at the time. "You still have to seek out this Chrome extension. And often, if you seek it out, you probably already know that Southwest is a great airline and something that you want to fly on."
Clearly, Southwest didn't see it that way.
Bottom Line
Back when it launched in early November, we called Wanderlog's browser extension to display Southwest fares a game changer. But in the very next breath, we guessed Southwest wouldn't stand for this. Now, it appears those suspicions have been confirmed.
It was fun – and useful – while it lasted.