Storms strike, flights get delayed or canceled and passengers get rebooked. It's part of the airline world.
But Sun Country's cancellation of flights back to Minneapolis from Mazatlán and San José del Cabo flipped that familiar story on its head, and it's touched a nerve. Rather than send planes to pick those passengers up or cover their costs to get back to Minnesota, the airline is issuing refunds but otherwise abandoning its customers in Mexico.
Here's what's at work behind that decision, and why they got it wrong.
By the Book
There are two basic types of flight cancellations or delays, and airlines handle them very differently.
The first happens through some fault of the airline: a mechanical issue, crew shortage, etc. In these instances, airlines will often provide alternate arrangements to get customers to their final destination. That includes booking passengers on another airline if it doesn't have capacity on its own routes.
But that's not the case with weather-related cancellations. Airlines have much more latitude in their responsibilities to customers if a storm or natural disaster changes flight schedules. In general, flyers have two options if their flight gets canceled by bad weather: Get a refund, or get a seat on the next available flight. That's it. These are spelled out in each individual airline's contract of carriage. And most are shockingly similar. Here's a copy of Sun Country's: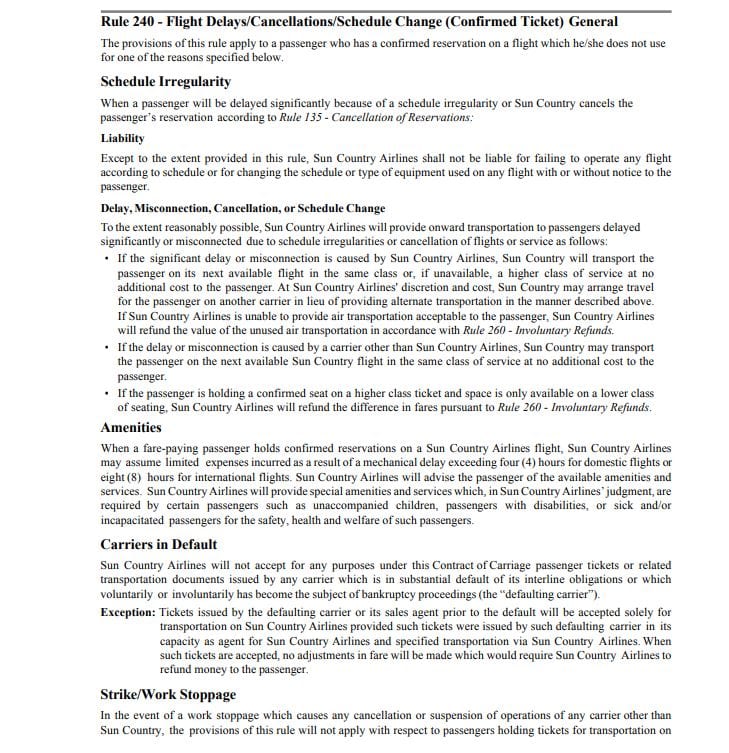 In general, an airline owes flyers very little when the weather causes a cancellation. And that's fair. Bad weather isn't an airline's fault, and mass cancellations like those we saw at MSP over the weekend are often made by the Federal Aviation Administration rather than by individual airlines.
In all, 667 flights in and out of MSP were canceled during the snowstorm. But this was an extraordinary circumstance, and Sun Country has not handled it well.
End of the Season
The reason an estimated 250 Minneapolis-bound passengers were left in a foreign country is that Sun Country is done flying to those Mexico destinations for the year. Airlines big and small tailor their flight schedules to demand, meaning some run year-round and others run to warm-weather destinations for just part of the year. And Sun Country has a lot of these routes.
Unfortunately, last weekend's massive snowstorm struck just as the final flights out of Mazatlán (MZT) and San José del Cabo (SJD) were scheduled to fly out. Sun Country canceled its last scheduled flight down to MZT on Saturday, meaning there was no plane to shuttle passengers back to MSP on Sunday.
Meanwhile, the Saturday flight from SJD to MSP was canceled, but Sunday's was not. Some customers were booked on that final flight home, but there wasn't enough space to fit all the canceled customers.
Though it hasn't gotten the same level of attention, the same was true in Tucson, Arizona, where service ended on Sunday. That final return flight on Sunday was also canceled. Sun Country's solution in each case? Find your own way home.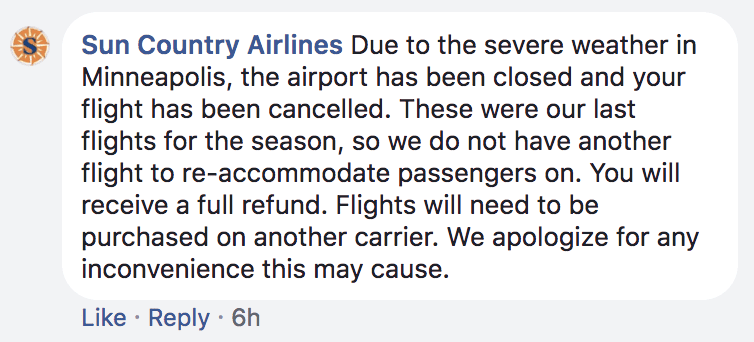 Sun Country is free to go as far as it wants to help its customers. But to this point, it has done the bare minimum.
A flyer stuck in Mexico asked the airline on Facebook if it would reimburse him for an additional hotel night. Sun Country responded: "Because the cancellations were due to weather, we will not provide reimbursement for additional travel cost."
No Backup Planes?
Sun Country told KSTP-TV and other media outlets that it could not make a trip to Mexico to pick up its stranded customers without "cancelling other flights to other destinations in order to free up additional aircraft."
Despite its stature in the Twin Cities, Sun Country is a tiny airline. The Eagan-based carrier has just less than 30 Boeing 737 planes. By comparison, Delta has almost 900 airframes in total, but any airline worth its salt has some backup planes that aren't on scheduled routes for exactly this reason. You need some spare frames available to keep your schedules intact when a plane inevitably needs repairs.
So I'm not quite sure I buy Sun Country's explanation that they didn't have a spare plane available. Even if that's true, it could send a plane or two scheduled on a domestic route down to Mexico for a quick pick-up. The airline insists doing so "would have been more disruptive to even more passengers." It's hard to fathom anything more disruptive than getting stranded in a foreign country.
Other Options
But there's still another easy option: Charter more planes. There are many third-party businesses whose entire business model is renting out planes to major carriers when their fleet is short. Sun Country has leased planes as needed in the past, especially during peak seasons. When Sun Country was asked whether they considered a charter to pick up the stranded passengers in Mexico, a Senior VP stated they weren't sure. It appears no one is willing to take responsibility at Sun Country.
And of course, Sun Country could offer to cover the cost of return flights for the passengers it brought to Mexico because their own schedule compounded the cancellations. Instead, they left those paying customers in Mexico. Even with a refund, travelers who snagged a cheap fare are likely now forced to pay substantially more for a last-minute ticket home. Flights this week from SJD and MZT to MSP are $600-$700 or more. The refund from Sun Country will likely cover less than half of the new flight cost.
Long story short: Sun Country has options to make this right with its customers. They might be expensive, but compared to the headaches they've caused travelers and the public relations nightmare this has created, it should be an easy choice. Or perhaps under its new ownership, the airline has decided that extra cost isn't worth it.
How to Avoid It
Let's be clear: The 250 or more stranded travelers are the responsibility of Sun Country, and Sun Country alone.
These flyers had no reason to expect that their last ticket out of town would be cancelled, and that they'd have no alternatives. And chances are, they booked these flights well before there was any whiff of a record-breaking April snowstorm. It is incumbent on Sun Country to make it right. That said, there are some lessons here for travelers to keep in mind.
Seasonal routes are common in the airline industry, especially to warm (and cold) weather destinations. For peace of mind, it could be worth doing some digging or checking with your airline to ensure that there will be alternatives available if your flight gets canceled. Every airport's Wikipedia page has a list of each airline's nonstop destinations, including which are seasonal. Search for fares a week or so after your planned return to double-check.
And whether it's a storm or mechanical issue, these issues hit small carriers harder. Sun Country doesn't have any airline partners, let alone membership in an airline alliance. That makes it even harder to call for help when trouble strikes. If you are flying on a larger airline, such as American, Delta, or United, this should never be an issue as the airlines have flexibility to provide other aircraft to cover for weather issues.
Bottom Line
This is a PR nightmare for Sun Country, and one that may have sapped any residual goodwill its flyers had for "Minnesota's Hometown Airline." Sun Country has honored its policies in its response thus far to the flyers in Cabo, Mazatlán and elsewhere, but when following the rules leaves hundreds of paying customers stranded in a foreign country, playing by the book just isn't enough.