Silvercar by Audi, one of the coolest options for rental cars, has quietly rolled out a loyalty program branded "Premium Rewards."
As was first reported by The Points Guy the new loyalty program rolled out quietly in early August. And, if you have recently completed a Silvercar by Audi rental, you may already have points in your account.
If you aren't familiar with Silvercar by Audi, check out a full review of our recent experience with the service in Charlotte, North Carolina. While it may not be the cheapest way to get a rental car, we love Silvercar because the process is smooth, and you don't pay extra for things like car seats, ski racks, onboard Wi-Fi and satellite radio.
And while you can't rent through Silvercar everywhere yet, the list of locations is growing rapidly.
What You Need to Know About Silvercar Premium Rewards
On the Silvercar by Audi Premium Rewards landing page it states you will earn one point for every dollar you spend on a rental, excluding taxes, fuel, coverage, and any other fees.
So for example, if you rent a vehicle that costs $100 before taxes & fees, you would earn 100 points on that rental. And enrollment in the program is not necessary. When using your Silvercar by Audi account to make the rental, you will automatically earn those points.
And as long as you have activity at least once every five years, your points will not expire. Additionally, there are no blackout dates – when you'd be unable to make a rental using points.
But it isn't totally clear how these redemptions will actually work – i.e., what's the rate at which you can redeem points for free rentals?
As you can see below, Silvercar by Audi states that you can get a free rental starting at just 516 points.
And through the research completed from example bookings by The Points Guy, it appears these points are worth anywhere from nine to ten cents each towards the cost of the base rate of rental. It appears to vary based on the rental location and vehicle type. That means redemptions starting at 516 points would cover a rental a rental around $57 a day before taxes and fees. That's definitely on the low end of Silvercar's pricing.
All said, the more you spend on a rental, the more points you will earn and the fast you will earn free rental days. But generally speaking, you should get a free rental day after about 10 or 11 Silvercar rentals.
Save Money on Silvercar by Audi Rentals
One of my favorite things about Silvercar by Audi is the ability to save 20% on your rentals if you have a Visa Infinite credit card. That means if you carry a card like the Chase Sapphire Reserve, you can use the promo code VISAINF20 at checkout and save 20% on your rental.
Additionally, if you have a rental of five days or more, the promo code WEEKLY30 will save you 30%.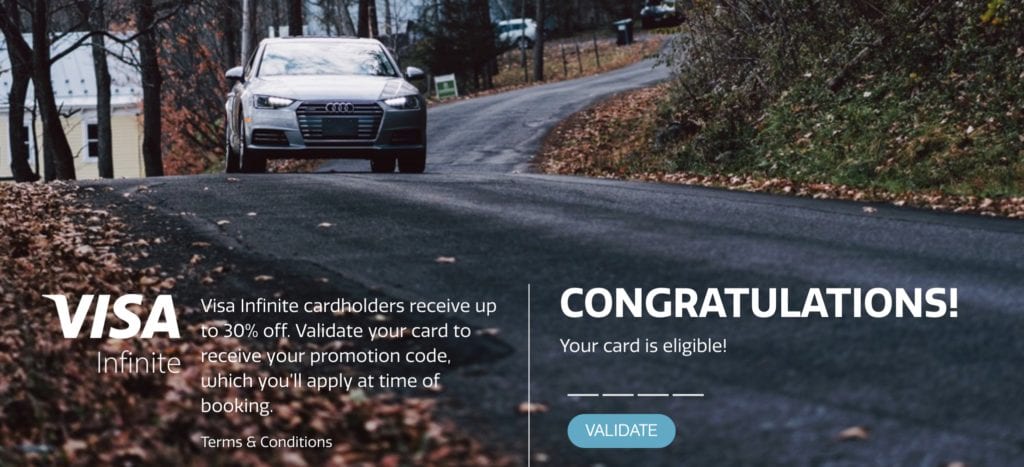 Bottom Line
It's great to see Silvercar by Audi introduce a loyalty program. This is just another reason to justify Silvercar over the big rental agencies where they are available. Though the redemption side seems a bit confusing, your points should be worth between nine and ten cents each when you want to use them.