Can you keep a secret?
Thrifty Traveler Premium member Emma B. had been trying to pull off a once-in-a-lifetime surprise trip to Italy for her mother and sister to explore their family history together. The problem? Tickets to fly from their home airport in Minneapolis-St. Paul (MSP) to Italy were at least $1,200 each – and sometimes double that.
Enter Thrifty Traveler Premium. While we find dirt-cheap domestic and international tickets to save members hundreds, we're also constantly scouring the internet for the best ways to use credit card points and miles: new sweet spots to save miles, dirt-cheap Delta SkyMiles flash sales, and business and first class award availability.
One of our recent deals helped Emma book that bucket list surprise trip to Italy and back (plus a pitstop in Paris) for her family next spring for just 30,000 miles each. 
"I couldn't believe it because like I said, tickets were going for a minimum of $1,200," Emma said, still in disbelief about booking such a massive, bucket list trip for so few points.
Keep reading to see how she pulled it off.
Breaking Down the Deal
The key to getting more out of your miles – and finding the best deal – is using airline partnerships.
Sure, you can book Delta flights with Delta SkyMiles. Or fly American Airlines to Hawaii by redeeming American Airlines AAdvantage miles. But you can save a boatload of SkyMiles by booking those same Delta flights using Virgin Atlantic miles – especially if you want to fly Delta One suites. And you can book those American flights to Hawaii using almost half as many British Airways miles.
That's exactly what this deal boils down to. Virgin Atlantic teamed up with both Air France and KLM this spring, meaning you can now use Virgin Atlantic miles to book Air France flights – and vice versa.
Thrifty Tip: If you don't have Virgin Atlantic miles, you can easily get them as they're one of many Chase transfer partners, so you can transfer them from cards like the Chase Sapphire Preferred Card. Virgin Atlantic is also an Amex transfer partner as well as a transfer partner of Citi.
Virgin Atlantic charges just 15,000 miles (or less) to fly Air France or KLM in economy each way from the U.S. to almost anywhere in Europe, with some higher charges for peak summer travel. Yet cash fees of $150 or more each way (and more than $300 on a round-trip fare) put a serious dent in that redemption.
But we found a massive sweet spot: Flights departing from Minneapolis-St. Paul (MSP) are exempt from those exorbitant fees. That means you can book round-trip Air France or KLM flights to Europe for 30,00 miles and just $50 to $100 or so in fees. Best of all, you can connect to almost anywhere in Europe without paying another mile.
We sent it to our Thrifty Traveler Premium members earlier this month, flagging it as a possible mistake fare because of the huge cash savings.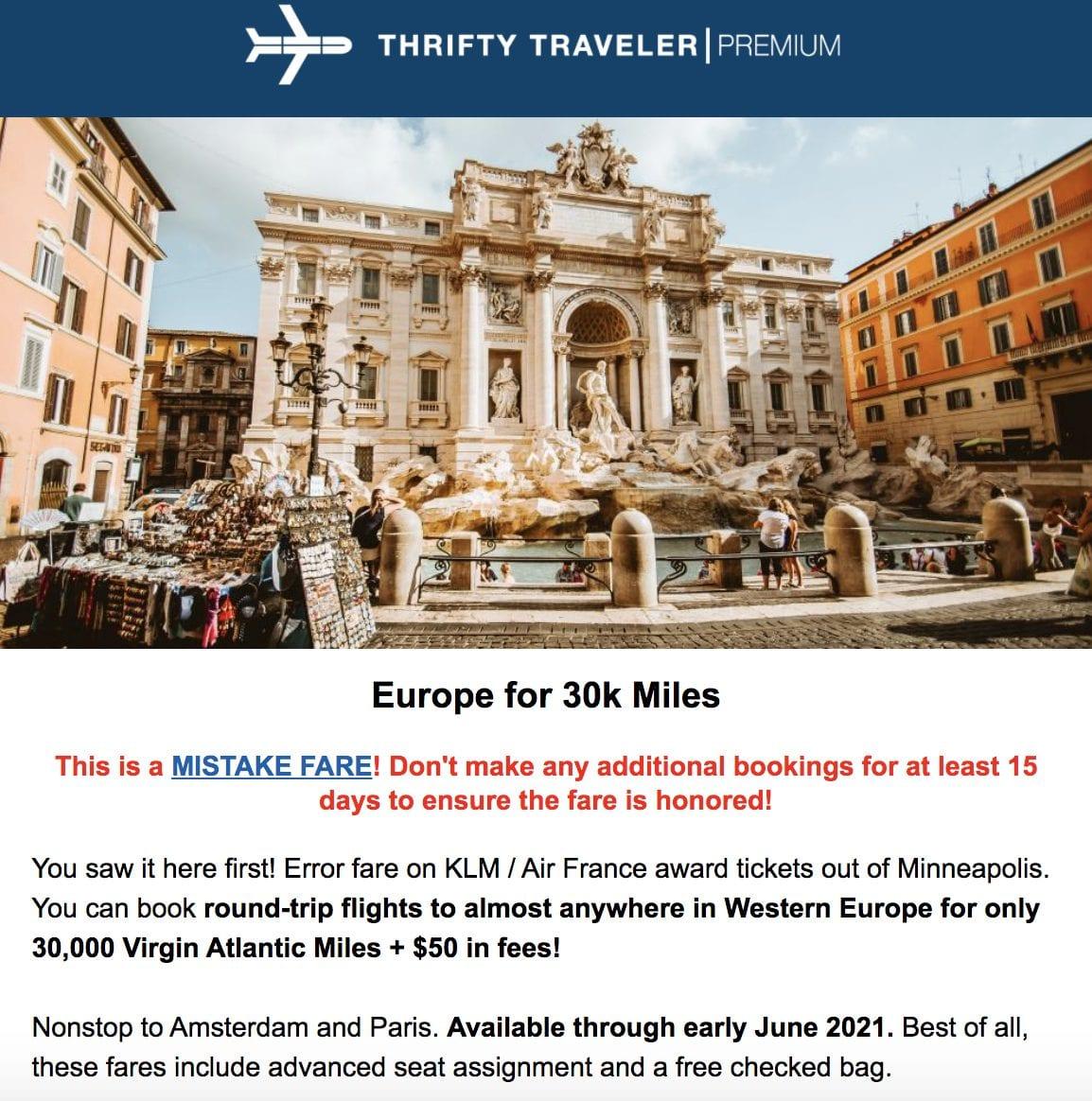 Want award alerts like this one, plus cheap domestic and international fares? Try Thrifty Traveler Premium for $7.99 a month!
Emma B. took that deal and ran with it, getting huge value from her credit card points and booking an epic family trip for next year.
A Surprise Trip to Italy
With deep ties in Italy, Emma and her family have been there before. But they've never visited together.
So when the deal popped in her inbox earlier this month, she saw a way to pull off a massive surprise for her mother to explore their heritage. Mom might not know it yet, but Emma, her sister, and her mother are now booked to fly from Minneapolis-St. Paul (MSP) to Milan (MXP) next May.
From there, they'll set off on an epic trip to retrace their family lineage together: Visit the small town outside Milan where their ancestors emigrated from; stop in Tuscany for some wine; explore some of the small villages in central Italy where their ancestors were born; some sightseeing in Rome; and finally wind their way down to Naples, where much of their family established deep roots. They'll fly back home from Naples (NAP) – but not before stopping off in Paris for a day.
The final tally? Just 30,000 Virgin Atlantic miles and about $100 in fees each. Emma transferred 90,000 points she racked up from her Chase Sapphire Preferred Card to get the miles to book all three tickets. Done.
Read more: How to Transfer Chase Points to Partner Airlines
Delta would charge at least 50,000 miles for these same flights. Booking with Air France miles, it'd be roughly the same – plus another $200 in fees. Oh, and booking with cash? Forget about it.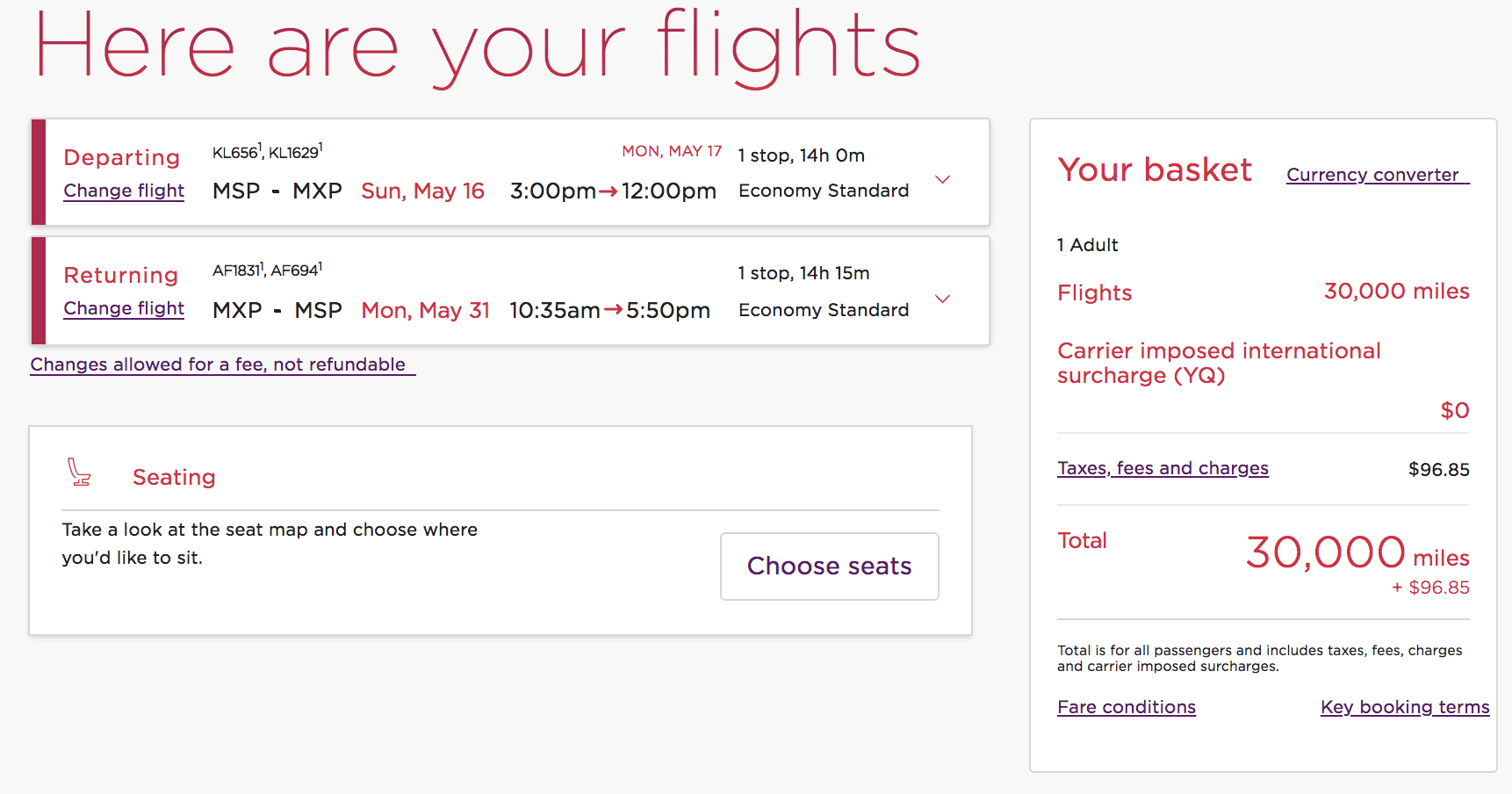 While international travel is still up in the air, Emma is hoping everything clears up in time for this amazing family adventure. If not, Virgin Atlantic charges a reasonable $50 fee to cancel the flights and get the miles back – and has even been waiving that fee during the COVID-19 pandemic.
It was Emma's first time redeeming Chase points. No, we're not joking. What a first redemption!
"Now my younger sister and I just have to wait until Christmas to gift this surprise trip to our mom!" Emma said. "We hope she enjoys it as we haven't been on a "mother/daughter trip" in over a decade and this one is extra special for our family."
Bottom Line
This is what it's all about. Cheap flights are one thing, but using points and miles is how savvy travelers can travel even more for less. And there's no better way to use points and miles than for a trip, flight, or experience that you otherwise couldn't afford.
A surprise family trip to Italy that would have cost $5,000 or more certainly fits the bill … and then some. Congrats to Emma on this amazing trip!
Try Thrifty Traveler Premium to get deals like this delivered straight to your inbox!
Editor's note: The names in this story have been changed so we don't ruin the surprise!