Last week, Alaska Airlines announced Condor Airlines as its newest partner to its Mileage Plan points program. Condor Airlines, is a low cost carrier based out of Frankfurt, Germany which operates a modern fleet of Boeing 767-300 aircraft. They offer business, premium and economy classes of service and are Germany's 3rd largest carrier. Condor operates scheduled flights to destinations in the Mediterranean, Asia, Africa, North America, South America and the Caribbean. Additionally, Condor operates nonstop flights from Frankfurt to the following U.S. destinations:
Anchorage, Alaska (seasonal)
Austin, Texas (seasonal)
Baltimore, Maryland (seasonal)
Fairbanks, Alaska (seasonal)
Las Vegas, Nevada
Los Angeles, California (begins May 2nd, 2017)
Minneapolis/St. Paul (seasonal)
New Orleans, Louisiana (begins May 3rd 2017)
Pittsburgh, Pennsylvania (begins June 23rd 2017)
Portland, Oregon (seasonal)
San Diego, California (begins May 1st 2017
Seattle, Washington (Will also add a Seattle to Munich route starting in June 2017)
Thrifty Tip #1: Condor is a budget airline, but their fares include one checked bag up to 50lbs and an in-flight meal. Seat assignment, alcoholic beverages, and entertainment are extra. Seat assignment is $40 one-way, but the seat arrangement is 2-3-2, so your chances of a middle seat assignment at check-in are small.
This news should be welcomed by Alaska loyalists, as it provides a fantastic opportunity to book a cheap flight to Europe and earn a significant amount of Alaska miles, while working your way towards Alaska elite status. Alaska Airlines and Condor have been connecting passengers between the two carriers on flights from Europe and North America, using an airline industry partnership called an "interline agreement", but until now have not had a mileage partnership.
Alaska Airlines' Mileage Plan is an incredible program. They have a number of partners across the globe and don't belong to any alliances. Because of this, you are able to find some unique redemptions with Mileage Plan miles (like Emirates). It is great to see Alaska adding partners like Condor as this is just another avenue to earn their valuable Mileage Plan miles. At some point in the future, Mileage Plan members will also be able to redeem award tickets for travel on Condor. This date however has yet to be announced.
Earning Mileage Plan Miles on Condor Flights
Condor travelers can join Alaska's Mileage Plan for free and earn miles as of last week (March 20th, 2017). Existing Alaska Mileage Plan members can also start earning immediately. It is also worth noting that miles flown will also count toward elite status in Alaska's Mileage Plan. Per the Alaska/Condor award chart pictured below, Condor earned flight miles are based on the cabin type, not the fare class. This is far more lucrative as you will earn miles based off of the distance you fly and not the price you pay for the ticket. This is huge as Condor fare sales are quite frequent! We have seen most US carriers move towards a revenue based loyalty program over the past few years, which definitely doesn't benefit the consumer.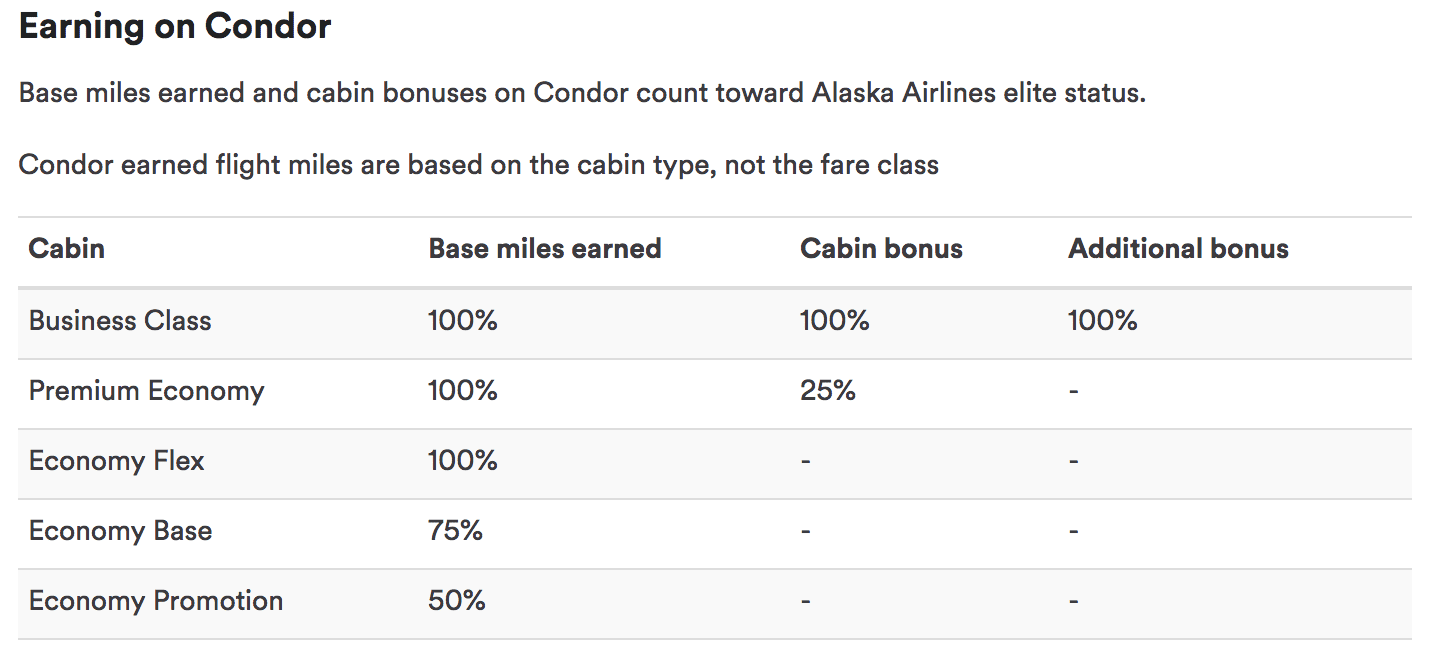 Let me give you an example of how this would work. Back on March 19th, Mr. TT featured a Thrifty Traveler Premium flight deal from Baltimore & Minneapolis to 23 European cities from $399. As a part of this deal, you were able to fly from Minneapolis to Budapest, Hungary for around $450 (required a stop in Condor's hub of Frankfurt). You would be traveling roughly 4,975 miles one way had you booked this round trip fare. Under the above chart, a round-trip flight between Minneapolis and Budapest, Hungary would earn the following Alaska miles on Condor metal:
4,975 Alaska miles in Economy Promotion
7,463 Alaska miles in Economy Base
9,950 Alaska miles in Economy Flex
12,438 Alaska miles in Premium Economy
29,850 Alaska miles in Business
In my opinion, it's worth it to spend $150-$200 more on your Economy ticket to move up to Premium Economy. You'll earn way more miles, get more legroom and eat better food.
Thrifty Tip #2: To credit a Condor flight to Alaska Mileage Plan, you will just need to list your Mileage Plan account when booking your travel via Condor's website. If you have an existing reservation and would like to add your Alaska Mileage Plan account, call 1-866-960-7915.
Bottom Line
The number of travelers flying Condor between North America and Europe has more than doubled in the last three years. This number is only expected to grow with the addition of 4 new routes starting in May of this year (mentioned above). Mr. TT frequently features Condor deals through the Thrifty Traveler Premium service, and I am hoping to fly one of their routes soon. The added benefit of earning valuable Alaska Mileage Plan miles will only increase this desire.