Just weeks after re-opening their borders to travelers with COVID-19 testing requirements, both Chile and Peru have shut down most international travel.
Starting Monday, Jan. 4, Peru once again requires all arriving international travelers to quarantine for 14 days, the U.S. Embassy in Lima has announced. Meanwhile, Chile now requires all travelers to quarantine for at least 10 days – though they can leave quarantine on day seven after a negative COVID-19 PCR test, according to the U.S. Embassy in Santiago.
Chile and Peru also still require travelers to have a recent negative COVID-19 test in hand upon arrival. But that will no longer allow them to skip quarantine.
Both countries had only recently resumed international travel, with requirements for a negative COVID-19 test taken no more than 72 hours before departure. But as COVID-19 cases mount worldwide and alarm spreads of a faster-spreading variant of the virus, these two South American countries are just the latest to clamp down international travel.
Planning to head elsewhere? Check our master guide with country-by-country travel restrictions!
It's unclear how long these new travel restrictions may last. Remember: Just because the country now requires a quarantine doesn't mean your airline owes you a full refund on your flight.
But keep in mind that most airlines offer free change and cancellation (for a voucher)  – though you'll have to pay any fare difference if you change your flights to a future date. And if the airline cancels or significantly changes your flight, they owe you a full refund.
Read more: Why You Shouldn't Cancel Your Flight (Yet) Due to COVID-19
New Restrictions in Peru
From Jan. 2 through Jan. 4, health officials performed additional rapid antigen tests on all travelers arriving from countries with a new, fast-spreading strain of COVID-19 – including the U.S. Those
But as of Monday, Jan. 4, all arriving travelers are required to quarantine for 14 days. Travelers will be required to quarantine for two weeks at home, in the Pan American Village or other temporary isolation center, or in other lodging. And they still have to present a negative COVID-19 test taken no more than 72 hours before departure to enter the country.
The embassy began alerting travelers to the change Friday, and it's unclear how long the new restrictions will be in place.
But it raises massive doubts for travelers with plans to go to Peru to see Machu Picchu in 2021. Peru has allowed international travelers to visit the country since Oct. 1, when some international flights to the South American country resumed. Travelers were allowed to enter the country with a negative COVID-19 result from a test taken no more than 72 hours before departure.
The bucket list destination felt more attainable than ever thanks to a massive mistake fare we sent to Thrifty Traveler Premium members, with flights to Lima (LIM) starting at just $111 roundtrip.
Chile Clamps Down, Too
Chile opened its borders to international travelers across the globe – including Americans – less than a month ago.
Starting Dec. 7, Chile allowed travelers to skip quarantine with a negative COVID-19 test taken no more than 72 hours before departure. But the U.S. Embassy in Santiago announced that starting Dec. 31, all arriving travelers (including residents and foreign tourists) must quarantine for 10 days upon arrival. A negative test is still required to enter the country, and Chile also requires health insurance with a minimum coverage of $30,000.
If Santiago isn't their final stop, travelers will be given a 24-hour grace period to reach their final destination before beginning their quarantine period.
That's shorter than the 14-day quarantine period imposed in Peru – and it could get even shorter. Travelers can leave quarantine if they receive a negative PCR test result taken on their seventh day in quarantine – though travelers must remain in quarantine until those results come back.
Still, it adds uncertainty to anyone planning to head for Chile in 2021. Flights to Santiago (SCL) are typically expensive, but hundreds of Thrifty Traveler Premium members made plans to head there this year thanks to another massive mistake fare with roundtrip flights starting at $63.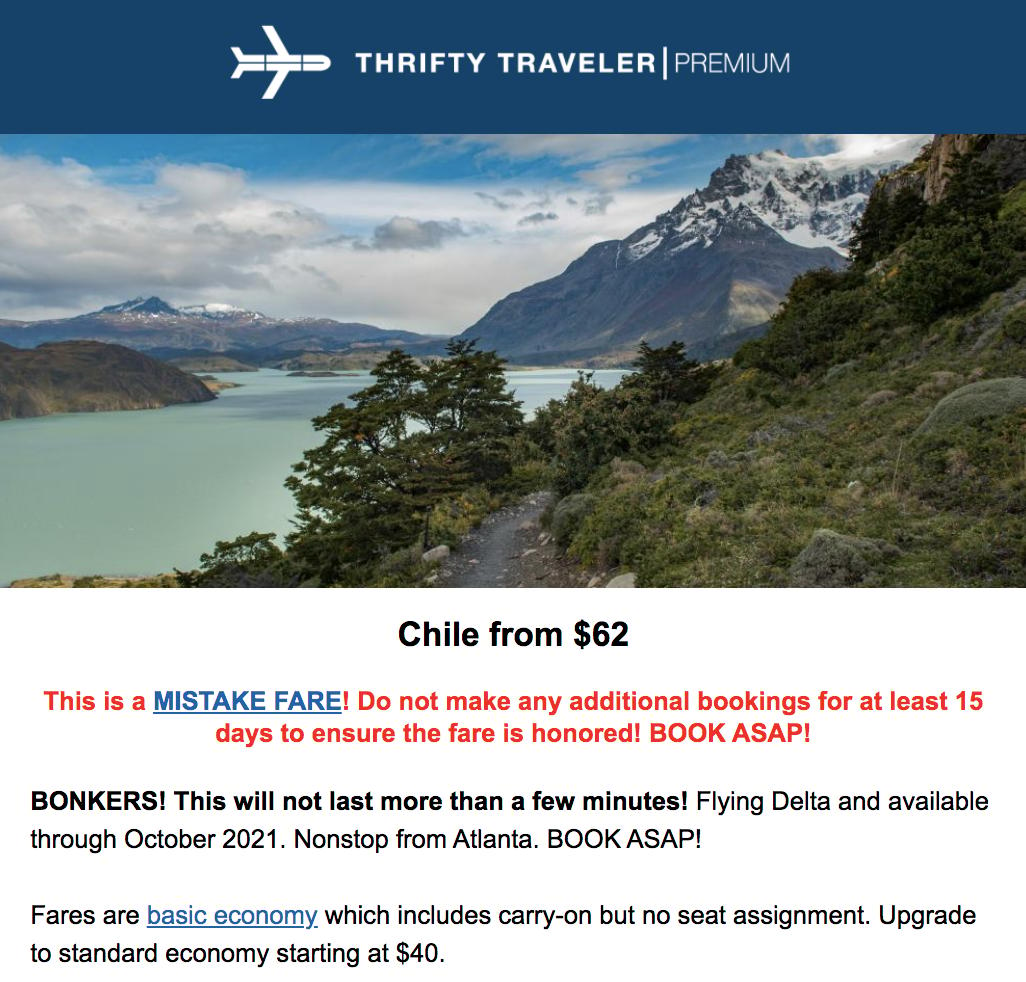 Just as with Peru, it's unclear how long these renewed quarantine requirements will last.
Bottom Line
Countries around the world are closing down most international travel once again. But with vaccine distribution underway, there's hope that will change – and travel will resume – later this year.