Iceland recently gave travelers stuck at home some much-needed hope by announcing it would open its borders to international tourists starting June 15.
It's supposed to be one of the first countries around the globe reopening – and a bright spot for U.S. travelers looking to get out and see the world. Many other countries are expected to be far more restrictive about who they'll open their doors for, leaving Americans out.
But even in Iceland, it's not as simple as it seems. The government will require tourists to take a coronavirus test on the spot, present a recent negative test, or self-quarantine for 14 days upon arrival. And after weeks of readying to reopen in mid-June, recent decisions from European regulators could push that opening date for travelers from the U.S. back to July 1 – or later.
And even then, there are still major questions we have that could complicate a trip to Iceland this summer. What will a test cost? Will there be enough tests to handle a surge of visitors? And how can you even get there?
When Will Iceland Actually Reopen?
Iceland spent weeks preparing to throw open its doors to all travelers starting June 15. Now, even that date is up in the air.
What's the problem? While Iceland planned to restart all travel next week, Europe as a whole wants to be more cautious.
The European Commission voted this week to lift travel restrictions starting June 15 only on travel within Europe. The commission is pushing to slowly start allowing travelers from outside Europe starting July 1 – and only from countries where coronavirus is under control.
But those are just recommendations to members of the Schengen Area like Iceland, Portugal, and two dozen others. Each country can proceed how it sees fit.
For now, it seems Iceland is planning to delay the full-scale restart of travel, only allowing travelers from within Europe starting June 15. Top government officials told RÚV Iceland they plan to welcome tourists from outside Europe (including the U.S.) starting July 1, regardless of how the rest of Europe proceeds.
But so much is up in the air that even that may change. Watch for official word from the Icelandic government in the coming days and weeks.
How much will a test cost you?
Iceland announced that tests will be free for two weeks starting June 15. Starting July 1 COVID-19 tests will cost travelers $115 USD (15,000 ISK).
Icelandic officials estimated that each test will cost them between $167 to $363 USD (23,000-50,000 ISK). This means they are charging tourists roughly half of that bill.
That's a fairly big cost to enter an already expensive country. But with Iceland being one of the few countries Americans can enter, it's a price many travelers may be willing to pay.
Will there even be enough tests?
This is a big question.
The Icelandic government believes it won't have enough tests to accommodate an influx of tourists, according to a new report. The government also needs more capacity to process those tests, requiring more equipment, staff, and facilities.
The National University Hospital Biology and Virology Department (SVEID) says they can currently test about 500 international arrivals a day – and estimate that could increase to 1,000 tests daily by July. But if any future outbreaks of coronavirus occur after re-opening to tourism, testing Icelandic citizens will take precedence over international arrivals.
Will Iceland limit tourism? How will other countries respond?
Iceland is a test case. Along with Greece, it will be one of the first countries to restart international travel – with some major restrictions.
The governments of both countries and nations around the world will be watching to see how it unfolds.
If an influx of international travelers strains Iceland's testing capacity, the country may need to scale back and limit international travel. And if a coronavirus outbreak follows, all bets are off.
Read more: Our country-by-country guide to when travel will restart
Most countries around the globe are still closed to international travelers. Many that are reopening are placing even stricter limits, allowing only travelers from select countries to enter – leaving out the U.S., in many cases.
And in Iceland's case, that could be a problem. In 2018, nearly a third of arriving tourists came from the U.S – with the U.K. not far behind. Both countries are still struggling with coronavirus.
How can you get there?
Even as Iceland opens back up, it'll be much harder to get there.
That's because airlines have cut most (if not all) of their flights to Reykjavik (KEF). Delta scrapped its routes from Minneapolis-St. Paul (MSP) and New York City (JFK) for the entire summer. United's flight from Newark (EWR) to Reykjavik is gone, and American won't restart flights to Iceland from Philadelphia (PHL) until at least next year.
Read more: United, Delta cancel many summer flights to Europe
That leaves Icelandair as the only way to get to Reykjavik nonstop from the U.S. And even Icelandair has slashed many of its 10 routes between the U.S. and Iceland.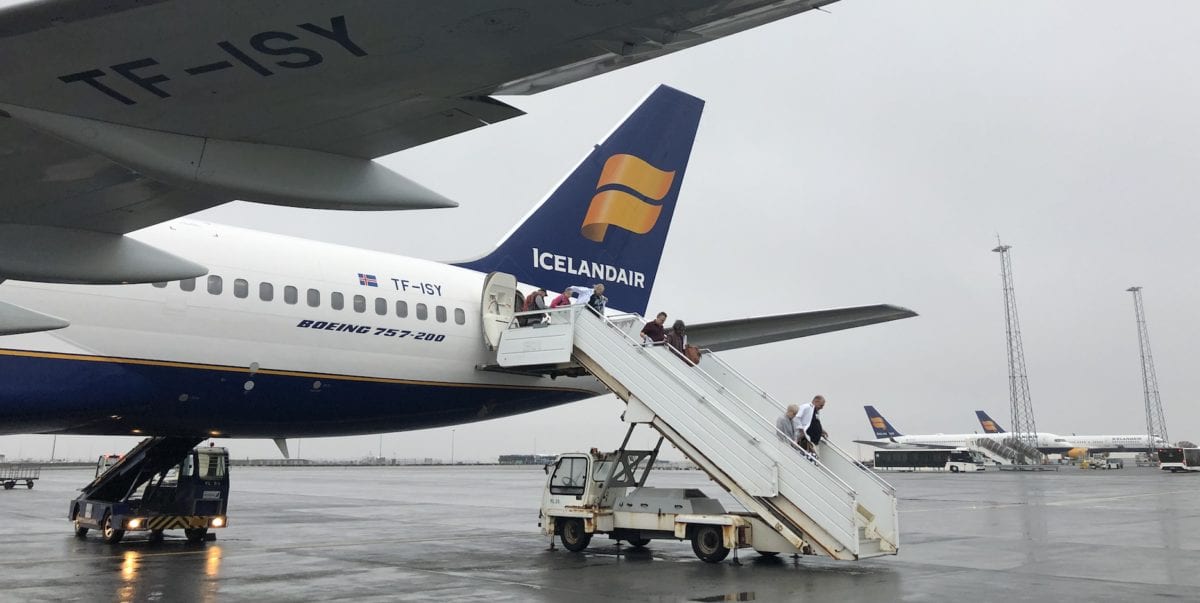 Currently, the airline is only regularly flying between Boston (BOS) and Reykjavik. Icelandair could resume more service if travel begins to pick up throughout the summer, but only time will tell.
Read more: What's it like to fly Icelandair?
Bottom Line
Despite all the excitement about travel resuming to Iceland, big questions cloud the future of your next trip to the island. Testing price, capacity, and how the country responds in the weeks ahead will shape the future of travel to Iceland.