It's not too late to book a flight deal for a long weekend to celebrate Labor Day.
Want to see what's out there for your last-minute getaway? Let us introduce you to one of our favorite tools: Google Flights Explore.
Google Flights is the best airfare search engine out there, and its Explore feature can help you find a flight to the cheapest destinations possible. The Explore feature gives you plenty of power to set filters for the flying experience you prefer, while also showing you tons of destinations you may have never considered for your cheap getaway.
Here's how to use Google Flights Explore to book the cheapest flight possible for your Labor Day getaway.
How to Use Google Flights Explore
Google doesn't heavily promote Google Flights Explore, but it's easy to find. Simply navigate to the Google Flights homepage at www.google.com/flights, click the Menu button and click "Explore map."
Google Flights Explore looks and operates much like Google Flights itself. Be sure to read our guide on how to use Google Flights to find the cheapest flights. There are origin and destination bars, date fields, one way versus round trip selectors, the ability to choose your cabin and number of passengers.
The beauty of Google Flights Explore Map is just how much it lets you, well, explore. Start by typing in your home airport (it usually auto-populates for you).
Thrifty Tip #1: Flexible about where you're departing from, too? After you've typed in your home airport, click the destination bar again and hit "+" – that way you can add up to five origin airports.
If you are looking specifically for a Labor Day weekend getaway, just enter the dates you'd like to travel. Labor Day weekend is Aug. 30 – Sept. 2, 2019.
You can use Explore for other trips besides Labor Day and your date options open as well! Simply select "Flexible Dates" and you can see all deals for a week-long trip in the next six months, or check out weekend flights in October.
You can similarly tailor your destination. It can be as broad as "The United States of America" or "Europe" or as specific as a given state or city. Or, just leave it blank! Move the map and zoom in to see what flight prices pop up.
Once you've zeroed in on a destination, click on the result. You can find the specific flights and even play around with the schedule to see if there are better dates at the same or similar prices.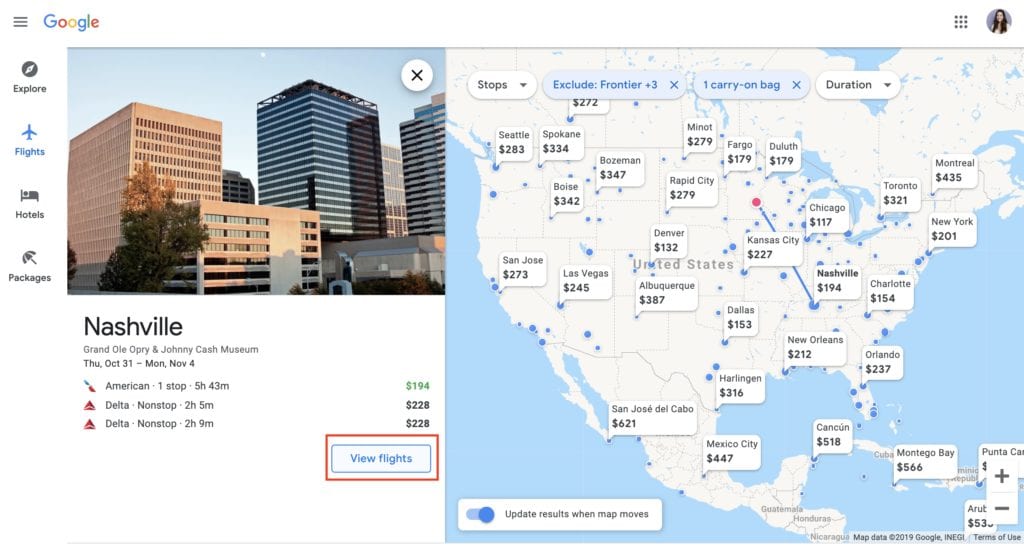 Use Filters to Set Some Ground Rules
With a last-minute trip (anything less than 30-45 days away), you'll want to stay flexible, but you can still set some preferences. Filter for a maximum number of stops, maximum price, departure and arrival times, airlines, and flight duration.
Thrifty Tip #2: While it's not always the cheapest, we know there are some loyal Southwest fans out there. If you're looking for a flight on Southwest Airlines, you won't find them on Google Flights. Just like with the standard Google Flights search engine, Southwest flights don't show up, so you'll want to search separately on Southwest's website for those.
Odds are you'll find a cheaper option the fewer filters you set for Labor Day weekend. So try searching filter-free first to get an idea of a base fare price and go from there.
Bottom Line
If you're looking for a last-minute Labor Day weekend getaway, don't fret! Take advantage of the long weekend and use Google Flights Explore to find the cheapest destination city from your departure airport. Then get out and enjoy the holiday weekend!
Subscribe to our free daily newsletter, like us on Facebook, and follow us on Twitter & Instagram

Editorial Note: Any opinions, analyses, reviews, or recommendations expressed in this article are those of the author's alone, and have not been reviewed, approved, or otherwise endorsed by any card issuer.