We've all been there: You find a great flight at the right price but aren't sure if you can make it work. Maybe you're driving, at work, or away from your computer. Your friends and family are taking too long to get back to you.
One of the best travel-related laws is a 24-hour refund policy on all flights booked with airlines (and some online travel agencies) to and from the U.S. It's a window to book now and ask questions later. Now, the popular smartphone travel app Hopper has another solution.
Hopper announced this week a brand new Price Freeze feature that allows travelers to lock in flight prices for up to seven days for a fee. Other travel companies and some airlines have toyed with this price free model. But if you're a fan of Hopper, you'll want to check this out.
What is Hopper?
Hopper is an online travel agency like Expedia or Kayak, but it does things a bit differently.
For starters, it's only available as an app – not as a desktop site. But the true power of Hopper is in its data analysis. The app compiles and compares flight and hotel prices to make predictions about when airfare may drop or increase, helping guide you to the best days to book travel.
We still think Google Flights is the king of price alerts and airfare searching, but it doesn't hurt to put feelers out into a few different services.
Want to learn more about Hopper? Read up on how to use Hopper to book cheap fares and use their Secret Fare feature.
It's important to remember that Hopper doesn't guarantee you'll be able to cancel any fare within 24 hours for free. When you book directly through an airline, you're protected by the U.S. regulation that requires airlines to offer a 24-hour free cancellation policy for all flights touching U.S. soil. Unfortunately, not all OTAs and airfare aggregators are held to the same standard, so don't count on that free cancellation window with Hopper or other sites.
But, that's what makes this new Price Freeze feature appealing. You can put a cheap flight on hold until you can book!
How Does Hopper's Price Freeze Feature Work?
So, here's how it works:
You get a notification for a price drop or see a cheap deal you like on Hopper.
Oh no, you can't book! Maybe you're driving, at work, or don't have your laptop handy. Or maybe you need to check with your travel partner(s) before booking.
You pay a deposit fee to freeze the flight price on Hopper. These fees will vary by flight, from $1 to $40. And the freeze window also varies, from one to seven days.
Note that this fee is nonrefundable, whether you book the flight or not.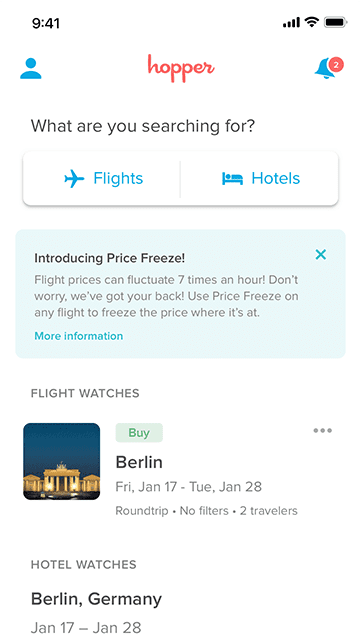 Some important things to know:
Hopper says customers in their beta test saved an average of $80 when using Price Freeze to hold their deals. For destinations and times of the year when prices fluctuate more, some saved upwards of $200.
Price Freeze is available on 90% of airfare options you can find on Hopper. You might not be given the option to freeze a price if the flight is at risk of selling out or is in high demand.
The deposit required to freeze a flight price depends on the route and demand, and can vary between $1 to $40. 
The fee to freeze your price is nonrefundable.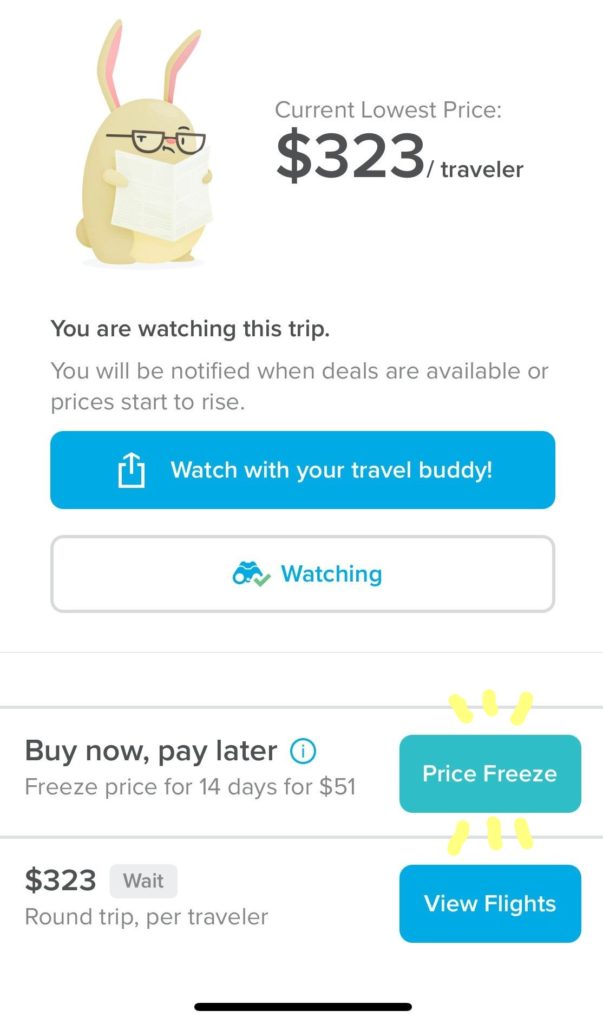 When Should I Use Price Freeze?
Price Freeze can be a handy tool if you can't book right away, but don't freeze every cheap deal you see. Use Price Freeze if:
You know you are going to book the flight, and just don't have the time/capacity to book right when the price drops
You've had price alerts set for this flight for some time, and know this is an exceptional price that won't come back around
Your flight may not be eligible for a 24-hour cancellation refund, or you need more time.
If you need to buy yourself some time and know you're going to book, this new Price Freeze can be really handy.
Who Else Offers Booking Holds?
While this might seem groundbreaking, a few airlines offer similar booking hold services. For example, you can hold your Qatar Airways booking for up to 72 hours for a small fee. However, unlike Hopper, you won't get that fee back if you book. United also offers a similar service called FareLock, though that's only available on select flights.
In a slightly different vein, you can hold select American Airlines reservations for 24 hours for free – so long as the flight is at least seven days away. If you don't book within 24 hours, the reservation will automatically cancel.
American also offers some extended hold options, which can come in handy if you're still making up your mind. And you can also hold award tickets using AAdvantage miles for up to five days.
Bottom Line
If you're short on time or can't book right away, consider using Price Freeze to hold onto that gem until you can book. Just keep in mind that "freeze fee" is nonrefundable.