Hawaiian Airlines is poised to change the game when it starts flying brand new Boeing 787s with stellar business class suites between the mainland and Hawaii starting in April 2024. Here's your chance to hitch a ride using points.
Earlier this week, we unearthed some wide-open award space flying the airline's new "Leihōkū suites" – with privacy doors and all – from San Francisco (SFO) from Honolulu (HNL) from mid-April through mid-May 2024. Our Thrifty Traveler Premium members got first dibs, but there are still many dates available for two (or more) passengers up front next spring.
Best of all, you can book these business class suites for just 40,000 miles each way from either Hawaiian Airlines or Virgin Atlantic Flying Club – both of which you can easily get by transferring Amex or Bilt points. Or you can also book using just 31,000 Chase or Citi points by leverating a 30% transfer bonus to Virgin Atlantic from both programs, but booking via Virgin requires a phone call.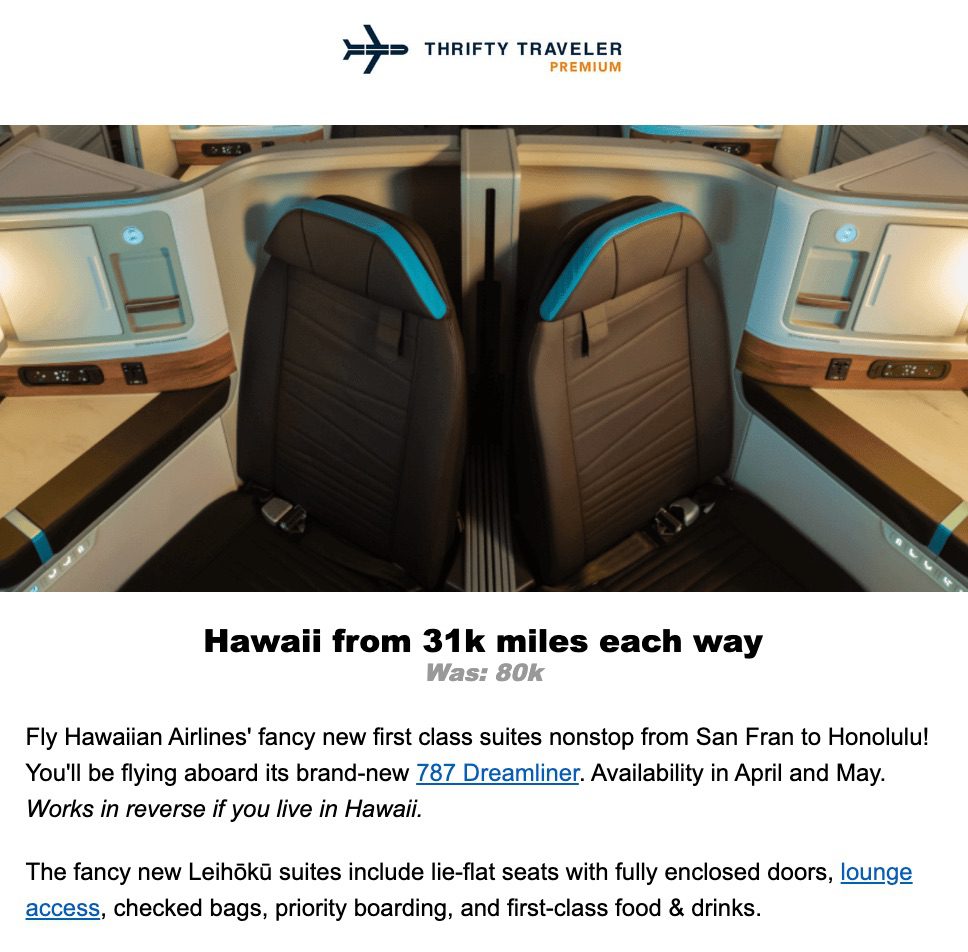 Get award alerts to use your points and miles with Thrifty Traveler Premium!
This might just be the best way to get to Hawaii next year. Unfortunately, you won't find much bookable for the flight home from Oahu back to California. But finding any lie-flat business availability bookable with points to Hawaii is a huge win – let alone a brand new seat.
And these aren't just any first class seats. This is a serious glow-up for Hawaiian Airlines, whose best seats flying today onboard flying its A330s are woefully outdated: laid out in a 2-2-2 configuration without many amenities … or even built-in seatback entertainment.
These suites on their upcoming 787s are something else. Clearly.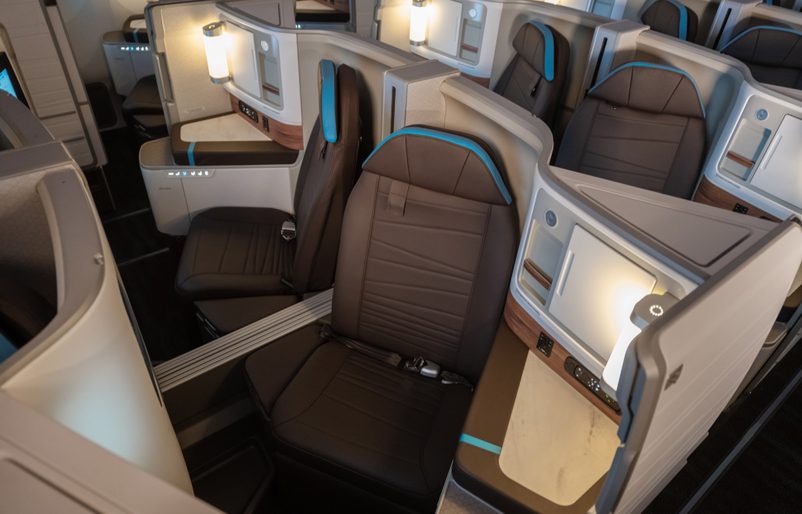 That's right: Business class suites in a 1-2-1 configuration, where every passenger can slide open a door and step right into the aisle. They'll be spacious and comfortable, with plenty of Hawaiian design flair. It's a huge step up from Hawaiian's current offering – let alone the domestic first class recliner seats most airlines fly between the West Coast and the islands.
Here's a vote of confidence: Qatar Airways – yes, the airline behind the world's best business class, Qatar Qsuites – uses a similar on some of its own Boeing 787 Dreamliners. American Airlines plans to do the same with its next business class reveal.
Hawaiian Airlines is currently scheduled to start flying these 787s in and out of San Francisco on April 15, 2024. They'll fly that route to Honolulu for just a month before swapping onto other cities.
And you can easily snag your own suite to Honolulu before they do.
How to Book Hawaiian Business Class
You've got two options to book a suite ride from San Francisco to Honolulu … and plenty of ways to get the points you need to make it a reality.
The easiest route is by using the airline's own HawaiianMiles, which charges as low as just 40,000 miles each way for a business class seat to Honolulu. Just create an account, start your search for a one-way flight next spring, then select the option to book with miles.
As of publication, most dates from April 15 through May 14 are available at 40,000 miles, though it may require some trial and error – especially for two passengers. You'll also see some dates available for double the price at 80,000 miles each way. No thank you.
Hawaiian labels these seats first class, but don't worry about it. So long as you're flying the 787, you're set.

Once you've found the flights you want, it's time to transfer your points. Hawaiian is an Amex transfer partner, so you can instantly turn 40,000 points from cards like *amex platinum card* or the *amex gold card*. Just beware that Amex levies a small surcharge (.06 cents per point) on transfers to Hawaiian and other U.S. carriers – transferring 40,000 points will cost you $24. If you earn money paying rent with the *bilt rewards card*, you can also transfer Bilt points to Hawaiian.
That's a small price to pay to snag these seats quickly, booking online with Hawaiian. The same can't be said of using Virgin Atlantic Flying Club, but there's a sweetener…
If you've got Citi or Chase points, you can transfer just 31,000 to Virgin Atlantic and book each seat thanks to the 30% bonuses from each program available as of publication. You can also transfer Capital One Venture Miles, Amex points, and Bilt Rewards points to Virgin, though you'll need the full 40,000 apiece.
Just follow the steps above and find the flight you want: If it's available through Hawaiian for 40,000 in first class, you can book it through Virgin for the same rate. Call up Virgin at 1-800-365-9500 (or 1-800-862-8621 or even an international call center), feed them the dates you found and how many seats you need, and book.
Bottom Line
A brand new business class suite with privacy doors flying to Hawaii for 40,000 points. It doesn't get much better than that.
We sent this amazing alert to Thrifty Traveler Premium members first, but there are still plenty of business class seats bookable when Hawaiian begins flying these new planes from San Francisco to Honolulu from mid-April to mid-May 2024.