Looking for the perfect no-shipping, no-hassle gift for the traveler in your life? We've got just the thing.
Instead of giving your family or friends socks or a bland gift card (again…), give the travelers in your life the gift of cheap travels next year with Thrifty Traveler Premium, our flight deal alert service. We'll send them alerts for the cheapest domestic and international fares for 2023 and beyond straight to their inbox – with up to $250 or much more off normal prices on each and every flight! It's the best way to travel more for even less.
With our Thrifty Traveler Gift Cards, you can gift your favorite traveler a year of cheap flight alerts … or get a discount by gifting them two years! Give your favorite traveler the gift of cheaper flights and more travel next year – even if that favorite traveler is yourself!
You've got two options:
Give them the best with Thrifty Traveler Premium+, our top-of-the-line service with all our cheapest deals, discounted business and first class tickets, and award alerts to use points and miles, too!
Only want cheap economy domestic and international fares? Go for a standard Thrifty Traveler Premium gift card.
Give the Gift of Cheap Flights This Year
Whether you're on the hunt for a birthday gift, getting something for a college grad, or preparing early for Christmas, why not give someone the gift of travel? These gift cards make it easy.
Just buy a gift card for one year and your favorite traveler can activate it. You can either email them their gift automatically or print out a code for them to enter when you're ready for the big reveal. These gift cards unlock a year (or two) of cheap flight alerts, which your favorite traveler can activate on their own, then tailor to get flight deals from only their home airport(s) – and since we find deals from more than 200 airports, we've got you covered.
The best part? We find flight deals up to 11 months in advance, and we're already seeing awesome deals for travel into fall 2023! That means your loved one or travel buddy can take advantage of these crazy cheap flight deals and plan for future travels.
This is not a subscription, so your gift will not renew: Access will end when their year (or two – whatever you buy) is up.
Click here to buy Thrifty Traveler Gift Cards!
Flight Deals for 2023 & Beyond Are Here
Here's just a taste of the flight deals we've found and sent to Premium (and Premium+) members recently.
Is Hawaii on your friends' bucket list, but flight prices have been sky-high? We are constantly on the hunt for jaw-dropping fares to Hawaii, like this recent deal from under $200 roundtrip:

With these email alerts, winter escapes to Mexico are regularly in reach for under $300 roundtrip – and sometimes even under $200!

Ready to return to Europe this year or next? We hope so, and these flight deals under $400 roundtrip (or even less) can help a friend get there in 2023.

Want to give your friend deals to use their points and miles, too? Thrifty Traveler Premium+ is the only flight deal service on the market that sends both cheap cash fares and award alerts. There's no better way to use SkyMiles than deeply discounted Delta SkyMiles flash sales like this fare to Europe we sent subscribers this past summer.

But we also send Thrifty Traveler Premium+ business and first class deals. Getting the heads-up on a chance to score lie-flat seats to Tokyo in Japan Airlines business class using miles is invaluable.

And no, these aren't just deals from major cities! We find flight deals from 200+ U.S. and Canadian airports – more than any other flight deal service, and members can get alerts from as many (or as few) airports as they want. Small town U.S.A. to Italy for under $300 roundtrip? Yes, really!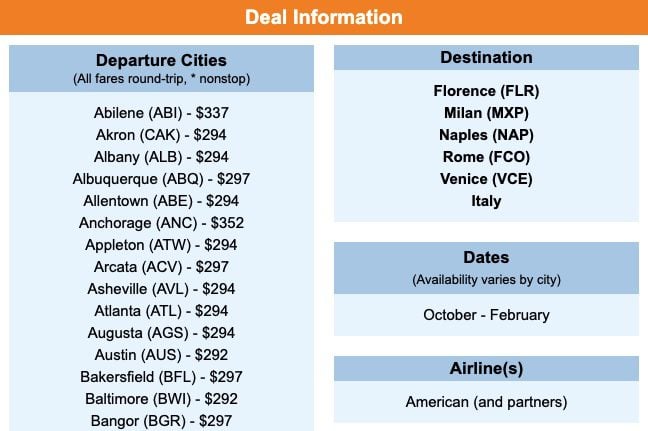 And flights under $100 roundtrip to your favorite U.S. destinations for next year, too!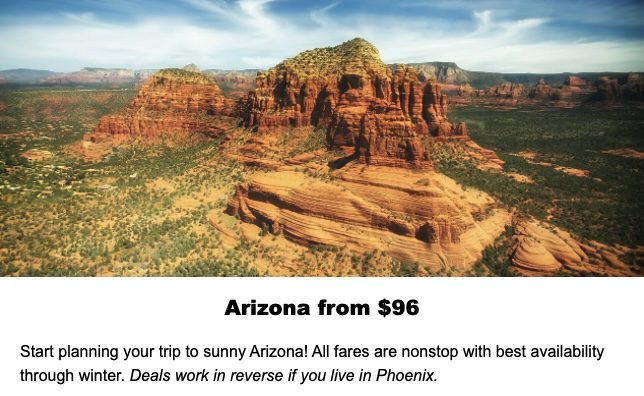 This is just a sneak peek into what we're finding for travel this year or next. A full year of Thrifty Traveler Premium flight deal alerts will send your lucky traveler cheap fares for travel alerts every day.

The Best Gift of All: Cheap Travel
Forget the boring gift cards or pair of socks. This year, gift the traveler in your life something they'll actually use: cheap flights!
Other benefits of our flight deal alert service include:
Domestic and international flight deal alerts
Discounted business and first class fares – Thrifty Traveler Premium+ only!
Award alerts to use your points and miles – Thrifty Traveler Premium+ only!
Flights for travel 11-plus months out – not last-minute flight deals!
Links to book directly with the airline: No budget airlines here
Select your home airport(s) from 200+ departure cities
Access to our Premium-only Facebook travel community: 19,000-plus members helping each other travel smarter!
With this digital gift, you won't need to worry about shipping delays or supply chain issues. Just buy it and gift it to your friend or family member!