Maybe you've seen some of the unbelievably cheap international flights we've posted here or on social media over the years or heard from friends who booked an unbelievable deal abroad with one of our alerts. Now's your chance to sign up and start getting cheap flight alerts for free – and just get the deals you want from your home airport!
Don't get inundated with deals from airports hundreds (or thousands) of miles away. Sign up for our cheap flight alerts, pick which airport(s) you want to receive deals from, and start getting deals you can actually book straight to your inbox … for free! Trust us, deeply discounted flight deals are still out there – and now we'll help you find them, sending them straight to your email so you can click and book a cheap trip.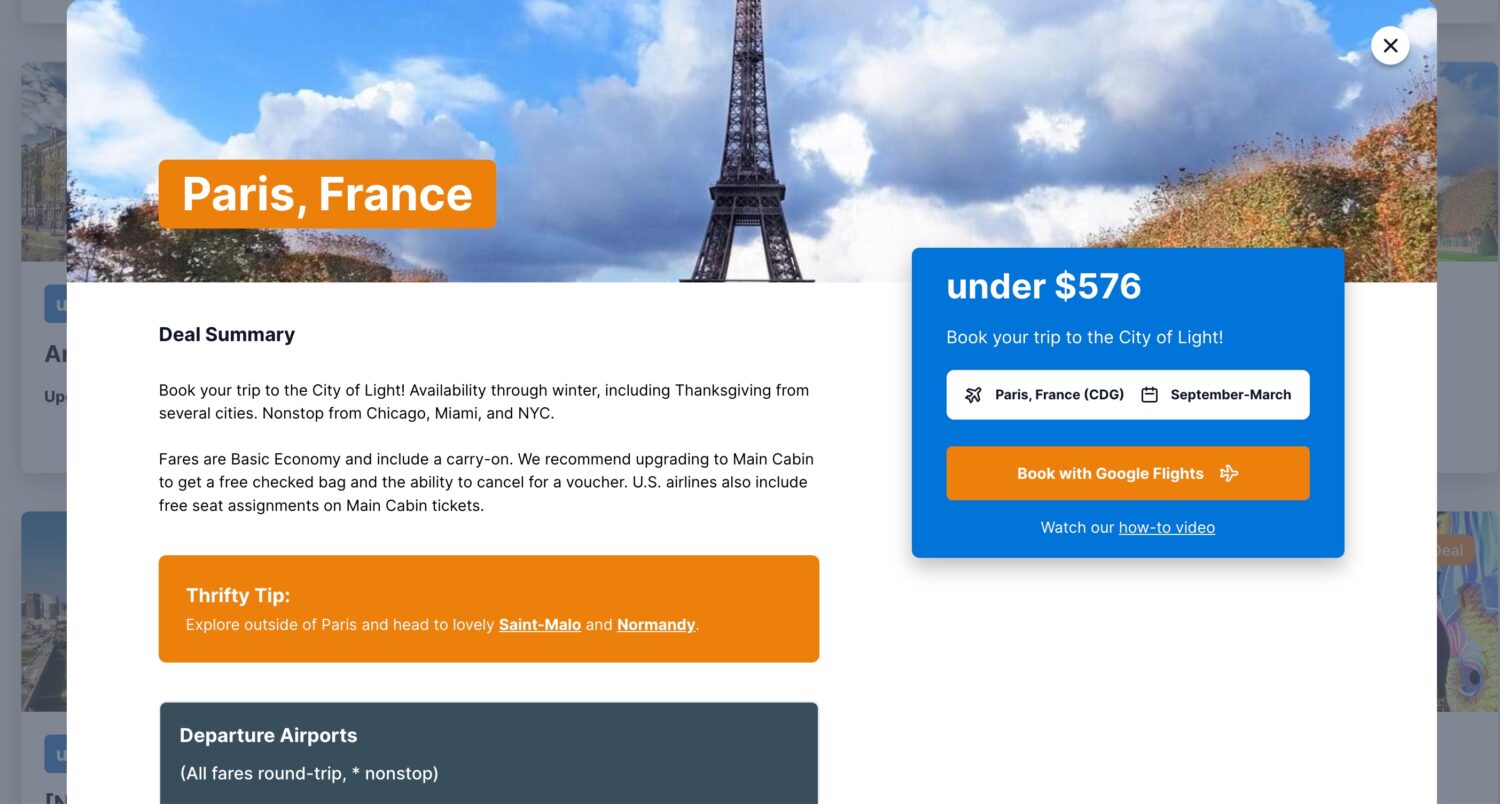 Don't worry, Thrifty Traveler Premium+ members: You're still getting 10x as many deals (and getting them before anyone else!) plus extras like points and miles deals and free travel credit card consulting! 
Think we don't find flight deals from your home airport? Think again: Our team of flight deal experts is constantly searching for cheap flights from more than 200 U.S. & Canadian airports – more than any other flight deal service.
Here's how these alerts for cheap flights work:
Sign up with your email address, pick which airport(s) you want to receive deals from, and our team will start hunting for you!
We'll send you some of the cheapest domestic and international flight deals we find straight to your inbox, whether it's to Florida or California, to the Caribbean, Europe, or beyond – only from your chosen airport(s).
These aren't last-minute travel deals on bad budget airlines but discounted fares on full-service carriers … for travel as far out as July 2024!
See something you like? Just follow the instructions (and links) to book your cheap flight directly with the airline!
You can even log into your account and see all your deals – and all the deals you're missing without a Thrifty Traveler Premium or Premium+ account.
These cheap flight alerts save at least $250 (or much more!) off normal prices!
Trips to Europe and beyond might be looking more expensive this year and even into 2024. But the flight deals we're finding and sending out for free prove that you can still score a huge bargain.
Think of us as your newest friend who's an expert in all things cheap travel. Just follow our advice: Sign up to get cheap flight alerts and follow the Flight First Rule. Stop paying too much for flights – and start making your friends and family jealous about the deals you booked!
Take a look at some of the deals we've sent in just the last few weeks…
The Cheapest Flights We've Found Lately
Just because some flight prices are on the rise doesn't mean you have to pay more. That's what we're here to fix.
The cheap flights we're finding stretch from nearby domestic cities to international destinations like Mexico, Belize and Costa Rica to European hotspots like Italy and Paris and even hard-to-reach spots in Egypt and Dubai. In almost every case, we're sending alerts with prices at half the usual cost – saving you $250, $500 or even more per ticket.
Domestic flight prices have been dropping like crazy lately. Just last week, we sent a cheap flight alert for roundtrip flights to Phoenix (PHX) later this fall and into the winter for as low as $137 from dozens of different cities across the country.

These prices may be gone now, but they were real. That's the true value of getting these alerts sent straight to your email: You can book ASAP before airlines raise the price again!
Travel to Europe is back and bigger than ever in 2023 and into 2024. But it's notoriously expensive: Paying $1,000 or much more is the norm these days – especially for Italy. How about this alert for roundtrip flights this fall or next spring to Rome (FCO), Milan (MXP), or even Venice (VCE) for as low as $515?!

Iceland seems to be high on everyone's list, and the fares we've found there have dropped to even cheaper prices – even on nonstop flights from cities all across the country!

Get more flight deals for less: Sign up for our cheap flight alerts!
It seems like everyone has Machu Picchu on their post-pandemic bucket list. You're in luck: While flights to many other destinations have gotten more expensive, we've found fares nationwide down to Lima (LIM) under $400 roundtrip – and sometimes under $350! From there, it's just a short trip to Cusco and nearby Machu Picchu.

Need a beach? Cheap flights to Mexico and the rest of Central America have been a major bright spot. And you can't beat Belize … especially when you can book flights from Austin (AUS), Dallas-Fort Worth (DFW), Milwaukee (MKE), Omaha (OMA), Washington, D.C.-Reagan (DCA), and dozens of other cities for under $400 roundtrip – half the usual cost!

How to Sign Up
Getting flight deals like these couldn't be easier.
For starters, just head to our sign-up page and enter your email and a preferred password. You'll be given the choice to automatically upgrade to our Thrifty Traveler Premium+ service – getting 10x as many deals, including points and miles fares and discounted premium cabin flights – or proceeding with a free account.
Then it's time to pick your airports. Type in your home airport and select it. Don't worry: You can pick more if you want.

Next up, we'll recommend a few airports nearby that might be worth adding to your list. But if you only want your home airport, that's up to you!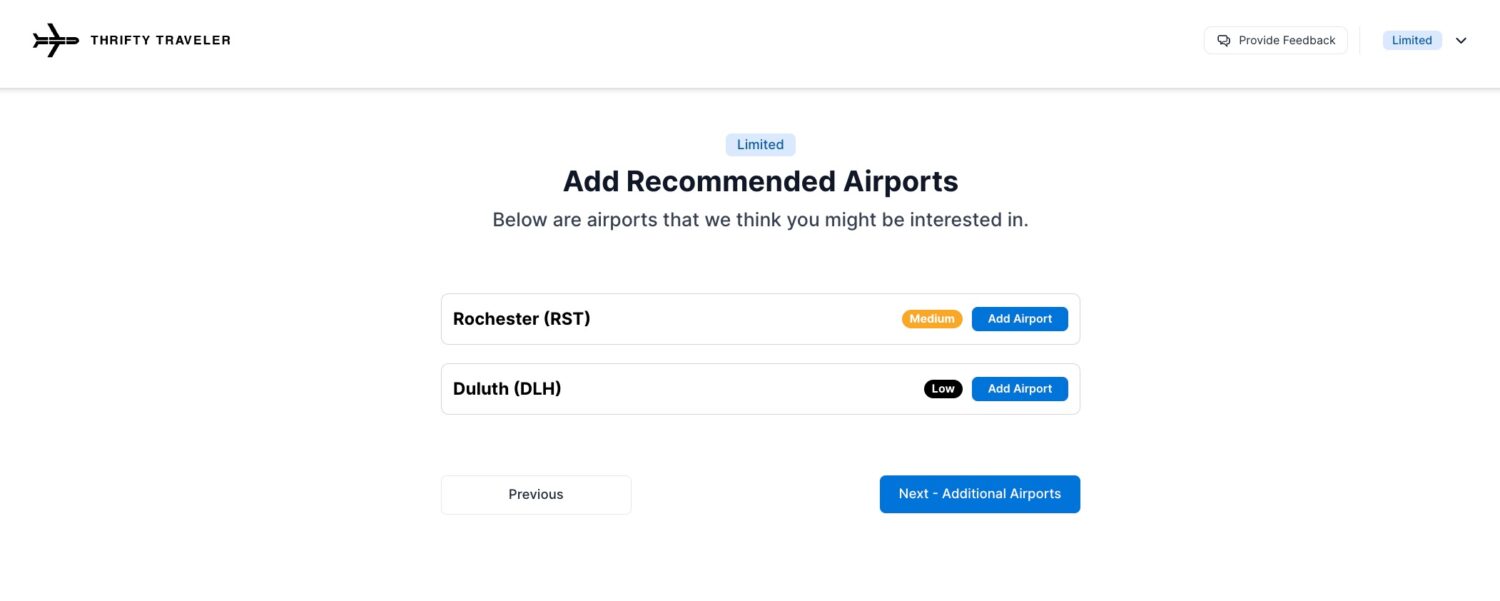 Finally, you can add any other airports you want: The more you add, the more alerts you'll receive. Consider adding some major airports like New York City (JFK), Boston (BOS), Chicago-O'Hare (ORD), Los Angeles (LAX), and others … or not!. It's your call!

Finally, review the airports you've added to your list. Everything look good? Hit next and prepare to receive the deals.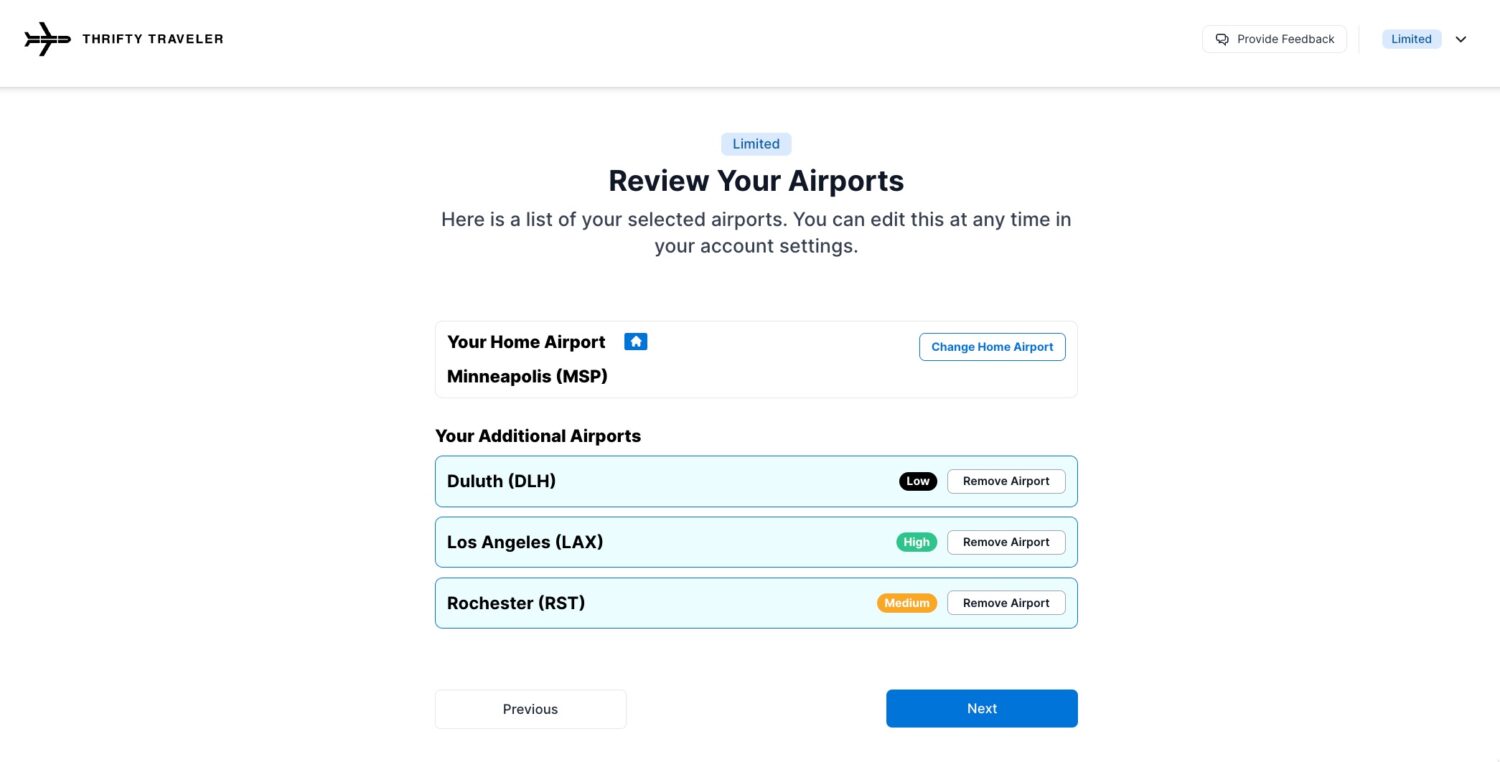 Bottom Line
Stop paying too much for flights. Start getting alerts for cheap flights from your home airport.
We search all day, every day for flight deals so take it from us: The deals are still out there. You just need the right tools to find them, and that's what our cheap flight alerts are all about. Sign up and start getting them today for free!